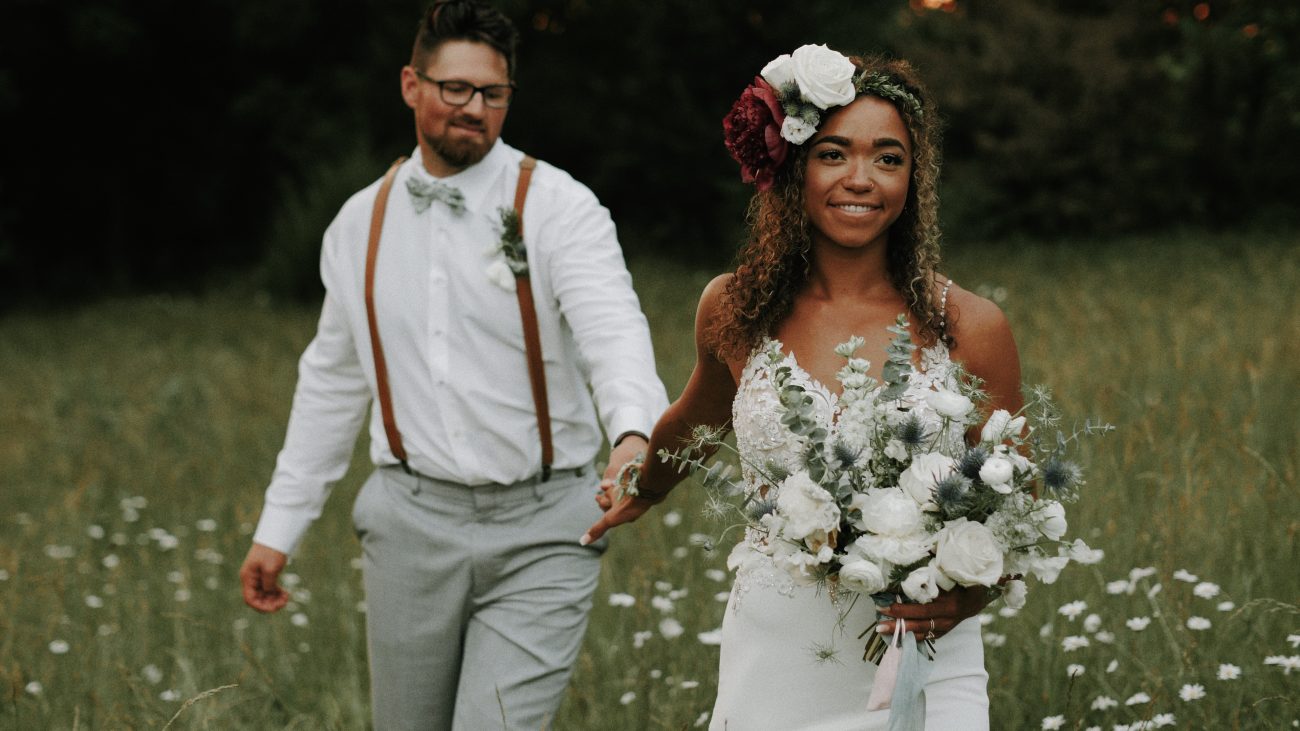 HoneyBook member Drew Barrett Meinecke runs D. Barrett Studios as a solo shooter wedding videographer based in Iowa. "This is my fourth year," Drew says. "We recently added on an office shed in our backyard for me to work out of and it has been a dream come true!"
Drew took his business full time after just one year of being in business. To him, growth has come in the form of increasing his pricing and entering new markets as his experience and brand have grown.
He credits using a business management software tool to help with his business' growth. "Streamlining my processes through using HoneyBook was a game changer for my business," he says. "Not only was I organized and saving my own sanity, my clients were delighted with how simple all the steps were through the booking process."
Here, he shares more about his philosophy on pricing, how he avoids pricing horror stories and seven more growth lessons.
1. Don't let your pricing determine your worth.
I think raising your prices comes down to a few key factors: Market, Network, Reputation, Experience, and Skill. All of these come into play when effectively setting your pricing. Sure, you can go off of looking at other local videographers to determine what to charge, but that shouldn't be the only consideration.
I'm a little more conservative with price increases. I feel that there's a lot of advice out there to adjust pricing dramatically: like bump up your prices a couple hundred dollars after every wedding booked, which seems a little extreme to me. I've heard too many horror stories of videographers taking advice like that and then ending up having an awful year for bookings.
The fact is, no one knows the key factors above like you do in regards to your specific situation. And to be honest, there are price ceilings, for example, where I live in rural Iowa it would be crazy to think I can book couples at prices that I could in, say, New York City. So don't let your pricing determine your worth as a creative. If you are producing great films that your couples love, and you're meeting your financial goals for you and your family, then that's really all that should matter.
2. Find ways to serve clients and build anticipation.
Last year I started a 'Wedding Film Status Tracker' that I share with couples once I start editing their films. It's a private webpage where I give broad updates of the stage their film is in and I also add different stills from the film with notes from me. I've found it's a great way to serve couples and build up anticipation for their film.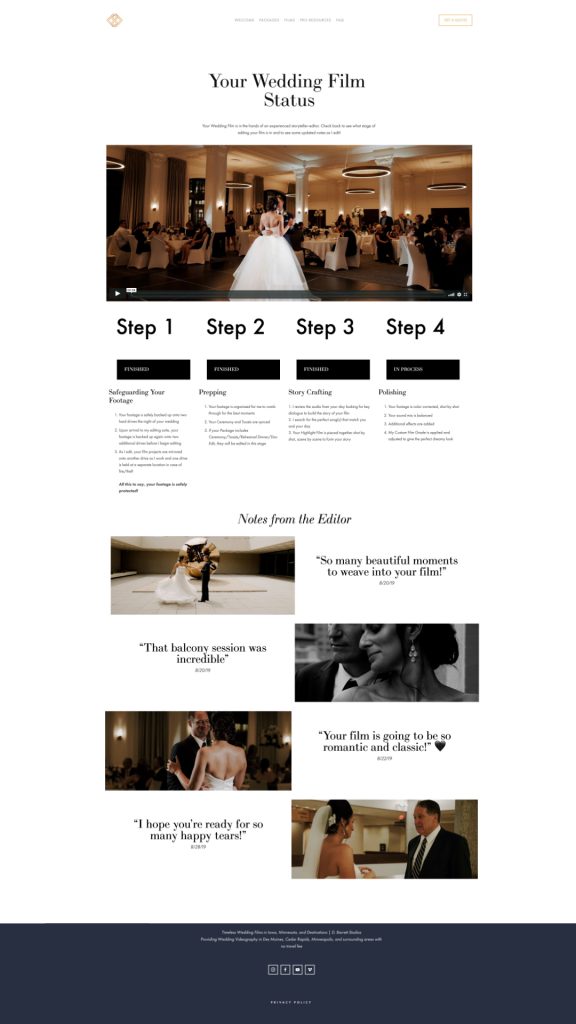 3. Being aware of the numbers is huge.
What I mean by that is knowing how many weddings you're looking to book, looking at past trends for quarterly booking averages, etc. Having this data allows you to look to the future and set goals for where you want to be. I'd love to shoot fewer weddings and have more time with my family, so my goals are all pointed in that direction.
Did You Know: You can find all this info and more in your handy-dandy HoneyBook Reports.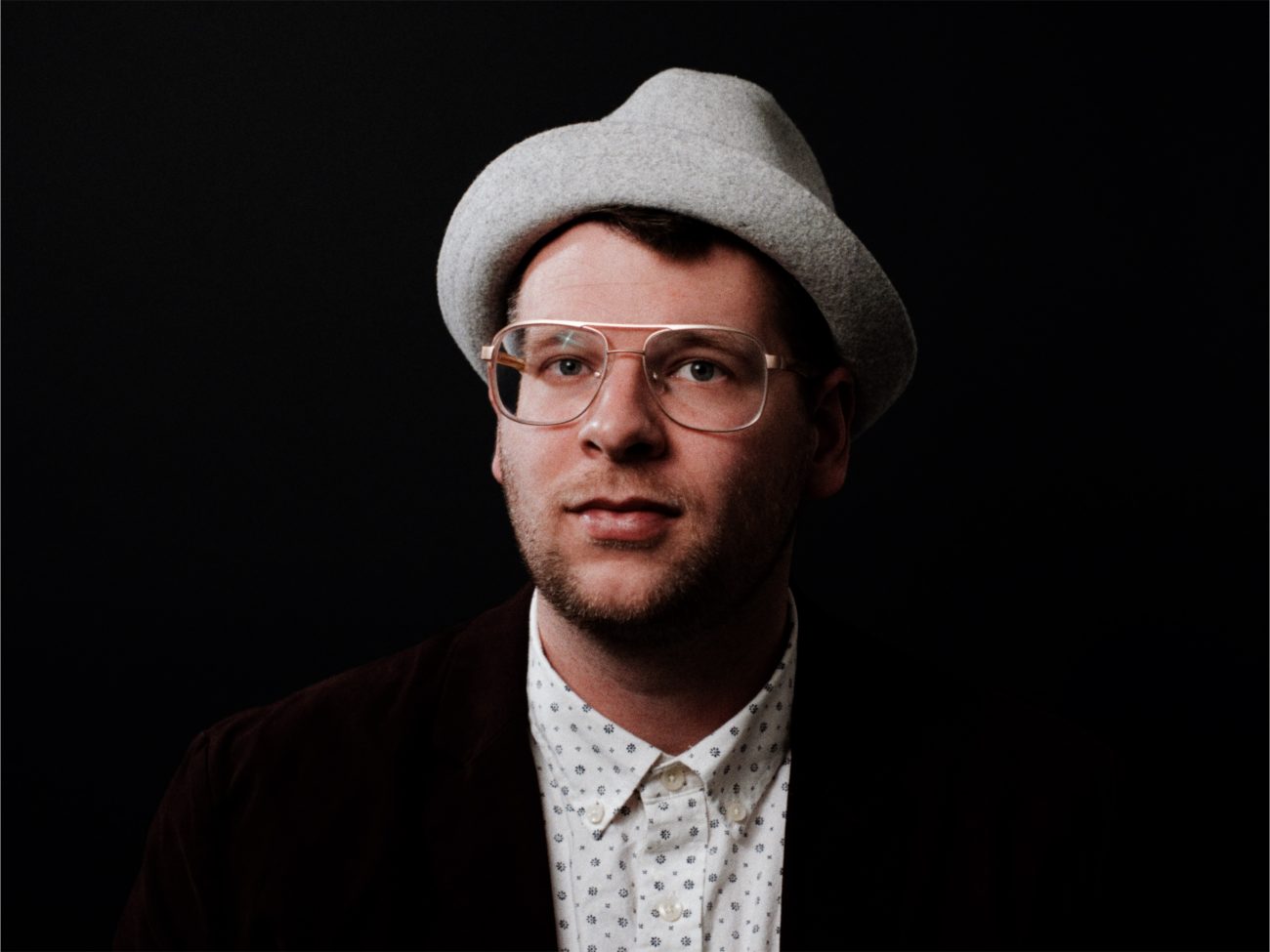 4. Revisit and restructure your packages as your business evolves.
I would love to start creating more multi-day films to document more than just the events of the wedding day itself. I'm working on restructuring my packages to start encouraging couples to consider that route.
5. Grow your skill set.
I attribute a lot of my growth to pursuing educational opportunities to grow my filmmaking skills. Whether workshops, courses, or just experimenting on my own outside of a wedding day I'm always looking for ways to polish my craft. I think something that many videographers struggle with is not touching their camera outside of wedding days, and that really slows their growth.
6. Define what drives you and use that as your guide.
Success to me is approaching each wedding (filming and editing) with my focus on these three elements:
I want to be true to the story of the couple and their day but also spice it up with some flair 😉 That's my main drive—to produce wedding films that will be cherished for generations.
7. Streamline your calendar with Calendly.
One of my favorite tools is Calendly. Calendly is an online scheduling system where you as the vendor can select your available times for calls/sessions and clients can then select times convenient for them.
Pro Tip: Check out how to connect your Calendly account to your HoneyBook calendar.
8. Kindness goes a long way.
Be kind to your couples, be kind to the other vendors, be kind to the guests – even the ones that are getting in your shot 😉 . I would think that a lot of my referrals are mostly because I am good to work with, and it's the kind vendors that I'm referring as well.
Thanks, Drew!