We hope you're having an easy adjustment to November weather and daylight savings. We want to you make sure you have the tools (and gifts!) that make your holiday season easy as pie! As you prepare for the holidays, make sure you take a look at what's new.
Send inquiry notifications to multiple team members
If you have a team, this feature is for YOU. Now you can select to notify multiple team members of new inquiries that come through your contact form.
You can set team members as:
Project owner — only one team member can be assigned as the project owner. This position should be reserved for the person who manages inquiries and is the key contact for projects.

Workspace participants — this position is for a team member who should be aware of project progression and may need to communicate from time to time.

Inquiry recipients — this user does not need to be aware of project progression or communicate about the project, but would like to be aware of inquiries coming in.
You must have the HoneyBook contact form installed on your website in order to select team members to get notified. If you haven't done so yet, head over to the contact form to install it on your website and set up your team notifications.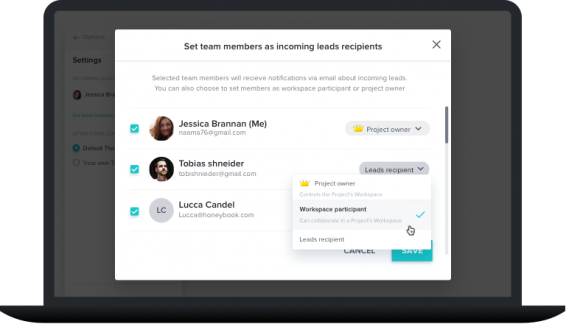 Updates to the calendar
The HoneyBook calendar has gotten some improvements to help you get the information you need more easily. Check out the updates below:
Schedule a meeting or jump to your calendar directly from within a project

See more of what you need with the new edge-to-edge view

Switch between Month, Week or Day views so you can easily see what's coming up
PS: Get excited about more updates coming soon!
RTS Gift Guide
It's that time of year! Our 5th annual Rising Tide Gift Guide is back.
Every year, Rising Tide curates a list of shops to feature the artists and makers in our community just in time for the holidays. Through this gift guide, we are also able to give back. This year, with your help, we raised nearly $4,000 for the Rising Tide community to support our local chapters.
Shop for loved ones, and give yourself some love too! With the new Online Courses & Business Resources category, you can treat your business to what it deserves.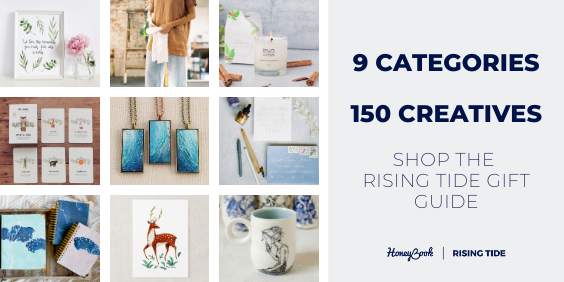 Until next month…
We hope you're as excited as we are about our new features and updates. You can find out what's new in our monthly release notes on the blog and in our monthly member newsletter. And please keep giving us feedback at [email protected]. We build HoneyBook for you and we wouldn't be where we are without your help.
Any questions about the current releases? Head to our Help Center to learn more.
We're excited to continue growing with you!