You have a lot to say—but are you saying it in a way your client can understand? Here we teach you how to write a lead magnet email sequence that converts.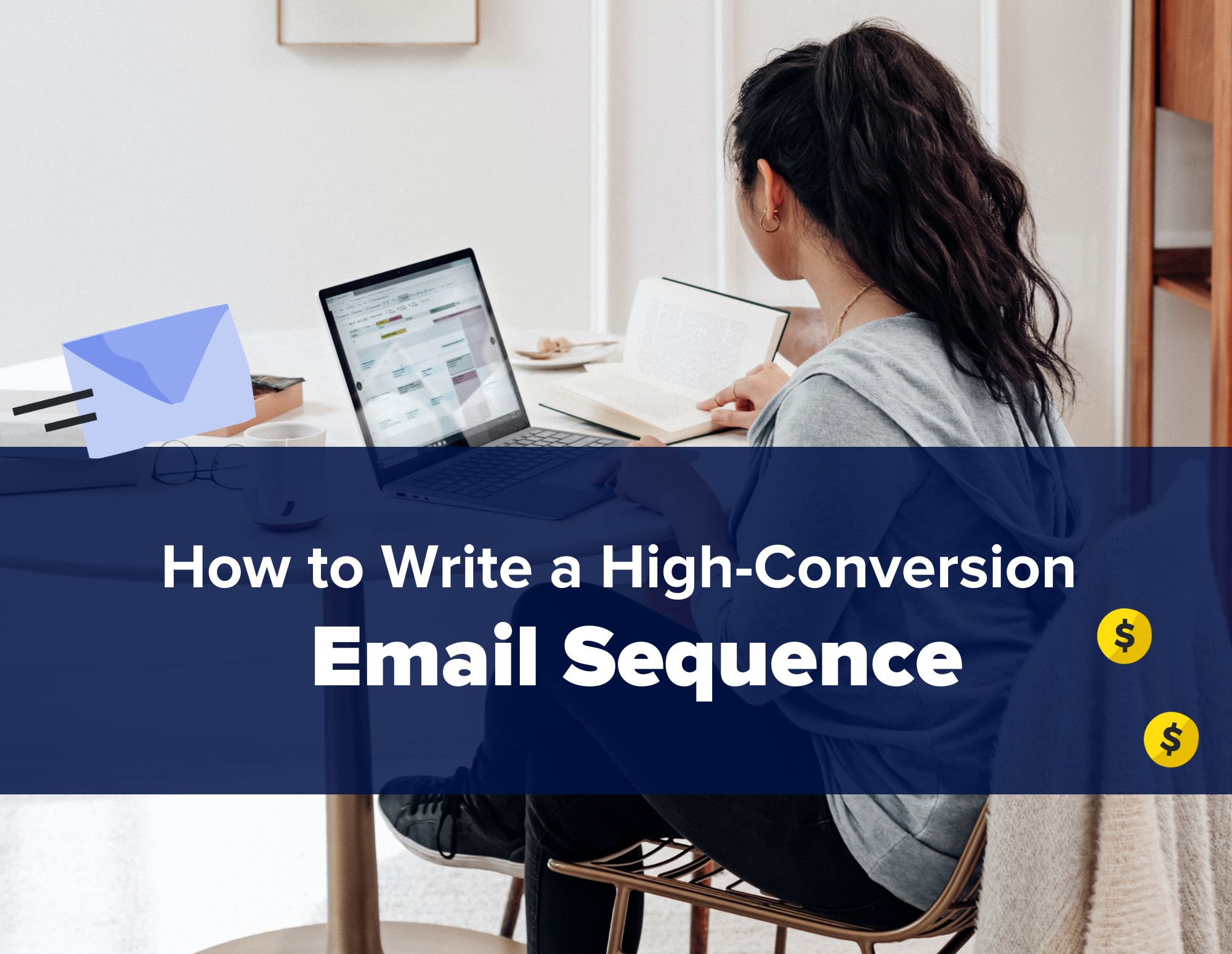 Learning how to write lead magnet email sequences is like learning to ride a bike without training wheels: It takes time. At first, you might feel out of balance. You may worry you'll crash and scrape your knees. Yet you know that if you can trust the process, you'll soon get the hang of it. In no time, you'll be on your way to selling services with ease.
My job as an independent business owner is to write high-converting copy, and I know firsthand the power of writing an email sequence that converts — it pays off! My process is optimized for evergreen offers and launches, regardless of what's for sale.
The following tactics and strategies will come in handy for launch, welcome and newsletter emails. You'll master the craft of writing lead magnet email sequence copy—and turn it into a repeatable process!
Jump to:
Voice of the customer analysis
The research process is the first step, and what I call "the unskippable." Your research task? Find out what your ideal customer avatar is saying and how they're saying it. You can do this by:
Reading their comments on your competitors' social media posts and ads (e.g., Instagram, Facebook)
Checking out what they post on forums
Analyzing what they post/comment on Facebook groups
If you already have an audience, you can also conduct your research by:
Surveying them with short-response questions
Interviewing some of them
You need a spreadsheet to keep track of the sticky messages you find. Designate various tabs for their:
Frustrations
Stories
Wants
Past experiences with other solutions
Repetitive messaging
Once you know exactly how they express those messages, writing your email copy will get significantly easier, and faster, and you will get a conversion boost.
Before you even think about skipping this step—don't. You'll only do this research once, and you can update and reuse your findings for your emails, sales pages, ads and social media content. Hello, streamlining conversions!
View each email as a funnel stage
Your emails should build on each other. The first email should prepare your audience for the upcoming ones and invoke excitement. Your second lead magnet email will build on the previous one and prepare your audience for the next. Finally, when put together, your lead magnet email sequence will tell a story—a story about the success the customer will find from converting.
For each high-converting email sequence I write, I use the PASOP formula. PASOP stands for problem, agitation, solution, outcome and problem.
How do I use PASOP?
First, introduce your audience to the problem they have. Then agitate that problem, cluing them to the consequences of not solving it. You present the solution (your offer), then you explain the outcome of your solution, helping them visualize their future selves after working with you.
This may be counterintuitive, but the last email also presents a problem. This step in the formula is the key to getting your audience to open the following email in your series. You "daisy chain" your copy with the next problem your services will help them solve.
Here's what that step-by-step process will look like
Introduce your audience to the problem they have.
Agitate the problem so they feel it at their core.
Introduce them to your solution — your offer.
Show them the outcome of who they will be after getting your offer and putting in the work.
Finish your email with a sneak peek of the next email by introducing them to another problem they have. For example: "Stay tuned for tomorrow's email because I will share how [name of a past client/student] overcame [a big problem they also had], and how you can do the same."
This sets your audience up for – you guessed it – increased evidence your service will help them solve their issue. That's why it's called a lead magnet email sequence.
How do you structure a persuasive email?
You don't need a degree in psychology to know the best persuasion practices when communicating with your audience.
Here are three tips for using persuasion principles in your copy so you can get inside your reader's head every time. I'll keep it simple:
Use strategic testimonials highlighting your audience's problems and who they became after working with you. Make sure these testimonials mention other clients' past struggles, painting a vivid picture of who they were before and after they found you and your offer. Not all testimonials are equally useful.
Diminish the fear of choosing you by adding risk minimizers under your CTA. It is natural and normal for your audience to have fears and hesitations about your offer, even if they've known you for a long time. So, adding risk minimizers below your CTA will help them feel safer. These can be:

"30-day money-back guarantee."
"Join XX others."
"Try now, pay later!"

If you're not relying on storytelling yet, this is your reminder to do so. Share your experiences, especially the lessons you learned after failing. Storytelling will make you more relatable and help potential clients feel safer about choosing you. They will see you as a person who'll solve their problem, not someone who is trying to sell them something.
How to improve email conversion rate
Each email in your sequence should have a CTA that takes openers to your sales page. After all, you are working on a lead magnet email sequence because you want sales! Of course, the persuasion tips I shared above will help boost your conversions. However, below I share my best practices that will help catapult those conversions.
The key to getting more conversions is testing. Use A/B testing in your email client if you have that functionality. You need to know what works for your audience and what doesn't. For example, I like to experiment with email design to see if my audience responds best to well-designed templates or plain text.

Pro Tip: If you're already using HoneyBook, you can build your high-converting email sequence using automation. The moment a lead inquires using your HoneyBook form, they will receive your emails and book your package without having to go to a third-party site.
Another variable to test is the length of your emails. This will tell you if your audience responds better to longer emails or shorter ones. Track the conversion rate of both and make strategic decisions based on the data you collect. This tip is very audience-specific, so there is no correct answer. You may also find the results to help you with your segmentation strategy.
Your CTA is also a non-negotiable testing opportunity. I like to test action CTAs against goal-oriented CTAs. An example of this test (selling a coaching package) looks like this:
"Get immediate access now" vs. "Create your six-figure business in six months."
Depending on your audience and where they are in their journey, one CTA will convert more than the other. Your job is to test and see which one is the winner. Again, pay attention to who in your email list follows which CTA! This could be an indicator that segmenting your list is a move for you.
Boost click-to-open rates
For your high-conversion email sequence to work, you need your audience to open your emails. If your list isn't opening your emails, all the work we did above is for nothing, right? Don't worry — if you use the following tips, your audience will open your emails every time!
Optimize your subject line
The key here is to give a sneak peek of the email without giving it away. A few subject lines formulas to help you with this are:
INSIDE: Your ticket to [goal they want to accomplish]
Three proven ways to [goal they want to accomplish]
[name] I made this just for you
This stage is also a great testing opportunity for you to play around with long versus short subject lines. Your primary job as an independent business owner is to test as often as possible. Here are some variables to measure against one another:
Test with length
Personification and personalization
Questions versus statements
Problem-oriented versus solution-oriented
Enhance your preview text
In addition to your subject line giving a sneak peek of what your audience will find inside your email, your preview text is the perfect place for you to elaborate more on it briefly. Let's take one of the subject line examples from above: "three proven ways to [goal they want to accomplish]."
Here's what the preview text could look like: "Open up to finally say goodbye to [thing that keeps them up at night]."Prime the audience for your next email. Remember the PASOP formula from above? Ending your emails with a problem you will touch on in the future will prime your audience to wait for your following email eagerly – and open it.
Write your high-conversion email sequence
Now that you have a strategic approach to your emails, it's time to write, optimize, and assess. This process may seem intimidating at first, but when you see those Stripe notifications come in, you'll be the one writing your own success story and sharing it with me.
PS: I'm also sharing the first email inside my done-for-you email sales sequence. This email will prime your audience and get them excited about your solution to the problem that keeps them up at night. Happy writing!
Disclaimer: The advice featured in this blog post was sourced from our HoneyBook Disputes Specialists for sharing general information and knowledge. For specific financial or legal information and advice, please consult an authorized professional.