SEO. As creatives, we hear this acronym all the time, but how many of us actually understand it? It's time you learn how to optimize your business in the online world. What does that mean? It means that the Internet is your second biggest lead-generating tool, and if you don't know how to use it in your favor, your business suffers. 
If you had to guess, how many of my wedding planning clients would you say found me online via Google? 10%? 35%? 60%? 
In fact, 84% of my inquiries for 2016 found me through a Google search. Eighty-four percent!
Below, I've rounded up a few quick tips that helped me make this happen.
13 QUICK TIPS FOR AMPING UP YOUR SEO GAME
1. Submit your website sitemap to search engines Google and Bing
Locate your sitemap by typing your URL into your browser address bar and adding /sitemap.xml to the end of your domain. For example: https://www.yourdomain.com/sitemap.xml
Then, go to Google's Webmaster Tools under "Site Dashboard". Click "Crawl", followed by and "Sitemaps". Finally, select "add a Sitemap", type "sitemap.xml" after the end of the domain, and click "submit".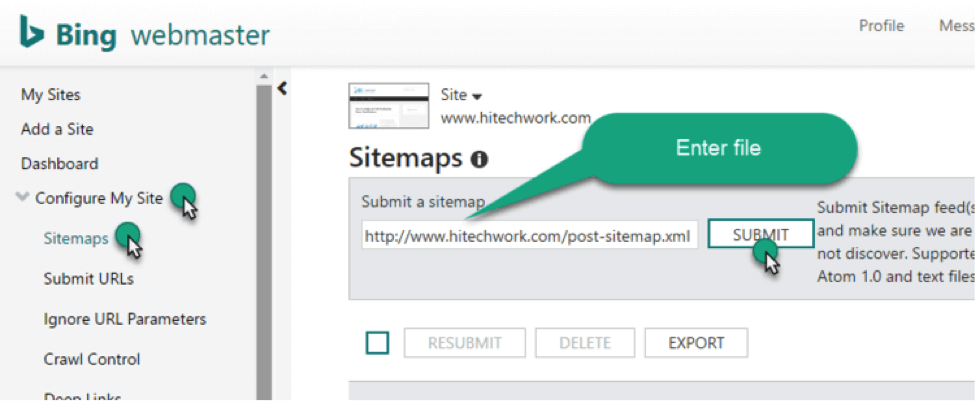 On Bing, the sitemaps page is under "Configure My Site". Click "Submit a sitemap" and enter your whole domain, followed by "/sitemap.xml".
2. Image names
Naming all of your images is invaluable even if you aren't displaying the captions/titles. Google can't tell what an image is by just looking at it—search engines can only file away written data—so image names help explain what your website is about. Don't leave the name box blank or leave it with the automatically populated title—use strategic keywords related to your content. Be sure to do this for ALL images.
3. Google Analytics
Set up Google Analytics and add your tracking ID to your website to see what users did while on your site. 
4. Google Webmaster Tools
Set up Webmaster Tools (also known as Google Search Console) so you can see what users were doing before they arrived on your site. 
5. Google My Business
Sign up for Google My Business. This is completely free and will be a key factor in boosting your local SEO rankings.
6. Social media feed
Choose whichever platform you use on a frequent basis, and attach a social media live feed to your website. Just as search engines count new blog posts as new activity on your website, social media counts as well. 
7. Blog posts
Adding new blog posts frequently activates the crawl pattern on search engines and tells Google that your information is fresh and relevant.
8. Blog post URLs
Change your blog post URLS to display an actual title, not the date or random characters. By doing this, search engines will pick up keywords relating to your post rather than just the date.
9. Blog titles & excerpts
Again, use keywords wherever possible. Draw out the most important words from your blog post and include them in the title. Even if you don't want to display an excerpt (short summary of the post), it's still an important place to include keywords.
10. Blog post length
Search engines recommend that blog posts be at least 300 words long. Aim for four to five paragraphs and you should be golden.
11. Business information
Add your address and business info to your website's settings. If your business's exact location is important, use map blocks where suitable to drop your business location around your site and prompt search engines. 
12. Headings
Include keywords that your ideal clients will be using in your website's headings (H1, H2, and H3).
13. Image file sizes
Large images will reduce site speed, a key metric that Google uses for indexing sites. To avoid this, make sure your image resolution is less than 60MP. Try using a service like Tiny PNG to make your life easier.
PATIENCE IS A VIRTUE
Wait a few days for Google to "crawl" your website (at least seven, to be exact). Then, open an incognito browser window and run a Google search for your keywords to see where your site ranks. If at first you don't succeed, give it some time and then try, try again.
FYI: Rankings can vary from day to day, so check back every once in a while to see how your page is doing.