They used to say content is king, right?
While that still reigns true today, the truth is that not all content is created equal.
The real king? When it comes to online content and marketing strategies, video takes the crown.
Utilizing different video marketing strategies is a phenomenal way to stand out in your industry and build real, authentic connections. Even if it's a one-sided video, these marketing tactics can build trust in a unique way. They allow you to go beyond sharing about your business and give you the opportunity to build a community with your followers.
We're big believers that people do business with people. This is especially true in the creative industry, where we often work closely with and build relationships with our clients.
Potential clients aren't just looking for a shiny, professional, disconnected business – they're looking for human connections – and video is one of the best ways to build relationships, establish trust, and grow your business.
Today, we're sharing 5 creative ways to start using video in your business' marketing strategy. We personally use all of these video strategies in our own marketing, and they've been game-changers in growing our business in unique, authentic ways.
1.  Build Connection with Instagram Story Videos
Ready for a wild fact? There are over 500 MILLION users on Instagram every single day. So we're going to take a crazy guess here and say your ideal client is probably here as well!
But the real question is: are you?
There are a ton of different ways to use Instagram Stories for your business. From sharing the behind the scenes of your work or office to highlighting your family life and quirky personality, stories allow you to show up in a real-time, authentic way.
Some ideas for utilizing Instagram Story videos with a business focus is to share tips, answer Q&A's, or even give a behind-the-scenes look at your work. It's also a great platform for getting more personal. One day we'll be sharing our pups running around at the park and our newborn making hilarious faces and the next we'll be selling out our business retreat on our Stories: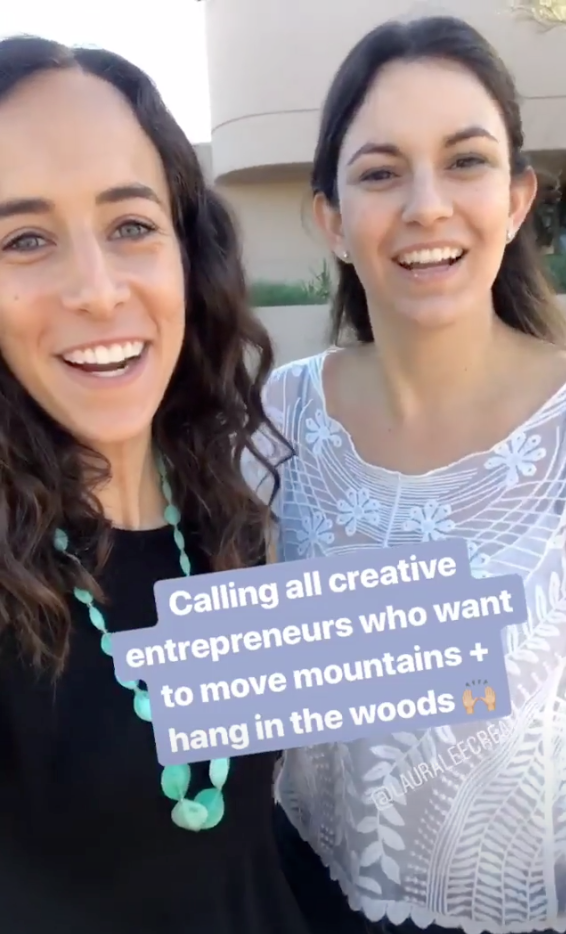 Pro tip: be sure to use the Highlight feature for any stories that are evergreen, especially as they relate to your business and attracting potential new clients!
2. Use Video to Create Engaging Lead Magnets
Ah list building – the thing we all love to hate. It's such an important strategy for growing our business and building community, but it can be a little overwhelming to choose between all of the options out there.
Should you write an ebook? Create a checklist? Host a webinar? Lead a challenge?
While these are all great options, the truth is many creatives are feeling a little "opt in fatigue." We're so used to seeing free ebook or downloadables, so how can we stand out and provide great value?
You guessed it – video!
We love using videos in our lead magnets and list-building strategies. Not only does it allow us to provide a ton of great value and content to our leads, but it gives us the opportunity to do it with our own twist. Instead of just sending another pretty ebook, we can stand out and attract more of our ideal clients by just showing our weird, quirky selves.
And before you get all worried thinking you need a fancy ring light and a perfectly curated office, don't let these things deter you from creating authentic, valuable videos. At the end of the day, your content is what matters most.
None of those things are bad, but they're not necessary to put video to use! In fact, one of our most successful lead magnets is our free 5 Day Targeting Challenge. We filmed it in one afternoon in our workout clothes in the woods with our camera hanging from a gorilla pod wrapped around a tree branch! And guess what? We still receive tons of responses from people who opt-in saying they feel like we're friends just hanging out (which is exactly how we want them to feel!)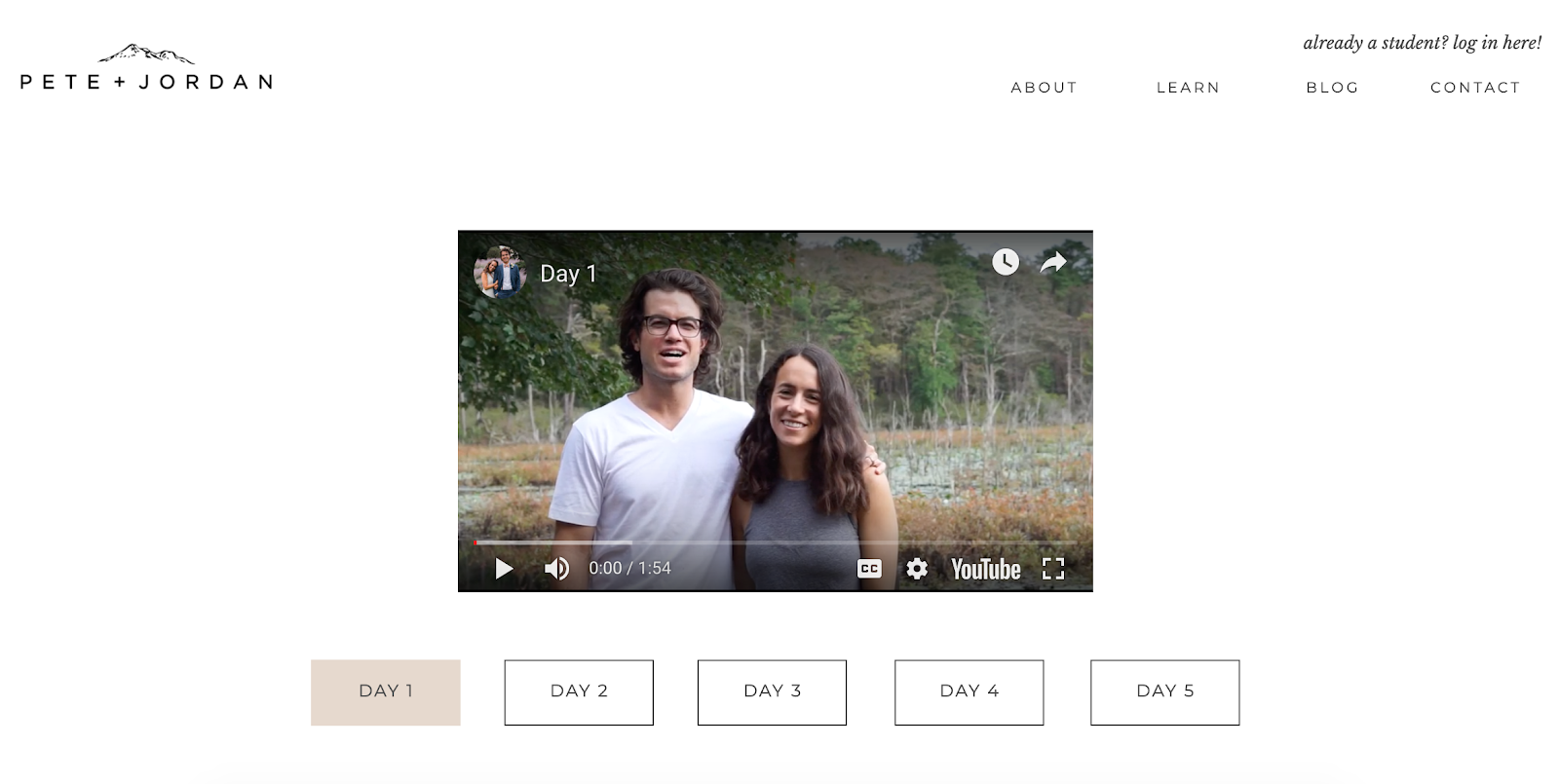 3. Integrate Video in Your Nurture Sequence
Looking for ways to elevate your client experience? Video is a phenomenal way to build the "like, know, and trust" factors in your nurture sequences.
A nurture sequence is the process that happens once someone fills out your contact form, joins a course, or opts into your list. Think of it this way: what happens after someone submits your HoneyBook form and starts a workflow? That's a nurture sequence!
There are different ways that you can build out your sequence, depending on the "trigger," but at the end of the day the goal is to serve that person well and nurture a relationship with them. What better way to do that than by incorporating some video?
One creative way that our students have integrated video into their nurture sequences is by adding a short video to the thank you page that their inquiries are redirected to upon submitting a contact form. The video thanks them for inquiring, sets expectations for when they'll be in touch about and shares a bit more about the process. It also just builds excitement, trust and a more personal connection! If you use HoneyBook's Workflow tool, you could easily incorporate a video into your thank you or confirmation email that is immediately sent to new inquiries.
In our own business, we love to use the free app Bonjoro to send personalized welcome videos to all of the new students in our Signature Course. Bonjoro allows us to record short personal videos that are then sent via email. It's super simple to use, but it has allowed us to elevate our client and student experience in a really special way.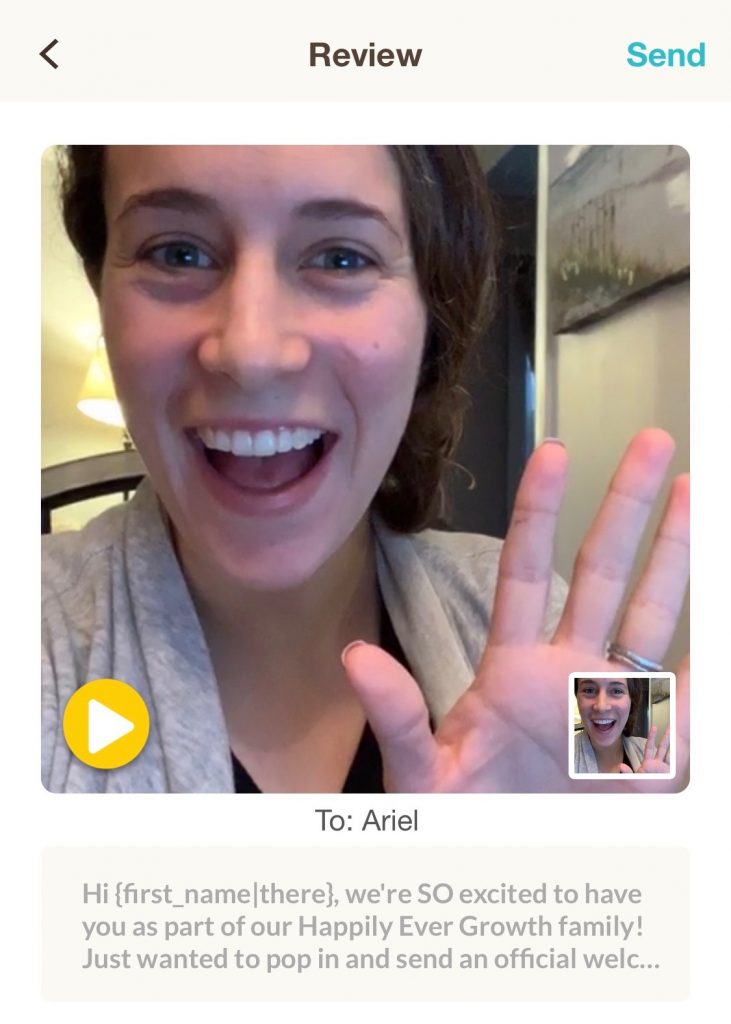 There are a ton of ways that this can work, depending on what the funnel and nurture experience looks like in your business, which makes this a huge opportunity to stand out with video!
4. Share Video Content with Your Email List
Another unique way to use video in your marketing strategy is to share it where it's not usually expected: in your emails.
Most likely, if you have an email list, you're sending plain text emails.
This is a smart move, as stats show that plain text emails convert better than fancy formatted ones – but don't let that stop you from adding some video content in the mix.
Instead of only communicating via text, think of ways that you can teach or share content in a video, and then send those links to your email list too.
One way we've integrated video in our email marketing is to send a link to our vlog that reviews our monthly deep-dive topic. As an example, in June our email content is focused on income planning, so we shared a vlog about how we plan out our own income and walked viewers through the template that we created and use to map out our income goals. It's a fun and engaging way to share content and engage your list!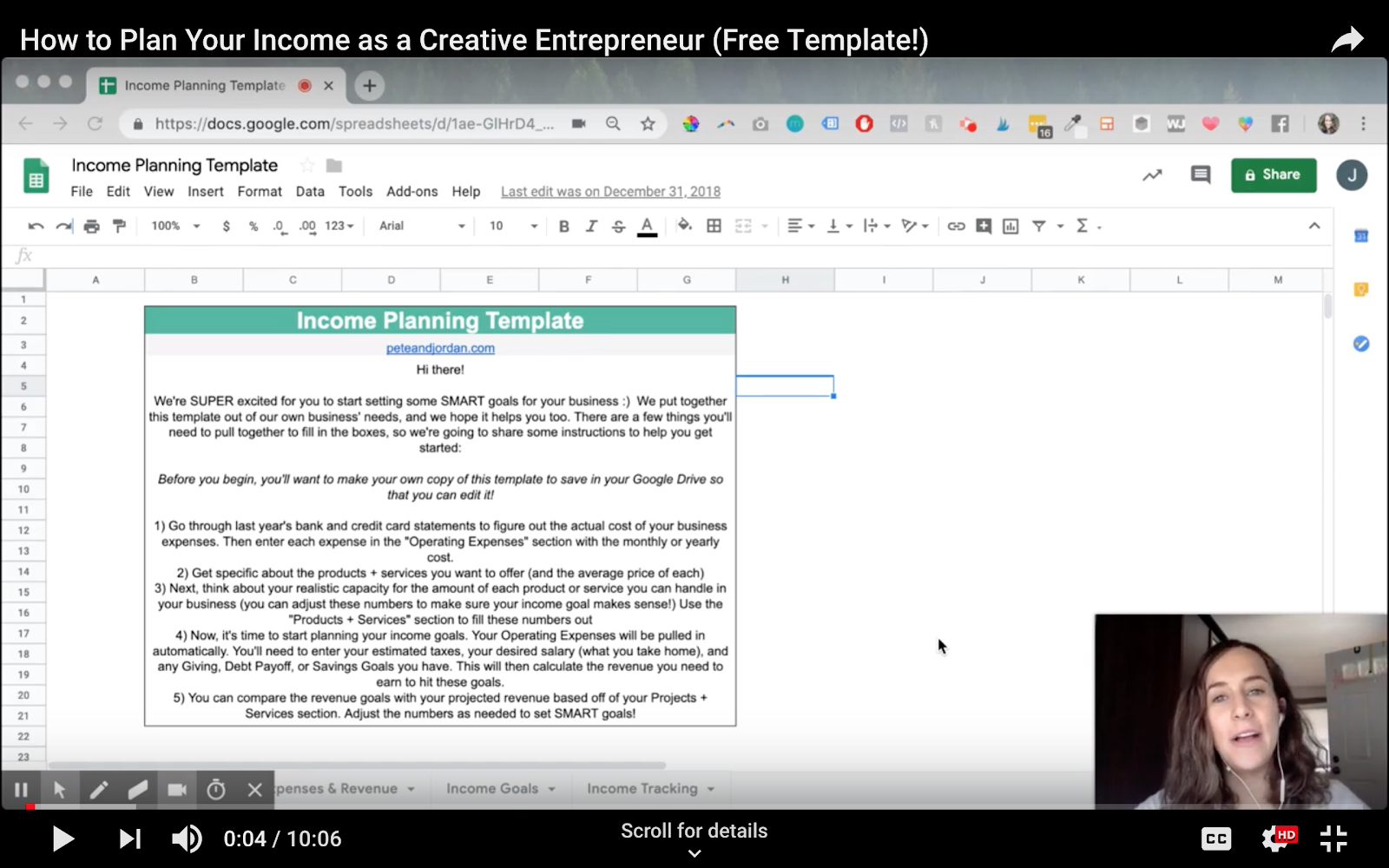 5. Attract Your Ideal Audience with Video Ads
We couldn't talk about using video in your marketing strategies without talking about paid advertising.
It's no secret that we're big fans of Facebook and Instagram ads. When run the right way, ads are incredibly powerful ways to drive growth in your business. We're not talking about more likes or views; we're talking about real revenue-driving growth.
And while it can feel like there are a million ads on your feed at all times, the content is, once again, not all created equal. Videos are a great way to highlight your personality and brand in your advertising efforts. Whether it's inviting people to join a webinar, showing off your work in a promo video or providing some tips in an educational training, videos are an incredibly engaging medium when it comes to social networks. This is exactly what makes them great tools for standing out with your ads!
We love testing out videos in our own ads across the different feeds and even on Instagram stories. Again, don't hold yourself back by thinking that you need to create the most professional videos out there. If your brand is clean and professional, by all means, make sure you stay on brand! And while it's important to think about little things like having good lighting and no background noise, you don't need a fancy studio to create high-quality, high-converting video ads.
In fact, some of our best performing ads were filmed in the snow on a hiking trail, walking through an apple orchard and next to a brick wall behind a coffee shop!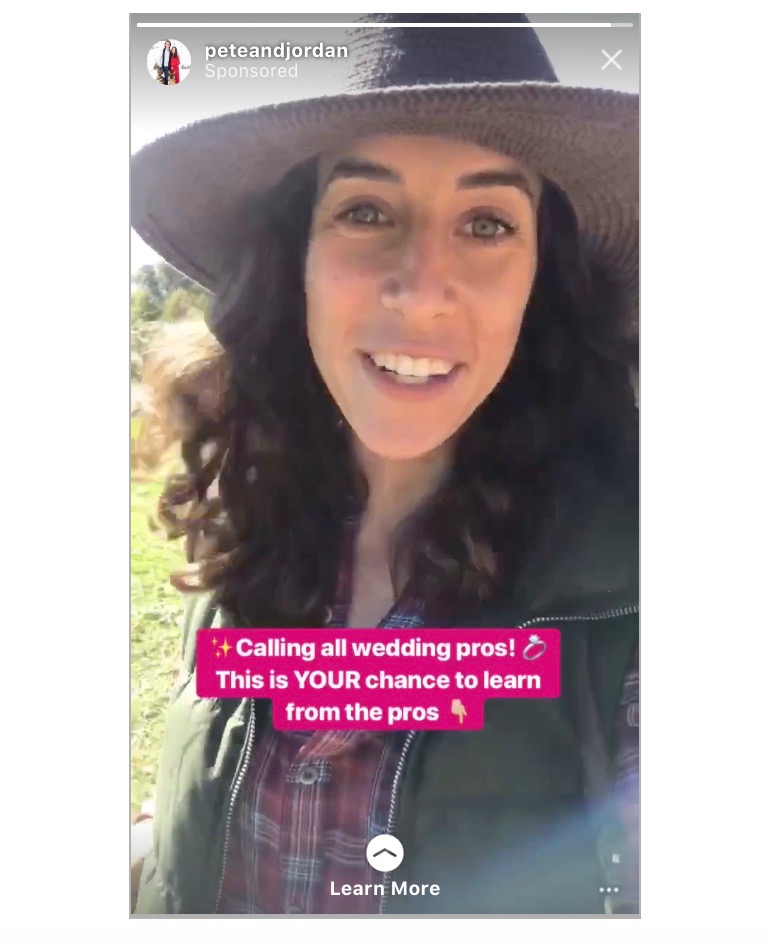 Using Video Marketing to Stand Out
Hopefully, by now you not only understand the importance of using video in your marketing strategies but you have some inspiration on how you can incorporate it into your own business.
Remember, there are so many different ways to bring your videos to life, and there are so many opportunities to use video in your marketing plan. These are just a few of our favorites!
We love hearing how other creatives are utilizing video to build relationships, nurture their lists, establish trust and authority, and serve their audiences well. If you're using video in your own marketing efforts, be sure to drop a note below and share your own ideas and inspiration!
Learn more and grow your business with HoneyBook's all-in-one marketing consultant software.