Use these five simple relationship development strategies for your business. When you invest time into your relationships, you can count on more long-term business, repeat business, and greater support in your community.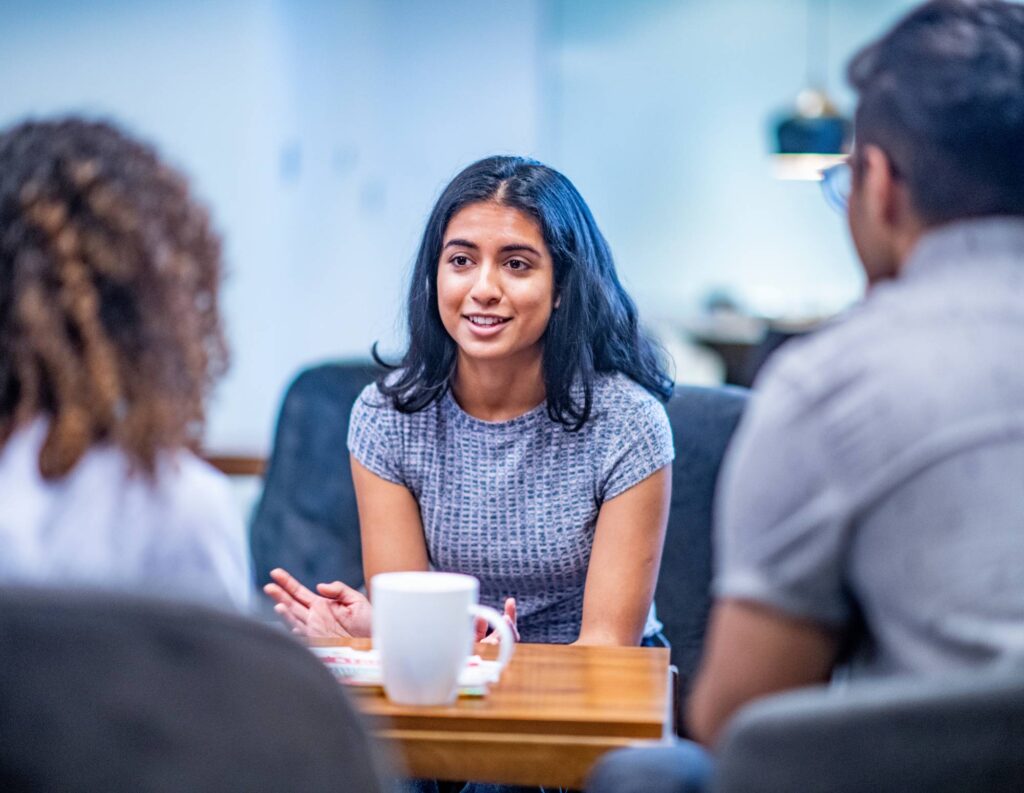 Relationships are the basis of business. Through strategic networking, you can achieve your goals when it comes to attracting your ideal clients and growing your business with partners, vendors, and community.
By growing your business relationships successfully, you can count on more opportunities, referrals, and a stronger network for your business. Use these five relationship development strategies to build start building that muscle today.
Jump to:
1. Communicate effectively
Through our public relations experience, we have found that communication is key and the way that you communicate is even more important. Good communication skills can promote healthy and positive relationship-building with your clients. The best quality an expert communicator can have is the ability to listen with the intent to understand, versus listening with the intent to respond.
Use these listening techniques to make your clients feel heard and connected to you:
Actively listen and do not interrupt
Ask follow-up questions
Repeat statements to further clarify and understand
Keep a calm and collected demeanor regardless of the circumstance
2. Identify your collaboration goals and values
When working with clients, it's important to define their goals and desired outcomes early on. It helps to be as specific as possible about your business and services, and the outcomes you've provided for other clients..
The more specific you are, the easier it is for you to create a collaborative environment that achieves exactly what the client is looking for.  By level-setting, you can also ensure that you each are clear on expectations, which you should outline in your final online contract templates as well. 
Aligning up front on your goals and values can also ensure you're working with the right clients. Instead of working with everyone who inquires, it's important to make sure you're working with clients who are realistic about what you can provide. Otherwise, you'll be setting yourself up for poor client relationships from the start.
3. Gain insight from your community
One of the best ways to grow your business is through engaging and learning from others in the industry. Be open to learning from their successes and the mistakes they may have made during their time in business.
Growing business relationships with other business owners can help you learn more in areas where you need to build up your skills. For instance, maybe you aren't so savvy when it comes to finances. Someone else in your industry may have built up that skill, and they're likely willing to share some tips.
Consider joining industry meetups or online groups on LinkedIn and Facebook. Don't be afraid to reach out to individuals who you want to learn from. Just do your research and learn more about who you will be engaging with. Consider asking them these questions:
What was your most recent collaborative project?
What have you learned from past collaborations?
How do you stay motivated in collaboration projects?
What collaboration tools do you find most effective?
What's your favorite collaboration you've ever worked on and why?
4. Utilize networking to build strong relationships
For most independent business owners, you need to bring on outside vendors, partners, and collaborators to successfully complete your projects. Photographers need second shooters, marketing consultants need designers, and so forth.
You may notice that some business owners tend to work with the same people over and over. This is because when you've found a good relationship that results in strong work and mutual growth, you should hold onto it! Networking is how you can develop those relationships for yourself and your business. Meeting new clients is a crucial step in elevating your work and increasing your bottom line. Outside of traditional networking events, you can network with others on social media, via online communities, or by crossing paths at events.
Pro tip
Don't be afraid to put yourself out there and build relationships with people in the industry who you admire. A little bit of networking can pay off in huge way.
5. Maintain happy clients so you can gain new clients
When a client feels fulfilled with the services and relationship you provided for them, they are likely to share that positive experience with others. This leads to referrals. A person who has been referred to your business will be easier for you to market to because they already see value in what you are providing. Here are a few ways to encourage referrals from your happy clients:
Gather your clients' feedback
When it's time to close a project, it is important to gather information on how their experience was working with you. Ask for honest feedback (you can do this with HoneyBook's clientflow management platform). Just automate a questionnaire to send as soon as the last online invoice is paid, or another milestone that marks the end of your project. 
By capturing feedback, you can improve in ways you might not have thought of on your own. You can also see where your strengths lie. If a client has had a great experience with you, let them know that you'd appreciate any referrals they could send your way.
Ask for reviews and referrals
Once you've gotten some feedback from your clients, you can determine if they're likely to provide testimonials or referrals. All you have to do is ask, and it's okay if they say no!
If you're asking for reviews, make it easy on your clients by linking directly to the sites you use the most, like Google, Yelp, or Facebook. If you want to request a referral, you might want to offer some type of incentive, like a 20% discount on additional services if their referrals book with you. Loyalty programs are also a great way to engage your clients after a project and leverage ongoing business.
Don't forget to say thank you
Whether your clients review your business or send a referral, it's always a good idea to thank them for their business. Be sure to send a thank you message for their time (you can automate this!). If you have a newsletter, ask if they'd like to join, so you can continue the relationship with news, tips, and updates about your business and industry.
Manage your relationships with a clientflow platform
Maintaining your client relationships is the last step of your clientflow, and it can lead to a lot of new business when you close your projects intentionally. Relationships are a lot of work in life and business, so it's important to have the right tools.
With a clientflow platform, it's easier to manage client, vendor, and partner relationships. You can manage your clients' entire lifecycle from inquiry to offboarding, and automate key messages throughout their relationship with you, such as onboarding documents, booking, project closure, and retention.
HoneyBook is the leading clientflow platform for independent businesses, and it can help you and your clients stay on the same page.