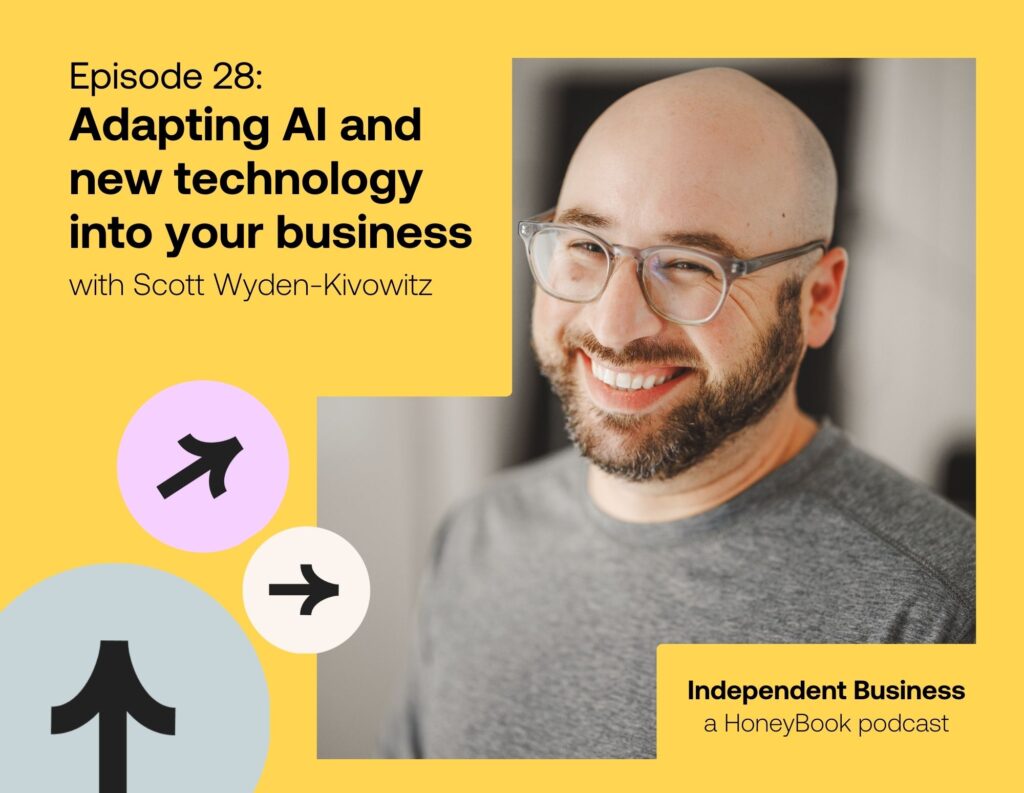 Did you know that 60% of independent business owners are already using Artificial Intelligence (AI) in their business? AI has been the most talked about topic this year—making us all the more excited to dive deeper into what's out there.
Today on the podcast, we are joined by Scott Wyden-Kivowitz, the Community Manager at Imagen AI. Scott joins us to share the benefits of AI, how you can adapt it to truly impact and improve your business.
The Independent Business podcast is powered by HoneyBook, the all-in-one platform for anyone with clients. Book clients, manage projects, get paid faster, and have business flow your way with HoneyBook. Use the code PODCAST to get 20% off your first year as a new member.
Follow the Independent Business podcast
The state of AI among independent businesses
While AI isn't new, it's only recently become accessible to the public. Oftentimes, when something new hits the market, it's scary to shift and change. Within small and independent businesses, there are fears of incorporating AI, yet adaptations and a willingness to learn.
People, specifically business owners, are recognizing that AI can help them, while not fully understanding the extent to which it can. This is where research, education, and experimentation comes into play in order to understand how to use the tools to their advantage.
What types of AI tools can you use in business?
While we completely understand the hesitation and fear in trying something new, you may already be using AI in your day-to-day life. Tools like Grammerly and HoneyBook are utilizing artificial intelligence. Many tools like these have AI embedded into the product for ease-of-use—this often doesn't feel like AI.
Other tools, like Imagen AI, ChatGPT, and Google Bard are AI tools that business owners are specifically seeking out to take advantage of artificial intelligence.
Understanding which tools will benefit your business will be entirely based on your needs. For example, if you hate writing emails to customers or simply aren't good at it, that's where HoneyBook's AI Composer feature can assist you!
Beyond some of the more common tools that businesses are using, Scott has found ways to incorporate AI into his own workflow to accommodate working with his color blindness and dyslexia. During his career as a photographer, Scott would rely on another person to check his color balance, now he uses Imagen AI to do it. Additionally, as the host and producer of Imagen AI's podcast, Workflows, he uses an AI tool that gives him a starting point for podcast show notes, prompts, and more.
Keeping up with and adapting to new technology
As an independent business owner, you're already busy running your business, so how do you keep up with new technology? One way to stay healthy in your approach to new technology, specifically AI, is to take the business out of it.
Scott believes that when you communicate with AI tools in a creative way that has nothing to do with your business, you can explore what it's actually capable of. This will open your mind to new ideas. When you take the business out of it, your mindset will allow your creativity to flow. From there, you can find more ways to use it in your business.
The biggest differentiator between the businesses that succeed and the ones that fail
Scott believes that the biggest differentiator between the businesses that succeed and the ones that fail is being open to experiment and try something new.
Important sections of the conversation:
[1:47] The state of AI among independent businesses
[6:00] Adapting AI and new technology into your business
[12:43] Keeping up with AI
[20:03] The biggest differentiator between the businesses that succeed and the ones that fail
Mentioned in this episode:
Connect with the guest