From graphic to interior to product design, the 20 On the Rise winners in the design category have been featured in Architectural Digest, partner with brands like Urban Outfitters, and blaze trails in general. For example, just look at Tiffany Tolliver, who, in two years, went from living at home as a hair salon receptionist to owning a thriving, six-figure boutique agency in Los Angeles. We asked for their secrets to success, and here's what they said.

Start before you're ready, plus the one thing you must do above all else.
"Stop holding yourself back. You don't have to be perfect, you just have do your best and be consistent. And… no matter what, get their email address ;)"
Ana Maria Andricain, Jewel of Havana Owner/Handcrafted Jewelry Artist and former Broadway actress
Make friends with your biggest competition.
"They will be your greatest allies and dearest friends. I'm so, so, so blessed to have a group of web designers that I Slack with all day, every day. They truly are my virtual coworkers. We help each other with coding issues, design feedback, contract questions, client expectations, etc. We filter our leads to the most appropriate designer, so everyone books their dream clients and doesn't waste time on projects that aren't in their niche. I've never experienced friendship and selflessness like this group of 8 women."
Anastasia Casey, The Identité Collective Creative Director + Founder
Stress less.
"Just keep swimming. It will all work itself out just like Mom always told you. If you just keep pushing and practicing to perfect your craft, the clients will come. Stress and overwhelm are a waste of time. So, just stop worrying already!"
Alex Cottles, The Routine Creative Brand & Web Designer, currently living in a 23-ft travel trailer while exploring the U.S. and running his design business remotely
On how to quickly figure out if you have a good idea or not:
"During the early stages at Cassette, my CEO Angad and I were thinking about strategies to validate our product concept without risking time and development resources. We ended up launching a landing page I designed for the concept on Product Hunt, pre-development. This validated our idea with a 6,000+ person waitlist." 
Jake Doering, Doering.Design Principal and Freelance Product Design Lead

Be persistent.
"The first planner I ever produced was picked up by Chapters Indigo in Canada only 3 months after I launched my company. I achieved that with my insane persistence knowing I had a product they needed to be selling. I was also published in Fast Company the day of my launch because I personally reached out to every journalist in the magazine whose articles I enjoyed reading." 
Marissa Grootes, STIL CEO & Founder, designing minimalistic organizational goods
Shine a light on mental illness.
"I live with clinical depression and ADD. Managing both plays a large role in how I structure my business and my schedule. Over time, I've realized that some of my greatest strengths as an entrepreneur come from this aspect of who I am, even as I've battled with shame and isolation in it. I also know that a higher percentage of creatives deal with mental illness than in the general population, so I have made it a personal mission to be open about my own experiences because I know that it may help someone else fighting the same battle. Depression thrives in the darkness, so shining a light on it can help to take away some of its power."
Alison Jefferies, J'Adorn Designs CEO and Custom Jeweler/Bridal Accessories Designer
Be yourself.
"It's literally okay to just be yourself. Nobody minds. Actually, it's great. You're never gonna be a cool disaffected person and by your late 20s that's not going to be even remotely desirable to anyone anyway. Be passionate! Also, nobody cares if your work is 'bad' – PERFECT ISN'T BETTER!"
Adam J. Kurtz, ADAMJK LLC Artist and author of Things Are What You Make of Them (Life Advice for Creatives), currently working on a tarot deck called the OK Tarot and the 2019 edition of his annual Unsolicited Advice agenda
Trust your gut when making your career choice.
"10 years ago, I could not have predicted I'd be a designer, let alone have my own creative studio. I went to college with law school in mind and never even dreamt of a creative career. Dartmouth didn't even have a design program! I was a History major and decided to take art classes on a whim to balance my writing-and-reading-heavy class load. My studio art classes engaged me in ways I hadn't anticipated, and I think I knew pretty early on that a creative practice was something that was going to be a part of my life.
Lore has it that I woke up one morning and told my then boyfriend (now husband), "I'm going to be a designer!" and the rest is history… I certainly didn't know what being a designer meant, but for whatever reason, my 21-year-old brain thought it was the right combination of research and visual and analytical problem solving. Turns out I wasn't completely wrong!"
Do-Hee Kim, Shoppe Theory Designer & Co-Founder, specializing in visual identity development and custom e-commerce website design for retail clients

Celebrate your achievements.
"The experience of seeing a product you've created start to finish appearing in print is so freaking cool. I've had some of my work published in magazines & it gets me feeling giddy every. single. time. The largest publication to date was Redbook magazine. I framed it and use it as motivation to always seek new opportunities."
Carli Vergamini, CRAVE by Carli Rae Vergamini Designer in the midst of a self-inflicted "18 Bags Project" where she designs and makes one bag per month for a year and a half
"I think my biggest accomplishment is building this business and awesome network around me while suffering from a chronic illness. And even through all of that, I made more in the first six months of this year than I did in all of 2017! I just relaunched to truly focus on just sites, and I eliminated branding from my services. But I believe this shift (and new terrain, most developers don't design the sites and creating strategies for websites isn't really done as the norm) will not only bring me more joy but give me more time for more projects, helping as many people as I can."
Stefani Lefler, Stefani Jessica Studio Website Strategist, Designer, and Developer, coding since she was 12 years old and now bringing brands to life on custom websites
Find what you really love to do through failure.
"Before Branding Addicts, I was a serial entrepreneur. I started five businesses from the time I graduated high school to when I graduated college. After the excitement of building a business and getting bored, then building another business and getting bored, I found myself getting caught up in this vicious and depressing cycle. I felt like such a failure because I was not satisfied with anything that I tried. It got to the point where I would tell all of my friends and family about a new and exciting business idea I had, to find them rolling their eyes at another one of Laine's dead-end ventures. Then, it dawned on me. I had the most wonderful epiphany! I realized that maybe these businesses were not just failed attempts. Maybe they meant something more. This was when I finally realized that I was specifically created… to create businesses. What better way to create new and exciting business ideas, all the time, than branding? This is when I realized that my past failures led me to my current and greatest success. I am strategically wired to create, almost like a creative form of ADD that needs to be released."
Laine Napoli, Branding Addicts LLC CEO

Appeal to the types of clients other designers don't want.
"I was always creative, but in 2005 my mom became ill. I pretty much gave it all up and focused on providing for myself and taking care of her as much as I could. In 2010 she passed away, right after I bought my first house. The only thing that made me feel better was decorating my home, because it always brought her so much joy. It made me feel closer to her. After that, I decided to go back to school and get a second degree in interior design. I wanted to create a business that served all kinds of lifestyles and all kinds of budgets. School actually disgusted me—things like, "I only take a job if the sofa budget is 30K" was just not something I could get behind. So I created a brand that appealed to the types of client that most interior designers didn't appeal to. From there, other designers wanted me to design their brands, so the Paper Mooniverse grew. I hope to continue making design of all kinds accessible to all walks of life."
Stephanie Owens, Paper Moon Interiors | Ms. Paper Moon | The Decorettes Interior Designer and Brand Designer
Find a creative outlet.
"Creativity, art and design have always been a huge part of my life. My first son was a very colicky baby and things didn't work out for me to keep teaching ballet. Without dance in my life, I was definitely missing a creative outlet. I started the company with the goal of making a linen baby carrier that was more affordable for Canadian caregivers. It has grown and evolved so much from that simple mission and now really satisfies my need to create and experiment with colour, fabric and texture."
Anali Reizvikh, True North Slings Designer, known in the baby-wearing community for the triple shoulder sling
Focus on the positives.
"After seven years living in what is now South Sudan, I had the cerebral strain of malaria 18 times, plus typhoid, plus several other tropical bugs. My health crashed and I had to do the one thing I never planned on: leave. It took me five years of fighting to get my health back from 2013-2018 before I really started designing full time (opposed to freelance when I could).
Then in January this year, I was returning from the airport after my first speaking trip in years and was in a major car crash. My right (dominant) wrist was broken, and still 6 months later it has not healed properly. I completely lost my business because I could no longer paint and design as I had before. And I spent 4 months in a dark, silent room trying to heal from a traumatic brain injury. I still have a long way forward there. I still am no where near what I could do before.
But laying in the dark, I made a decision. I could focus on what was lost (and I did a bit of that too), or I could focus on what I was given: a blank canvas. This time I decided if I was going to rebuild, it was going to be a business doing exactly what was in my heart all along: empowering creatives and entrepreneurs to live wholeheartedly, thrive extravagantly and build brands that matter™(brands that include intentional generosity and social entrepreneurship in the very core of their business model)."
Michele Perry, Designed to Thrive Creative, LLC Owner/Creative Strategist, Brand Designer and Business Educator, who spent seven years living in an active conflict zone in Africa (South Sudan), founding and running a children's rescue home (with 130 children)

On consistency and confidence:
"Consistency and visibility are the key essentials for a successful online business of any kind. Also, be confident, no matter what. Accept failures and learn from them. You don't have to waste your time trying to cover your faults. Instead, face reality, and do the best to work around your challenges. Use this knowledge so you don't make the same mistake again."
Salma Sheriff, Brand Strategist & Web Designer
Find inspiration in the ordinary.
"Great packaging and stationery has influenced my design aesthetic the most because those were the places I first noticed and fell in love with design. A beautifully and practically packaged item would make me open it so slowly, just to appreciate every sticker, postcard, and piece of branded tissue paper. A uniquely folded carton of milk was such a small part of my daily life, but it solved a common problem simply with design. And lastly, a clean, letter-pressed card made me feel like I knew the coolest, most put-together person just because of the font chosen on this smooth and sturdy piece of paper."
Iris Zhou, Comeback Magazine Founder and Editor (and 18 years old!)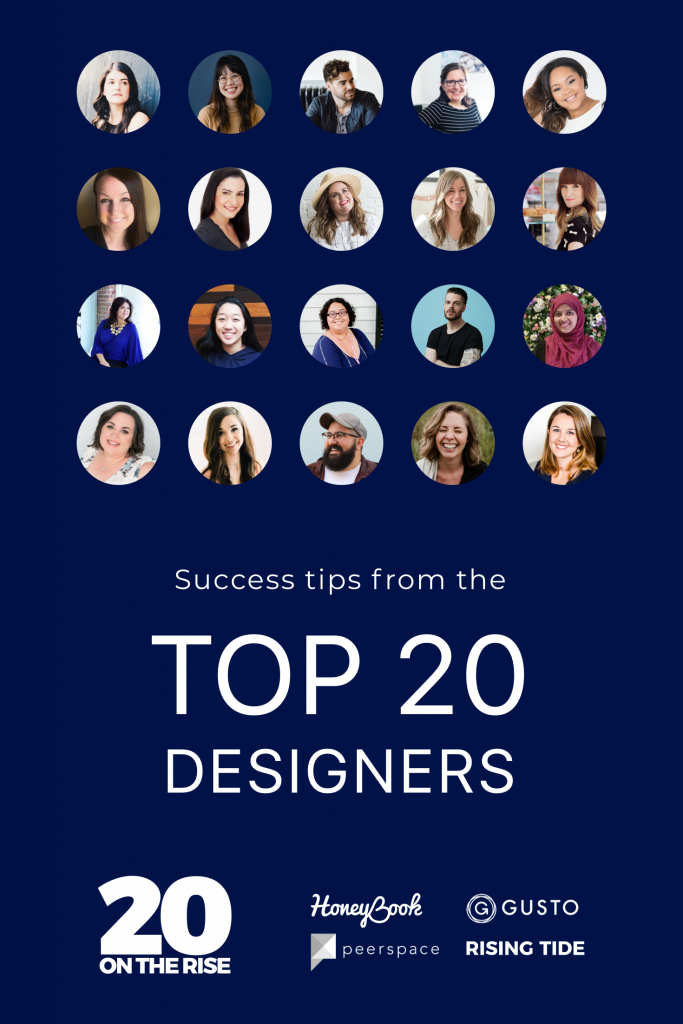 Embrace bumps in the road.
"Your mistakes are your message."
Tiffany Tolliver, The EmmaRose Agency Owner/Lead Brand Designer
Take time to build the right team.
"I am blessed to have assembled a fabulous team of inspiring women who love helping others. Our team is everything. Without having recruited, trained and guided them, our brides would not experience the love, acceptance and beauty they all deserve! :)"
Sandra Gonzalez, SPARKLE bridal couture Founder & Creative Director, empowering curvy women to accept their natural beauty and to feel beautiful, confident and fabulous

Find inspiration in your customers.
"I find inspiration listening to their stories, reading obituaries, and hearing the love they have for their loved ones. The designs are always enriched when it is a collaboration."
Melissa Fox-Austin, Cherished Prints Graphic Designer and Founder, transforming consumer expectations of funeral and memorial stationery by providing modern designs
Never quit on a bad day.
"I think we all have those types of days (or weeks) where we just feel like we're drowning or we can't keep going (in life and in work) and the best advice I ever read was to never quit on a bad day. Sometimes you just have to take a step back, get inspired, stay curious, and make the decision to move forward (or not) when the storm has passed."
Katie Zautke, Westward Wandering Co. Founder / Owner / Designer