Make your client communication more professional and consistent with these email signature templates. Choose from eight options to find the one that fits your brand the best.
As independent business owners, we all know how important it is to be consistent with our branding on social media, on our website, and in our marketing materials.
But what about email? That's one place people often forget to incorporate their branding—but it's easier than you think.
One way to stay on-brand is by including an email signature that reflects your brand's look and feel in every message.
It's like ending each email with a friendly virtual smile, high-five, or hug.
But how can you tell which email signature is right for you? We've designed eight email signature templates for you to choose from. Find the one that best matches your email personality below.
Jump to: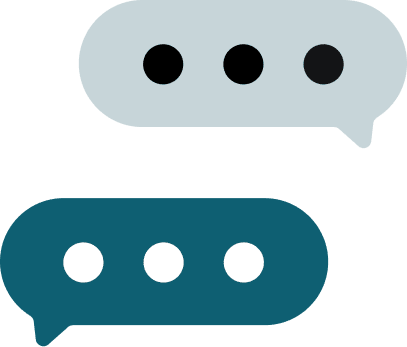 Ensure consistent communication
Use HoneyBook to manage all of your client communication in one place. 
What should be in your email signature?
Your email signature should be functional, aesthetically pleasing, and true to your brand. Any good signature should include:
Name: Your name and your business's name
Image: Your picture or your company logo
Title: Let people know what you do
Contact information: At least two ways to get in touch with you
Social links: Icons and links to your active social profiles
Responsive design: Your signature should work on mobile devices
Legal requirements: Your company may have legal disclaimers or legal requirements, such as an unsubscribe option
How you showcase each of these elements will be dependent on your brand. For example, if you're a personality-based brand (like a solo freelancer), using your photo makes more sense than a company logo.
Now, let's get into the free email signature templates available from HoneyBook.
1. Conservative
This signature is for minimalists.
Devoid of excessive fluff, your emails get straight to the point. And even though your messages tend to be on the shorter side, they still convey a friendly, professional tone.
You'd never dream of signing off with "xoxo," but "cheers" is right up your alley.
The conservative email signature template is clean, compact, and concise, just like your emails.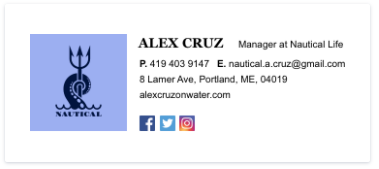 Get the conservative email signature template >
2. Romantic
The romantic email signature template is perfect for you if your brand is exuberant and playful.
Most of your emails end with "xoxo." You can't think of a better way to convey your excitement than the heart-eyes emoji. And you're a firm believer that the more exclamation points there are, the better.
The romantic email signature template reflects your whimsical communication style. The centered text shows a desire to break convention. Icons represent each communication channel, and your logo is front and center.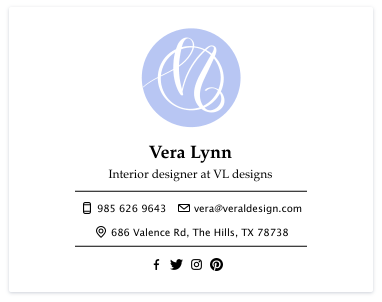 Get the romantic email signature template >
3. Urban
Keeping your work and personal life separate? It's never occurred to you. You're a whirlwind of productivity and building relationships, keeping your finger on the pulse of a million things.
Friends and clients alike look to you to make introductions. Your email style is zippy and breezy—it needs to be if you're going to keep up with your ever-growing inbox.
The urban email signature template is lightweight, highlighting only the most important pieces of information.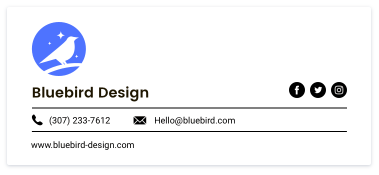 Get the urban email signature template >
4. Cute
The cute email signature template is for brand-heavy social butterflies.
Your social media presence is one of the most important aspects of your brand. You're constantly creating content for your Instagram or TikTok, whether it's taking a picture of a coffee date with your client or a video of your dog hanging out in his Halloween costume.
Linking to your Instagram posts, like to quickly show your client an example of a past project, is a huge part of your email style.
The cute email signature template prominently showcases your social icons. Now your inquiries and clients can connect with you on your favorite social channels—fast.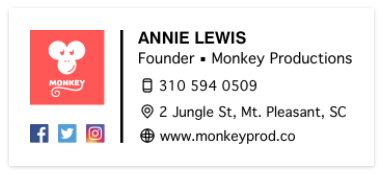 Get the cute email signature template >
5. Cool
The cool signature template is old school, but stylish.
Your emails are the perfect balance between practical and warm. Bulleted lists are your bff. Your clients trust you with the details of their most important projects because they can tell how much you care. With a focus on the facts, your emails are informative and action-oriented, laced with your signature charm.
The cool email signature template is a no-frills closer to get the job done. But it also includes thoughtful design accents. It's little details like this that continue to surprise and delight your clients and inquiries.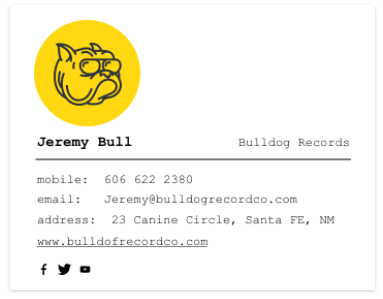 Get the cool email signature template >
6. Classic
The classic template is simple but sweet.
Clients often say it feels like they're talking to a long-time friend when emailing you. You make your clients feel heard and have a knack for making them feel special.
In fact, many of your friends are actually past clients. While some hesitate to give out their personal email or phone number to clients, you'd never think twice.
The classic email signature template works just as well for your professional emails as it does for your personal.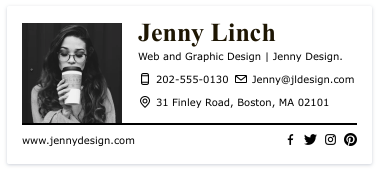 Get the classic email signature template >
7. Crisp
Though your messages are usually short, they pack a punch. You're a master of linking seemingly unrelated events and ideas together, resulting in clever visuals and examples that resonate with your clients. The beauty of your emails lies in their quiet subtlety.
While simple, the crisp email signature template makes a big impact with its straightforward design and generous use of white space.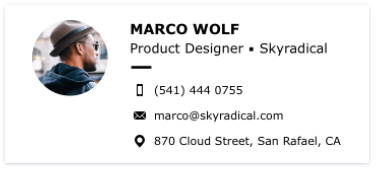 Get the crisp email signature template >
8. Modern
You value bold and unique designs in your work and your emails reflect that.
Whether you're sharing a new idea, providing feedback, or getting back to an inquiry, you inject style into everything—from your language to the visuals you choose.
The modern email signature template embraces your penchant for big ideas and design with its bold typeface and colorful social icons.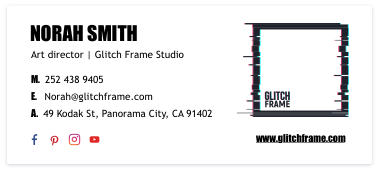 Get the modern email signature template >
Ready to create your own email signature?
Use our email signature generator to design a professional email signature in 30 seconds. All our templates are free and ready to customize with your information and branding.
Manage all your client communication with HoneyBook
Once you have a beautifully branded email signature, it's time to address your overall communication with leads and clients. It's so easy to let new inquiries slip through the cracks or let your clients go without a timely response.
To build a better client relationship, use the HoneyBook clientflow platform for all of your client communication. You can see all of your emails in one place, plus take advantage of email automation.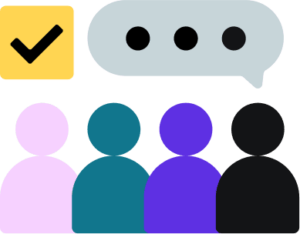 Simplify communication and maintain better relationships by centralizing all client interactions with HoneyBook.