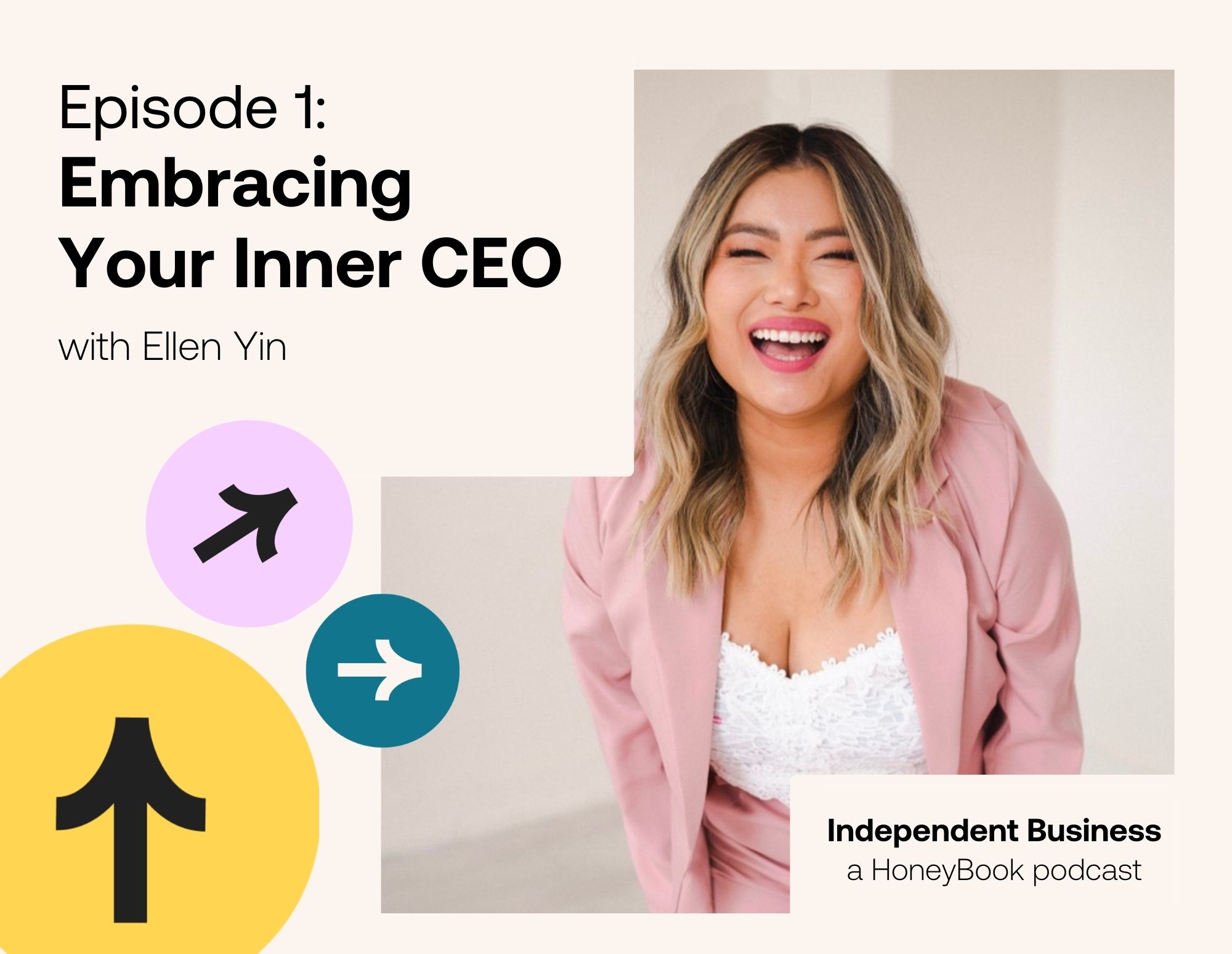 What is it like to go from a cubicle to becoming a business owner and the CEO of your own company? Five years ago, Ellen Yin quit her corporate marketing job without a backup plan. She then turned a single $300 freelance contract as a marketing consultant into a seven-figure business.
In this conversation, Ellen is sharing what that journey looked like for her, how some independent business owners go into entrepreneurship without realizing they want to run a business in the first place, and how you can begin embracing your inner CEO. Plus, we're discussing the science of asking questions and the one mistake you might be making when you close out your emails!
The Independent Business podcast is powered by HoneyBook, the all-in-one platform for anyone with clients. Book clients, manage projects, get paid faster, and have business flow your way with HoneyBook. Use the code PODCAST to get 20% off your first year as a new member.
Follow the Independent Business podcast
From corporate work to independent business owner
Did you know that 72% of independent business owners did not always intend to be business owners? Many of them also became accidental entrepreneurs, with 43% of them starting as a side hustle. Ellen Yin falls into this category, as she did not expect to become a CEO.
After a series of steps in curiosity, Ellen found herself intrigued by concepts that sparked something in her. Within ten months of being in her first corporate job, Ellen knew that it wasn't the place for her. She quit her job without a plan, expecting to look for another role that was a better fit for her at a different company. This was a few days before Christmas in 2017.
Rather than immediately jumping into the application process, she took some time off for the holidays. Shortly after, a colleague reached out asking if she could help build a social media presence for their family business. That $300 project was the launch of Ellen's business. It opened her eyes to this opportunity that she has a skill set that she can monetize outside of a traditional job structure.
Challenges in becoming a CEO
Stepping into the role of a CEO comes with a lot of challenges. Ellen attributes some of her success to her naiveté. She didn't have many fears, because she didn't have expectations. She simply saw challenges as learning curves:
The change in tax preparation

Hiring contractors and employees

Embracing the role of CEO
Being an independent business owner isn't all sunshine and rainbows—it's hard work and challenging in so many ways. Ellen found that she was untrained and unprepared for launching her business, yet she has learned how to embrace her inner CEO.
The science of asking questions
As a CEO, are you asking enough questions? Whether that is to a colleague, a potential client, or even a business partnership, you could be missing out on opportunities by not asking the right questions. Let's dive into the science of asking questions as an independent business owner.
In 1993, social scientists Vicki Morwitz, Eric Johnson, and David Schmittlein conducted a study with more than 40,000 participants that revealed that simply asking someone, if people were going to purchase a new car within the next six months, increased the likelihood they would purchase a car by 35%. Just asking them the question.
In an earlier study, published in the Journal of Applied Psychology, citizens were asked if they were going to vote in an upcoming election. Just by asking them if they're going to vote, their likelihood to vote increased by 25%.
Questions are incredibly powerful as you're moving into an independent business CEO mindset. Ellen has found this science to be a confirming strategy for closing deals in business.
Create conversions by asking intentional and direct questions
So many of us attempt to be polite over email, which can ultimately be detrimental to our success. We end emails with phrases like "Let me know if you're interested," giving our contacts permission to take a mental raincheck. A statement like this does not invite a conversation.
As humans, we are primed to respond to questions while statements can go ignored. Consider how you keep the loop open in a conversation by asking questions. When you do that, the recipient of the question will want to close that loop by answering the question.
Rather than ending your email with a passive statement, consider being a guide for the recipient. How can you make it easy for someone to respond? When you place the responsibility on someone else, it's easy for them to put it off (our lives are all chaotic and busy). In asking a direct question, it makes it easy for them to respond to that one question. Instead of stating, "Let me know if you're interested," here are a few questions you can ask:
Would you like to move forward with this?

Is this a good fit for you?

Which of these options do you prefer?

What time would you like to meet all of these?
Each of these are specific questions that have a direct intent, which allows an easy answer of yes or no. Helping someone make a decision or facilitating a decision is one of the most powerful moves you can make in business, especially when it comes to conversion and sales.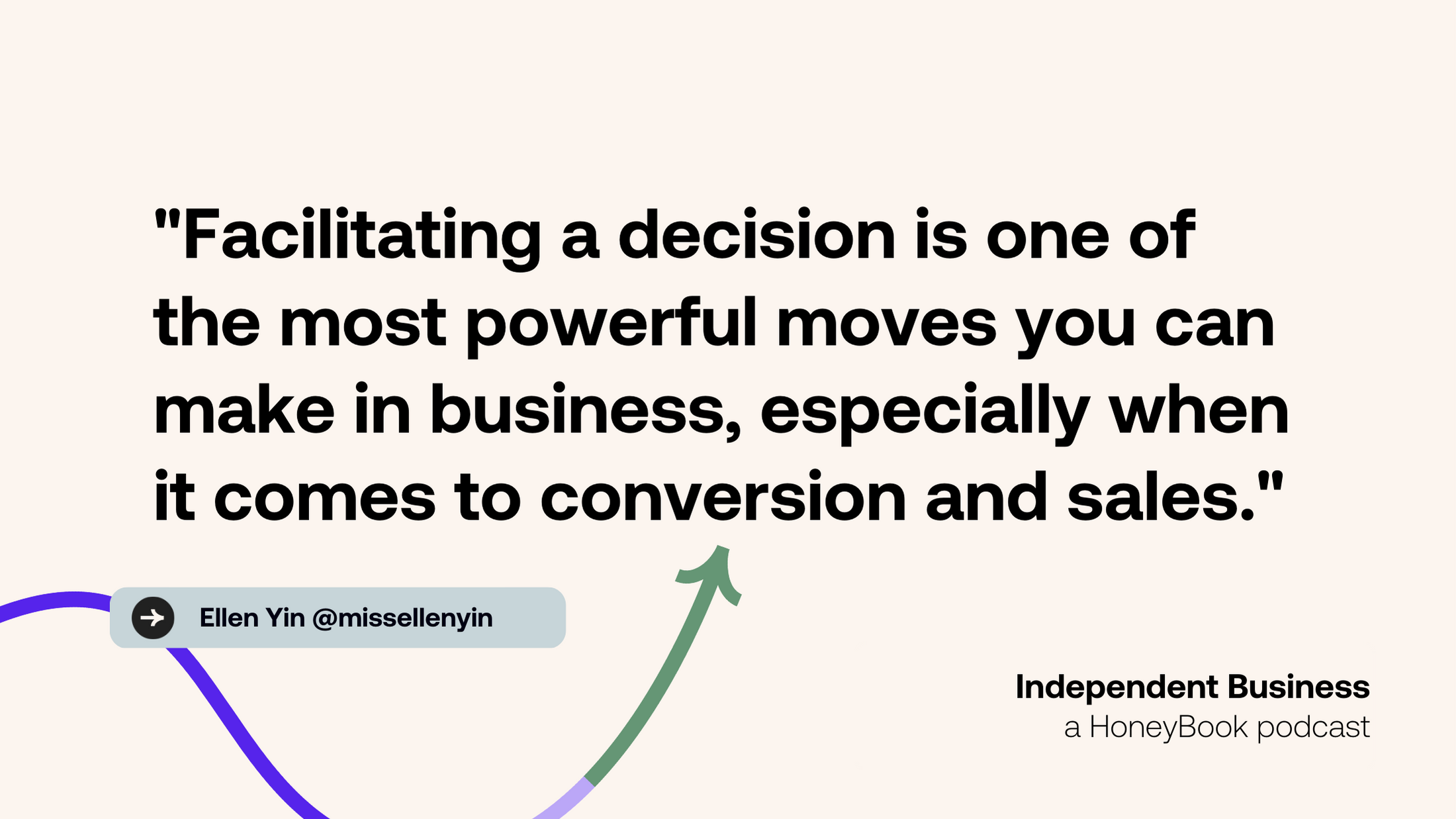 Innovative marketing for CEOs and independent business owners
Curiosity is one of the most underrated strengths that you can have as an entrepreneur. When you get curious and ask questions about concepts, businesses, and strategies, it opens the door to innovation. Those questions to others lead to the key to creativity: collaboration.
Whether you're collaborating with like-minded independent business owners, building partnerships, or sparking brand deals, getting curious about another brand and discussing ideas can lift the pressures and stress we often face in our marketing efforts. These conversations of curiosity allow for more innovative marketing in your business.
Business growth through leading a team as a CEO
At the onset of becoming a business owner, you may not consider the potential growth that can allow you to build a team. Sometimes, business growth provides you with the opportunity to hire contractors and employees, allowing you to lead a team and embrace your inner CEO.
Ellen ran her first year in business independently. By 2019, she hired a part-time contractor to support her boutique marketing agency. It wasn't long before that contractor became her first full-time employee. Now, that employee has built her own business, while still playing a part in Ellen's media company—that shows the privilege that independent business owners have to not do things the traditional way. You can adapt to the goals, dreams, and lives of the people who work for you or with you as their ambitions change.
Currently, Ellen has two full-time employees, along with a few amazing contractors that she leads in her company. The biggest lesson that she has learned in leadership and hiring is rather than asking the how and what, start asking about the who:
Who would be the best fit for this?

Who could lead this project?
In addition to learning how to retrain your brain to think this way, CEOs have to learn to allow people to make mistakes. In the same way that you had to figure things out on your own, consider simply being there as a guide or leader for your employees.
Even Google did a study on what makes an effective team that reflects this concept. It wasn't intelligence that created incredible teams, it was psychological safety. Teams want to feel safe to make mistakes, voice their opinions, show up as themselves, and be accepted.
Combatting doubt as a CEO
In your journey as a CEO and independent business owner, you may feel doubt creep in on you. One reminder you should consider as a CEO is in regard to the impermanence of many of your decisions. We often attach too much to our expected outcomes in business, because we feel that we have already risked so much in becoming a CEO.
Your decisions are not as final as you may believe. So many decisions can be altered and reversed if needed. As you move forward with your decisions, take a look at the data and continue to iterate from there—understanding that as a CEO, your data can help with making smarter decisions next time.
The biggest differentiator between the businesses that succeed and the ones that fail
With every conversation we have on the podcast, I am asking our guests what the biggest differentiator is between the businesses that succeed and the ones that fail. Ellen's answer was simple: "It is an affinity for failure."
When you desire to fail as often as possible, it allows for the data you need to become the person you want to be and the business you want to have. If you are filtering everything through the lens of your own lived experience, what you know limits what you can dream. Until you fail, it is not possible for you to think bigger.
Important sections of the conversation
[2:33] Data on independent business owners

[3:15] Ellen's journey into entrepreneurship

[6:08] Challenges in becoming a CEO

[8:13] The science of asking questions

[10:02] How to end your emails

[15:04] Innovative marketing: curiosity & collaborations as a business owner

[18:56] Business growth through leading a team as a CEO

[24:24] Combatting doubt

[26:55] Cubicle to CEO podcast income reports

[31:37] Biggest differentiator between the businesses that succeed and the ones that fail
Sources mentioned in this episode
Connect with the guest