We surveyed over 2,500 adults, including independent business owners, in the United States to understand the state of independent work. Here's what we learned.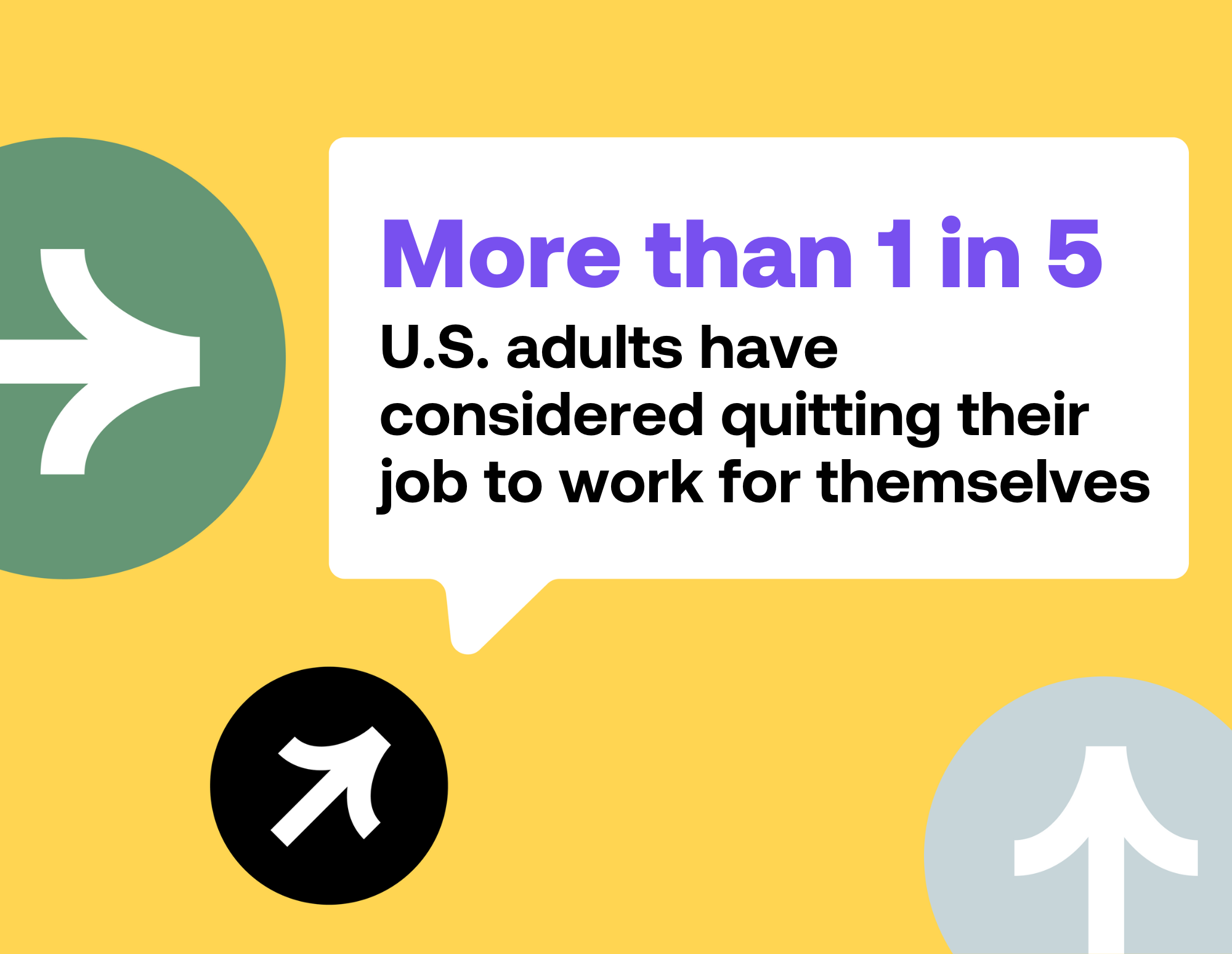 Being an independent business owner brings autonomy over your career, flexibility with your time, and the freedom to pursue your passion. For most, it also means making more money and working fewer hours. It's no wonder over half of employed adults in the U.S. (who are not also already self-employed) have considered leaving their job to work for themselves—and 44% have considered it in the last year. In fact, current economic uncertainty makes more than half of this group (59%) more interested to go independent.
This is just some of what we uncovered about the state of independent work in our latest study. The research was conducted by The Harris Poll, which surveyed 509 independent business owners in the U.S. from January 24, 2023, to February 9, 2023, and 2,052 U.S. adults (of which, 932 were employed but not currently independent business owners) from January 24 to January 26, 2023.
Here, we highlight the findings from our research, which answer questions including:
Why are people starting independent businesses?
More than half (51%) of employed adults who are not currently self-employed say they've considered leaving their current job to work for themselves—and 44% say they considered it within the past year. But why is that? What is driving more people to think about ditching the traditional 9-to-5 in favor of working for themselves?
The perception of independent work among employed adults is largely positive. 68% think they would make more money working for themselves than they do in their current job, and 66% think that their overall quality of life would improve.
That rings true when you look at the most common reasons people decide to become an independent business owner. People start businesses to:
Increase their income (57%)
Pursue their passion (55%)
Have increased flexibility in their lives (53%)
Have more time to tend to family obligations (38%)
Have autonomy over their careers (30%)
Though almost three-quarters of independent business owners surveyed (72%) say they didn't start their careers aspiring to become an independent business owner, the benefits won them over and their choice was intentional.
It is less common for someone to start an independent business in response to a significant shift in their personal circumstances like needing to support themselves or their families after a change in their (or a spouse's) employment status (25%). Even fewer started a business due to a requirement to return to in-person work (15%).
So, why haven't these people called it quits on the traditional 9-to-5 yet?
Although most U.S. adults understand the appeal of independent work there are common concerns holding them back. Of those who indicated they considered leaving their current job to work for themselves, the most common worry comes down to not making enough money (62%). This is followed by:
Difficulty finding work and/or clients (43%)
Not knowing where to start/feeling overwhelmed (41%)
The burden of the admin responsibilities that come with running a business (36%; finance, marketing, or taxes, etc.)
Some also worry about practical matters such as the loss of health insurance or other benefits (36%). This fear is not unwarranted—84% of independent business owners think there should be more government resources and financial assistance dedicated to supporting them. Additionally, 62% say the government does not do enough to improve access to affordable childcare, which independent business owners need to grow their businesses. In fact, only around half (55%) of independents say they believe their elected officials vote with their best interests in mind. Similarly, half don't believe their elected officials understand their struggles at all (54%).
More concerns about becoming an independent business owner
Though less prominent, additional concerns about starting an independent business include maintaining motivation or productivity (26%) and feelings of loneliness and social isolation (12%).
Among employed adults surveyed who are not currently independent business owners, fear of failure is widespread. About three-quarters (74%) say they are afraid they will fail if they start their own business and/or say that not knowing how to run a business makes them scared to start their own (74%).
That's despite nearly half (47%) saying they believe it's easier than ever before to start an independent business. However, the majority (72%) also indicate they are unaware of all-in-one business software that could help them.
Overall, sentiment remains positive with the majority recognizing the value of working for oneself. As mentioned above, 68% believe being an independent business owner would make them more money (even though they worry about it) and 66% believe it would improve their quality of life.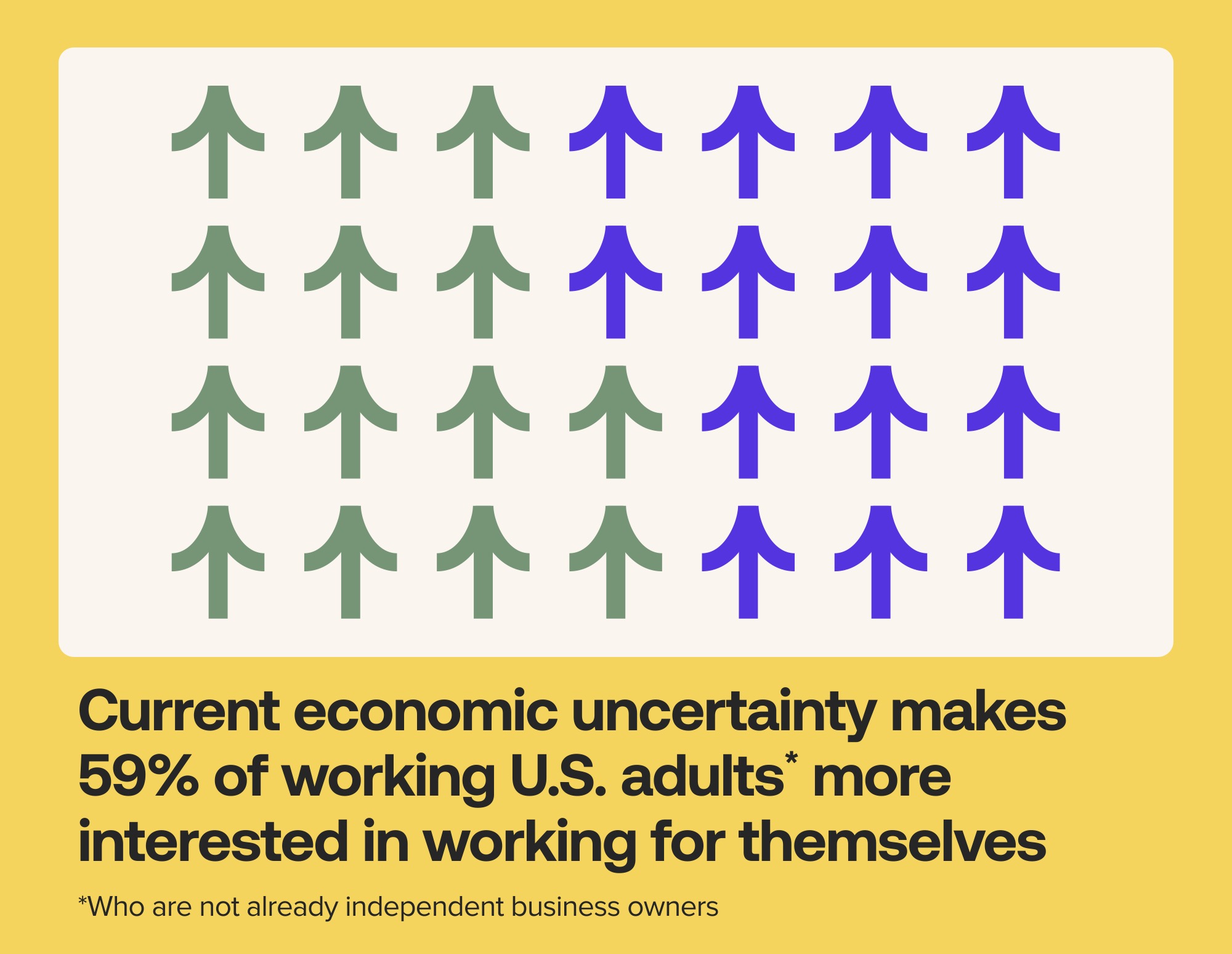 What's it like being an independent business owner?
Independent business owners are thriving—92% agree that their overall quality of life has improved since they started working for themselves.
It's safe to assume that those who jumped the corporate ship are better off. A large majority (89%) say they are more satisfied with being an independent business owner compared to when they worked for an organization.
As it turns out, many of the reasons people aspire to become an independent business owner are proven benefits. Autonomy over one's career is chief among them, with 72% saying that being their own boss is a benefit of running an independent business. Other benefits include:
Flexibility around where, when, and how they work (64%)
The ability to make more money (60%)
Pursuing their passion and talent (57%)
Work-life balance (55%)
Feeling confident and empowered (52%)
Being able to choose whom they work with (51%)
Overall, the majority are fulfilled and content in their decision to build an independent business. Almost all (93%) say they have a greater sense of pride in the work they do and greater control over their careers (92%).
Additionally, independent business owners work fewer hours on average now compared to when they had an employer. This benefit supports why 87% say that since they started working for themselves they are able to spend more time with family and those they care about.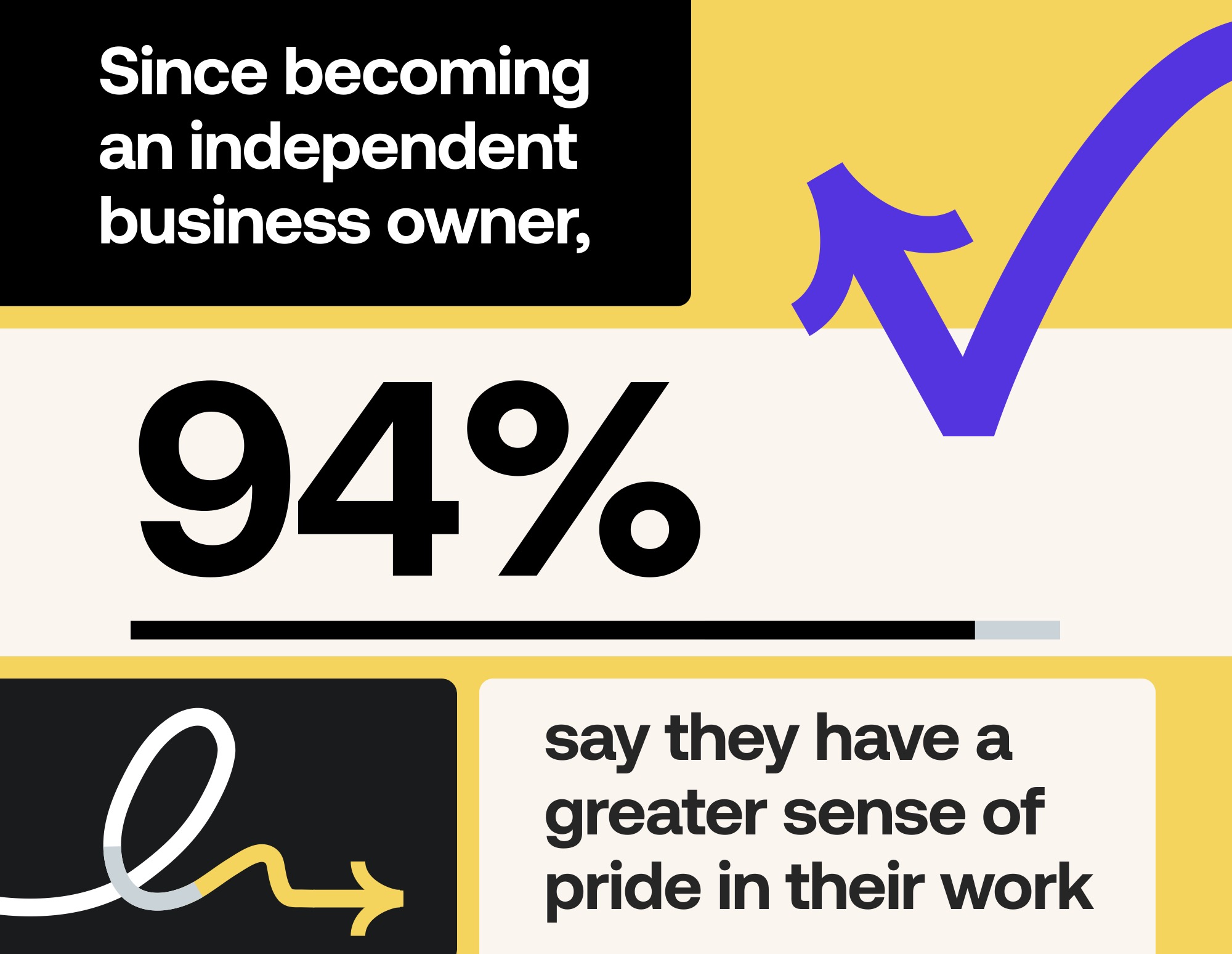 What challenges do independent business owners face?
While there are many benefits to being an independent business owner and job satisfaction is high, working for yourself is not without its challenges. In fact, slightly more than three-quarters (78%) say running an independent business comes with more challenges than they'd anticipated. This may be the reason nearly three in five (59%) say they are unable to "turn off" and are regularly thinking about their work, and around half (51%) say they feel frequently overwhelmed by their responsibilities.
Independent business owners say the most common challenge they face is staying on top of all of the admin tasks that go into running an independent business (41%). Other challenges include:
Pricing their services (36%)
Finding and booking new leads (35%)
Setting and maintaining work-life boundaries (32%)
Clients ghosting them (23%)
Although managing admin tasks, in general, is the most common concern, there are specific tasks that are particularly difficult:
Back-and-forth client communication (29%)
Project management (28%)
Keeping accurate track of time spent working (27%)
Getting paid on time (26%)
Despite these challenges, 94% say that since they started working for themselves, they are able to do more of the work they enjoy. This stat is reassuring considering one-third of our lives are spent at work.
But what's really keeping independents up at night?
More than three in 10 independent business owners (31%) say that making an error that causes them to lose business keeps them up at night. Slightly more than one-quarter (27%) say "dropping the ball" and letting clients down also make them toss and turn. Other things keeping people from sleep include:
Two in five (20%) worry about not being organized enough to keep up with demand, and slightly fewer (12%) say appearing unprofessional.
Upwards of two in five mention experiences related to finances, such as not making enough to cover their expenses (25%), not getting paid by a client (24%), and/or inquiries drying up (22%).
Factors related to how their business is viewed such as falling behind competitors (22%) or receiving a negative review that jeopardizes their business reputation (16%) were also noted as sources of worry.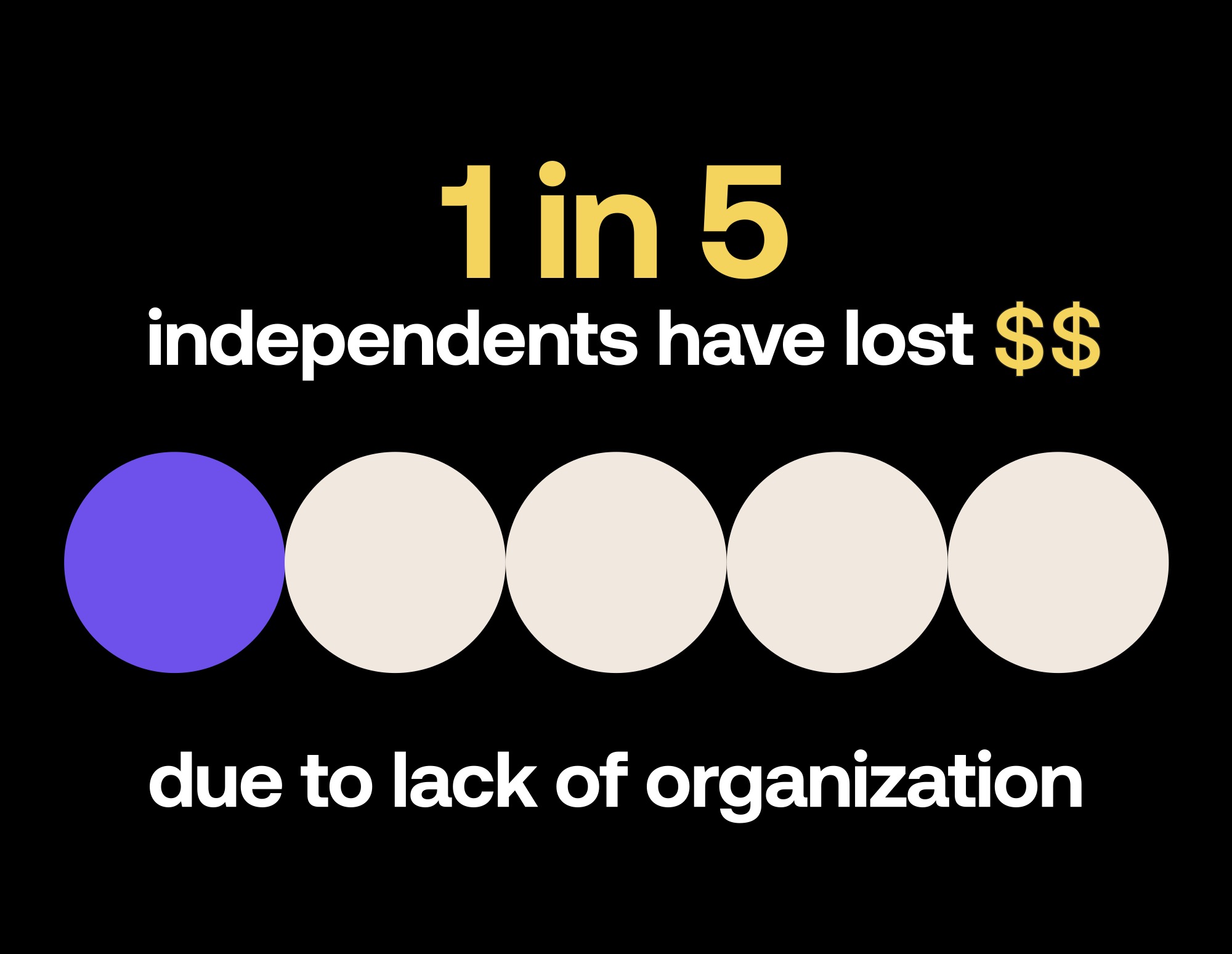 What do independent business owners need to be successful?
At this point, the data speaks for itself: Independent business owners love what they do despite the challenges. In fact, nearly two-thirds (65%) anticipate that their net revenue will increase in the next year and the majority of independents (82%) have taken or plan to take steps to ensure it does. This looks like investing in key areas of their business including:
Social media or advertising (39%)
Hiring staff or additional support (26%)
Outsourcing more tasks (26%)
Securing external financing (23%)
That said, nearly the same proportion of independent business owners that are confident in their success worry about satisfying customer demand as their business grows (65%). The data shows that independent business owners are committed to their businesses but also aware of the challenges that come with scaling.
Client relationships are at the heart of how independent businesses operate, which is why smooth communication and responding quickly to clients is key to their success. Virtually all independents (93%) know this, yet two in five (40%) acknowledge that their business processes are inefficient but they don't know how to improve them.
While most independent business owners (78%) say they have the tools they need to run their business successfully, about one in five (19%) admit that they have lost business because of a lack of organization or an administrative error.
Administrative work is clearly burdensome for independent business owners, with 60% saying that managing their clientflow is frustrating because they have to switch between different systems to complete different tasks. Slightly more than seven in 10 (71%) say they wish they could reduce or eliminate repetitive tasks and 59% say they spend more time on administrative tasks than they ever anticipated.
This is where a clientflow management platform like HoneyBook can help. Combining essential tools for client communication, custom file creation like an online contract or invoice, payment processing, and more all in one place, HoneyBook makes it easy for independent business owners to stay on top of their tasks and save time while doing it. Features like automations can turn five tasks into two and empower independents to deliver the best client experience while also getting time back to spend with family and friends.
Independent business owners don't have to do it all on their own
Running an independent business often means working solo or with a small team, which places the burden of all business responsibilities squarely on the shoulders of the business owner. More than half of independent business owners (58%) feel this pain and say they often spend more time on administrative tasks than the work they enjoy or the services they provide.
In addition to software, business guidance would be valuable to independents. Nearly nine in 10 (89%) wish they had some type of guidance or solution to help support their business, and three in 10 (29%) say they could specifically use more guidance during tax season.
Independent business owners don't have to look far for expert help. The HoneyBook Pros marketplace makes vetted industry experts only a click away.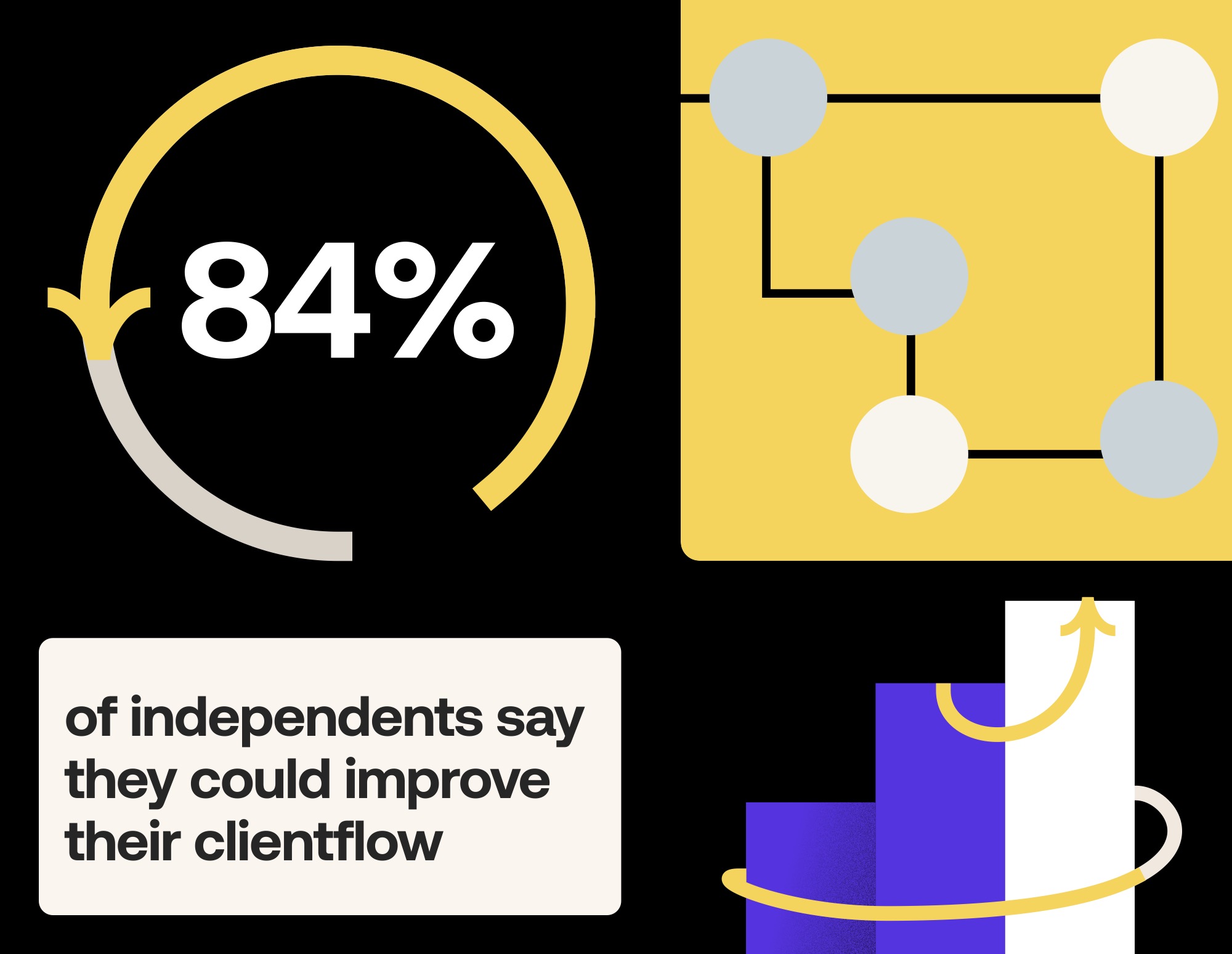 What's the takeaway from the research?
If independent business owners want to scale, they need a clientflow management platform to grow their business.
Regardless of their current use of software or applications, the vast majority (84%) of independent business owners say they could improve their clientflow. The same percentage (84%) say that having an all-in-one platform to keep them organized would help them grow their business faster, and just over three-quarters (76%) say they think they could be using a software solution or other technology to run their business more efficiently.
Seven in 10 independent business owners (70%) wish they had a tool to help them manage all their business processes in one place, with nearly the same percentage saying that having an all-in-one platform to keep them organized would help them "turn off" from work (69%).
HoneyBook is the all-in-one clientflow management platform that helps independent business owners create efficient processes and deliver a remarkable client experience. With technology on their side, independent business owners can confidently go after their goals and grow their businesses.