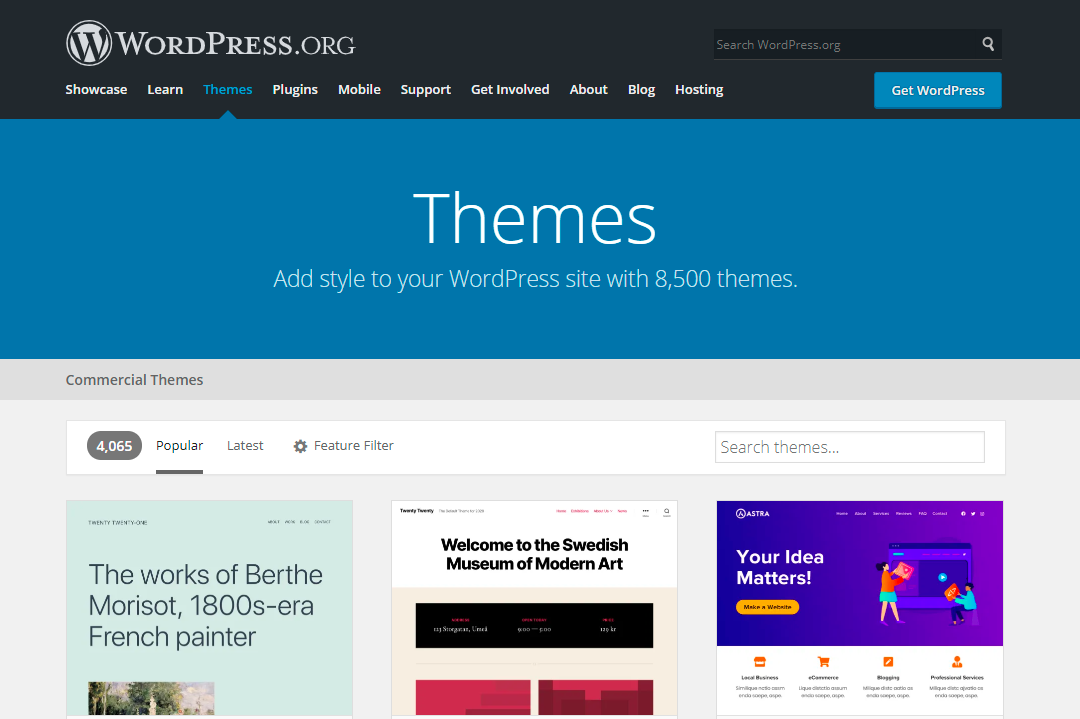 WordPress, the once-recreational blogging site, has turned into a wildly successful CMS and hosting platform for serious businesses.
Sony Music, Vogue, Time Inc., and the New Yorker are just a few of the many businesses currently powered by WordPress.
So if you want to run a successful business using WordPress, it can definitely be done. In fact, upwards of 25% of WordPress users make a full-time living off of it.
Furthermore, of the top one million websites in the world, the large majority of those powered by WordPress are business sites.
If you want to be one of those successful businesses, it won't always be easy. First you need to compare free vs. paid WordPress themes, and then you need to sort through the 50,000 plugins and thousands themes.
It can be a little daunting.
To make your job a little bit easier, I've picked out 3 themes and 6 must-have plugins that all WordPress bloggers should consider.
Best WordPress Themes for Blogging
In truth, the WordPress theme that's best for you will be dependent on your personal taste, style, and what type of content you'll be creating.
Here, I've tried to provide a few different theme options that are especially conducive to beautiful blogging.
1. Divi
Divi by Elegant Themes is the most popular WordPress theme and has been for years. Divi is a flexible, responsively designed theme that's more of a builder than a theme.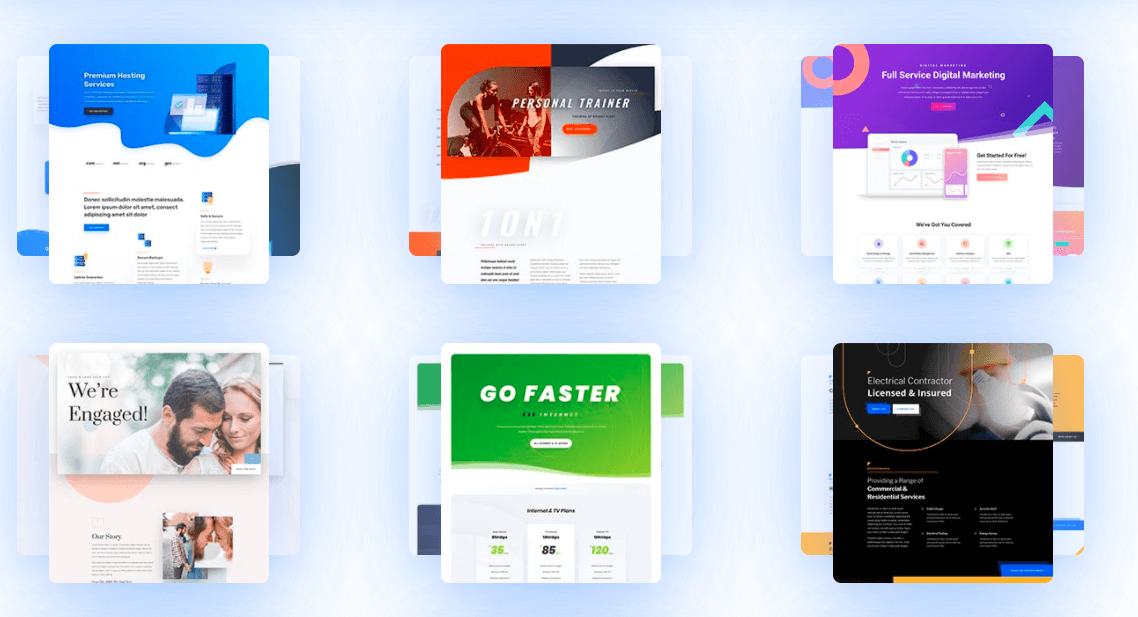 What it includes: Divi's WYSIWYG editor allows for drag-and-drop building, custom CSS control, responsive editing, in-line text editing, and global elements and styles.
Why we love it: Divi's builder allows you to create a unique layout without touching a single line of code. Divi also comes with over 1,600 premade layouts and over 100 templated websites that allow you to build a beautiful blog without too much difficulty.
Price: You gain access to Divi through an Elegant Themes license, which is available for $89 USD/year or a $249 one-time fee for lifetime access.
2. Astra
Astra is another ultra-popular WordPress theme, and for good reason. Its highly customizable WordPress theme is fast and lightweight, and allows you to customize quickly.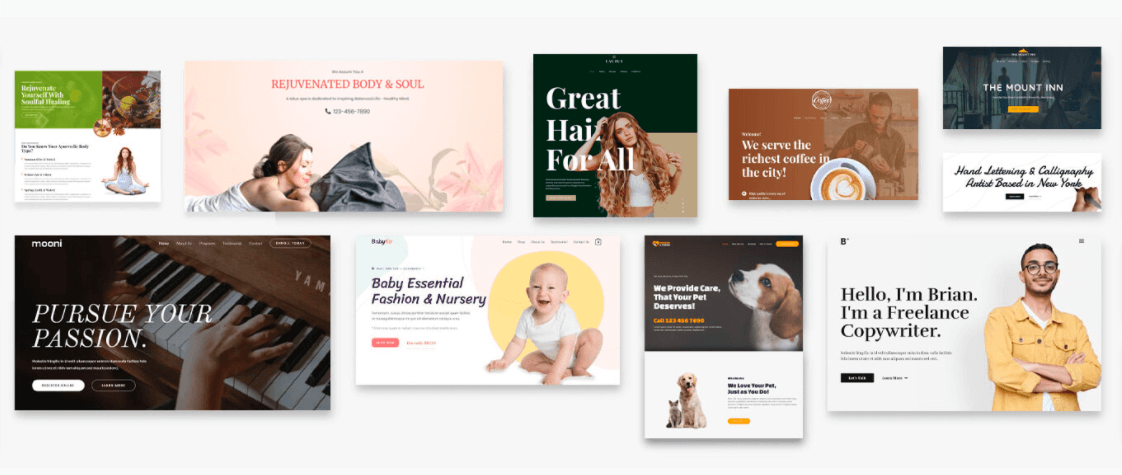 What it includes: Astra has plenty of powerful design options that allow you to control the look and placement of your menus, headers, colors, and sidebars. It also has a free custom fonts plugin that allows you to use virtually any typography on your website.
Specific to blogging, there are 10 different blog layout options available, including grid, list, or masonry layout, date boxes, blog structure control, layout width, infinite loading or pagination, and more.
Why we love it: Astra claims to load in only half a second, thanks to its use of Vanilla JavaScript instead of render-blocking jQuery that slows down other WordPress themes. It only requires 50 KB of resources to load, which is less than half of most other sites.
Price: Astra's most basic pro plan is available for $47 USD/year or $249 for lifetime access.
3. Authority Pro
The Authority Pro theme, part of the Genesis Pro product by StudioPress, is specifically designed to showcase your authority as an individual expert. So if you're a one-person small business, this is a great option for your WordPress blog.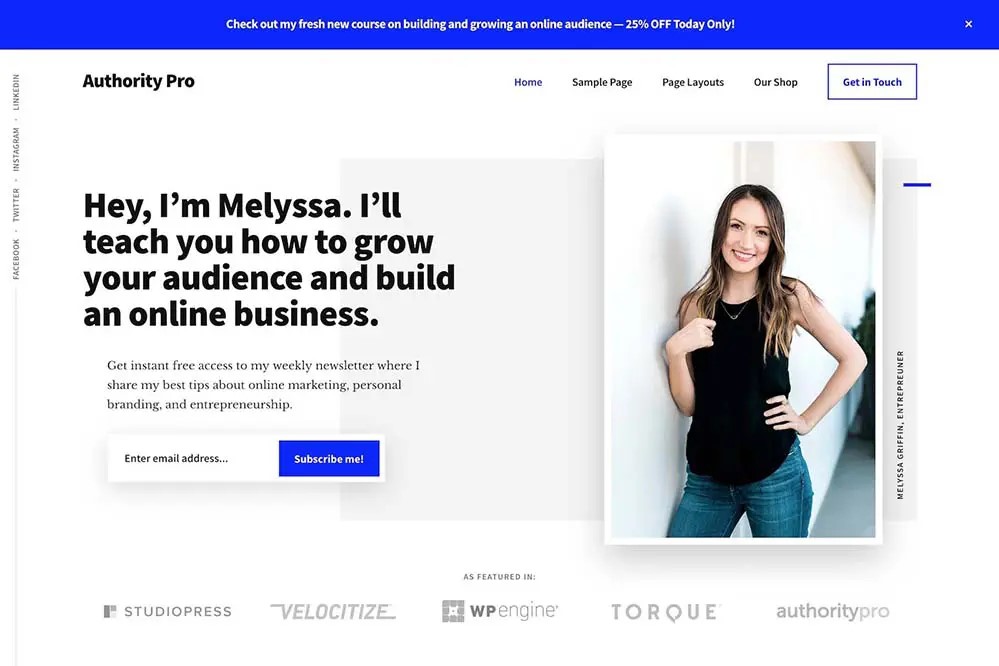 What it includes: Authority Pro allows you to get a website that showcases your personal brand up within a few minutes. It's built on the Genesis Framework, which also includes hundreds of other themes and has tons of customization options.
Why we love it: Because it's designed for solopreneurs, Authority Pro also has a lot of useful built-in features by default, such as newsletter subscription CTAs on the home page and blog sidebar. The blog is also attractive without customizing it, giving you a quick option to get a site up in a flash.
Price: Authority Pro is available for free with WP Engine or Flywheel hosting. It's also available with Genesis Pro for $360/year.
Best WordPress Plugins for Blogs
In truth, most of the plugins on this list will not only enhance your WordPress blog, they'll also enhance your website as a whole.
I should include a quick disclaimer:
When installing a plugin, make sure it's compatible with your WordPress version and theme. You should also make sure the plugin is well-reviewed on multiple websites, and that it's still actively supported and updated by the developer. Using out-of-date or incompatible plugins can threaten your site's security, as hackers can exploit commonly known deficiencies.
That said, most of the plugins included below are incredibly popular and are likely to be supported forever. So here are my choices for WordPress plugins that can add a ton of value to your blog.
1. Yoast SEO
Yoast SEO is the most popular add-on for search optimization (SEO) tools that make it easy to manage your website's search engine presence. Yoast SEO covers the full scope of on-page and technical SEO for your WordPress blog.
What it does: When it comes to keywords, Yoast SEO will tell you if you're using your target keyword often enough and in the right spots. In the premium version, it will also analyze other keyword variations to ensure you're covering a topic in full depth.
Internal linking is another key component of SEO. Yoast SEO Premium will suggest relevant internal links whenever possible.
Yoast SEO is also great for the technical aspects of SEO. You can easily manage your website's sitemap, indexing, structured data, breadcrumbs, and more.
Why we love it: From a blog writing perspective, the plugin will make readability recommendations, such as telling you to simplify your language, use shorter sentences, or to use more headings to break up lengthy text. This is awesome because it makes you a better writer on the fly!
Yoast SEO's SERP preview also shows you what your blog's title and meta description will look like in Google's search results, allowing you to perfectly optimize for search.
Price: The free version of Yoast SEO has tons of basic features that are helpful for beginners or seasoned pros. The premium version, available for a one-time fee of $89 USD, unlocks more automated, advanced features. This is well worth it if you're newer to SEO and are depending on organic traffic to your blog.
2. WPBakery
WPBakery allows WordPress site owners to create customized, mobile-responsive page or blog layouts with a simple, visual page builder. No coding knowledge required.

What it does: WPBakery has over 50 content elements that make it super simple to lay out a blog or page in exactly the way you want. Content elements include rows, text blocks, separators, image carousels, buttons, headings, and much more.
There are also predefined templates available on their professional template library.
Why we love it: While the default WordPress block editor now provides many of these functionalities, WPBakery has a wider variety of options and gives you more control over the look and feel of every element of your page.
Price: The Regular license is available for $45 USD. The Extended license, designed for SaaS apps, is available for $245 USD.
3. Contact Form 7
Contact Form 7 (also known as CF7) is the most popular contact form plugin for WordPress sites. It helps you manage and customize your contact forms and send auto-reply emails directly from your WordPress domain.
What it does: Contact Form 7 allows you to create forms with all kinds of field types, including text boxes, emails, telephone numbers, drop-down menus, checkboxes, radio buttons, file attachments, and more.
You can then use these variables to send automated emails to yourself with the result of the form submissions, or send auto-replies to the form submitter confirming that you received their details.
You can also set a variety of instant status messages when someone submits a form (e.g. "Your message was submitted successfully" or "There was an error in your submission. Please try again.").
Why we love it: Because CF7 is so widely used, almost every other tool involving contact forms easily integrates with it. For example, CF7 also supports CAPTCHA, Ajax-powered submitting, and Akismet spam filtering. It also integrates with most popular CRMs.
There's also nearly endless documentation and tutorials available online for how to use CF7.
Price: Free! Contact Form 7, while fully supported and updated regularly, survives on donations only.
4. Monarch Social Sharing
The Monarch social sharing plugin allows you to add share buttons on your blog posts to over 20 social network sites on each of your blog posts.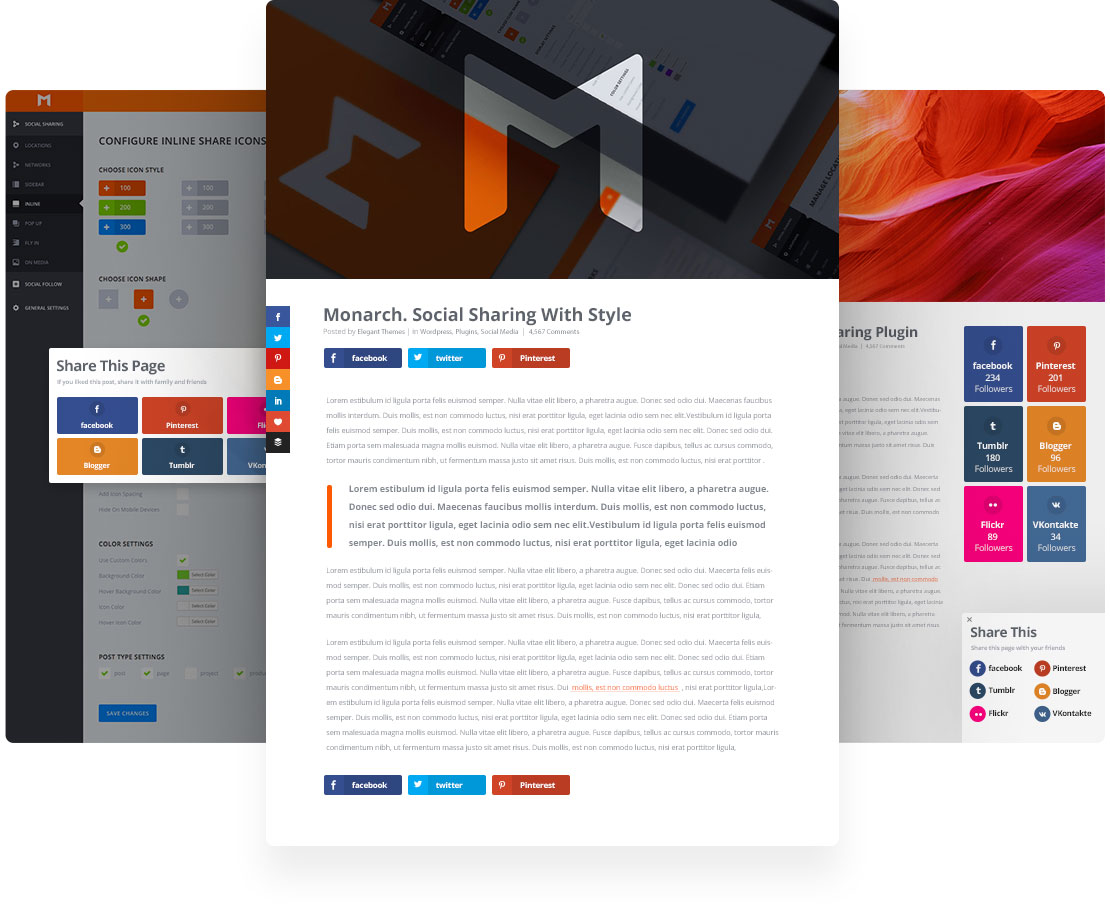 What it does: With Monarch, you have the freedom to add and arrange any of the trendiest social networks to create a customized collection of sharing options for your visitors in five different locations, including the sidebar, above and/or below content, on images and/or videos, as a pop up, or as a fly in.
Why we love it: Social buttons are a great way to get your readers to share your content. Monarch has six different timing options that give you the choice as to when the social shares pop up: as a timed delay, at the bottom of a post, after commenting, upon scrolling, after purchasing, or after inactivity.
Price: Monarch Social Sharing is included with an Elegant Theme Membership, available for $89 USD/year.
5. WP Rocket
WP Rocket is a caching plugin that speeds up your website in order to provide a better user experience on your blog.
What it does: WP Rocket automatically caches pages, preloads cache, and prevents images from loading before the user scrolls to them. This provides optimal speed and successfully reduces the weight of your HTML, JavaScript, and CSS files through minification.
Why we love it: Website loading speed is becoming an increasingly important SEO ranking factor. WP Rocket makes it easier to control the load time of your website, especially if you have media-rich content.
Price: $49 for a single website, with one year of support included.
6. Akismet
Akismet is a popular spam prevention plugin that allows you to block spammy comments on your WordPress blog.
What it does: Akismet is pretty simple: it stops spam comments and form submissions on your website. Akismet is integrated with Contact Form 7 and Jetpack, so it stops spam in most of its formats.
Why we love it: Who doesn't hate spam!?
Price: Akismet is available for free for personal use, or for $11.67 per month if you want to connect it to an API.
Other Honorable Plugin Mentions
There are hundreds of useful plugins for your blog. Here are others that easily could have made this list:
Integrate HoneyBook with Your WordPress Website
HoneyBook is a convenient client relationship manager that allows you manage projects, book clients, send invoices, and get paid—all from a single tool.
But did you know you can also integrate HoneyBook with your WordPress website? If you have a WordPress.org site, you can use HoneyBook's forms directly on your website.
This allows you to optimize your client workflows, automating much of the client relationship process.
To try Honeybook on your WordPress site, start a free trial today.