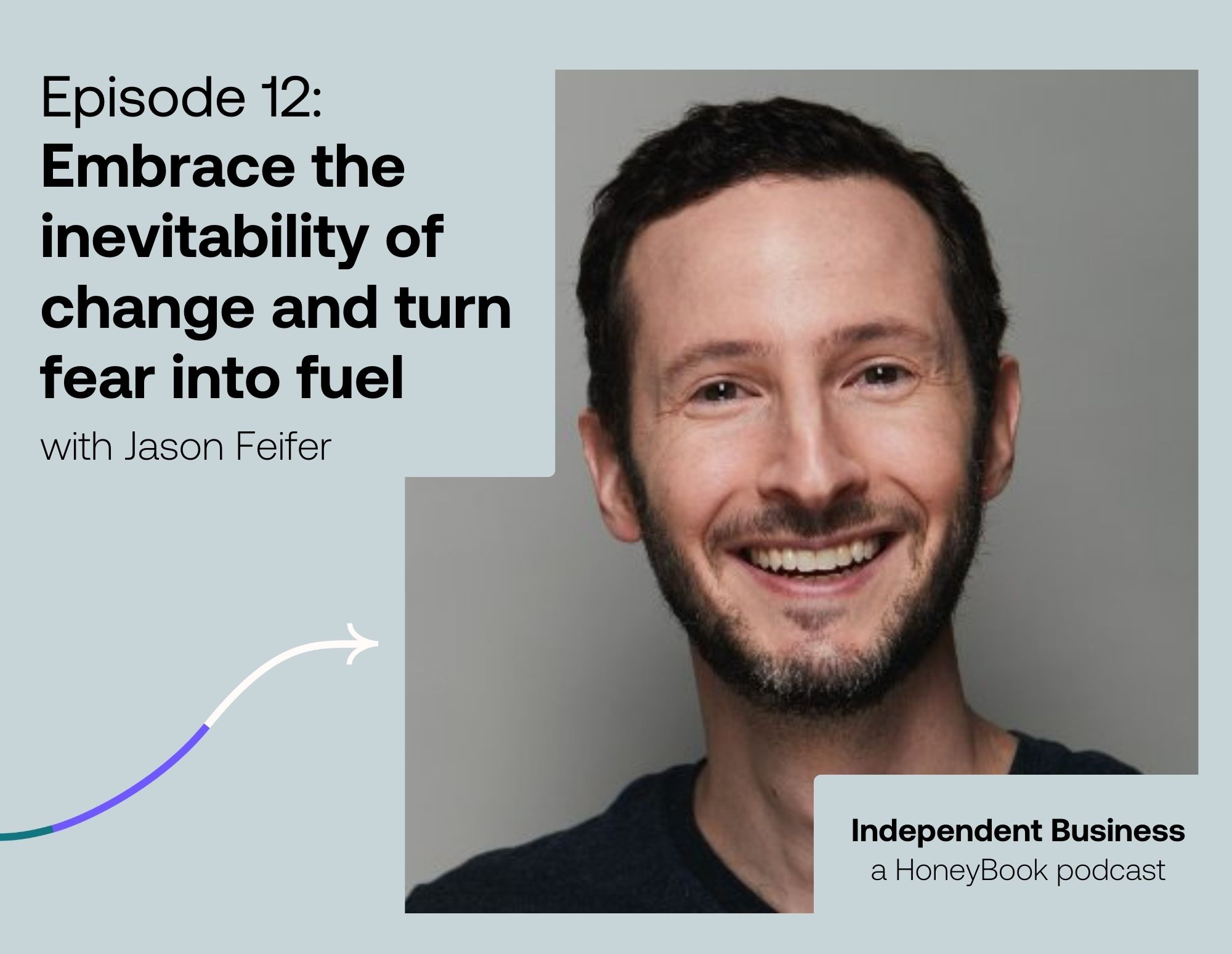 In business, we don't know what the future holds. Uncertainty can feel overwhelming and cause fear of change. Change, however, is inevitable—so we must learn to adapt to it.
In this conversation, we're joined by Jason Feifer, editor-in-chief of Entrepreneur Magazine, keynote speaker, podcast host, and author to discuss the fear of change and how as business owners, we can turn that fear into fuel and forward progress.
The Independent Business podcast is powered by HoneyBook, the all-in-one platform for anyone with clients. Book clients, manage projects, get paid faster, and have business flow your way with HoneyBook. Use the code PODCAST to get 20% off your first year as a new member.
Follow the Independent Business podcast
The value in abandoning your plan
Jason once received powerful advice from bestselling author Malcolm Gladwell that has guided his career. Gladwell said that he tries not to define himself or his projects because "self-conceptions are powerfully limiting." Jason ended up as editor-in-chief at Entrepreneur Magazine because he was willing to constantly revise his goals. While he always had a plan, he was willing to abandon the plan if he was being steered in another direction.
Jason started his career as a journalist and thought he would become a columnist for the New York Times. However, when he started working for Entrepreneur Magazine, he realized he loved entrepreneurship and could provide value in that space in ways that he couldn't in his "traditional" jobs.
How to stop letting fear of change hold you back in business
It's natural to fear change and the unknown. Instead of trying to make the fear go away, which is impossible, business owners can reframe their approach to fear. Instead of letting fear feel like an anchor that holds you back, you should ask yourself how to use that fear to propel you forward. Jason learned this reframing tactic from Katherine Morgan Shafler's book, The Perfectionist's Guide to Losing Control.
Jason also gave the example of Meghan Asha, the founder of FounderMade, a trade show business that relies on live events. When the COVID-19 pandemic started and all events were being canceled, Meghan used her fear to pivot her business into other areas that she didn't have the time or resources for when live events were taking up all of her time.
How to reframe fear of changes in tech and AI
One of the biggest sources of fear in the independent business owner space right now is the adoption of AI. Some entrepreneurs feel excitement for it while others worry that it will put them out of a job. However, fear of AI will not make it go away, and the people who engage with it in its early stages are the ones who will influence the future of AI.
The beautiful thing is that AI presents opportunities to fix broken systems. For example, lawyers are concerned that using AI to write motions will cut down their billable hours. The truth is that nobody likes operating on a billable hours system, but there's never been a powerful enough incentive to adopt a new system. AI is now providing that incentive, which in the end will only benefit lawyers and how they work.
You can apply this mindset to your business and use AI to fix broken systems. You can also use it to open up future possibilities since your time won't be spent on old problems anymore.
The future of independent business
We are in an interesting economy at the moment. Large corporations are laying people off and declaring bankruptcy; however, small businesses are actually very strong right now. In 2021 and 2022, there were record-breaking amounts of new business applications, and small businesses are strong on the hiring front. Gen Z is also more entrepreneurial than any other generation.
The beauty of independent businesses is that they can remain close to their customers and understand what they need on a more granular level than large corporations can. As the world continues to change, people's needs change, which opens up a myriad of new opportunities for small businesses.
It's also never been easier to start a business, and that will continue to be true as AI takes over the drudgery of business ownership. Anyone in business or who wants to start a business should embrace the change that is happening and ask themselves how they can provide new solutions.
There's never going to be a perfect time to start a business or turn a side hustle into your full-time job
Independent business owners often fear the idea of scaling their businesses because it means taking more risks. Whether that's quitting a 9-to-5 job to pursue your side hustle full-time, hiring team members, or scaling in other ways, there is always uncertainty around the end result.
It's important to remember that there is never a perfect time to take a leap of faith. If you wait to wake up one day and feel "ready," that day will never come.
Creating goals and markers can help you feel safer and more secure. For example, you can set a revenue marker that your side hustle needs to hit before you leave your job. Think about what kind of growth you need to experience so that you can feel confident in the trajectory of your business.
The biggest differentiator between businesses that succeed versus businesses that fail
Business owners that succeed are not afraid of failing or being bad at something in the beginning. There is this idea that to succeed you should have a natural talent or become good at what you're doing quickly.
People that succeed are willing to be bad at something for as long as they need to be to become good at it. They also do not define themselves by their failures, but instead, leverage what they learned from 'failing' into their new venture.
Important sections of the conversation
[2:02] Jason's journey to becoming editor-in-chief of Entrepreneur Magazine
[7:06] How to turn fear into fuel for forward motion
[12:48] How to stop fearing AI
[18:08] The future of independent business
[22:18] How to face the fear of scaling
[27:35] Jason's book recommendations
[30:01] Jason's book, Built for Tomorrow
[32:07] The biggest differentiator between businesses that succeed versus businesses that fail
Resources mentioned
Jason's book recommendations
Connect with the guest