Looking to streamline your business finances without the burden of hiring full-time bookkeepers? Consider hiring a virtual bookkeeper from the leading providers.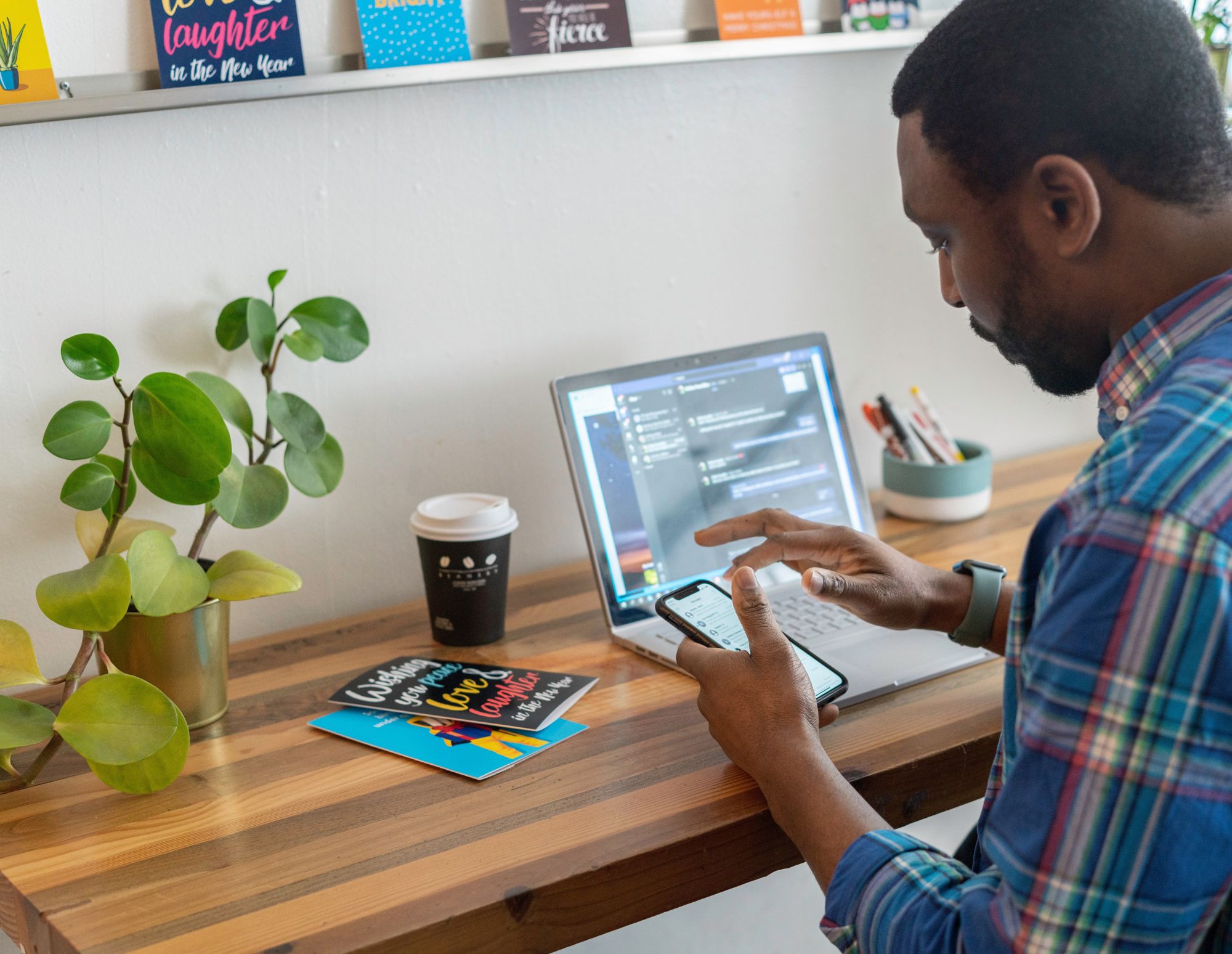 Virtual bookkeepers usually work from home and use cloud-based accounting software to provide bookkeeping services to clients. They usually work on a contract basis and can provide various bookkeeping services, such as accounts payable/receivable, bank reconciliations, payroll processing, financial statement preparation, and tax preparation.
Virtual bookkeepers can work with companies of all sizes and sectors, including independent business owners and small businesses with a few employees. They can offer specialized bookkeeping services based on the client's requirements, spending limits, and expectations.
Jump to:
Factors to consider before hiring a virtual bookkeeper
Virtual Bookkeeping ensures that your company's finances are up-to-date and organized while giving you more time to concentrate on other things, like growing your business or hanging with family. However, it is important to consider a few things before hiring a virtual bookkeeper to ensure that you select the best fit.
Consider the following factors:
Qualifications and experience: Check that the virtual bookkeeper you hire has the necessary bookkeeping qualifications and experience. Look for relevant work experience and certifications.
Industry expertise: The virtual bookkeeper's experience in your industry and their knowledge of it. A bookkeeper who is familiar with your sector will be able to offer more insightful counsel.
Communication abilities: Establishing a productive working relationship with your virtual bookkeeper requires effective communication. Think about their accessibility, responsiveness, and the ways they've offered to communicate.
Software and technology: Ensure your virtual bookkeeper is adept at using your accounting program. They should be familiar with other technology and tools to facilitate the process, such as cloud-based storage.
Security: Consider the security and confidentiality measures the virtual bookkeeper takes to safeguard your company's financial data. They should use a secure platform that protects sensitive data.
Pricing: Consider how the virtual bookkeeper's rates will fit your budget. Others may offer a flat rate or a monthly retainer, while some bookkeepers only charge by the hour. It is crucial to know what you're paying for and how much it will cost.
These factors can help you choose the ideal virtual bookkeeper for your company's needs.
Pro tip
Virtual bookkeepers are frequently seasoned professionals with accounting or finance backgrounds. They are proficient with accounting software and have a solid grasp of accounting concepts and procedures. They might have an accounting degree or have credentials like the Certified Bookkeeper (CB) designation.
Three best places to find a virtual bookkeeper for your business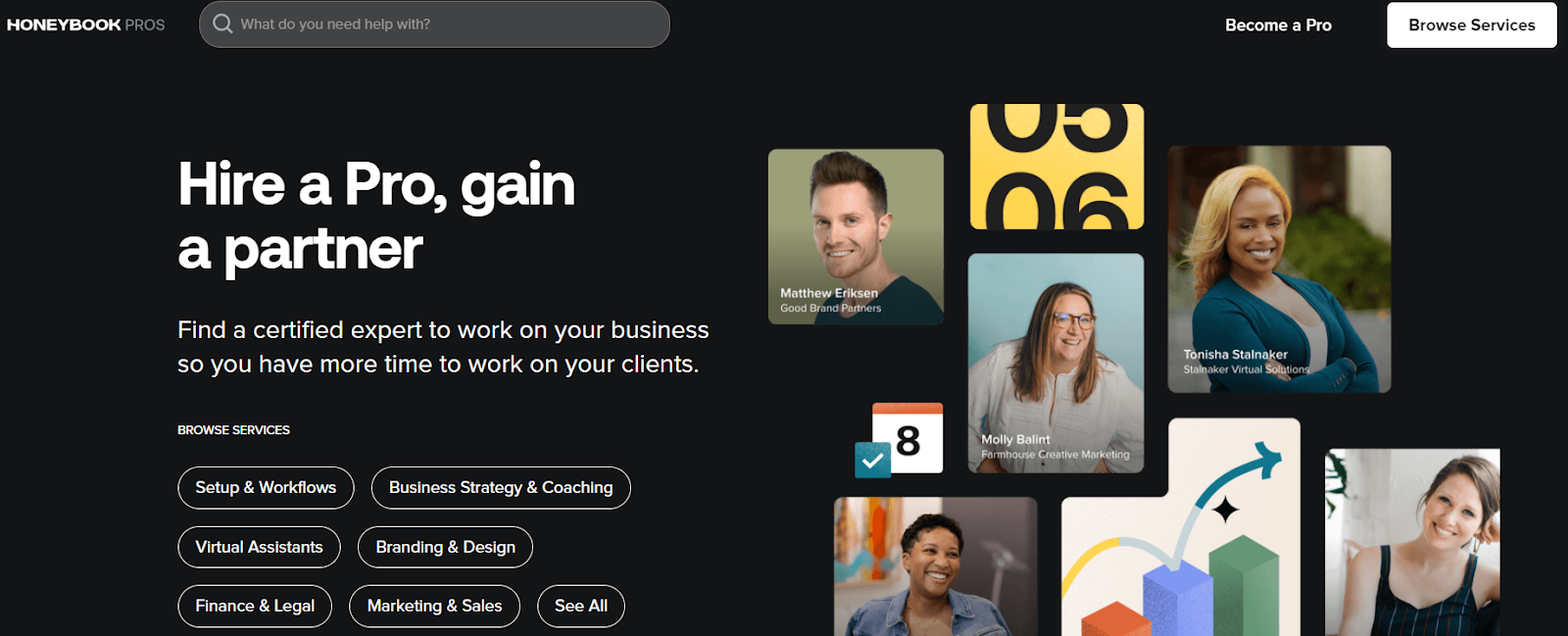 HoneyBook is a clientflow management platform tailored to meet the everyday needs of independent business owners. HoneyBook provides an all-in-one solution for each step in the independent business owner and client relationship, from invoicing to the closing survey. Independents can use HoneyBook to manage projects, book clients, sign contracts online, send invoices, and accept payments.
HoneyBook's goal is to make it easier for independents to book more clients, manage projects, and get paid all in one place. On HoneyBook Pros, you can find vetted, licensed professionals who can help you fit your bookkeeping needs with the services you offer and how you take payments.
Virtual bookkeeping services cover all fundamental duties, such as accounts payable and receivable, financial statement preparation, bank reconciliation, and tax preparation. In addition, business owners can access their financial records anytime and from any location, thanks to HoneyBook's QuickBooks integration.
Features
The convenience and flexibility of HoneyBook Pros virtual bookkeeping services keep your clientflow aligned with your bookkeeping needs. Business owners who hire a virtual bookkeeping assistant can easily delegate their bookkeeping duties to them, freeing up their time to concentrate on other areas of their company.
HoneyBook Pro's virtual bookkeeping services enable businesses to quickly change the level of support they require as their operations develop and grow.
The caliber of the bookkeeping experts providing the services is another benefit of using a HoneyBook Pro. Pros are a group of qualified, seasoned bookkeepers that specialize in independent businesses.
Overall, small businesses looking for a simple, handy, and dependable way to manage their financial records should strongly consider a HoneyBook Pro's virtual bookkeeping services. Business owners can concentrate on getting more clients and achieving their goals while having confidence that their financial records are accurate and current when a dedicated bookkeeper handles their books.
Pricing
Each Pro sets its own prices depending on their service offerings and the services you require.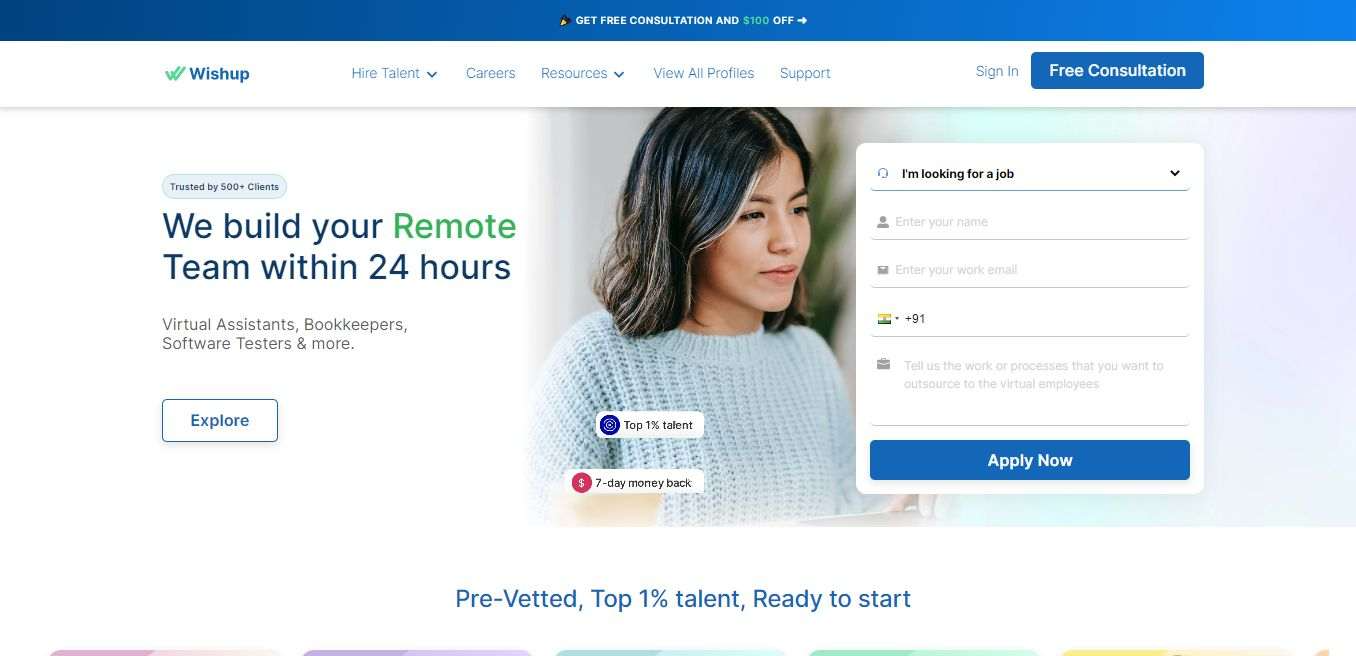 Wishup is a platform that links American business owners, startups, and small companies with virtual assistants who have been carefully screened and vetted. It connects businesses with virtual assistants who can help with data entry, posting on social media, lead management, customer service, and bookkeeping. The company aims to aid independent business owners and small businesses in running their businesses efficiently.
Its knowledgeable virtual bookkeeping assistants manage, track, and update your expense reports. They record, monitor, and precisely classify the financial transactions of your business. Additionally, the assistants help you process paychecks quickly and maintain accurate employee payroll records.
They record all the tax-related information that applies to your company and can even assist you in timely tax filing. They help you even more by consistently making your payments on time.
Wishup's virtual assistant bookkeepers can help you create trial balances, loss and profit statements, and balance sheets.
Features
Every bookkeeping virtual assistant Wishup hires undergoes rigorous testing to ensure they are the best in their field. As a result, only the top 1% of all applicants are hired after a thorough background check.
Wishup also provides accelerated onboarding within 24 hours, saving time and money. Each virtual bookkeeping assistant goes through a comprehensive industry procedure that allows them to comprehend the more minute details of the bookkeeping.
Wishup also assigns a dedicated success manager to help you through everything, from hiring to onboarding.
Before starting to work for you, Wishup trains them to be proficient in over 70+ no-code tools and 200+ skills. As a result, the onboarding procedure can be finished much more quickly, and they are prepared to begin handling their responsibilities on the first day.
Wishup is among the best places to start if you're looking for bookkeepers. You do not have to worry when working with the VAs, thanks to its 7-day free trial with a money-back guarantee.
Additionally, you can easily ask for a replacement if dissatisfied with its services. This policy demonstrates the company's faith in the competence and reliability of its virtual bookkeeping assistants.
Pricing
Wishup offers affordable services with hourly rates as low as $10. It also has two monthly plans—a 4-hour package costing $999 (4 hours a day, 5 days a week) and $1,799/month for the 8-hour package (8 hours a day, 5 days a week).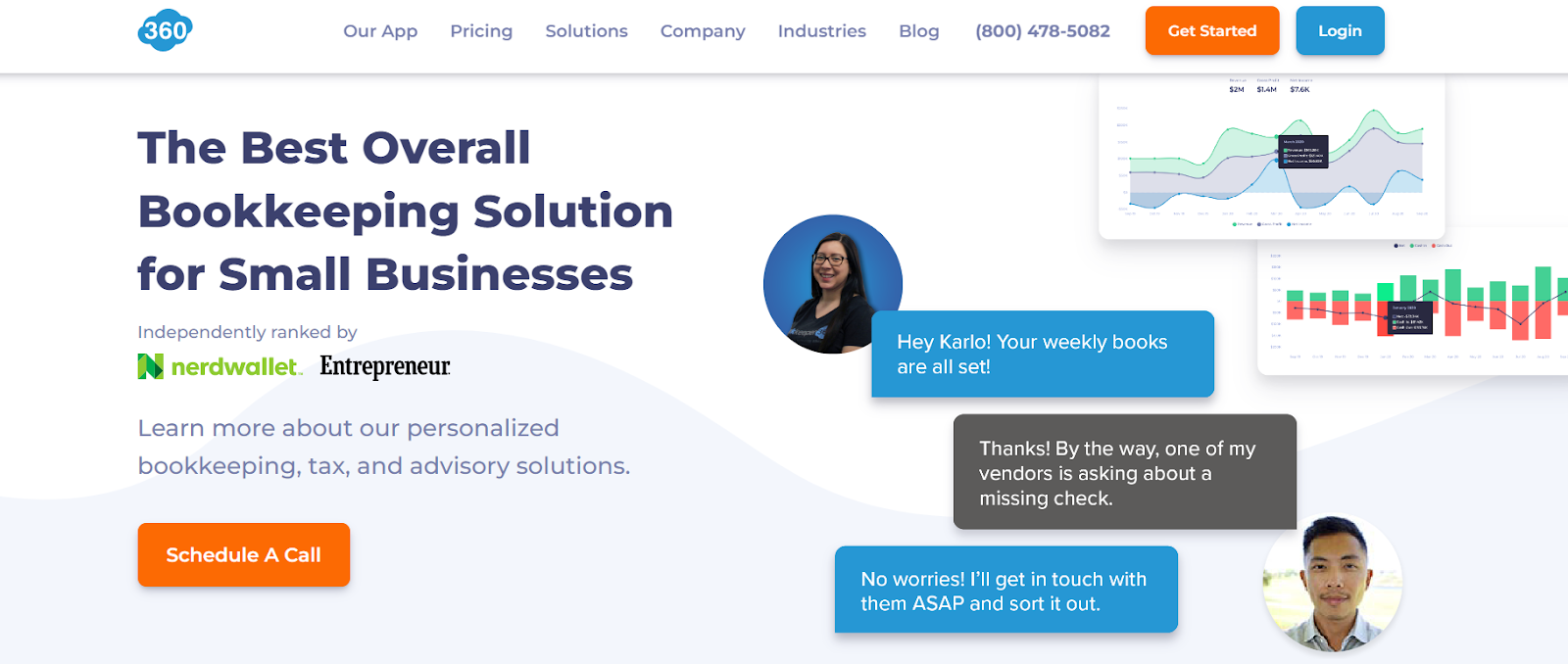 Bookkeeper360 is an online bookkeeping service that assists small and medium-sized businesses with accounting and bookkeeping. A dedicated account manager will be provided when you sign up for Bookkeeper360, who will collaborate to create a service strategy that satisfies your needs.
After that, you'll link Bookkeeper360 to your accounting software, such as QuickBooks or Xero, and you'll be able to manage your company's finances in collaboration with your bookkeeper online.
Bookkeeper360 offers three different pricing plans for virtual bookkeeping services based on how frequently you require assistance. However, you can also create a unique package with the Bookkeeper360 team. There is no commitment when using Bookkeeper360, and you can stop using the service anytime.
Following the consultation, you'll work with your assigned account manager to decide which bookkeeping approach is best for your company, and you'll then work with Bookkeeper360 to connect your accounting system. Because it is a Xero partner, Bookkeeper360 only works with companies that use those two accounting software programs.
After setting up your accounting system, you can collaborate with your bookkeeper or accountant using the cloud-based Bookkeeper360 platform.
Features
Your chosen plan will determine which bookkeeping features you get with Bookkeeper360's service. A custom solution is an option, but Bookkeeper360 also provides three pre-made packages that you can select from.
The first plan, called "Support," allows you to continue managing your bookkeeping while receiving some assistance from Bookkeeper360 advisors. Bookkeeper360 will assist you in setting up your accounting system, providing training and checkups, and providing two hours of support per month, but you will manage your day-to-day bookkeeping tasks yourself.
The "Monthly" and "Weekly" Bookkeeper360 plans will provide more hands-on support. With the Monthly plan, you'll get a dedicated accountant to collaborate with you and provide monthly bookkeeping services, including bill-pay and payroll solutions, cash and accrual basis accounting and reporting, and financial reviews.
Your dedicated accountant will handle your weekly bookkeeping as part of the Weekly plan. Additionally, this plan will include accounting and reporting on both the cash and accrual basis and management of invoices and expenses, technology consulting, monthly financial reviews, and weekly catchup calls.
The features you get from Bookkeeper360 will be primarily based on your company's requirements and the plan you develop during your consultation. Ultimately, you have various options, from advisory support to complete, active bookkeeping management.
Pricing
The three plans that Bookkeeper360 offers in its subscription business model for its primary bookkeeping service are Support, Monthly, and Weekly. The monthly starting prices for these plans are $199, $314 (billed annually), and $539 (billed annually).
Hiring a bookkeeper
Now that you are familiar with these three services, all you need to do is to set clear expectations and create a list of requirements to help you decide which services you want for your business.
For each of these services, you can book a consultation call to get in touch with the company and onboard your virtual bookkeeper.
To get started, you can browse the HoneyBook Pros who specialize in bookkeeping and accounting. The Pros are expert business owners who want to serve you and your business. They'll dive into your accounts to help you get set up and organized!