Learn the 10 main benefits of using a HoneyBook invoice and get started with our free templates. With professional branding, integrated payment processing, and a better billing process, you can increase your revenue.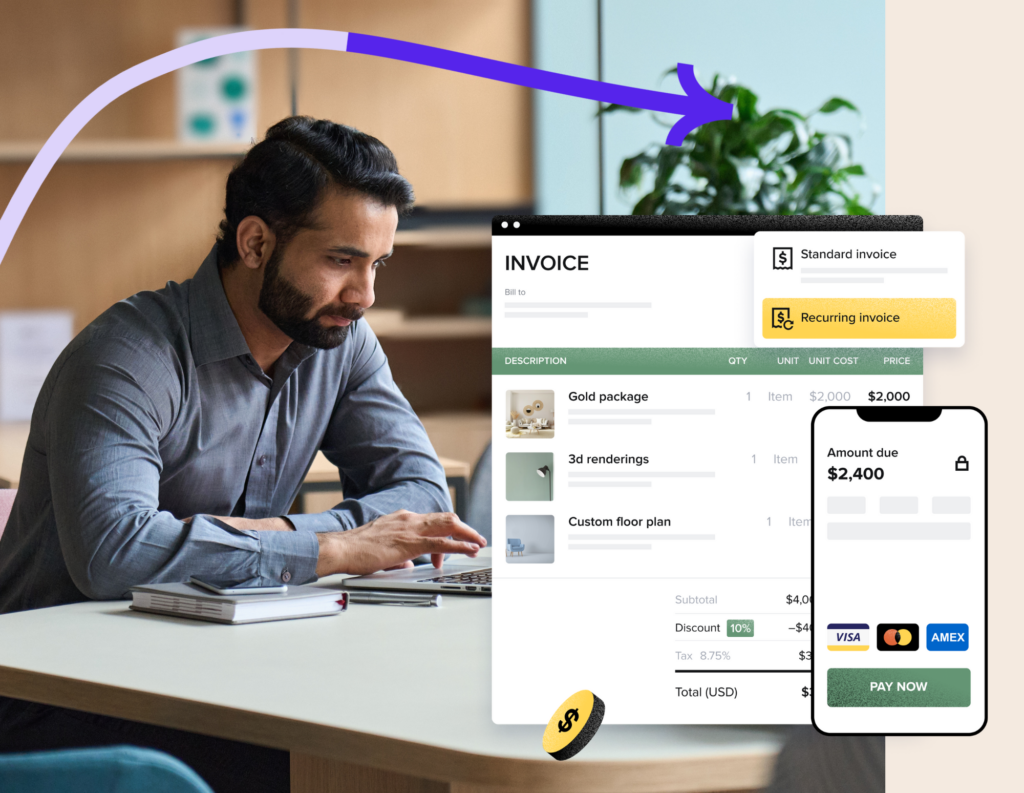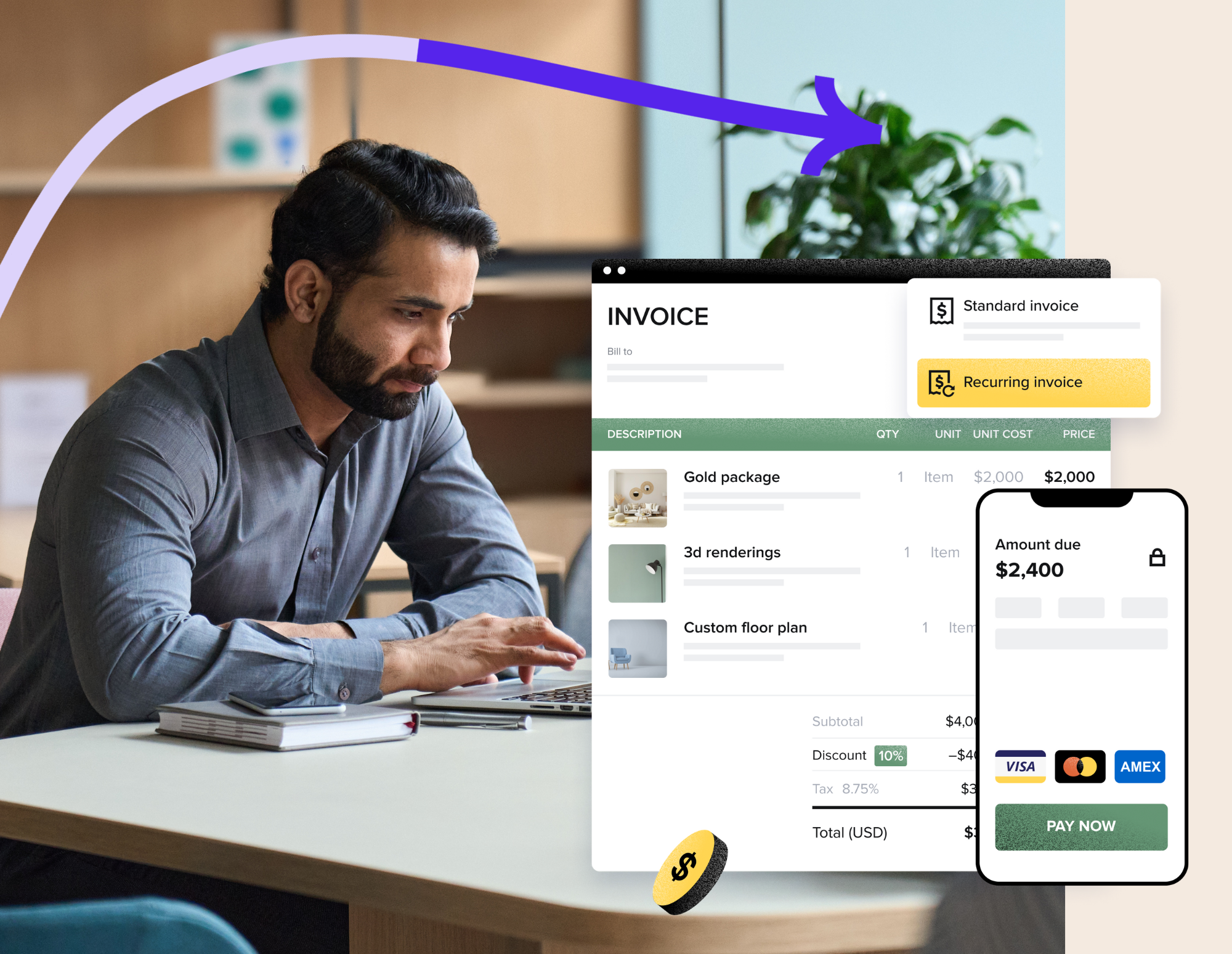 HoneyBook invoices help you win more business and get paid faster. They're designed specifically for independents like you who need a seamless invoicing and online payment experience.
Invoices are a critical component of your clientflow. An invoice provides you and your clients with a record of payments and services rendered, keeping you both organized. It also ensures you have a professional way to collect payments, which can save you the time you would have spent tracking down the money you're owed.
Whether starting from scratch or using one of our templates, you can easily create and send professional invoices customized to your client and services. More than a simple invoicing software, HoneyBook offers tools for every stage of your clientflow so you can take care of booking and beyond without juggling multiple software subscriptions.
Learn what HoneyBook invoices can provide for your business and how to use them to increase your revenue.
Jump to:
1. Customize your invoice templates to fit your brand
Invoicing is crucial, but that doesn't mean it needs to take a ton of your time. With HoneyBook, you can use pre-made invoice templates created by independent professionals like you. Customize them with your unique branding and service details, or start from scratch to create your own invoice template that you can use again and again.
With branded templates, you'll provide your clients with a more cohesive, professional booking experience. Whenever someone is ready to book, all you need to do is update the invoice with their specific services and send it.
Pro tip
HoneyBook also lets you combine your invoices with other actions, like service selection. If you want to provide an even more hands-off booking experience, create a file that allows your clients to select their services, sign a contract, and pay their invoice.
2. Remove manual calculations from your invoice process
HoneyBook invoices make it easier to bill your clients by helping you avoid manual calculations. By connecting your service selection and invoice step using a HoneyBook smart file, you can generate an invoice that automatically includes the services your clients selected. Plus, you can add applicable taxes or discounts that are all calculated into your client's total amount due.
Once you apply a payment schedule, your invoices will update to show exactly how much is owed and when. You get to put the calculator down, and your clients get an easy-to-understand invoice with no room for confusion.
Pro tip
HoneyBook invoices make it easy for your clients to appreciate your service with a tip. Simply use the gratuity option when configuring your invoice so your clients can add the percent or custom amount they're comfortable with.
3. Create a billing schedule unique to each client
For some businesses, it's best to charge one up-front fee for your services. For others, your clients might expect an initial deposit and final payment, or steady recurring payments throughout a project. Others still may use a mix of different methods depending on their clients and the services offered. It all depends on your business model.
Because every business is different, customization is key when you're invoicing and HoneyBook lets you adjust the payment schedule and details for each invoice. Clients can pay a single fee, a retainer and final payment, or multiple payments over time. You can also turn on recurring payments so your clients are billed the same amount over a set timeline. It's all possible using HoneyBook invoices.
4. Create and send invoices on the go, wherever you are
With HoneyBook, business flows your way–wherever you are. To help you work on the go, you can use the HoneyBook mobile app to create, edit, and send invoices. Move your clients forward as soon as they're ready to book so you can eliminate friction in your booking process.
With the ability to respond faster, you can expect to win more clients. Among HoneyBook members, we found that clients are nearly 10% more likely to book when you respond to them in an hour compared to responding after 48 hours.
If you need to change an invoice that was already sent, no problem. HoneyBook offers the best invoice app to let you manage updates on the go.
Pro tip
Download the HoneyBook mobile app in the App Store or Google Play Store. You'll also get to enjoy a delightful reminder every time a client pays an invoice. Cha-ching!
5. Connect the invoice with other steps in your clientflow
With HoneyBook, you can accomplish much more than invoicing. It's all about taking individual steps in your clientflow (like sending an invoice) and combining them or making them more efficient to save you and your clients more time.
Instead of creating single files for each action, HoneyBook also gives you the option to combine multiple actions together.
For example, you can send files that combine your invoice with your contract to fast-track booking. Did you already discuss your services earlier in the booking process? Include service selection as well so your clients can select, sign, and pay. If it makes sense for your business to move your clients forward faster, HoneyBook enables you to do so and customize your files exactly how you need them.
6. Use your business bank account to receive payments
For many independent businesses, it can seem easier to start accepting payments via Venmo, PayPal, or cash, and store all of your income in your personal bank account. However, a separate business bank account protects your personal funds from liability and sets you up for success so you can manage your cash flow accurately.
With HoneyBook, you can connect your business bank account in minutes, and any payments you receive will move directly to your account. There's no need to manually transfer your money like you would with a platform like Venmo or Cash App. With invoicing and payment in one system, it's more professional and feels more secure for your clients. It also makes it easier for your clients to review and pay for your services, which gets you paid faster.
By connecting your HoneyBook invoices with your bank account, you'll also be able to monitor all your payments in one place–making it easier to assess your finances, apply for loans, and do your taxes.
7. Leverage automatic payments
If you bill your clients multiple times throughout a project, you can turn on automatic payments within your HoneyBook invoices. This makes the billing process easier for you and your clients–you get paid automatically and on time, and your clients don't have to worry about remembering to submit payments.
Among HoneyBook members, we've found that automatic payments are 20% more likely to be paid on time.
8. Schedule payment reminders
Regardless of your client's payment schedule, it's important to remind them of upcoming payments as well as any that are past due. Especially if your clients are billed with recurring payments, you'll want to remind them that the money is about to leave their account.
All of these reminders add up to countless emails. If you have multiple clients, that's hours out of each month. Instead of doing it all on your own, you can utilize HoneyBook's automatic payment reminders. Just turn them on and adjust the copy to fit your brand. They'll take over the task of reminding your clients of upcoming, outstanding, and due payments.
By automating payment reminders, you'll save the time you would have spent sending all those emails and chasing down overdue payments. Not to mention the awkwardness of having to ask clients repeatedly for payment. Let HoneyBook handle it for you instead.
9. Accept online payments directly from your invoices
When you streamline your clientflow, you can maximize your revenue. A big part of that is making the most out of your booking process. With HoneyBook, your online invoices already have payment processing integrated into them, so you can accept multiple payment types without the need for additional integrations.
Whenever you send an invoice, your clients can pay securely on the next page, and you can choose whether to accept debit and credit cards and/or ACH transfers. 80% of clients prefer paying with a credit card, so you'll be ready to meet their expectations without hunting for a separate payment processor.
80% of clients prefer paying with a credit card.
Other invoicing platforms don't offer the same integrated payment processing. Especially if you're still sending PDF invoices, you'll want to make sure you're providing your clients with a simple way to pay elsewhere. Without combined invoicing and payment processing, you're adding friction to your booking process and making it more difficult for your business in the long run.
By using a clientflow platform like HoneyBook, you can manage your cash flow in one place with the ability to send invoices and accept payments. You don't need separate tools.
10. Track payment status so you always have peace of mind
Since HoneyBook lets you combine invoicing with payment processing, you can track payments and cash flow in one place. View all your payments at a glance so you can see what's paid and what's outstanding, giving you more peace of mind as a business owner.
By accepting payments through HoneyBook, you also get access to our expert fraud and dispute team. They become your partner for resolving disputes, notifying you, and advocating for you to your client's bank so you can resolve payment issues and chargebacks as soon as possible.
Go beyond invoicing to grow your revenue with HoneyBook
By using HoneyBook invoices to their full potential, you can save time, provide a better client experience, and grow your revenue. This isn't old-school invoicing where you send a file and wait for a response. Instead, HoneyBook invoices are customizable, interactive, and directly integrated with your payments. They enable both you and your clients to reliably reach your end goal: a successful experience working together.