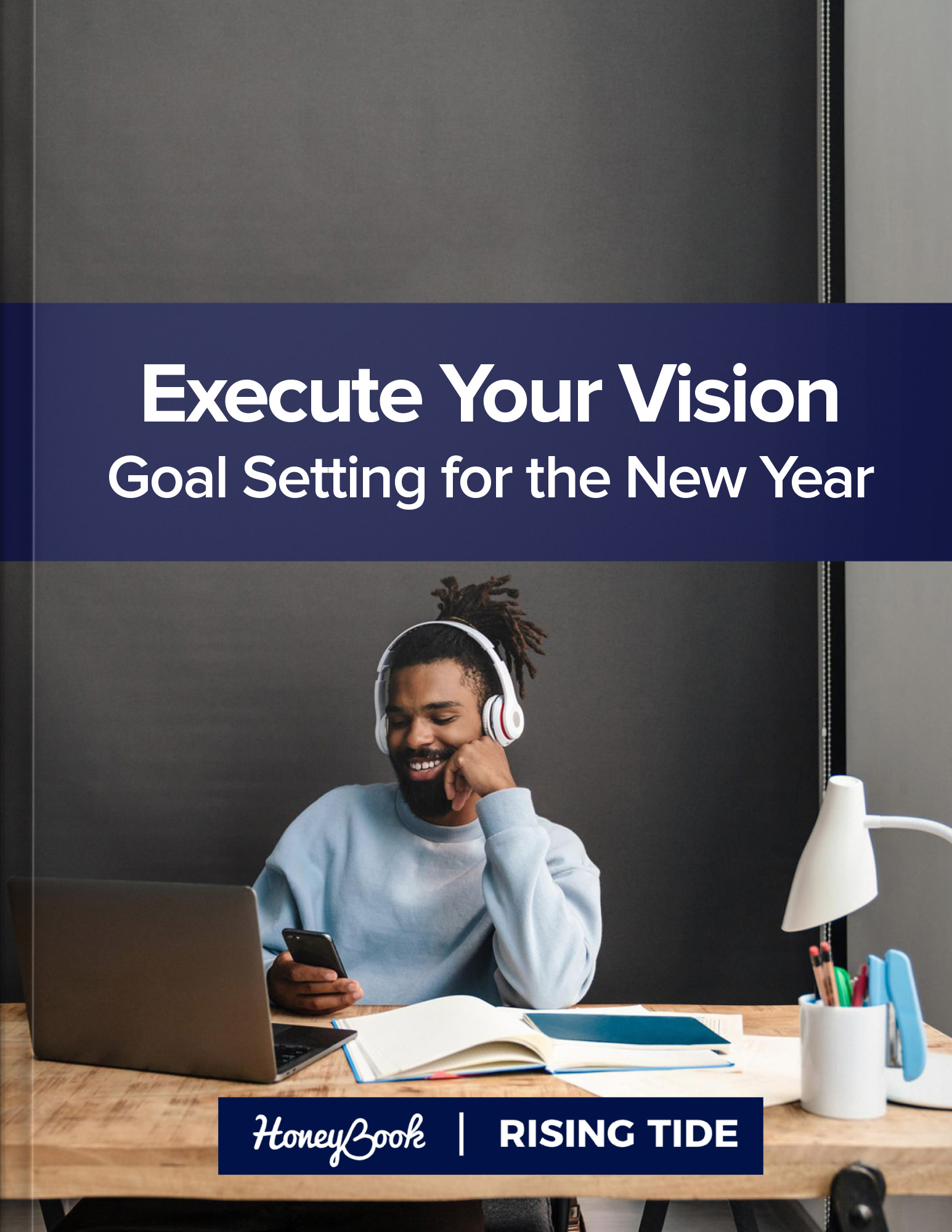 Goal setting for the new year
The end of the year can be a stressful time, but it's not a requirement! At HoneyBook, we're all about reframing your mindset for sustainable growth and better client relationships. Peace of mind is easier when you use a seamless, one-stop clientflow management platform like HoneyBook. No more client confusion, forgotten invoices, or double bookings. Then, you can use your newfound free time for goal setting to set yourself up for success!
There's no time like the end of the year to develop your social channels, website, and word-of-mouth marketing methods. This month, we explain how to do this in-depth in our free monthly guide on goal setting. We'll also cover how to decrease burnout, delegate work, create consistent content, and meet your 2023 PR goals!
This month's guide covers how to:
Reframe your money mindset for 2023
Revamp your social with a consistent, repeatable social media strategy
Prioritize personal and client well-being for sustainable growth
Execute your vision: goal setting for the new year
Shift your mindset for sustainable growth.
Renée Dalo takes us on a money mindset journey and encourages independent business owners to know their worth. Then, Kristy Rice teaches us how to delegate gradually and thoughtfully for optimal prosperity.
Strengthen your foundation with clients by implementing boundaries.
Not all success is linear. Jordan Kentris walks us through how to set boundaries that benefit your work-life balance and top-paying clients. Deepen your relationships with great clients before investing in weaker relationships.
Design an achievable strategy.
Angela Myers has unlocked the secret to content consistency. The good news is, so can you! If PR is a targeted growth area for you in 2023, use Meghan Ely's secrets to an active PR schedule.
Disclaimer: The advice featured in this guide and on the blog was sourced from our community members for sharing general information and knowledge. For specific legal, financial, tax, mental health and professional advice, please consult an authorized professional.