With HoneyBook lead forms, you can offer more information to new leads, collect more information, and enable them to book instantly. Capture, qualify, and convert from your public-facing channels, and with less work on your end.
HoneyBook has always had powerful capabilities for capturing leads and booking clients. Now with HoneyBook lead forms, you can combine more of these capabilities to move inquiries forward instantly, all from your public channels.
Lead forms enable you to provide a fully branded, customizable experience for clients that you want to book immediately. This includes turning new inquiries into business right away by streamlining the process for capturing, qualifying, and accepting payment. You can also book repeat clients faster, all from a custom lead form.
Wherever you need to book inquiries with a low-touch process, lead forms fast-track all of the individual steps. Provide details about your services, capture qualifying information, schedule, and accept the first payment upfront. Plus, it's easy to get started because you can bring new business into your HoneyBook account without manually creating new projects.
Learn how to use lead forms so you can book more qualified clients with less work.
Explore:
Capture and qualify leads without friction
In the time it usually takes you to hop on the phone or email back and forth to learn more about leads, they're likely to drop off. Plus, it's more work for you. Instead, lead forms enable you to make the most of your marketing efforts by capturing and qualifying leads immediately, then turning them into client relationships.
Similarly, you can also create a frictionless experience for returning clients. By sending them to your lead form, they can easily book another service or package with you instead of reaching out and waiting to book again.
Start by creating a lead form template that includes qualifying questions, like budget, timeline, and needs. Using the design and customization options, you can adjust your lead form to match the same look and feel as the rest of your website.
You can also customize your lead forms to include text, images, and videos in order to offer more information upfront and help new leads determine if they're fit for your services before they inquire.
More robust than standard contact forms, yet easier to create and manage than a web page, you'll bring in higher-quality leads with a more professional, interactive experience.
Here are some examples of how you can enhance your lead qualification with lead forms: 
Ask qualifying questions right before providing your scheduler to gather more information and schedule a call in one step.
Include a video with more information about your services so new leads have more information before submitting answers to your questions.
Create a unique lead form for each client to provide a more personalized intake experience for leads you've already qualified.
Convert leads directly from your website or other channels
Customizable lead forms also let you include actions like selecting services, scheduling, and paying. This means you can convert leads directly from your website or other channels.
In any scenario where you want to convert leads instantly, lead forms enable you to do so. As a result, clients can move forward without any friction. You can link your lead forms from your website, add them to your Instagram bio, include a link in your email signature, and more.
Within HoneyBook, lead forms are easy to build and personalize. You can start from a template, then add your branding and edit the template to ensure your leads are moving through your clientflow in the order of steps that make sense for your business.
Here are some examples of the ways you can use lead forms in your channels:
Schedule one-time sessions directly from the link in your bio
Offer a robust inquiry form on each of your service pages
Link your lead form to a button on your website to book and accept payment for a consultation call, mini-session, or project
Sell a digital product by linking to your lead form throughout your website and content
Send a direct link via email to book a speaking engagement
Send a link through LinkedIn to capture more information about a partnership opportunity
Include a testimonial collecting form in your follow-up email once a project is completed
Pro tip
To make lead forms even more frictionless, we've also released a new feature to improve your scheduling process. When clients schedule with you, HoneyBook will now automatically add an invitation to your client's calendar when they book, ensuring even less follow-up on your end.
Book new leads instantly without creating a project upfront
If you don't require any touchpoints before booking with clients, lead forms let them book with you on their own while you focus on other parts of your business. There's no need to interact with the client or invest time on administrative work like setting up a new project in HoneyBook. Instead, your lead form will automatically create a project in HoneyBook with all the information you need.
Whether you're booking a long-term project, a paid consultation call, a one-time session, or other, it can happen at the same time as the initial inquiry. Just include an invoice and payment block within your lead form to enable booking. You can also include a services block so clients can select their services first before paying a dynamic invoice that includes their selections.
Lead forms also work with HoneyBook automations, so you can immediately move forward with the next steps after booking to save even more time.
For example, whenever someone books a session with you, your lead form can automate an email that sends any materials they need. Once the session ends, it can also trigger a thank you email with your scheduler link to book another session. You can also automate confirmation emails, welcome packets, links to your digital products, and more.
The conversion has been so exciting to see and it has worked flawlessly since implementation. – Hayley Evans, Owner and Founder of Square One Marketing
Move more leads into your clientflow with lead forms
By using HoneyBook lead forms, you'll have more opportunities to bring leads into your clientflow and take immediate action up front. You can also move clients further through your clientflow quickly and complete more of the admin work that's required before providing your services.
Get started with lead forms by using a template or build your form from scratch. With easy-to-use customization, you can ensure they meet your and your clients' needs at the top of the funnel.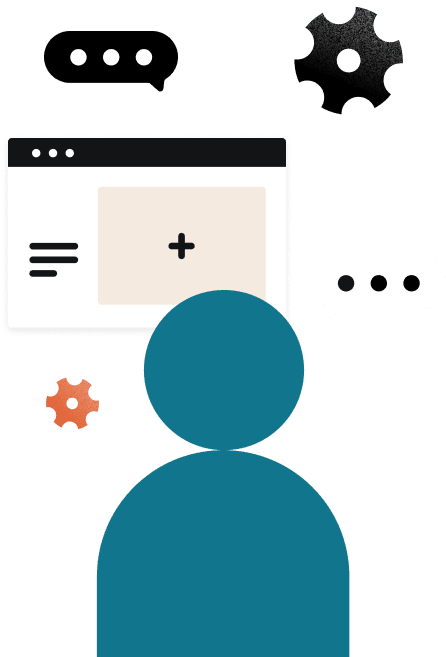 Book leads instantly from your website, social channels, and more.
Getting started with HoneyBook lead forms is easy – just start with a template, then decide what actions you want to include, like intake, scheduling, payment, and more.