Every HoneyBook member can participate in the referral program, which gives you extra cash you can spend on anything! It's easy to get started by using your unique referral link inside your account.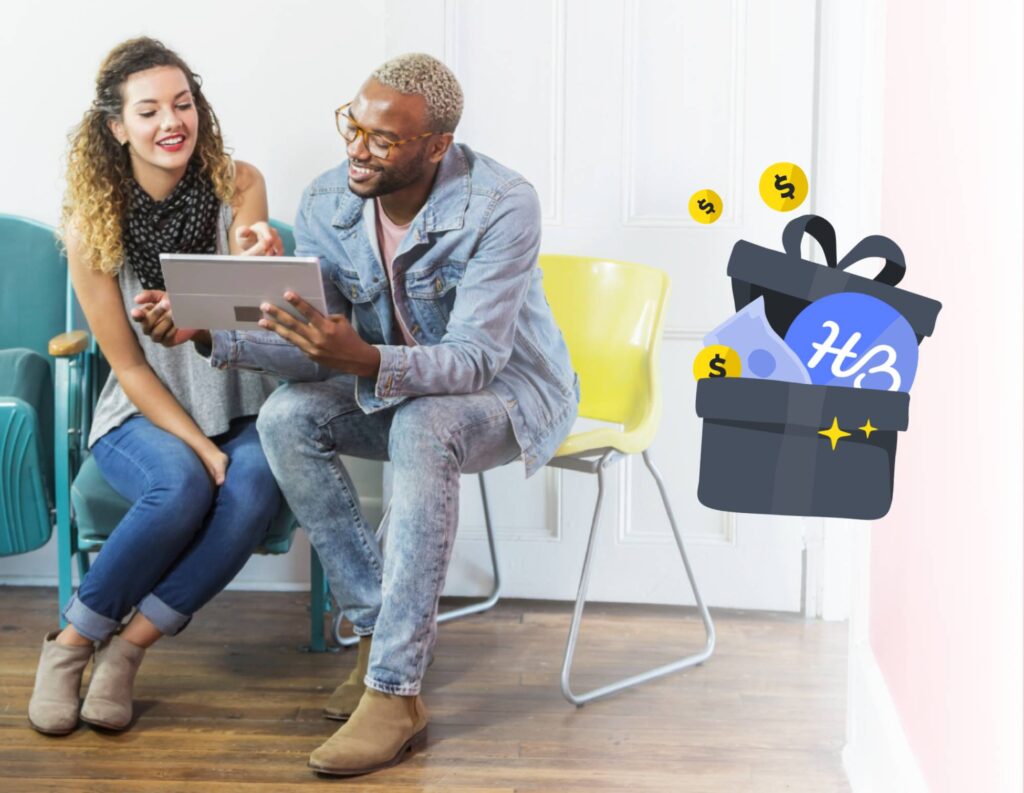 Did you know all HoneyBook members have the opportunity to generate passive income? Through our referral program, you can help other businesses succeed, position yourself as a leader in your niche, and gain extra cash to spend on anything.
Join thousands of HoneyBook members who've partnered with us to generate nearly $300,000* in extra income. We're inviting you to reap the benefits, including:
The ability to offer HoneyBook for 25% off for your referrals' first year of use
You get can get up to $50 through referral if you've transacted less than $2,000 in HoneyBook
If you've transacted more than $2,000, you can get up to $200
Share your referral link
As soon as you become a HoneyBook member, you get a unique referral link that you can access inside your account.
All you need to do is start sharing your link and communicating about how your referrals can get started with HoneyBook. You can follow several different best practices to share your link, whether you're looking to leverage your social accounts, website, business connections, and more. Each takes little effort to set up, and no effort to maintain:
1:1 communications – Chatting with a colleague or friend? If they're an independent business owner like you, just send them a quick note with your referral link!
Instagram stories – Everyone can put links in their stories now, so you can continually post and link directly to your unique URL. Create a quick video about how much you love HoneyBook or spin up a simple graphic in Canva that you can easily post again and again.
Link in bio – Leverage your social media followers by putting your referral link in your bio! Make it easy for those who are interested to click and sign up from your page.
Facebook and LinkedIn groups – If you're a member of any online groups related to your industry, see if you can post your link. A lot of the time, HoneyBook can be an excellent solution for colleagues asking for help, so it can be a great way to reply to questions and comments.
Business communities – If you're a part of any business communities that meet up in person, you can easily mention HoneyBook when you have speaking opportunities or even while getting to know your colleagues at networking events.
Blog posts – Have any blog posts on your site that perform well? Include a CTA with your referral link if the target audience can benefit from it. You can turn SEO traffic into passive income.
Website CTAs – Include links to your referral page throughout your website (where it makes sense). For instance, you can include a CTA on your about page where you mention your business expertise.
Leverage your business expertise
Once you know someone's interested in HoneyBook, it gives you an excellent opportunity to leverage your business expertise. Using the referral program isn't just about generating extra cash; it's also about helping other businesses and positioning yourself as a leader in your space.
When you help other business owners get set up with tools that help them succeed, you can grow your network and establish a reputation based on sharing best business practices.
Use the template below to show your leadership and direct your colleagues to your referral link. You can tweak the template as needed to make sense for your 1:1 referrals, social followers, website referrals, and more. We also recommend making it more personalized to the person you're communicating with.
Copy/Paste Template:
Referral Email
Hi [Name],
I've been admiring your business and the latest work you've accomplished! I noticed your business is growing quickly, and I wanted to recommend something that's helped me a ton.
HoneyBook is an all-in-one business management platform you can use to capture leads, nurture them with your sales process, book them quickly, and deliver your projects! I've been using it to manage my processes from start to finish, and it's helped me [name a benefit].
If you're interested, I'd love to help you get started at just $1 per month for your first six months. The HoneyBook team has a lot of great resources to help you get set up, and I'm always here if you have questions.
Let me know what you think!
Sincerely,
[Name]
Get payouts you can use for anything
Once you have referrals using your link, you'll both reap the rewards–it's a win-win!
You can track each payout in your referral tracking dashboard within your account so you always know when you can expect extra cash. You'll get payouts through the bank account that you set up in your HoneyBook account.
Then, all you need to do is figure out how to use the money….
How about reinvesting in your business?
Buy new equipment
Download new software
Stock up on supplies you need
Or, take the break that you deserve!
Treat yourself to dinner
Book a staycation
Hit the spa
You can also use the payments to get what you need:
Fill that gas tank (up to the top!)
Buy what's been in your Amazon shopping cart for weeks
Set it aside for your savings
Use it on anything and everything! It's yours to save, spend, or invest.
Get the most out of your HoneyBook account
HoneyBook lets you manage more in less time, and now you can make more cash with less effort too. Our referral program lets you make the most of your account with the ability to generate passive income.
Every time you experience a new benefit with HoneyBook, consider who could benefit as well. The more you share, the more cash you'll bring in!
*Please note that HoneyBook limits referral revenue to $10,000 for members who are not a part of the HoneyBook Educator program. View the full terms and conditions here.