Compare Dubsado vs. HoneyBook and determine which one is right for your business. We've evaluated each based on lead capabilities, project management, pricing, templates, files, and more.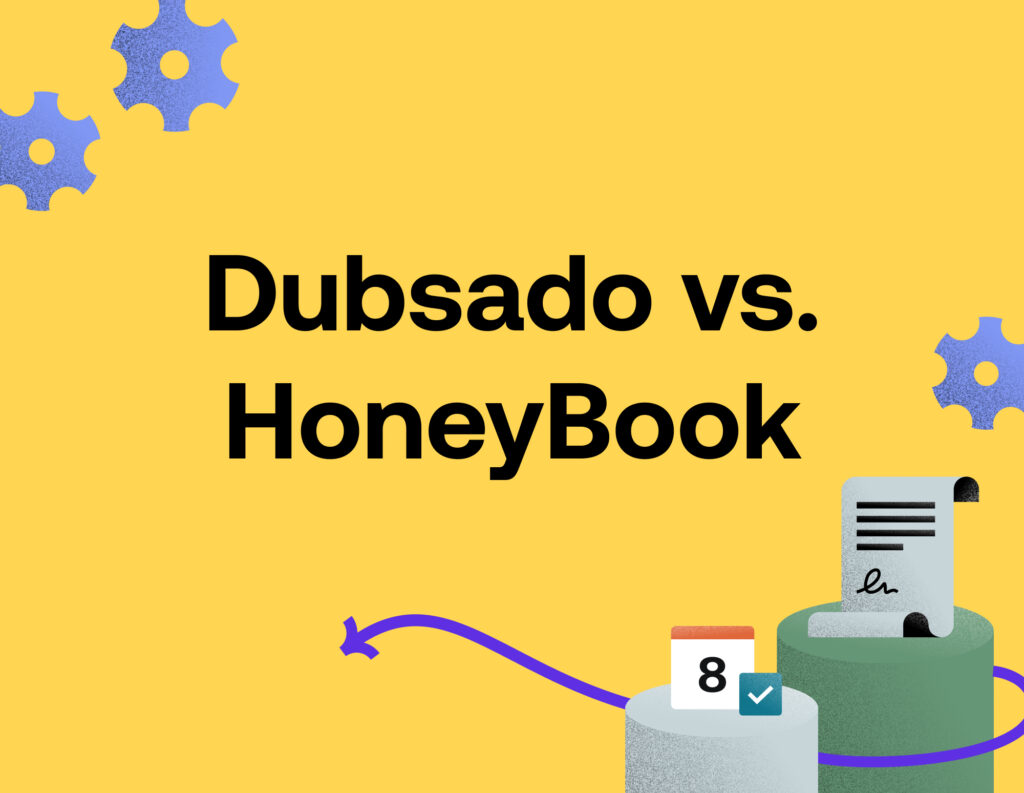 Selecting digital tools to manage your business can be difficult. You may be asking yourself which platforms are best for client communication, which can help you appear more professional, and if a CRM can really help you optimize your processes as you grow.
There are a few platforms that boast these capabilities on the market, but which one is best for your business? Here we dig into HoneyBook and Dubsado and highlight the best features of both that can help your business look polished and professional—every time.
Jump to: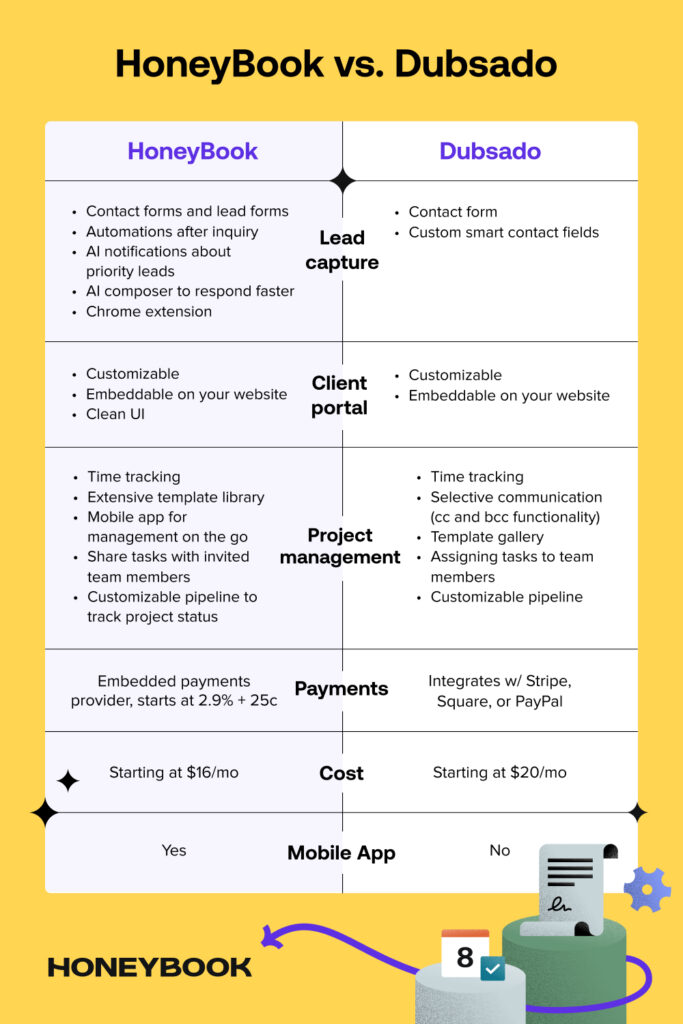 What is HoneyBook? What is Dubsado?
HoneyBook is a clientflow management platform where you can email leads, sign and send contracts, send invoices, take payments, and more.
HoneyBook's interactive client portal helps you manage your clientflow friction-free, and allows your clients to access everything they need, from communications to documents and more with only a few clicks.
HoneyBook helps you manage every client touchpoint from one place. You can manage your clientflow manually or with programmed automations that enable you to get back to clients first, send client questionnaires for information gathering, and thank a client + ask for a referral after services are delivered.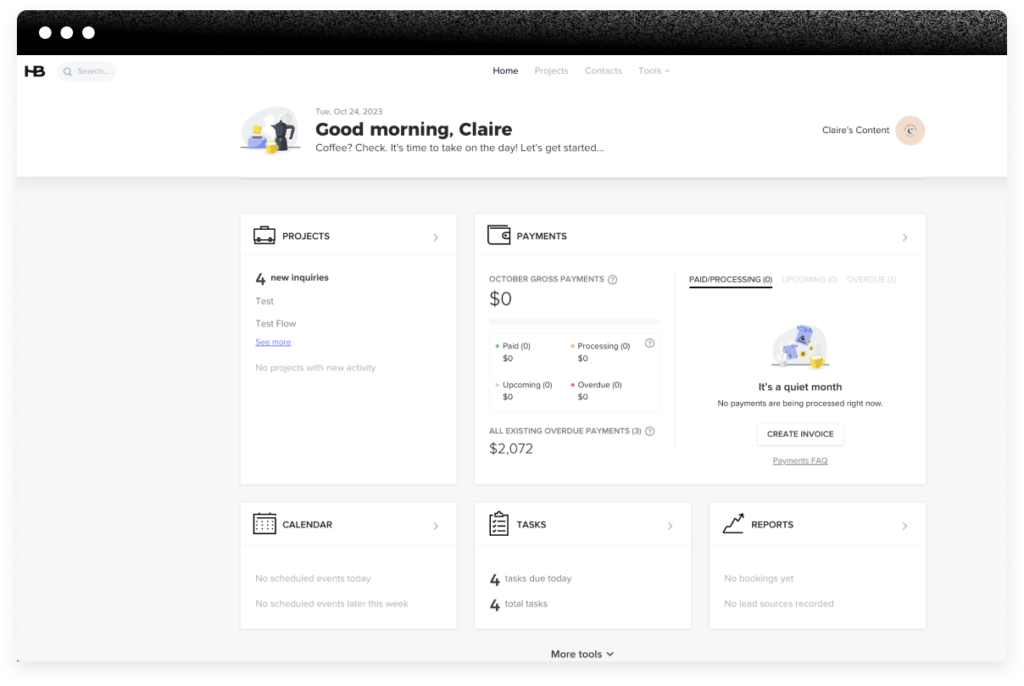 Dubsado is a client management platform that offers customizable forms, invoicing, automations, and an interactive client portal. Dubsado identifies as a Customer Relationship Management (CRM) + Client Management System (CMS) hybrid with some workflow automation capabilities.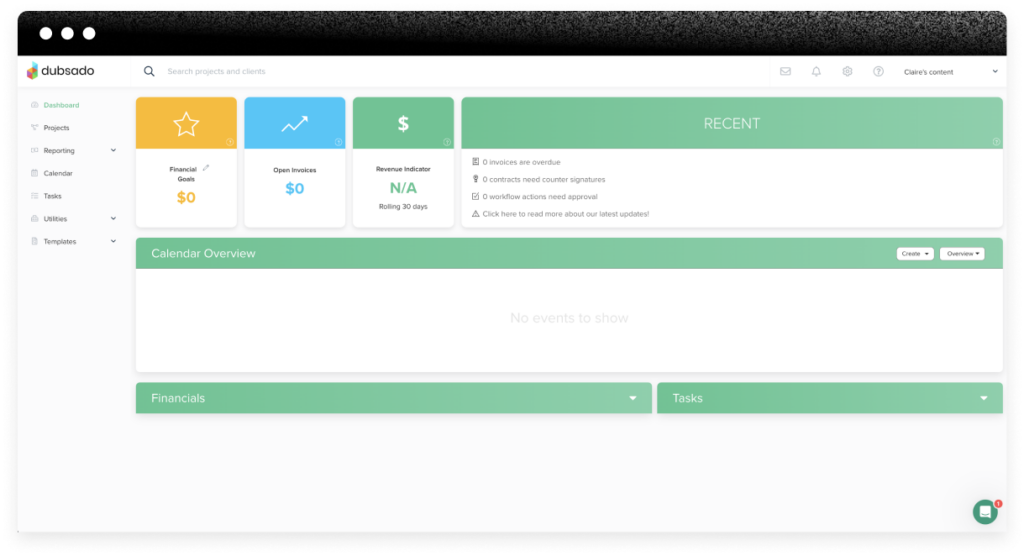 Is HoneyBook or Dubsado better for getting better clients?
Whether you're just starting a business or have an established independent operation, increasing your client base or maintaining a steady stream of clients is an important consideration. Keeping leads coming in during the slow season, for example, can be difficult if you find yourself in a lull.
The business that responds first becomes the choice for 86% of clients when it comes to booking a service provider. Lead capture tools can assist with responding quickly to interested prospects. Both HoneyBook and Dubsado offer lead capture tools that help independent business owners capture leads—but which is better?
Dubsado lead capture
Your prospective lead submits to your customizable, embeddable contact form and gets added to your Dubsado address book. Then, a project is created.
Separate leads by project inquiry type and automatically send follow-up questionnaires specific to the prospect inquiry with automation.
Embeddable contact form compatible with:

Squarespace
Wix
WordPress.org
HoneyBook lead capture
A customizable, embeddable contact form for your website allows users to ask questions and collect information for optimal qualified lead capture.
Can create from scratch or a template.
Automate your follow-up as soon as someone inquires, whether that means sending a thank you email, questionnaire, brochure, and more. Automatic responses are always optional.
HoneyBook lead forms enable you to provide a fully branded, customizable experience for clients that you want to book immediately. This includes turning new inquiries into business right away by streamlining the process for capturing, qualifying, scheduling, and accepting payment.
Do you get a lot of leads directly in your inbox? Turn your emails into projects with the HoneyBook Chrome Extension
Lead capture features accessible from any type of membership
Lead capture and the HoneyBook Mobile app
Priority Leads feature on the mobile app that notifies you about inquiries from your contact form that are more likely to result in bookings or generate higher revenue, allowing you to decrease your response time to leads, improve your lead-to-client conversion rate, and drive revenue growth.
AI Composer (beta) on the mobile app sends you a custom, AI-generated response that you can edit and send instead of using an automated response, allowing you to respond to leads in seconds rather than minutes even without a custom automated reply.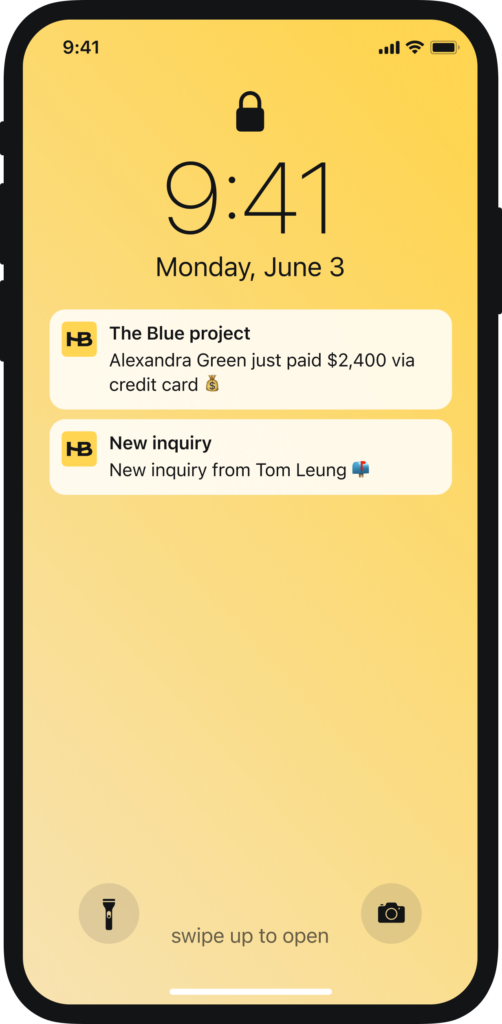 Who has the better lead capture tools?
HoneyBook is the superior program when it comes to increasing both the quality and volume of leads captured. While both Dubsado and HoneyBook offer embeddable lead capture forms that drive inquiries into your project pipeline, HoneyBook does more than just capture leads.
HoneyBook's mobile app, AI tools, lead forms, and Chrome extension give independent business owners the leg up to be the first business back in their prospect's inbox. This means HoneyBook users have a significant advantage over Dubsado users when using the HoneyBook embeddable contact form, lead forms, mobile app, and suite of AI tools.
Does Dubsado or HoneyBook have a better client portal?
A client portal is an important comparison point between two client-facing softwares. It provides you and your clients with a single source of truth so you can ensure you're on the same page. The best client portal software will enable you to share files, view communication, and store project updates.
Dubsado client portal
Give access to your clients so they can find their forms, contracts, and invoices all in one place
Test drive Dubsado as a client and see what kind of experience your clients have receiving documents
Customize your client portal to be on brand
Embed the login to the client portal on your website so clients can access their files with you or on your website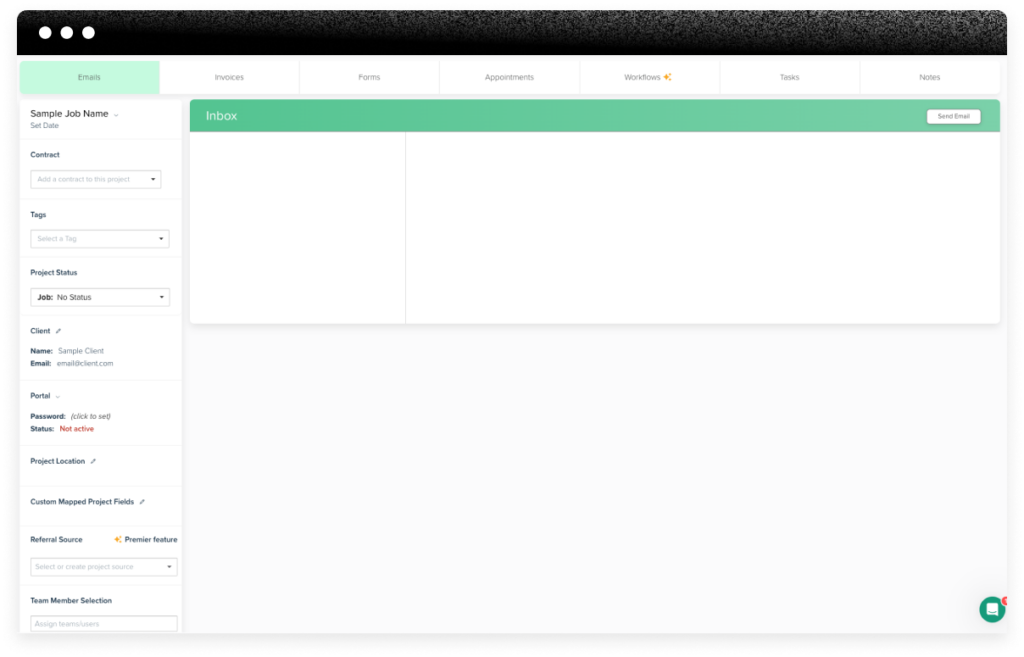 HoneyBook client portal
Clients have access to a customizable, branded client portal where they can access contracts, files, invoices, and more
Demo the HoneyBook client experience in mobile so you can understand how your clients experience everything from inquiring to booking and scheduling with you
Share the login page with a simple link–either using the HoneyBook domain or your custom domain
Clean user interface on the client side for better ease of use
Embed the login to the client portal on your website so clients can access their files with you or on your website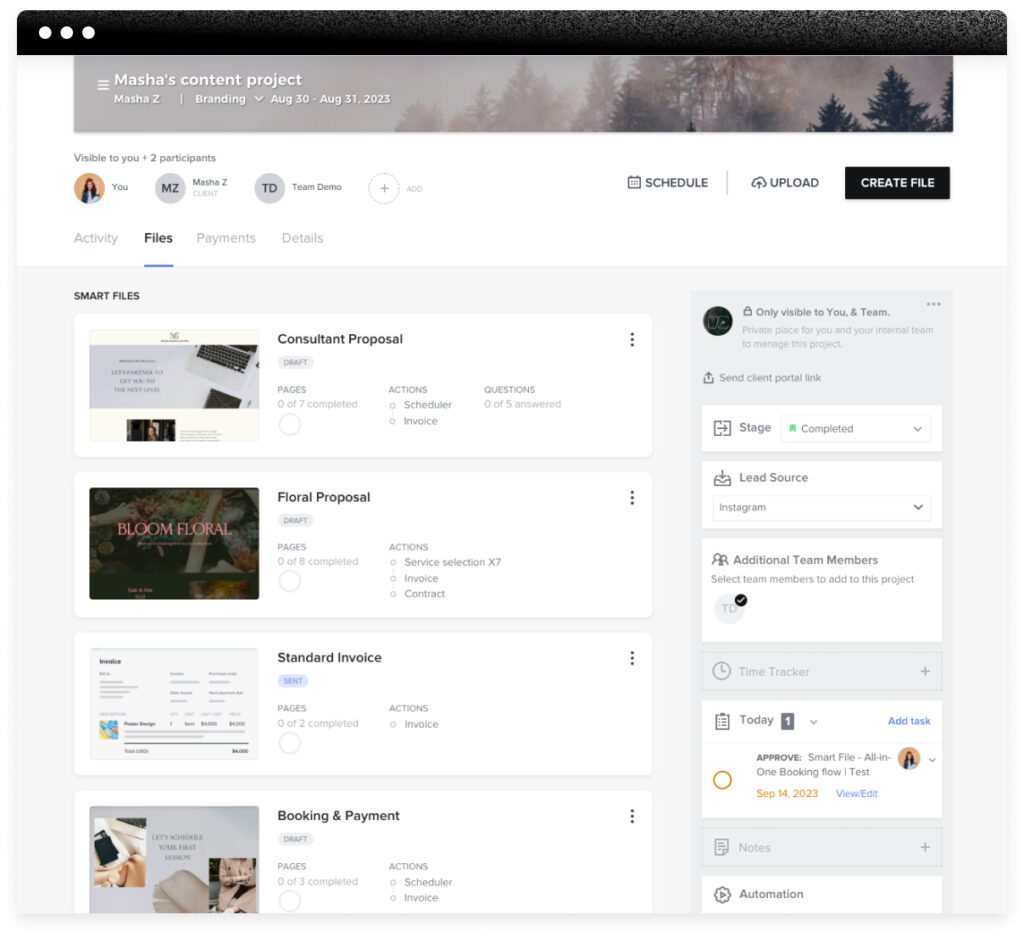 Who has the better client portal, HoneyBook or Dubsado?
HoneyBook and Dubsado offer similar client portal experiences. Both offer a file upload portal and the ability to embed it on your website. Additionally, you can share both portals using a link. So what's the deciding factor on who wins out?
It's the friction-free communication process that follows accessing the client portal that makes HoneyBook the front-runner. Clients have every document they need in one place and hardly need to lift a finger when signing contracts, making payments, or accessing event information.
Does HoneyBook or Dubsado offer better project management?
Projects don't happen efficiently without one thing: project management. With that in mind, it's important to consider how well your clientflow management platform or your CRM software supports you in juggling multiple clients and administrative tasks all at once.
Dubsado project management
Time tracking can be added to any invoice from the platform, but the invoice must exist first
Task management view with the ability to sign to other team members
Client portal preview
Selective communication (cc and bcc functionality)
Customizable project pipeline
Notes section where you can view your activity log, call log, and manual notes
Tag projects to organize and better manage your projects
Inbox

HoneyBook project management
Organize your template gallery with your most-used templates
Time tracking allows you to track billable and nonbillable hours directly from the app, and create an invoice directly from your tracked time
Client portal allows your clients to access all their docs and comms from one place
View all client activity and updates in one place and add project notes
Create tasks for yourself and your team members, automate reminders, and view all your tasks in one place
Customizable project pipeline
Sync your email with HoneyBook to view all your client communication in one place
Integrate with standalone project management software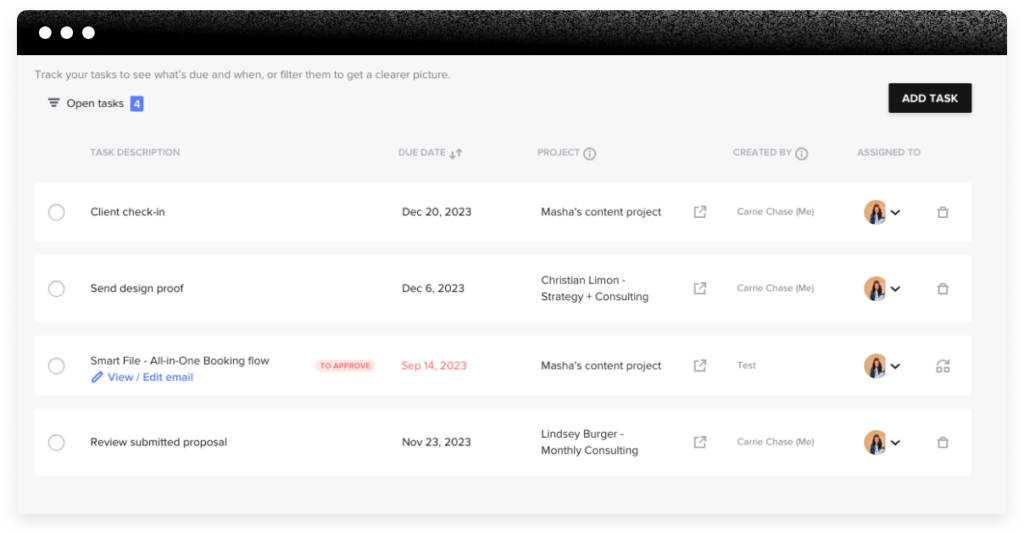 HoneyBook or Dubsado for project management capabilities?
Project management typically refers to internal task management. Both softwares have similar features when it comes to their project management capabilities, so it's not a make or break between the two. Both offer robust task manager sections, but they're not comparable so something like Asana.
It saves you time and stress if your robust clientflow management platform talks to your project management software, which is why HoneyBook wins overall for this category. Using Zapier, you can integrate your HoneyBook account with any project management software, like Asana, Clickup, Notion, and more.
Dubsado vs. HoneyBook: Who is better for taking payments?
If you have a business, you take payments; it's that simple. But there's a lot more to payment processing than one might realize, especially if you have to set up an entire third-party payment processor and sync it with your bank account and CRM. Here's how Dubsado and HoneyBook stack up when it comes to payment processing.
Dubsado payments
Offers payment plan templates so you can pay in installments—this is good for retainer payments, etc.
You can connect your payment processor like Stripe, Square, or PayPal to your Dubsado account
HoneyBook payments
Customize your clients' payment plans to fit your needs
With HoneyBook's integrated payment processing system, you don't need to set up a third-party payment processor
Our dedicated disputes team handles all disputes
HoneyBook payment fees are some of the most competitive in the industry:

Credit card entered: 2.9% + 25 c
Card on file: 3.4% + 9 c
ACH: 1.5%
Instant deposit: 1%

Can take payments from anywhere internationally and issue invoices in Canadian or U.S. currency – we don't offer ACH in Canada either
Who's better for taking payments, HoneyBook or Dubsado?
According to a study by HoneyBook in partnership with Visa, being able to pay using a preferred method is important for clients. While credit card transactions are preferred by 80%, and 60% prefer debit cards, many people still prefer checks, cash, wire transfers, and ACH.
With HoneyBook, you have all of these payment options and more, plus you can see when you get paid on the go via the mobile app—can you say cha-ching? Not only that, but HoneyBook has a dedicated disputes team to support you through dispute claims.
While Dubsado gives you the flexibility to choose your payment processor, whether you use Stripe or PayPal, that's one more subscription app for you to manage and integrate—and one more support team to communicate with if things go awry.
Overall, HoneyBook offers a stronger payment processing plan with lower fees compared to some of the top payment processing platforms.
How do HoneyBook and Dubsado compare for managing invoices, contracts, and other files?
Part of your clientflow is managing admin tasks, and admin tasks typically include lots of documents. But the whole point of a clientflow management platform or client relationship management platform is to support the must-dos so your clients never see you sweat.
Dubsado
Templates

Proposals
Questionnaires
Contracts and sub-agreements

Send legally binding contracts to clients
Dubsado doesn't offer invoice file templates, though you can still create invoices in the platform manually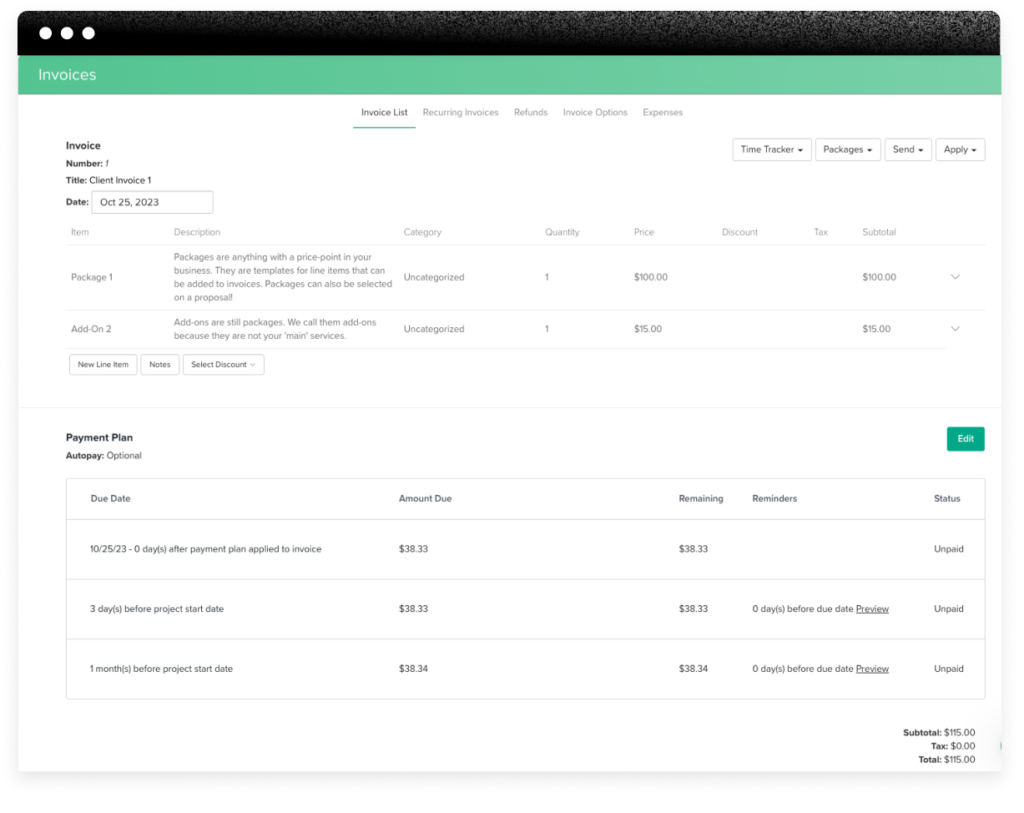 HoneyBook
Templates

Proposals
Questionnaires
Contracts
Invoices
…and more

Send legally binding contracts to clients and receive notifications when they receive, open, and sign documents
Dual authentication ensures your documents are being signed by your client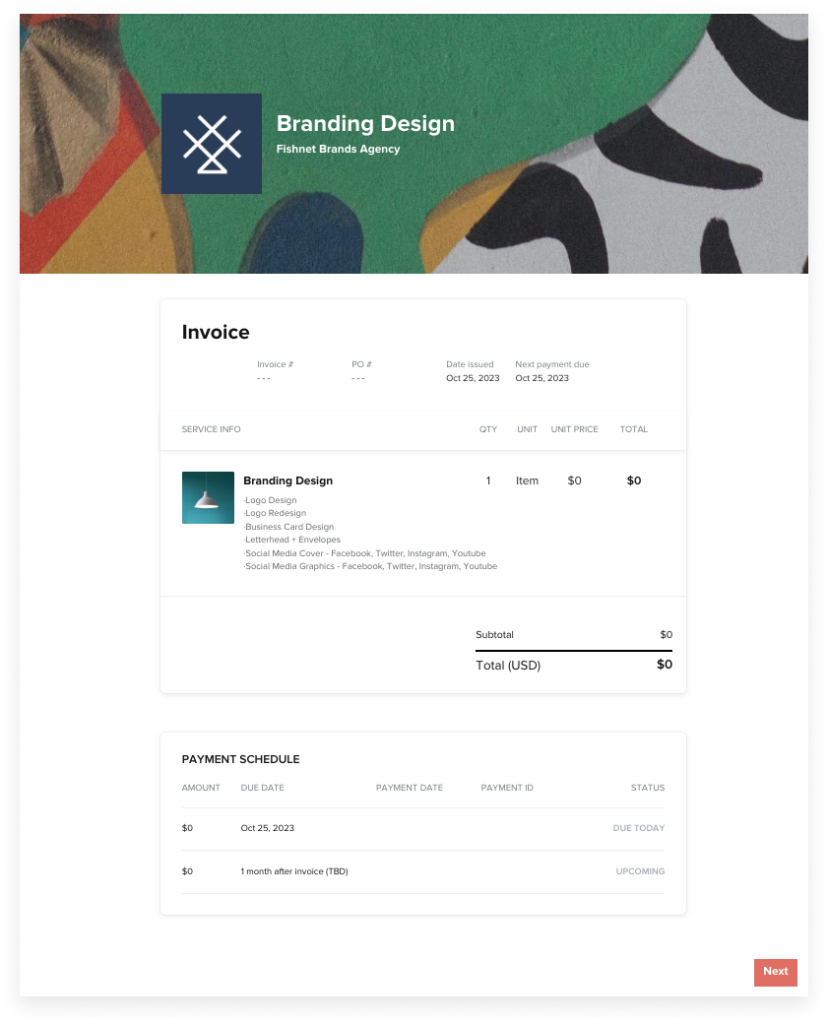 Is Dubsado or HoneyBook better for document management?
Both HoneyBook and Dubsado offer robust document management, whether you want to build each document from scratch or find a pre-designed template in either of their template libraries.
The key differentiator between these platforms is the mobile app. With HoneyBook, each relevant document lives in its relevant project so everything is tidy and easy to find, and you can see when clients, open, sign, and respond on the go. More freedom means more time spent with family and friends and less time in front of the computer.
Who is better for new businesses? Established businesses?
If you're a new business, you've likely learned about a few key things like branding, invoicing, and taking payments. The next step to take in leveling up your business is improving your services by decreasing friction points.
Is Dubsado better for new or established businesses?
Dubsado onboarding kicks off with brand settings. If you don't have branding yet as a new business, this may not apply to you
Dubsado points you to set up your payments; keep in mind that if you don't have an account with these processors, you'll have to set this up first
It's easy to connect your Gmail account to your Dubsado account, but it's not so easy to connect your email account if you don't use Gmail
Dubsado admits that if you use their default communication system, invoices, contracts, and other documents will likely end up in spam
Is HoneyBook better for new or established businesses?
Starting a 14-day trial is as simple as putting in a few pieces of information
Payment processing is easy with HoneyBook; if you're starting a business and don't have a payment processor set up, you can just create an account, connect your bank account in your company settings, and send an invoice. Your business is up and running in minutes, not hours
You can connect your email in HoneyBook seamlessly or use the platform to send invoices. Don't worry about emails going to spam, because HoneyBook sends from an authenticated email. HoneyBook supports Gmail, Yahoo, AOL, iCloud, Microsoft Outlook, Hotmail, and Live
HoneyBook AI features give established business owners an edge
Given HoneyBook's ease of onboarding, and the fact that you can invoice a client with a high-quality, professional, branded invoice in a matter of minutes, we think HoneyBook is the best choice for new business owners.
If you're an established business looking to maintain the same systems and focus on a few clients, Dubsado will work just fine. If you're dedicated to increasing your client base, getting more time back in your day, and getting higher paying clients, HoneyBook's AI features and mobile app give established businesses an edge to simultaneously increase their revenue and decrease time spent on admin tasks.
In addition, if you're an established business owner, HoneyBook's Premium account comes with a customer service management report that walks you through how to set up your business—and even does most of the setup for you. Clients are prompted to register for a group session where they learn what process mapping is, how to do it for their own clientflow, and get to see a basic example of what one looks like. After new clients attend the session, they receive an intake form that gathers as much detail as possible about their clientflow.
Once submitted, CSMs record a custom loom walk-through of your account, showcasing your clientflow and how to set up and use certain features that will help streamline your operations.
If you send over files for setup, a CSM will build those files out for you and do additional recorded walk-throughs to show them how to do it on their own. This means the setup and learning process for Premium users is entirely customized to their unique business offerings.
For these reasons, HoneyBook is also a better option than Dubsado for established businesses. HoneyBook gives you the tools to hit the ground running in the platform and make changes as necessary as you evolve your offerings.
Dubsado vs. HoneyBook: Managing multiple brands
For all you serial entrepreneurs out there with multiple brands: we know this one is important to you. Which platform does a better job of allowing you to host multiple businesses from one account? Read on to find out.
Dubsado
Can add on another brand for $10
Create a new brand with a free trial (add the address, logo, name, etc.)
If you have two companies, you can synch your calendars so that you don't double-book yourself between brands
You can (must have) two different payment options
HoneyBook
Can add another brand at no cost to you with all the functionalities of a second account
Company settings, bank accounts, QuickBooks integration (for two distinct companies), projects, templates, contact forms, calendar, and integrations are distinct
Use one login to access the account
You share your availability and it includes the availability of both companies to prevent double-booking
Dubsado or HoneyBook for multiple businesses?
This one is easy, and it comes down to one simple difference: Dubsado costs $10 extra dollars per month per brand, and HoneyBook does not. It's that easy. And with HoneyBook, you can have as many different brands as you want.
Dubsado vs. HoneyBook pricing: Who gives you the most bang for your buck?
"Which one is cheaper?" is a classic question to consider when looking into software. The good news is, most competitive platforms are priced competitively relative to one another, so you can prioritize choosing the best fit for your business.
| | |
| --- | --- |
| HoneyBook | Dubsado |
| Starter: $16/month (billed annually) | Starter: $16.70/month (billed annually) |
| Essentials: $32/month (billed annually) | Premier: $33.30/month (billed annually) |
| Premium: $66/month (billed annually) | |
Why HoneyBook is better than Dubsado (and who it's better for)
HoneyBook is the leading clientflow management platform for independent business owners with established businesses, business owners with multiple service-based businesses, and new business owners.
Whether you're thinking of switching from Dubsado to HoneyBook or have been a long-time HoneyBook user curious about what Dubsado offers, sticking with HoneyBook is the right choice. If you're switching from Dubsado, HoneyBook's customer support and document transfer can get your company set up in the platform within a few days instead of weeks.
If you've got multiple brands, there's no need to pay extra with HoneyBook. Simply onboard your second (or third, or fourth!) brands into the platform and know that your bases are covered.
Lastly, if you're a new business owner, HoneyBook's easy-to-use interface will help you send a branded invoice in minutes. Leave the technical jargon and tedious platforms behind—HoneyBook's user-friendly interface will get you paid today.
What is a clientflow management platform and why you need one
Nearly every independent business owner has a clientflow. Your clientflow comprises the complete process of selling and delivering your services. When you email a lead, sign a contract, send an invoice, take payment, and deliver your services–every client touchpoint is part of your clientflow.
A clientflow management platform is the solution to creating, streamlining, and managing your clientflow. It allows you to manage every client touchpoint from one place.
According to recent research by HoneyBook in partnership with Visa, 86% of prospective clients get back to the independent business that responds first. 80% of businesses prefer to pay with a credit card, closely followed by a credit card. From "hey" to "pay," clients expect communication and action with independent business owners to be seamlessly integrated. The best way to exceed these client expectations is with clientflow management software where you and your client can see everything needed in just a few clicks.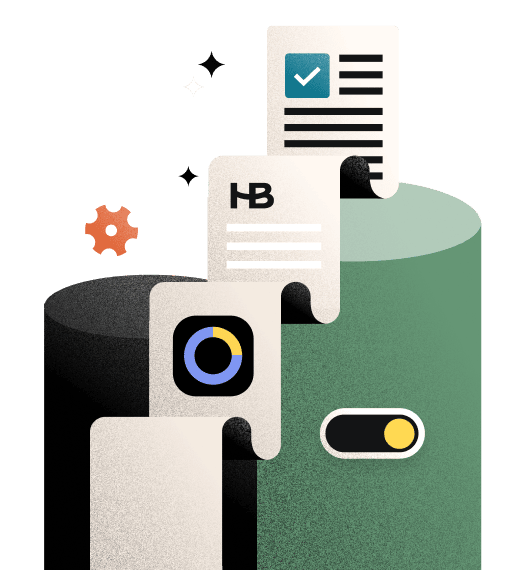 Centralize your client management
Capture leads, sell services, manage projects, and nurture client relationships from one platform.  All that and more with HoneyBook.