Pride Month is a time to celebrate the LGBTQIA+ community, but your support can extend all year long. We've gathered resources, whether you're looking for ways to advocate within your community, improve inclusivity in your business, or just learn more about how to celebrate Pride!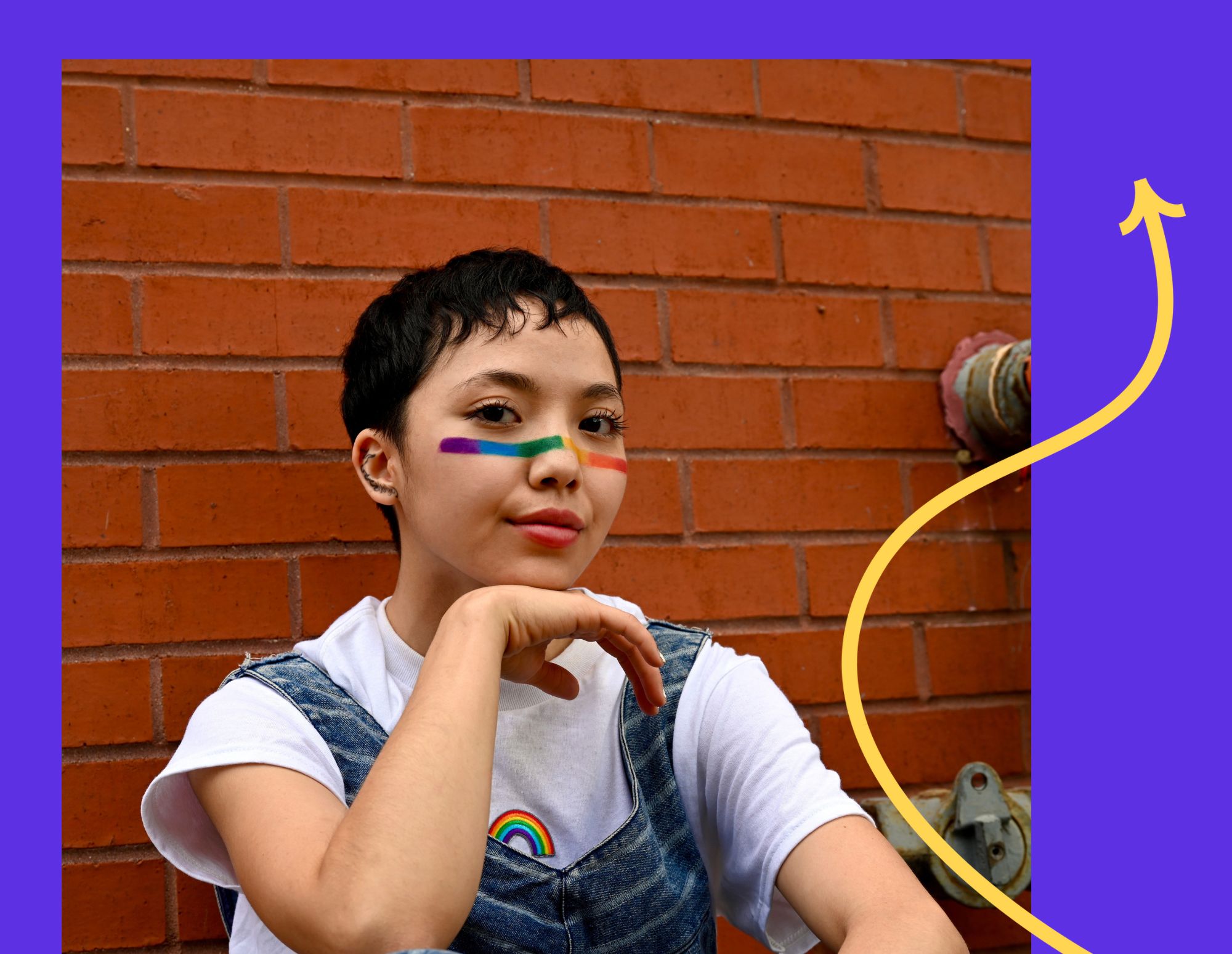 Happy Pride Month! Because we are an organization that believes in inclusivity and diversity, we know that supporting the LGBTQIA+ community is more than just a once-per-year event. We believe in celebrating Pride all year!
Inclusivity is an all-year, every-year endeavor. That's why we've put together a list of our favorite inclusivity and LGBTQIA+ resources from our community and beyond.
Using these resources, we hope you can take the time to make your business more equitable and inclusive, while also learning more about how you can support the LGBTQIA+ community.
Jump to:
The history of Pride Month
Pride Month has been celebrated every June since the 1969 Stonewall Uprising in New York City. The uprising marked an important moment in LGBT history when members of the LGBT community protested against unjust police raids at LGBT bars. The frequent raids were just one representation of broader LGBT persecution happening throughout the country.
Pride Month became federally recognized in the U.S. in 1999 when President Bill Clinton issued a formal proclamation. Around the U.S. and beyond, Pride Month includes many different types of celebrations, such as parades, community forums, memorials, and more.
While Pride Month is a time to celebrate resilience and identity, it has also historically been used to spread awareness and advocate for LGBTQIA+ rights, HIV/AIDS action, anti-discrimination laws, and overall progressive change for the community.
Inclusion and diversity resources from the independent business community
These posts can help you understand how diversity and inclusion play an important role in your business. Beyond Pride Month, these efforts can help you build a business that is accepting of all marginalized communities and beyond.
Learn how to audit your business for diversity and inclusion and create a safe space for your clients and employees while continuing to hold yourself accountable.
Find out how to do the inner work to uncover inherent bias and understand how we can all contribute to marginalized communities. From doing inner work, you can contribute to a genuinely inclusive brand that makes all feel welcome.
Accept your responsibility to be an agent of change through your website. Learn how to update your language and imagery throughout to ensure you're correctly communicating based on gender, sexual identity, race and ethnicity, religion, disability, and much more.
It takes effort to be fully and authentically LGBTQIA+ inclusive, but doing the work is invaluable. Learn how independent business owners in the wedding industry can ensure they're embracing all couples and embedding inclusion at all levels of their business
Maintaining standard processes in your client experience is key to fostering inclusivity. By offering the same information to everyone, setting expectations, and offering clear and constant communication, you can ensure every client is treated equally.
Marketing and communication resources for your business
Sometimes we don't know the right words to say, and that's okay! If you're ever unsure, you can use these resources below to make sure your business and communications are representative of everyone.
The GLAAD Media Reference Guide: This guide is intended for journalists reporting to mainstream media outlets and by creators in entertainment media who want to tell LGBTQIA+ people's stories fairly and accurately. It's not an all-inclusive glossary of language or a prescriptive guide for LGBTQ people. However, it's a great place to start if you want to learn how impactful your word choice can be.
Over the Rainbow: How Brands Can Take Action With Advertising Beyond Pride Month by Nielson.com: Each year, brands tend to lean into "rainbow capitalism" that fades after Pride Month is over. Learn how to create a more authentic brand that focuses on inclusion and embeds diversity into your business strategy.
Brands Still Haven't Figured Out How to Talk to LGBTQ Consumers from Fast Company: A small percentage of the LGBTQIA+ community typically feels positive toward the Pride-themed advertising and marketing that gets rolled out in June. Find out how to go beyond Pride Month and use actions that beat words.
Advocacy and support resources for the LGBTQIA+ community
As an LGBTQIA+ ally and independent business owner, one way you can offer support to the community is by volunteering, donating to, and leveraging organizations that aim to protect and expand LGBTQIA+ rights and opportunities.
For members of the LGBTQIA+ community, we've also linked to resources that can help you understand your rights at work and how to get help when you need it.
The National LGBT Chamber of Commerce is the business voice of the community and is dedicated to expanding economic opportunities and advancements for LGBTQIA+ people. Follow the link above to find your local chamber.
The Trevor Project is a 501(c)3 non-profit that provides crisis intervention and suicide support for LGBTQIA+ youth (ages 25 and under).
Outright Action International is a 501(c)3 non-profit that seeks to advance human rights for the LGBTQIA+ community around the globe.
Pride at Work is a 501(c)3 non-profit that seeks to achieve full equality for LGBTQIA+ individuals in workplaces, unions, and communities. They help LGBTQIA+ people understand their rights at work and also offer model contract language for unions that can be applied to independent businesses as well.
LGBTQ Inclusion Hub for Small Businesses is the U.S. Chamber of Commerce Foundation's online source for small business owners to access education, resources for implementing LGBTQIA+-friendly policies, one-on-one support, and more.
The U.S. Equal Opportunity Employment Commission is the U.S. agency responsible for enforcing anti-discrimination laws against job applicants and employees. Their resources include documentation on employers' and employees' rights and responsibilities. They also offer help and resources for small businesses and employees.
Small Business Grants for Underrepresented entrepreneurs are available for LGBTQIA+-owned businesses with various amounts available nationwide and locally. Be sure to check for application deadlines.
Best practices for making your business more LGBTQIA+ inclusive
Pride Month isn't just about education and celebration, it's also about taking actionable steps toward a more inclusive society. As an independent business owner, you have the power to promote inclusivity in your personal and professional communities.
Consider making these quick changes to your client experience, which you can do using HoneyBook or any client relationship management system. The more equitable we can be in our businesses, the more we can build a society that does the same!
Always ask your clients for their pronouns at the start of a project. In doing so, you show respect. You can ask them in your kickoff call or make it a recurring part of your process by adding it to your HoneyBook contact form, questionnaire, or other client intake forms you use on your website.
Add your pronouns to your email signature as a simple way to show your clients that you will also use their pronouns.
Include an inclusivity policy in your contracts to help solidify your business practices around equity and inclusion. You can set client expectations for what they can expect from you, as well as your expectations for clients interacting with you and your team.

For example, our inclusion policy states that we cultivate diverse, inclusive, and equitable spaces, which applies both internally within the HoneyBook team and externally within our partners, contributors, and more.
Audit your contracts, website, and communications for gendered language and replace any mentions with more inclusive language. For Pride Month and beyond, it can be a good exercise to uncover our biases in language. Make simple changes that speak to a much broader, more representative audience.

For example, if you work in the wedding industry you can use "partner" instead of "bride/groom."
Integrating Pride into your everyday life
Beyond these resources for your business, we hope you integrate the same practices into your personal life to celebrate Pride all year. We can all make a difference individually, whether that means educating ourselves, advocating, accepting ourselves and others, or simply being there for our communities.
Happy Pride from the HoneyBook team!