Learn how to sell digital products with an automated process that helps you generate passive business income! All while you work on your core services, you can offer online courses, workbooks, templates, and more that provide value and generate leads.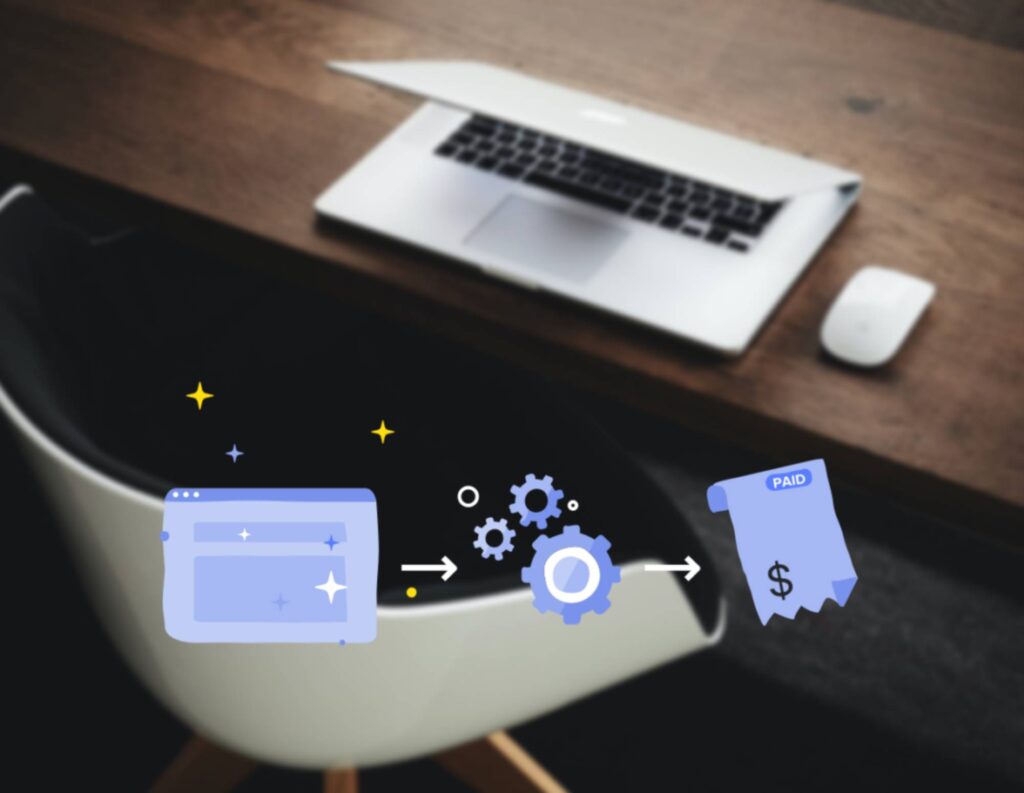 Imagine this: You've already finished your work for the day, had multiple meetings with clients, and started a few projects. While you're relaxing, a payment comes through for a download you posted on your website.
Without having to lift a finger, someone found your download and paid you for it.
As an independent business owner, you rely on your services to run your business and pay the bills. You don't sell physical products, but you can start selling digital products to generate passive income.
How does it work? A digital product can really be anything that brings value to your audience, that's also related to your business. Though it may not cover your full scope of services, it can be an add-on for an existing project or a la carte purchase for clients with a limited budget.
Learn how to sell digital products and automate your process so you can start getting paid in your downtime!
Jump to:
1. Develop your digital product ideas
Some of your digital product ideas may come easily– as a lawyer you could sell contract templates, or as a business coach you could sell a strategy worksheet. But sometimes it isn't as intuitive.
To generate more ideas, consider some of your smaller services or the pieces of a larger service that you can parcel out and sell separately. Think about how you could translate the work that you provide into an exercise that a client could complete on their own. Whatever you offer should act as a sample of the value your business provides when a client books your full scope of services.
For example, a branding strategist may create a worksheet to help someone figure out their brand voice and tone. The learnings from that worksheet are valuable on their own but would be of even great value if implemented across all of their marketing channels. That's where hiring a brand strategist comes in.
Similar to templates, perhaps you have exercises that you go through with your clients but that they could easily do alone with a handbook or series of tutorials. All of the individual steps in your projects could be turned into digital products that clients can purchase when they need them.
For more help, consider surveying your clients to learn what they need more help with. Are there one-off solutions they would already be interested in? Keep in mind that your digital products can be beneficial for current clients as add-ons to projects, or for new clients who may not be ready for your full scope of services.
Examples of digital products to sell online
As you're developing digital products, note that some could be used as free lead magnets instead. You want to make sure your content is valuable enough to purchase and not feel like something they could have gotten elsewhere for free.
That said, an email can sometimes be of even greater value to your business if you're looking to increase your pool of leads. Assess what your business needs and make a determination on the kind of resource you want to create: one that earns a profit vs. one that generates a lead.
Examples of digital products include:
Selling online courses
Tutorials for DIY services
Tools specific to your industry, such as business planners, content calendars, budget spreadsheets, and more
Digital downloads like worksheets, ebooks, and templates
2. Create your digital files or other online content
Once you have your ideas for digital products, it's time to build them in a way that's appealing and user-friendly.
If you're offering an online course, you can house your videos privately on YouTube or explore a more robust hosting platform like Thinkific.
For files, you can always provide a simple PDF or zip file with multiple documents, like templates, that get sent out after payment.
To create an even better experience though, consider using a platform that allows you to include interactive elements. With HoneyBook, you can build a file with images, questions, and even video to create a more immersive workbook or a way to present your online course.
Regardless of the format you choose, be sure to feature your branding throughout. Your customers shouldn't have any confusion when they jump from your website to the digital product– it should always be clear that you're offering a branded experience.
3. Set up automation to sell digital products online
By using automation to sell digital products online, you can actually leverage them as a passive income stream. While you focus on your core services, customers who find you online can purchase your products– all without needing your oversight!
To make it all happen, you just need to use a system with business automation. This is another reason why HoneyBook is a great solution for digital products. Not only can you build interactive files, but you can automate the full process of letting people purchase and access them.
Your workflow may change depending on your business type, industry, and type of digital products, but here's a general list of steps you can use to automate how you sell them:
Create a landing page – First, make sure your digital product is easy to find and on its own landing page. That way, you easily have one URL to link to when promoting the product, and you can use the landing page to include more information about what you're offering.
Include a contact form – On each digital product's landing page, drop in a HoneyBook contact form.
Create an automation – Within your HoneyBook account, you can create a unique automation for each individual contact form.
Collect payment and send your product – Let's say you have a landing page for social media templates that cost $50. Once someone fills out the corresponding contact form on the page, your automation can immediately send an invoice for $50. Once the invoice is paid online, you can then immediately send the digital product built inside HoneyBook or an email with the link if you built it separately.
It's that easy! Another great benefit of using one system to sell digital products is that you'll have an easy-to-access list of everyone who's purchased them that you can potentially nurture later via email marketing to convert into long-term clients.
4. Promote your digital products
Now that you're ready to sell your digital products, it's time to get customers. Create a plan to promote your offers with all the digital marketing channels you use as well as to your current clients.
Make sure you're scheduling social media posts and even writing about the offers on your blog. It's also a great idea to promote the offers to your current list of leads through your email marketing/newsletter. Many of your leads may not be ready to purchase your services, but they may be more likely to make a smaller purchase and buy your digital products.
For your current clients, promote your products as part of the client onboarding and post-project steps in your clientflow. During the initial service selection, your digital products can become alternatives for clients with smaller budgets or add-ons for clients who might need the extra support. 
After a project wraps up, you can also let them know about the products as the next step for them. Especially since your digital products are self-service offers, they may appreciate them as a way to leverage the knowledge or support you provided in your initial project.
5. Leverage your list of potential long-term customers
Lastly, don't forget that everyone who purchases your digital products has the potential to become a long-term customer. Ideally, you don't want their relationship with your business to end there.
Since you're already automating the purchasing process for your products, why not include a nurture sequence? Within your automation, you can include a set of emails to send every few weeks or so that feature your services. If your services align nicely with your products, they'll seem like a logical next step to purchase and start working with you.
By leveraging automation with your list of customers, you can create passive income and a path for booking new projects.
Make digital products part of your cash flow
By selling digital products online with automation, you can make them a consistent part of your cash flow. And how amazing would that be to rely on them as a whole new revenue stream along with your services?
Don't be afraid to monetize what you have to offer! It's easy to feel like your business isn't "established" enough to sell digital products, but you'll always have something unique to offer in your industry. It's why clients come to you in the first place, so don't be afraid to generate new ideas and see how they perform.
Ready to diversify your revenue streams? Get our How to Diversify Your Revenue Streams Ultimate Guide.