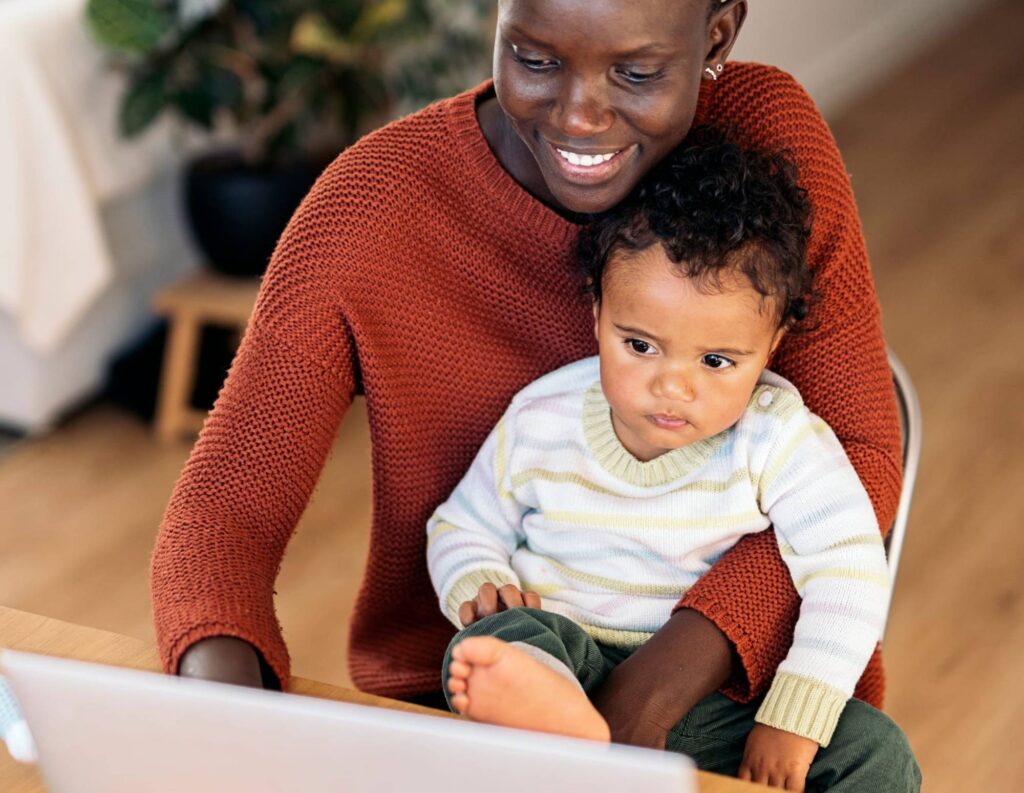 Taking a few days off as a small business owner may seem hard. Taking a few months off to care for a new baby or other life events may seem impossible. But it doesn't have to be. With some planning and a few pro tips, you can prepare for parental leave as a sole owner or entrepreneur and still preserve your business.
I consult with Independent business owners who are primarily looking for help planning to take extended time off for parental leave while still running their business. The first question most folks cautiously ask is, "Can I even take time off?" And the answer is, "Yes, you can!" The reality for entrepreneurs is that time away – whether it be to welcome a new baby or go on vacation – can happen. It takes thoughtful planning, foresight, and preparation.
Identify the kind of leave experience you want to have
As a small business owner or freelancer, you don't have the luxury of employer-paid time off or Family Medical Leave. At the same time, you aren't constrained by company policies that may limit or dictate the kind of leave you can take. Instead, you get to design your leave in a way that works for you, your family, and your business.
When working with clients who are preparing for parental leave, I typically outline four phases of the leave process.
The first phase involves preparing for your leave and winding down your work.
The second phase is the postpartum period of healing and adjusting to the demands of parenting.
The third phase gets you into the rhythm of having a new baby.
The fourth phase focuses on the return to running your day-to-day business while parenting.
Taking time to think about how you want each phase to feel or what you want to experience is a great place to get started with identifying the kind of leave you want to design for yourself. If you are taking leave for reasons other than a new baby, you can adapt these phases based on your unique circumstances.
Some key questions to ask yourself might be:
What has other people who run similar businesses done for their leave?
Who in your network could you talk to about their leave experiences?
Is there something that could affect or influence your leave design?
What are your unique needs?
What do you envision as the ideal scenario when you transition back to work?
Assess and improve your business operations
You may know your business inside and out. But does anyone else? Bringing in someone new or delegating new tasks to an existing team member will require downloading critical areas of your business operations.
Pro Tip: Try tracking your time for two weeks to get an idea of what your typical work routines look like. Review your calendar to see what weekly, monthly, quarterly, or annual tasks will need to happen when you are away.
Once you have an idea of what needs to be done when you're away, you can look at how you can get those things done. Knowing how to streamline the frequency of tasks, clarifying the systems and processes needed to complete tasks, and identifying the support needed to get the job done will be paramount to managing your business while you're away.
Some key questions to ask yourself might be:
What tasks can be automated?
What tasks can be batched?
What tasks can be delegated to someone else?
What tasks can be outsourced while you're away?
What tasks can be paused?
What tasks can only you do?
The responses to these questions can help you prioritize spending your time leading up to your leave. For example, you might see that a top priority for your businesses is blocking time to produce multiple blog posts, social media posts, or podcast episodes that will continue to come out while you are away.
If you have production time built into your schedule, consider adding more time, so you have enough content to cover the time away, and after your return, it may take a while to get back to your previous routine.
Another option is to change the frequency of your content from weekly to every other week, for example, to ensure your accounts appear active while you're away. You could pair new content with repurposed or "best of" content to continue to release at the same frequency without preparing all of it from scratch.
Pro Tip: This may also be another chance to share some of your favorite posts or episodes.
Plan how you will fund your leave
Funding leave typically makes small business owners and entrepreneurs the most nervous. Each person's situation is unique, and financial decision-making has many aspects. Whether you're looking to use profit reserves to cover expenses, adjust owner's draws, or take unpaid leave, explore your options with your accountant.
To begin your financial planning, I recommend four steps:
Assess cash flow in your business household, and identify your bottom line.
Estimate costs, such as a new baby, and update your household budget.
Assess your financial contributions to your business and household.
Adjust your business budget and cash flow projections.
Review your work and take a deep breath. Financial planning may not be the most thrilling aspect of your leave, but taking the time to do so will provide peace of mind about what cash flow looks like during and after your leave.
Communicate your leave to your clients
Client communication may not be the first thing on your mind as you prepare for leave, but it's a crucial part of the equation, especially for a service-based business.
Let your clients know about your upcoming leave and communicate what it means for them.Two weeks before your leave date is an excellent time to send a reminder email. Ensure this email includes details on how long you will be away, what kind of availability you'll have, and expectations for your response during your leave.
Pro Tip: Consider pre-written responses to frequently asked questions or handing your inbox to an assistant or other team members.
Prospective client communication is much harder to anticipate, and missing out on business opportunities is something you'll want to avoid. One way to make it easy for potential clients to get more information or sign up to work with you is to keep everything a prospective client would want to know in a section of your auto-response email or a pre-arranged response you could easily send out.
When you are ready to return to work, let your clients know you are back and be clear about what "being in the office" means, particularly if you have a newborn at home and are gradually transitioning back. For example, has your schedule or availability changed? Are you still available for email, phone, or in-person consultations? Most clients will understand if things change, and you need to shift how your business operates as long as you communicate and set expectations with them.
Prepare for your return to work
Getting back into work mode after a leave, especially parental leave, can take some time or effort. Many people notice that thinking, planning, and execution processes feel different. It's normal to feel different, especially after your life has changed.
The first step is to block transition or "reintegration" time. Whether you've been away from your business for a week or four months, it can take some time to reintegrate back into the day-to-day.
Dedicate your first few days (or a week) to having touchpoints with your team.
Space out time to catch up on communication and be free of deadlines if possible.
Having a 30-60-90 plan for your transition back can be a helpful process to assess how time.
You can use this time to strategically begin to add things back to it instead of defaulting to the previous setup.
As you revisit your workload, remember to honor your transition. You may want to revisit your goal-setting strategy, make adjustments to how much or when you work, or you may want to consider hiring help if you're in a position to do so.

Pro Tip: Finding or creating a support network is crucial to help you deal with the stresses and challenges that may come when you step back into your business.
Planning with flexibility in mind is key for small business owners, freelancers, and entrepreneurs looking for ways to create an extended leave plan while still running your business. Head to my website to gain more tips for your next leave!