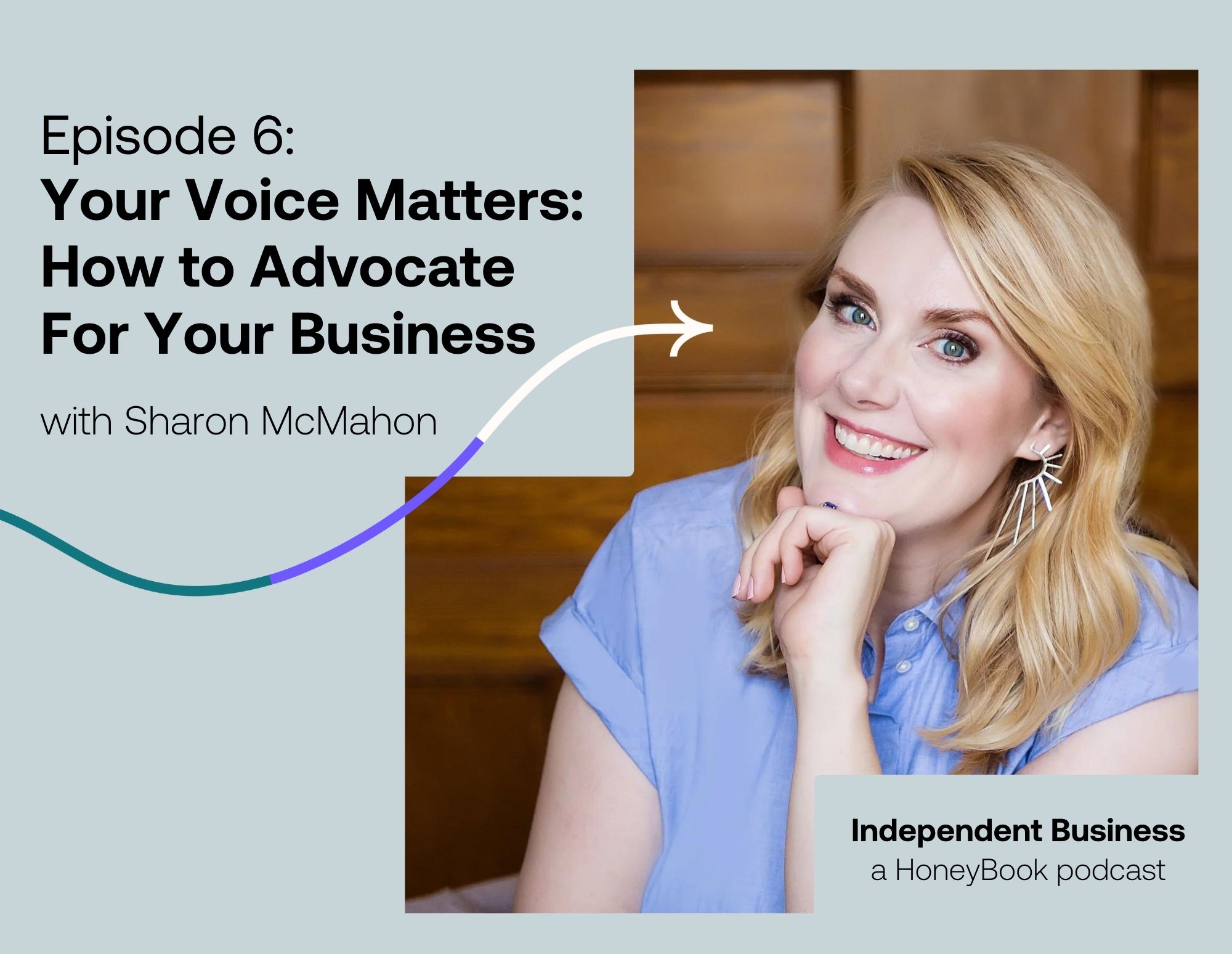 The majority of independent business owners do not believe that the government is doing enough to support them or even understand their needs. In this conversation, we chat with America's government teacher, Sharon McMahon to discuss the intricacies of the government and how independent business owners can approach business advocacy.
Over the last few years, Sharon has used her platform to inspire, uplift, educate, and do an immense amount of good in this world. Listen in as she shares how you can use your voice for advocacy, where you go to communicate your requests, and how you can reach out to your government officials.
The Independent Business podcast is powered by HoneyBook, the all-in-one platform for anyone with clients. Book clients, manage projects, get paid faster, and have business flow your way with HoneyBook. Use the code PODCAST to get 20% off your first year as a new member.
Follow the Independent Business podcast
How independent business owners feel about government support
The majority of independent business owners do not believe that the government is doing enough to support them or even understand their needs. Here are a few additional stats to give you an idea of what independent business owners believe:
Only half of independent business owners say they believe that their elected officials vote with their best interest in mind or believe that their elected officials understand the struggles that independent business owners face.
84% of independent business owners say that there should be more government resources and financial assistance dedicated to supporting small businesses.
81% say that the government does not do enough to make business owners aware of the programs that already exist.
It's easy to feel hopeless and frustrated when thinking about what the government is doing in terms of affordable childcare, health care, retirement policies, and tax savings (or lack thereof for independents). We often feel like we can't make a change, but we do have the ability to make a change.
Where to connect with your government officials
As you become passionate about an issue, you may feel the need to advocate for a change but not know where to start. We tend to look at the government on a broad spectrum as simply the President and Congress, therefore, we feel like we're too small to make change through our advocacy. That's not the case.
Consider the smaller government business advocacy options that exist for your business. The vast majority of policies that affect small or independent businesses occur at the state and local levels.
On a state level in the U.S., we have a limited number of Senators, but your state legislature and your city council are there to listen to your concerns and the things you want to advocate for. To find and connect with these individuals that represent your needs, you can go to resources like Openstates to get their names, phone numbers, email addresses, and mailing addresses. When you are polite, professional, and persistent, you can make things happen. It's likely that they'll even consider advocating a bill with you.
The history of health insurance in the U.S.
The American healthcare system isn't necessarily set up in support of independent business owners. When you consider the benefits an employer should provide you with, they can include things like health care, retirement account access, and parental leave.
Health insurance is a relatively modern invention—Medicare and Medicaid didn't really become established until the 1960s. Harry Truman even advocated for a national health insurance plan, which was denied by Congress while he was president after FDR died in 1945. The largest reason that government officials denied this national health insurance plan was due to fear of the Red Scare and communism, a fear that lingers today.
Pro tip
President Johnson presented the first Medicare cards in existence to Harry and Bess Truman in 1965.
In the U.S., our opportunities for health care as independent business owners come with a price tag, making it difficult for individuals to afford it or even obtain it. Over the years, some people have tried to build a system that was not based on your employer, but rather based on a bigger, broader societal systemic system.
How to participate in business advocacy
While there isn't strong evidence on whether snail mail, phone calls, or email is the best mode of communication for advocacy, many representatives will note that they prefer email so they can read over it later. Some do prefer phone calls for individual connection.
Most advocates feel intimidated by approaching state and local government officials because they feel like they need a Ph.D. to advocate, otherwise, they won't be taken seriously. That's not the case though. You will make the most impact when you tell your own story:
Why you started an independent business
Why being a business owner is important to you
Why you want to be a good citizen of your community
Why independent businesses are the backbone of society
By telling your own story, it will have a far greater impact than following a specific format you think you need to reach them. Simply tell your story and be polite, professional, and persistent.
How to write to your representative
Need some support? Check out this template for writing to your representative:
Dear [Name of representative],

My name is [Name], and I am one of your constituents in district [district number]. I am writing to you today as an independent business owner to discuss [include your specific concern here].

As you know, independent businesses play a crucial role in our local community and the overall economy. We attract new business, provide employment opportunities, and inject capital into our local economy, which helps our communities grow and thrive.

[Share your personal story as to why this specific issue is a concern for you and how it is affects you and your community.]

Many businesses are struggling to survive in the current economic climate. I urge you to support policies that will help independent business owners succeed and strengthen the economic foundations of your district. Some suggestions include:

Include your suggestion one and the outcome that will be achieved (e.g., stimulate the local economy beginning at the household level).
Include suggestion two and the outcome that will be achieved.
Include suggestion three and the outcome that will be achieved.

I hope you will seriously consider these suggestions concerning [identify specific concern outlined above] and advocate for the needs of independent businesses in our state.

Thank you for your time and consideration.

Sincerely,

[Name]
Resources for contacting your government officials
Need a little more? Here's an example.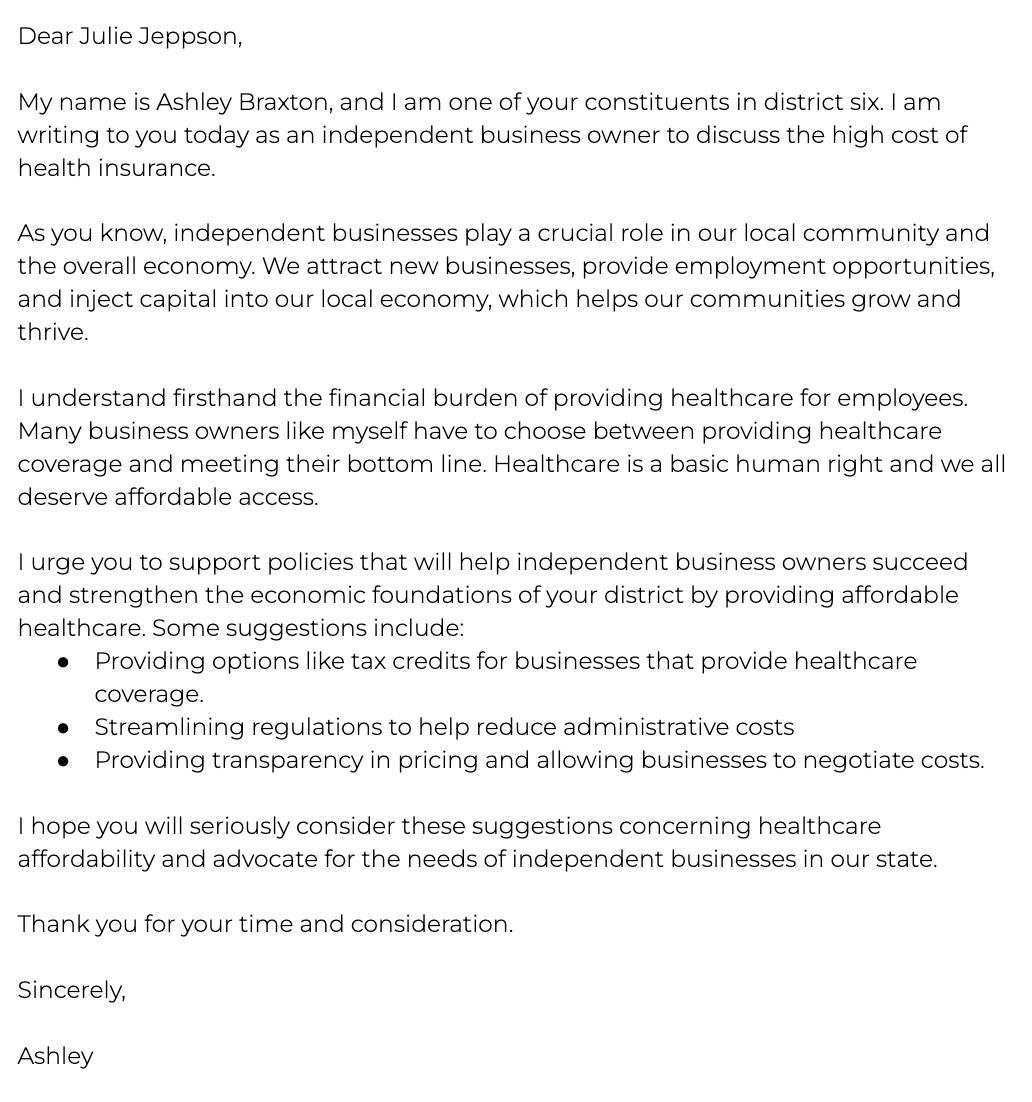 What independent business owners should advocate for locally
As an independent business owner, creating a space that supports you and other independent business owners is key to your success! Here are a few things you should consider advocating for on a local level for independent business owners:
Small business website
A central location for information (one office)
Mentorship programs
Sharon's biggest lesson from being a business owner
One of the biggest lessons that she had to learn as an independent business owner was that you have to value yourself or nobody else will value you. You will not win the race to the bottom—when you can confidently tell someone what you charge and that it's worth it, they will believe it as well.
This doesn't mean they can afford it, but it means they will respect and value it.
Building community through a shared value system
Sharon has built a really strong online community of "Governerds" through her brand Sharon Says So. She's fostered that community through a shared value system. While the community may not always agree on who to vote for, they can agree on one common value. For example, there's no place for dehumanization in the political sphere—all humans are of infinite worth, and cannot engage in that sort of rhetorical tactics.
The biggest differentiator between the businesses that succeed and the ones that fail
While there are so many considerations in business success and failure, Sharon believes that persistence is the biggest differentiator between the businesses that succeed and those that fail.
Important sections of the conversation
[3:10] Get to know Sharon
[6:48] Where to connect with your government officials
[11:45] The history of health insurance in the US
[17:23] How to advocate for your business
[21:19] What independent business owners should advocate for locally
[25:52] Biggest lesson in being a business owner
[28:10] Community
[33:56] The biggest differentiator between the businesses that succeed and the ones that fail
Sources mentioned in this episode
Connect with the guest