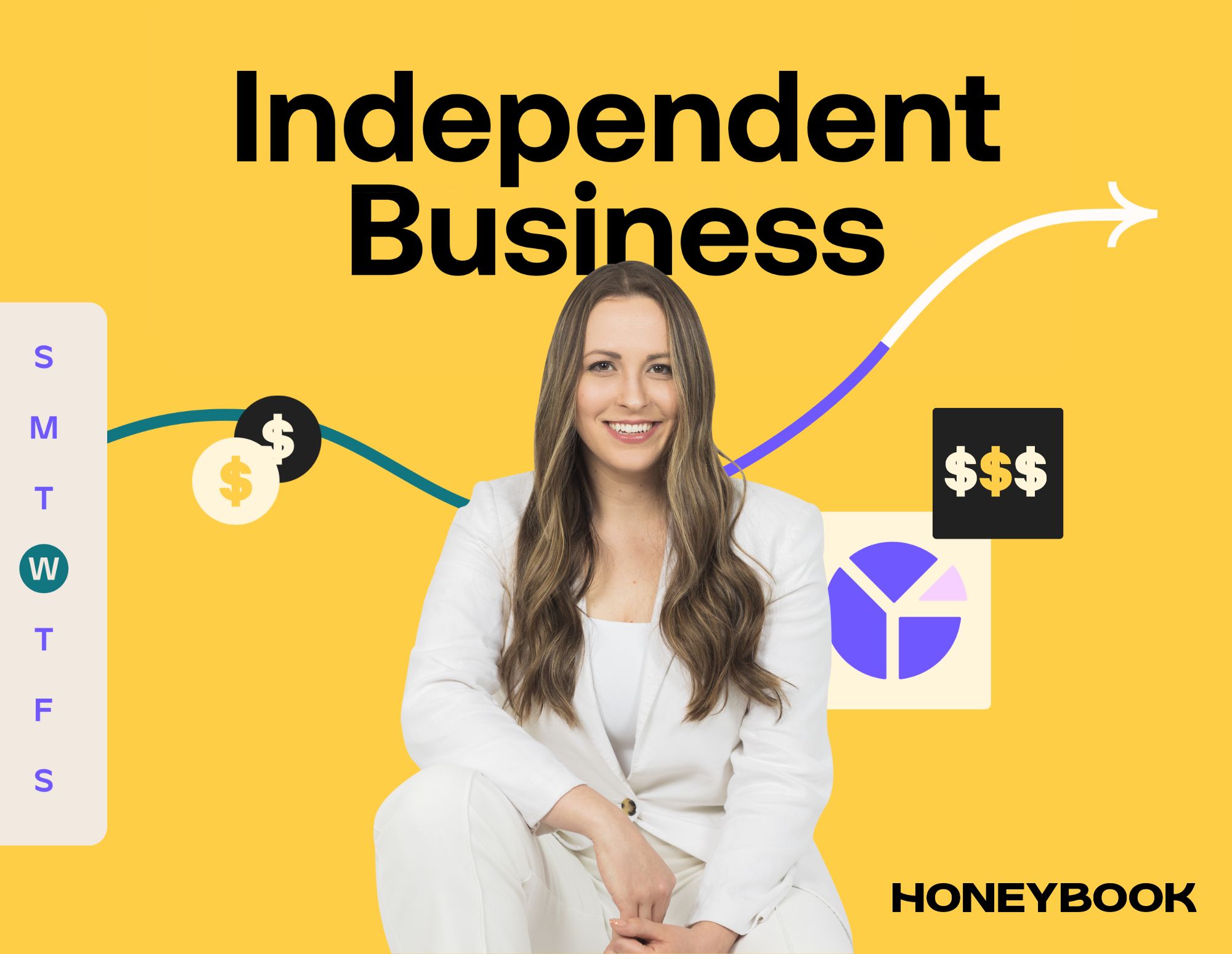 We've been keeping a big secret that we're finally ready to tell you about: Get ready to tune into the Independent Business podcast.
Hosted by HoneyBook chief evangelist Natalie Franke, this brand-new series taps into the top minds in business. We're bringing you fresh, science-backed insights on how to achieve success as an independent.
We don't know whether entrepreneurs are made or born, but what we do know is the road to success can't be traveled alone. According to data collected by the Harris Poll on behalf of HoneyBook, 1 in 5 adults in the U.S. have considered quitting their job to work for themselves. In other words, over half of America wants to ditch their corporate desks to venture out on their own. It's clear that the rise in independent work is no passing trend.
Follow the Independent Business podcast
But no one said being an independent business owner was easy. In fact, our research revealed that more than three-quarters (78%) say running an independent business comes with more challenges than they'd anticipated. For many, however, the benefits are worth it. Running your own business can mean making more money, feeling more confident, having more flexibility with your time, and having autonomy over your career.
The best way to rise above overwhelm and feel confident tackling your business goals is with a little help. Who better to guide you than industry experts? From top creators, authors, researchers, and entrepreneurs, Natalie dives deep into their first-hand experiences to empower you with the science of self-made success.
Photographer turned independent business advocate
If there's anyone who's experienced the ups and downs of independent business life, it's Natalie Franke. After achieving six-figure success as an event photographer she found herself grappling with social isolation and loneliness.
She was successful on paper and, yet, she'd never felt more alone. Every moment of her time was filled with the tasks that go into running a business—from marketing and client communication to booking and performing her service. Her clientflow was broken and she had no one to turn to for help.
That's when she cofounded the Rising Tide and committed herself to creating a community for independent business owners. The community goal was to learn, connect, and support one another. She's been a champion for community over competition and a fierce advocate for the needs and rights of independent businesses ever since.
With the help of online contracts and client management platforms such as HoneyBook, business owners can easily draft and sign contracts. Visit HoneyBook to find out more about how to begin using customizable online contracts, send clients invoices with ease, and manage client flow on a single platform.
The science of self-made success
After speaking with tens of thousands of independent business owners across the country, Natalie knows there is a science to success. There are hypotheses to prove and disprove. There are questions we must dare to be curious about and courageous enough to answer.
From understanding the psychology of a winning mindset to leveraging the power of technology to craft the perfect clientflow, we set out to navigate the neuroscience behind unbreakable habits and dig into data trends that can project the future landscape of marketing and sales. We're here to bring the science of self-made success straight to your ears.
For those just getting started on their independent business journey, we know asking the important questions can be daunting. Nearly three-quarters of Americans (74%) say they are afraid they will fail if they start their own business. 74% say that not knowing how to run a business makes them scared to start their own. These fears are perfectly valid—but what if you had the answers? What if your concerns could be resolved with data and a little push from someone who gets it?
We're here to show you how the brightest business minds answer some of the biggest questions about the economy, marketing, emerging tech, and more. Plus, we sit down with entrepreneurs who have made it to the top of their fields to understand how they overcame struggles to start and scale their businesses 🤩.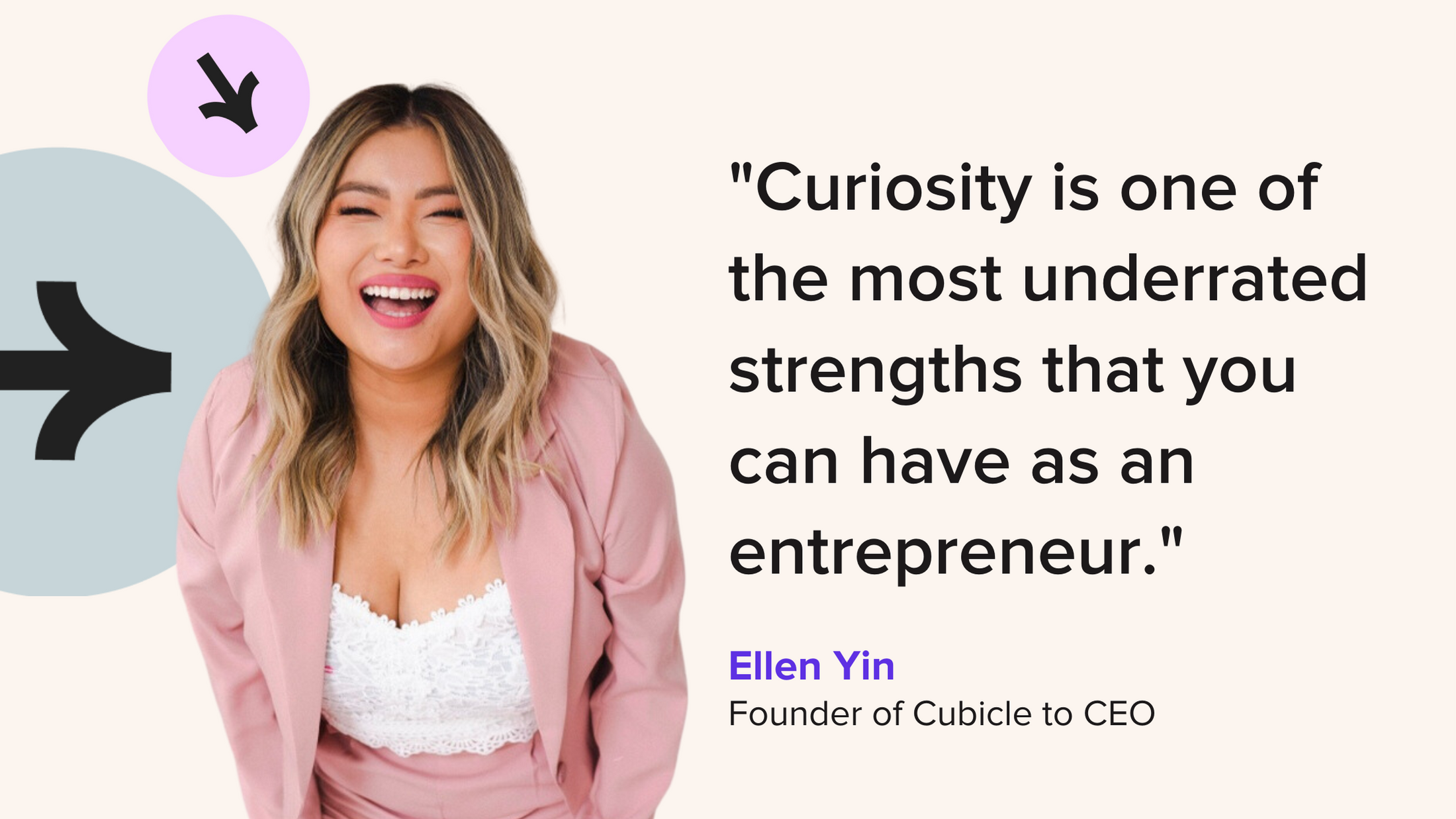 The business podcast you've been waiting for
We can't wait for you to meet the incredible guests coming up this season who covered so 👏 much 👏 ground 👏 with us to share best practices on how to run an independent business in today's digital age.
The things that are keeping you up at night? Let's talk about it.
The challenges that feel overwhelming at times? Let's tackle them.
You may be an independent, but you are far from alone.
What can you expect from season one
Our guest lineup includes NYT bestselling authors, seven-figure business owners, community leaders, renowned content creators, and subject matter experts that truly know their stuff. Forces like Ellen Yin (Cubicle to CEO®), XayLi Barclay (Founder of XayLiBarclay.com), Donald Miller (CEO of StoryBrand and New York Times best-selling author), and many more come together to bring you true data-backed research. It's all for free, at the click of a button.
You may be an independent, but you are far from alone.
At HoneyBook we're on a mission to make it easier to run an independent business. We know that sage advice is invaluable at any stage of business growth. As your advocate and champion, Natalie Franke is here to uncover the knowledge you need to make faster, more informed decisions—as soon as tomorrow.
Don't miss a single episode of the Independent Business podcast.
Get started with a great clientflow right now
HoneyBook is the top clientflow management platform designed to help you provide the best experience for your clients at every step—service selection, booking, payment, and more.
Stop trying to fit your business process into a tool that wasn't built for you. With HoneyBook, you can create customized files, automate recurring tasks, and eliminate awkward client interactions (hello, payment reminders). Confidently grow your business on your own terms. Keep great clients coming back for more with HoneyBook, where business flows your way.