Roll out the red carpet… we're excited to announce new HoneyBook features that are here to empower all independents.
These features aren't just minor updates–we've reimagined what files can be and what they can do. You used to try to fit your business needs into formats that weren't built for you; that didn't support how you wanted to work. Multiple spreadsheets, docs, and software subscriptions don't give you flexibility, and they add friction to your client experience.
Now, we're giving you the autonomy to create files that manage your entire clientflow; the end-to-end process of selling and delivering your professional services. That means you get to choose what your files can accomplish; you aren't stuck trying to make them work for your needs. The result? You're not working harder, but your files are working smarter.
Our new builder can create any type of file and offers the freedom to give your clients and projects exactly what they need. You can finally solve for all your business needs in one place without moving between tools that separate your business into pieces and parts.
With one place to manage your business, it's easy to explore capabilities you've never had before. Perhaps one file becomes a solution that combines multiple steps in your process. Or, steps that you find yourself doing over and over become an automated sequence.
With greater control and flexibility, you can enjoy benefits some of our members have already seen:
75% of clients book immediately rather than moving slowly through the booking process
40% of clients engage more to offer project input and help projects move forward more efficiently
Save 60 hours per project and re-allocate your time where it's most impactful for your business
Explore the countless ways to make smart files your own, and see how you can create a professional experience for clients that's more seamless for both of you.
Streamlined business processes
Combine multiple steps in your clientflow
HoneyBook now lets you combine multiple steps so you can move through projects seamlessly, remove friction, and create your clientflow. There's no need to send a pricing guide, wait for a client response, send a contract, wait some more, and finally send your invoice once you receive a signature.
Instead, explore new options like these:
During booking, combine service selection with a contract and invoice to get booked instantly.
While onboarding, combine your onboarding questions with a client welcome packet and send your scheduling link for a kickoff call to offer an exceptional client experience from the start.
During project closure, send a project recap along with a feedback questionnaire to gain client insights and turn one-off projects into repeat clients.
With more possibilities for personalization, what you create depends on how you operate your business. You get to decide the combination of steps that move your projects forward, and you can always reorder them as needed.
No matter what your industry is, you can translate your process into a consolidated version that works best for you and your clients.

Use enhanced booking features
Book clients 75% faster and create more powerful invoices. Now, you can create a single file that combines service selection, contract, and invoice. You'll reduce back-and-forth with your clients while giving them a simpler way to book with you and move forward.
Your invoices can now include:
Personalized payment schedules that fit your needs.
Turn on and off autopay for your projects.
Company branding to make them look and feel aligned with your business.
The ability to edit or turn off additional information, such as titles, images, "bill to" names, invoice numbers, and more.
Additional taxes and surcharges (like service fees) to make your pricing fully transparent.
Instant booking! Right now, you can automate files that include invoices to send as soon as someone inquires. Collect payment and move forward without lifting a finger!
View project status and client feedback in one place
With smart files, you now have an easier way to view client progress as well. There's no need to scroll through email chains or scramble through your project management software to catch up on project status.
Whenever you send a file, you can view updates on the Client's Progress page that's only visible to you. Get a birds-eye view of everything, including:
Who has access to each file
Pages viewed
Responses to questions
Viewing and managing upcoming or complete payments
Actions taken, like which contracts are ready to countersign, invoices ready to review, and services selected
Your progress page gives you an all-in-one summary to streamline your process for tracking client actions. Once there, you can save and print their responses as well as the completed files for your records.
Customization for your entire client experience
Apply your company brand to each step
Your client experience is an extension of your unique brand, which you can now apply throughout your files in a variety of ways:
Upload your custom fonts and brand colors as your company theme. Once set, they will be your default formatting for each new file.
Let your brand stand out and express what makes your business special with the ability to set your color palette for fonts, buttons, headers, and more. If you're not sure where to start, you can always use our pre-made templates with styles to get you started.
Create a company info block that you can add to each file and ensure your clients always have your contact information and social links with a professional mark.
Include videos to welcome clients personally or walk them through next steps in a more personable way.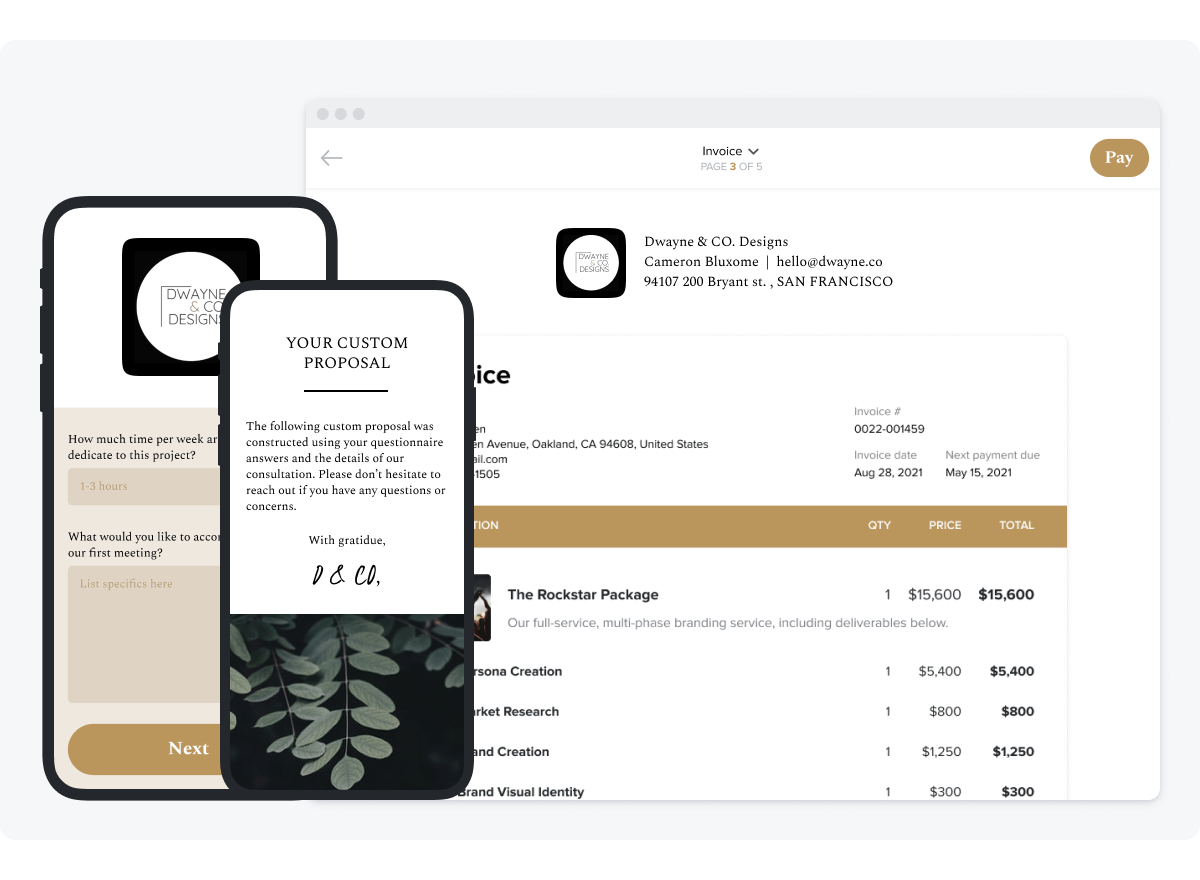 Repurpose elements for clients and projects
Once you've built your files, there's no need to duplicate work. Each template you use can be saved, tweaked, and reused, whether it's a HoneyBook template or one you've made from scratch.
Everything you create within your files will be saved automatically so you can use it again and again, every time you create a new file. Every new element will become reusable blocks, so you'll have everything you need inside the builder to keep building and updating files. That means you'll save time without having to recreate elements like:
Headers
Messages/content
Layouts of images and text
Full pages of information
With the ability to save everything that you've created, you can take your templates to the next level with much less time. You'll save 60 hours per project when you can simply personalize a template and send it rather than re-creating work for new clients.
Templatizing doesn't mean you'll lose personal touch points. In fact, the ability to choose what you reuse means you can focus more on the areas that do need more personalization. You'll save time and refocus it on the areas that are more impactful for your business.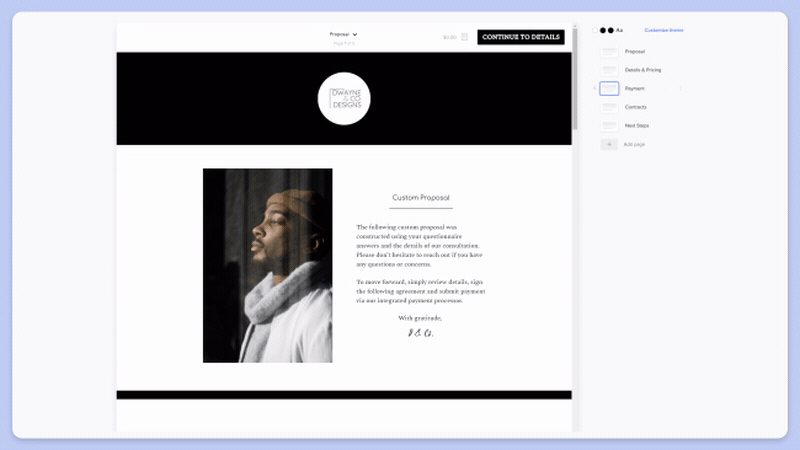 Use greater editing control
As you edit your files, you can always preview them before you send to a client. Simply send yourself a test that you can view on desktop or mobile to see how the experience looks on the client side. Something not right? You can easily undo edits inside the builder.
Once it's time to send, even your email templates have more options. Apply email templates to corresponding files to save time, and edit the call to action included in your email.
If you stop working with a client, you can still expire files to remove their access to them. But now we've also made it so that you can set a file to expire before you send it. This gives you more control over how long your clients have to take action, creating urgency on their side and encouraging them to act quicker. As a result, they'll move through your process more efficiently.
Impactful client interactions that save time
Send dynamic, interactive files
Smart files work with each other to take more work off your plate and your clients'. Using smart fields, you can make sure the information you need carries over to different steps in your projects. By making it easier for your clients to act and provide information, you'll increase their engagement by 40%!
For example, you can capture client information by asking questions on one page. Details like their name, project type, budget, and timeline will automatically fill in the smart fields on your contract. Combine these steps by adding the contract as a second page and save even more time in your process.
Client information can influence the options on subsequent pages without the need for you to edit and re-send files. If you combine service selection with your invoice, for example, the services clients choose will automatically populate inside the invoice.
With interactive files, your clients won't need to fill out a PDF and send it back or download a specific editing software. Instead, they can complete actions as soon as they open the link (and you won't have to remind them to!). Say goodbye to client friction and hello to clientflow.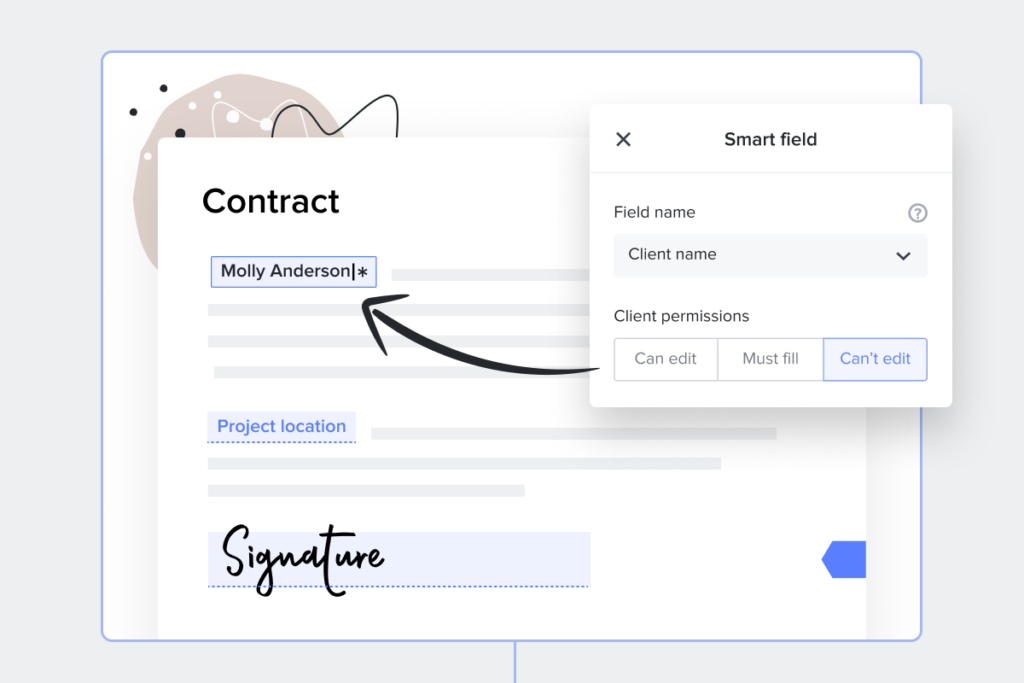 Get client input on the go
Being an independent business owner means you choose the way you work; it's another reason why flexible solutions are crucial. Even when you're on the go, HoneyBook gives you the power to keep your business moving forward.
Make it easier for your clients to view and engage with files by sending a link instead of having them sift through emails. If you're on the go, you can text them a private link to a file that they'll be able to view and act on.
Need to make changes to files you've already sent? Search for your saved files to find them quickly, edit, and reorder your steps all within the HoneyBook mobile app. You don't need to head home to edit a file or countersign a contract when you can view all actions taken and revise files from your phone.
If you need to send a new file quickly while you're away from your computer, it's also easy to grab a template, tweak it, and send it from the mobile app.
On the client side, they'll get the same professional, interactive experience on mobile that they do on desktop, allowing them to select services, answer questions, sign contracts, and more. HoneyBook makes it easy for both of you to move the project forward wherever you are.
Get started with examples in your industry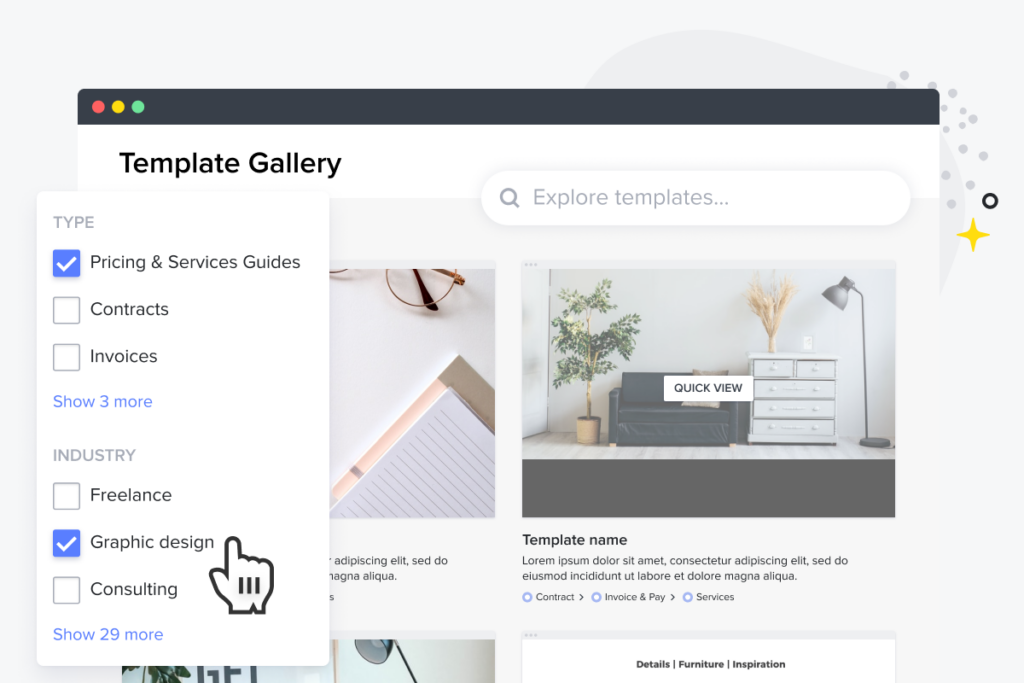 It's easy to get started with HoneyBook's new, powerful features. Enter the new builder and start creating your files from scratch. Or, you can choose from a variety of pre-made templates in our template gallery.
Try filtering by your industry or specific needs to find the right files. Check out templates with distinct actions like:
Invoices
Contracts
Pricing guides
Project timelines
Release forms
Proofing documents
Or start combining steps of your clientflow with templates like:
Welcome packets
All-in-one booking files
Post-project feedback
With new organizational tools, you can save your files and templates in folders and filter them inside your account as well to find them when you need them.