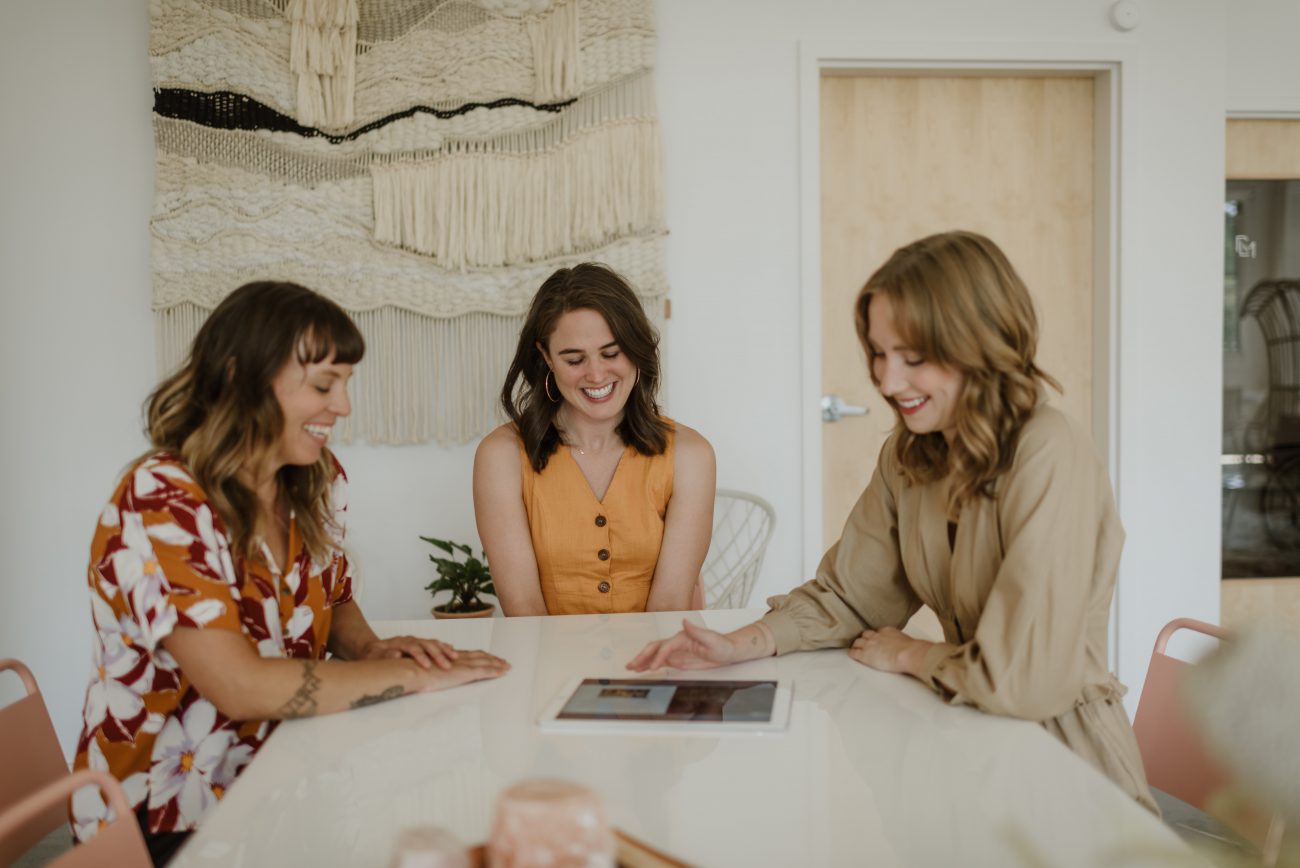 Chances are, if you're reading this, you are probably already familiar with branding and why it's so important. Additionally, perhaps you are familiar with the concept of "rebranding your business" or a "brand refresh," but maybe you don't understand why someone would consider undergoing a brand refresh.
Maybe you've been considering updating your own brand, but you're not sure if you're ready. Or maybe you've decided you need to update your brand, but you don't know where to start.
Let's break it down into bite-size pieces.
Rebranding Your Business
Let's start with the basics: What is a brand/branding/brand identity and why is it important?
A brand is the reputation of your business. In today's world, competition creates an infinite number of choices for consumers to choose from.
In order to stand out from the crowd, companies must find ways to connect emotionally, build trust and create relationships with consumers. How a brand is perceived (its reputation) affects its overall success.
A business is only as strong as its brand, and every brand touchpoint is an opportunity for a business to increase awareness, build trust and loyalty, convert a customer/client, and generate revenue.
So what is a rebrand and why should you consider it?
A rebrand, or a brand refresh, redesign, revitalization, etc. is a makeover for your company and your current brand identity. A refresh can update your current brand elements, identity or touchpoints in order to reengage your audience, reconnect with the consumer, or reposition you as a business.
As your business grows, a few things organically tend to happen—your purpose becomes more clear, your position in the market or in your industry becomes more refined, your experience allows you to go after bigger and better clients/customers, and your products or services evolve based on these factors.
Thus, you may find that your brand is no longer communicating the right message about your business, and can confuse or mislead prospective clients. You need a brand that builds trust with these new clients/customers and one that reflects your elevated position in the market.
There are many reasons to consider a brand refresh, including but not limited to:
You're a great company with a unique product/service, but you look outdated
Your identity doesn't work well with your brand touch points (i.e. website, Instagram, )
Your identity does not position you well against your competition
You are not proud of your brand or you do not feel personally connected to your brand
Elements of your brand (logo, name, ) are hard to read, hard to spell, hard to pronounce, hard to understand, etc.
You want to reposition yourself as a business
Your brand does not clearly communicate who you are as a business
You are entering new markets or targeting a new customer base/ideal client
Nobody knows who you are
You want to appeal to a new, more affluent market
Your products/services have evolved from when you first developed your brand
You never really invested in your brand in the first place
You have some brand elements (logo, business cards, ) but they are not consistent or cohesive across your various touch points
Okay, now what? Should I rebrand or not?
If you're thinking about rebranding your business, there are a few considerations to take into account before diving in.
Weigh Your Options
There are a few different ways to approach a brand refresh. Perhaps you just need to realign with your vision without investing in a full rebrand. If that's the case, consider making some smaller changes to your brand.
However, perhaps you feel strongly that your brand isn't doing its job or you fall into one of the categories mentioned above. In that case, it may be time to consider investing in your brand and thus in your business.
Option 1: Consider small changes
Your brand is constantly evolving and growing. There are many ways you could refresh your brand without investing in an entire rebrand.
This is a good option for you if you:
are not ready to invest the time or money into a full rebrand
are ready to invest some time (and money) into your brand, but in a smaller way, either on your own or with the help of a designer
think your business may continue to evolve and you want to see where it goes before you invest
Smaller Ways to Update Your Brand
Update your content. Updating your photography or your written copy can do wonders for your business. Perhaps you are speaking to a different audience now, or your aesthetic has evolved and you need photography that reflects that. Consider finding a copywriter and/or photographer in your area that fits your needs and form a relationship with them for ongoing
Try out a new marketing platform. Consider a marketing platform that you haven't tried before. Not only could you learn a new skill/software, but you may find that applying your brand to a new platform opens more doors. Perhaps you've only ever used Instagram for marketing. Try developing your email marketing. Sign up for a service such as Mailchimp or Constant Contact and create a content schedule around it. Plus, you can use this content on your Instagram, as well. Win-win! You could reach new people and get excited about your brand all over again.
Create some new social media templates. Consider refreshing your social media pages instead of refreshing your entire brand. Are you stuck in a rut and posting the same type of content over and over? No wonder you feel disconnected to your brand! Consider creating some fun new templates to jazz up your page. Plus, you will be more excited to post if you have some fun new templates to use.
Update your website. Consider also refreshing your website instead of your entire brand. Update your website content with your new copy and photography you just invested in. You have all this awesome new content (see the first recommendation), and now it's time to use it!
Update your brand collateral. You may also consider updating some of your brand collateral that you've been using since the early days of your business. Have you been using the same business cards forever? Perhaps you could invest in some branded stationery to use for personalized letters to clients and partners. The options are endless!
The Big Brand Refresh
Despite these smaller ways to refresh your brand, sometimes small changes just won't cut it. If your brand still isn't working for you no matter how many small changes you make, you probably know by now that it's time to consider the big brand refresh.
This is a good option for you if:
You've tried some of these changes and they aren't working
You feel strongly that you fall into one of the categories above and know it's time to invest
You have the time and money to invest in a rebrand
You are confident in the position of your business and are ready to invest in a refresh
You don't know how to elevate your brand on your own and you need a professional to help you
You are too close to your own business and brand and need a professional with experience, fresh insights, and an outside perspective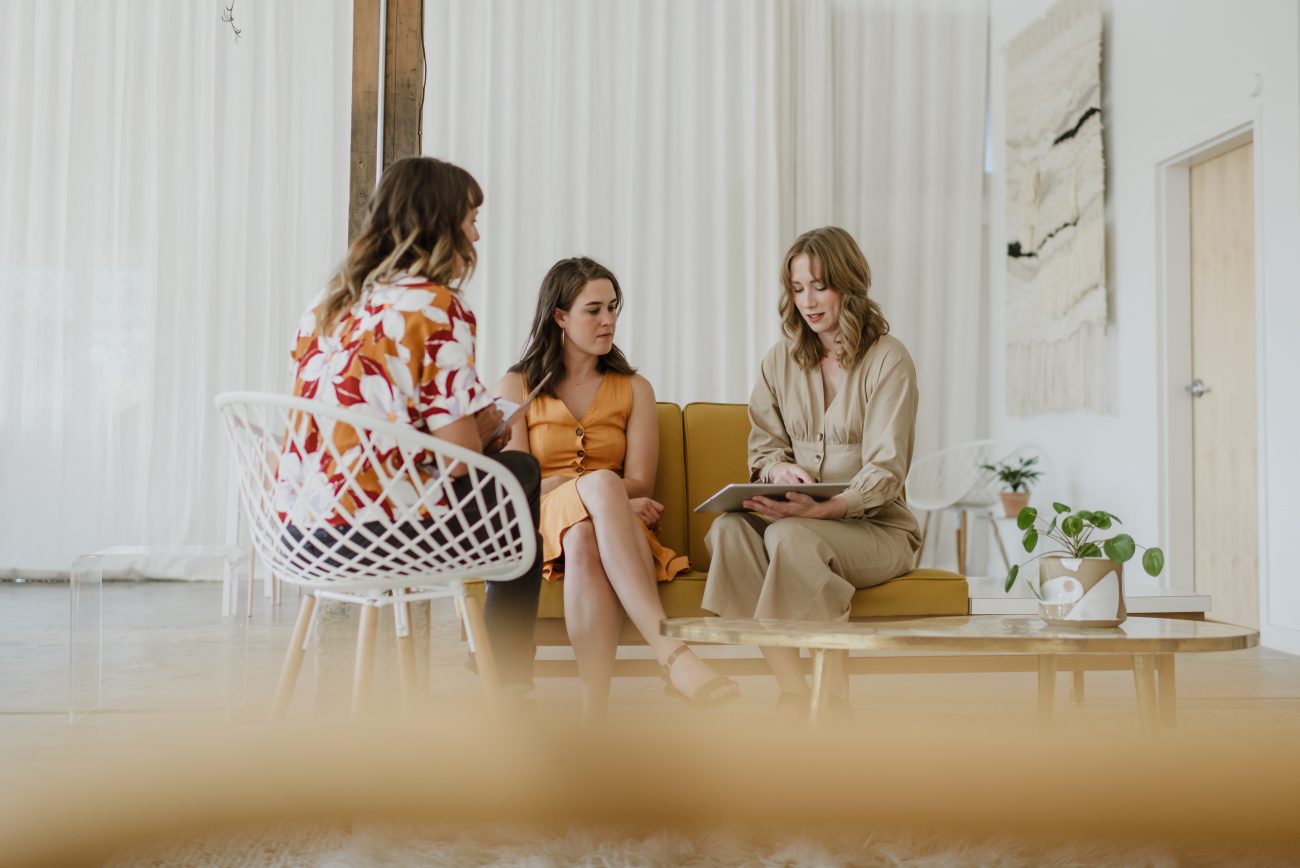 Steps To Rebranding
Rebranding is an involved process that you probably don't want to undertake on your own. If you've come this far and have decided that a rebrand is right for you, it's probably time to consider enlisting some professional help. Consider hiring a Brand Designer to help you bring your new brand vision to life.
A good Brand Designer will take you through the following steps:
1. The Research
This step involves research, brainstorming, and a thorough analysis of what is working with your brand and what isn't.
At JoieWorks, we have developed a "Brand Discovery" program in which we dive deep into your business and your brand in order to create intentional designs that meet your goals. Brand Discovery is the process of discovering and defining who your brand/business is, why it exists (your mission), what it does, who it services, and where it is positioned in the market.
In these Brand Discovery sessions, we discuss at length all the different facets of your business and give you a deeper and comprehensive understanding of the context and definition of your brand from many different angles.
Our discovery session covers the following topics/questions:
In one paragraph (2-3 sentences), describe your (Elevator Pitch)
What is your business's mission? (Mission Statement) What do you intend to do or to provide as a business? These could be bullet points or an entire statement.
What are all of the products and/or services that you provide? (Product/Service Offering) What are each and every one of your services and how would you describe the offering?
What makes your business unique? (Unique Selling Proposition) Your USP is the thing(s) that makes your business different from the competition/others like it.
What market are your products/services in? (Industry)
Who is your ideal customer? (Customer Profile) What are some specific adjectives that describe them? What do they look like? Where do they live?
How do these people learn about your product/service/business? (Marketing)
What pain points are you solving for your customers? What value are you providing? (Benefits) What problems are you solving? What wants or desires are you fulfilling?
How do you, as a business, make your customers feel? Why should they trust you? (Emotional Response)
What is your business' personality? (Brand Personality) If your business was a person, what would his or her personality traits be? I.e. funny, confident, eccentric, etc.
Who is your competition? What are they doing that you like and dislike? (Competition) Elaborate as much as possible here. Specific examples/links/anecdotes/etc. are always helpful.
What are some of the challenges or obstacles you will face in entering your specific industry/area of business or in successfully reaching your target audience? (Barriers to Entry)
What are some brands that you admire and why? These brands do not have to be within your industry. Name specific things that they are doing that you like and that you don't like.
What existing brand elements do you currently have? Why are you considering creating a brand or rebranding?
Do you currently use any marketing materials and, if so, what are they?
Download the Brand Discovery Worksheet to brainstorm these questions on your own and determine if you're ready for a brand refresh.
2. The Redesign
Once you've done your "homework" in the form of your Brand Discovery, it's officially time to start on the redesign. At this point, your designer will take the reigns and work their magic.
At JoieWorks, our design process looks something like this:
Logo Design
Brand Design & Development (colors, typography, design elements, mood board, brand voice, etc.)
Content Development (written content and/or photography)
Website Design & Development
Collateral Design & Development (business cards, marketing collateral, social media assets, email signature, etc.)
3. The Relaunch
Now that you have a brand-spanking-new brand, it's time to celebrate and share it with the world! There are a few different ways to present your new brand to the world, depending on your industry, your market and your budget.
First and foremost, we recommend an investment in a professional brand launch. In order to see a return on your new investment, you will need to properly promote and syndicate your new brand. If your customers see your old brand elements mixed with your new brand elements, you will appear disorganized and unprofessional. Furthermore, creating a brand launch campaign is a great way to create engaging content and drum up some new business.
That being said, it is possible that you may not have the budget to invest in a big brand launch. In this case, you can still replace all of your old elements with your new elements at once to avoid confusion and discrepancy. Consider a smaller, more affordable campaign or create some organic content around your refresh to share on your blog and social media accounts.
If you are able to invest in a bigger launch, this could be a great opportunity to create some exciting content and generate some new business with your new brand.

Consider making a big announcement and unveil your new brand all at once. There are many ways to do this, from planning a big launch event to creating a marketing campaign around your launch. A big launch can be both fun and a valuable opportunity to put your new brand to work.
4. The Result
Ah, you have made it through rebranding your business, and now it's time to sit back and reap the rewards. As you may have guessed by now, there are tons of benefits to investing in a rebrand, which can take many shapes and forms.
Here are some of the many benefits to investing in a rebrand and thus investing in your business:
You attract a more affluent audience
You make more money and/or work fewer hours
You spend less time on lead-generation because your brand is working for you
You work with better people and no longer work with "bad clients"
You connect with a new audience and/or break into a new market
You set yourself apart from your competition
You stay current and desirable
You reflect your new goals, products/services, and values
You are proud of your brand and are excited to network, create content and share your gifts with the world!
In conclusion, your brand is important, so take some time to consider where your brand currently stands.
Consider your options —if you're feeling disconnected to your brand or your brand isn't uplifting your business or generating leads, consider a refresh and get excited about your brand all over again!