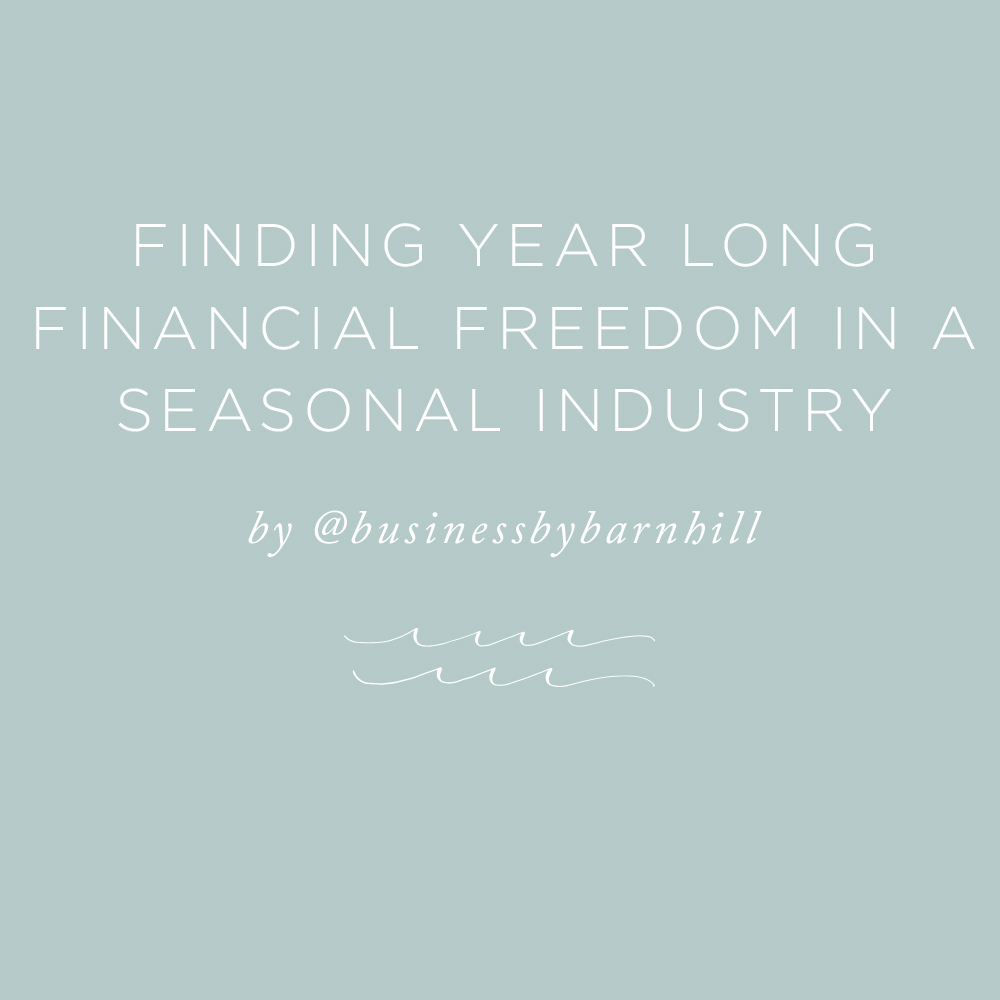 If you are in the wedding industry or another seasonal business, then you know that the off-season can be financially lean.  For example, photographers that shoot primarily outdoors for weddings and events, may not have any income from the months of December through March due to weather constraints.  But, the winter doesn't have to be a season of starvation.  Having a year round financial plan will enable you to get through the lean months with steady income.
So, how do you go about ensuring you have financial freedom all twelve months of the year?  The short answer is that you need to put together a budget. You can do this on your own or work with a business accountant. 
<<Want to learn how to find financial freedom in a seasonal industry? Register for Tom's FREE webinar!>>
There are three things you will need to determine to put together a budget on your own:
1. Business Expenses — This is the amount of money you pay for things that are only related to your business – website, advertising, telephone and internet, etc.  Do not confuse this with your personal expenses, like mortgages, car payments and student loans.  You might have to estimate things like meals and entertainment.  And, don't forget about things that come around once a year, like insurance.
2. Revenue — This the amount of money you will collect from your clients over the course of a year.  If you are doing a budget for the coming year, you might only have a few clients booked, so you may have to estimate for the other months of the year.
3. Personal Need – You should calculate what you need to pay yourself each month.  Everyone's personal need is different. Remember to include your tax obligations in your personal needs amount.  (This primarily applies to LLC and Sole Proprietorships.)
So now, that you have those three items pulled together, you should add up all of your revenue for the year and subtract all of your business expenses from that number.  This will give you the amount of money you have left over to cover your personal needs.  If that number isn't large enough to cover your personal needs, then you either have to book more work or reduce your personal need to a number that will work for your business.
The next step would be to break down this same calculation on a monthly basis.  In your busy months, you will find you are making well beyond your personal need.  You should only pay yourself your personal need and save the rest, no matter how tempting it is to spend.  Some clients choose to have a second checking account (typically free from most banks) to set that money aside and remove any temptation to use it.
In doing so, this money will be available to you, during the lean months of the off season, when you have little or no revenue coming into the business.  In short, you will now have enabled yourself to have a steady paycheck year round despite the seasonal nature of your industry.
HoneyBook, the best CRM for solopreneurs, streamlines everything you need to manage your business into one place. Manage projects, book clients, send an online invoice and get paid through our online payment software. Now peace of mind comes with just one login.