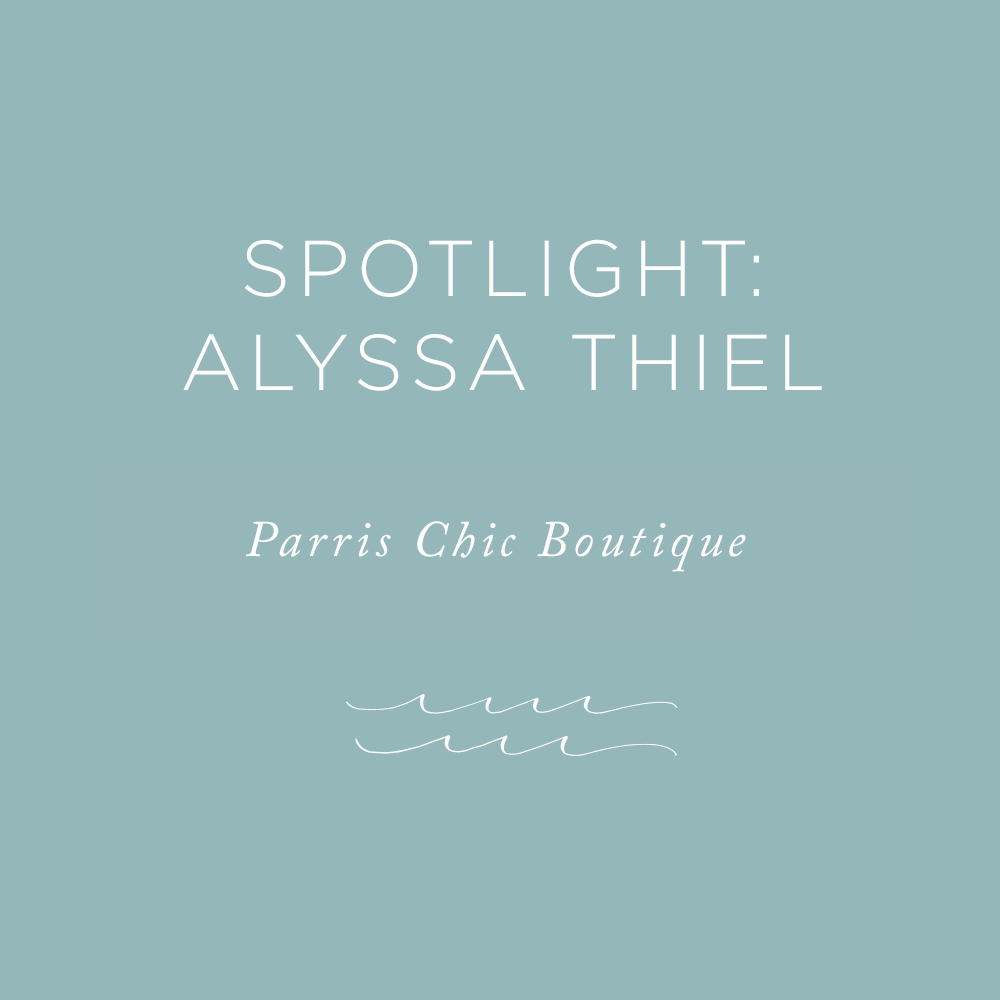 Who are you, and tell us a little about how Parris Chic Boutique came to be?
Hi! My name is Alyssa Thiel and I'm the owner over at Parris Chic Boutique. I have always been partial to pretty things and I will find a reason to celebrate just about anything. My favoritest of days are spent hand-in-hand with my man and our precious little pup curled up on my lap.  I'm a Chicago girl at heart, but I currently reside on the East Coast in New Jersey where we have just launched the very first Parris Chic Boutique brick and mortar shop! My love for handmade décor started the day my husband and I got our first place and I had no other choice but to make everything. Fast forward almost 3 years later and I've turned this hobby into a business. Our products go deeper than pretty things to decorate your home with. This line of home & wedding décor is meant to help you celebrate and cherish your love and relationships. The people in my life prove to be most important again and again and that alone is a reason to celebrate!
What were the biggest challenges you faced when starting Parris Chic Boutique?
My shop was literally a hobby turned business that I never saw coming. The greatest challenges I have faced were down the road after I had developed and made a real business out of my crafts. I've learned the hard way that there is so much more to owning a business than creating and selling pretty things. There are so many foreign components of business that I had to learn (and am still learning) along the way to run and own a successful boutique. The best advice I ever received (thanks hubby!) was to get help, and I'm so grateful I learned quickly to take on a team of rockstar employees and not go at this whole thing alone – owning a shop is hard work!
What do you do to stand out from others in the industry?
This is one of my favorite topics! In a world full of inspiring and talented business entrepreneurs it can be so hard to stand out among the rest. The two major things I implement to stand out? 1. Be honest and true to myself with what I create and 2. Original products and unique items are what sell. You see, the entire aesthetic of my home décor products dramatically changed about two years ago. For the first year of my growing business I had been using generic computer generated fonts to design my pillows, until one day I decided I wanted more. I needed something that represented me and my message as a shop on a more personal level. Soon I found my love for calligraphy and all things hand lettered and before I knew it my shop was revamped with items that were one hundred percent hand made from the very beginning.  It became a much better representation of the look and feel I wanted for my products: a combination of home, love, celebration and everything in between. I have put my heart and soul into my personal business and the entire shop has become a true passion of mine. I realized very early on that I would get the most out of my business by creating original work that is true to myself and letting the things I love shine through.
What do you do to remain creative and fresh? How do you prevent yourself from becoming burnt-out?
Separating work from my personal life has been so crucial to remaining excited about the business. Being your own boss can be really hard, there is always work to be done! I like to give myself the boundaries most other professions have and be consistent in taking the weekends off and away from anything business related (as hard as that can be!). It's difficult to leave work "at work" with a job like mine, but it is so crucial in order to enjoy the other things I love and to spend time with my family. Take it from a girl who's been there, not separating the two is seriously draining and will burn you out fast. Balancing work and life have become a huge part of my success.
How important is your team to the daily operation or success of Parris Chic Boutique?
I mentioned hiring help was not only the best advice I ever received, but one of the best decisions we made for the shop. Now that my husband and I run this business together, I'm able to share the load with him and together we're able to expand and grow this business better than ever (we're a pretty good team if I do say so myself!). A huge part of that has been tripling the amount of employees we've hired on. Being able to employ a team that I can teach the daily jobs to and share my work load with has been nothing but beneficial to running this business. Not to mention how amazing our employees are! I may be a bit bias, but hiring people who are passionate about watching your business grow alongside you is so crucial.  I'm now able to focus on the parts of the brand that I truly love and find joy in, rather than getting caught up in the mundane. This way, I am able to keep things fresh and exciting for our customers!
Are you working on any exciting projects that you can share?
I'm so glad you asked! We are always coming up with new products and fresh ideas for our lovely customers! The biggest project lately has been our brand new retail space so that anyone in the area can come shop PCB live and in person. Small plug for anyone in the Princeton, NJ area, come on by! (I also can't wait to host a Tuesday's Together meet up here in our shop J) Besides the retail space there are some fun new lines in the works. We have a fun collection of products just for your table that we will be launching very, very soon and I'm currently working on some cute little PCB cosmetic bags that are really fun. Never a dull moment around here! Keep up with all our new and exciting releases, along with some fun behind the scenes shots on our Instagram page: @parrischicboutique
Thanks so much for having me, Rising Tide Society!
*Photo Credit – Love & Light Photographs