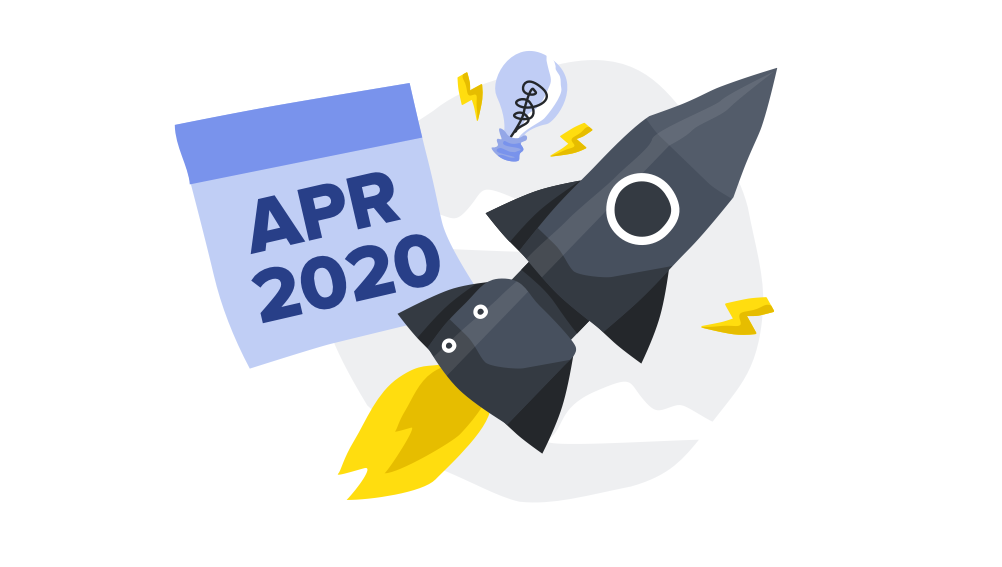 Typically, we like to highlight the new features we've released over the past month to keep you in the know and to make sure you feel confident using all the features at your disposal.
As the last couple of months have changed the way everyone works and lives, we have shifted our focus to make sure we are providing you with relevant and actionable information to help you navigate the impacts of the Coronavirus pandemic.
Though the impacts are felt widely, we hope that the resources we provide are helping you protect and strengthen your business. Below we have outlined the resources we've put together to support you and your business throughout the COVID-19 pandemic, and we've included the features that have been released over the past month to help you adapt your business to this new environment.
*We would like to also take this time to acknowledge the efforts of this community. During these times of uncertainty, we've seen tremendous action from our members — whether that be providing resources for others, sharing your stories, or reassuring your clients — we at HoneyBook are proud to stand behind you.
Quick Links
#RescheduleDontCancel
COVID-19 Toolkit
Gift Cards (In Beta)
Bulk Emails (In Beta)
Scheduling
Google Hangout Integration
App Updates
Chrome Extension
Pro-Tip of the Month
#RescheduleDontCancel
Join the #RescheduleDontCancel movement to rally the global community around supporting self-employed creatives during COVID-19.
The goal of this movement is to raise awareness of the impact that this global pandemic is having on creative service providers such as photographers, graphic designers and event professionals.
We're asking our communities to help small businesses weather this storm by pledging their support and putting it into action by rescheduling (instead of cancelling) bookings, prepaying for services or buying gift cards.
Please go to rescheduledontcancel.com to pledge your support for the #RescheduleDontCancel movement and share with your audience on social media.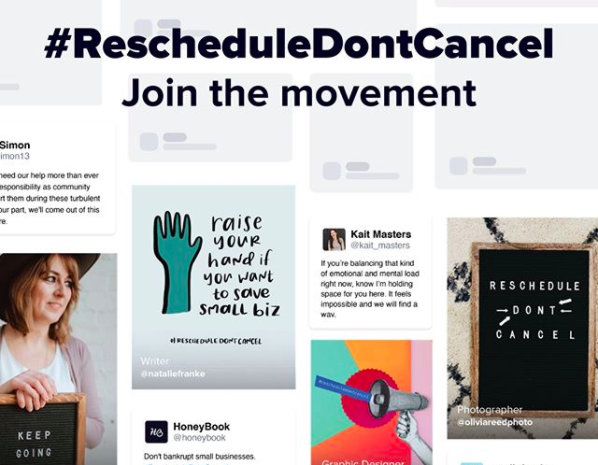 COVID-19 Toolkit
People come first at HoneyBook, and we are working to make sure you feel supported and are well equipped with the most up to date tools and resources we can provide.
In order to help you proactively manage the effects of the Coronavirus outbreak on your business, we created this dashboard to give you quick access to resources and your at-risk projects so you can take action.
We will continue to publish new resources as they come available to your toolkit, but please feel free to reach out and let us know what resources would be helpful to you during this time.
Gift Cards (In Beta)
Many local communities have responded in support by purchasing digital gift cards from their favorite businesses. In order to help you give customers a way to easily support you today, we've released HoneyBook gift cards.
By creating a gift card in HoneyBook and sharing it in emails, on your website, via social channels, and more, you allow clients—old and new—to purchase now and redeem later.
In the short-term, this provides customers with a safe option to make a purchase they can redeem at a later date, which can help free up cash flow for your business. We hope this helps alleviate some of your cash flow constraints during this time.
*Note, this feature is in beta and will be rolled out in phases. If you don't see it in your account yet, please stay tuned.
Bulk Email (In Beta)
Bulk Email is the newest addition to Bulk Actions in your Project Pipeline. Great for notifying your clients of changes in your business or simply checking in, Bulk Email allows you to save time by sending a single email to multiple Projects, and then managing the follow-up individually.
When a client replies to a Bulk Email, their response will appear within their Project's Activity Feed, so there are no gaps in communication. And if they don't, you'll be able to check the read receipt within the Project and send a more individualized follow-up from there. Put simply, Bulk Email helps you communicate more efficiently, while still allowing you to give each Project the attention and care it requires.
Please note, the bulk email action will only be visible to users that have set up their Gmail integration.
This feature is in beta. If you would like access to the feature, please reach out to [email protected] to be put on the waitlist!
Scheduling
Though in-person meetings are put on hold, maintaining client relationships is important during these times of uncertainty. Face to face interactions and communicating quickly can help you avoid cancellations. HoneyBook's new scheduling tool helps you to achieve this.
The scheduling tool allows you to set aside blocks of time for client phone/video meetings. All you have to do is share your meeting link so clients can easily schedule time with you. This can help demonstrate your commitment to working with them and finding a solution together.
The scheduling tool also helps you set a schedule for your work from home time. You can set your availability for Mondays-Thursdays between 9am and 11am, for example, and your client or other vendors will only be able to schedule a call with you for when you're available during those times.
You can use the scheduling tool in just three easy steps:
Customize your session: Set expectations by naming your session and selecting how you'll be meeting (phone call, video chat, etc).
Set your availability: Only allow clients to see the times you're available and interested in meeting. When things get added to your schedule, your availability gets updated in real-time so you won't get double-booked.
Share your custom session link: No more 'Does this day/time work for you?' Just send your session link and your clients can select a time that works. You can share your session link from the home page, pop it into an email from your project workspace, or add it to your email templates and automations.
This tool will make meetings seamless for you and your clients. For easy-to-use video calls, check out the new Google Hangouts integration below!
Head to the new Scheduling dashboard to create your custom session type and start sharing your link. Your clients, and your calendar, will thank you.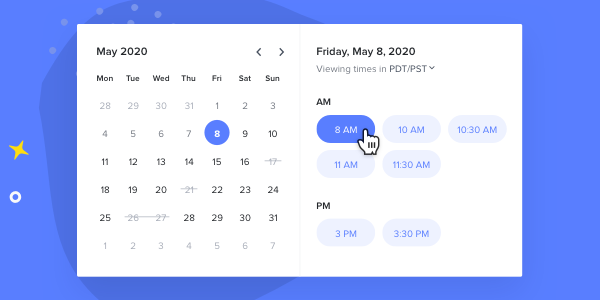 Google Hangout integration
As mentioned above, it's more important than ever to maintain relationships with your clients. In order to make communication easier, we have added a Google hangout integration for easy video meetings.
There are several ways to use Google Hangouts for meetings in HoneyBook:
From the calendar, hover over a date to schedule your meeting. When adjusting the details, select "Video" as the meeting type. Finalize your details and click "SCHEDULE." This will automatically generate a Google Hangouts link and apply it to your meeting.

When using the scheduling tool, create a new session type and select "video" as the session type. Finalize the details and click "SAVE AND FINISH." Share your new session link for clients to review your availability and schedule a time that works. This will automatically generate a Google Hangouts link and apply it to the newly scheduled meeting.
Please make sure your HoneyBook calendar is synced to Google Calendar to take advantage of this feature. If you do not yet have your calendars synced, please reference the Pro-tip section below for step by step instructions.
App Updates:
Video chat, call, or text from the app
In these difficult times, it's more important than ever to stay close to your clients, and sometimes a video chat or call just makes communication that much easier. So, don't waste time switching between apps or searching for a contact — start that call or FaceTime meeting with just a few taps using HoneyBook's mobile app.
From within a project, you can find your clients' info under the Details tab, then tap the icon for the client you need to call. Then, if you've saved a phone number for the contact, tapping the number will give you the option to FaceTime, call, or text!
Note: You can also now click on a participant's address to get directions, and go to the project details to review private notes and remove a participant from a project.
Scheduling in the app
When you're on the go, it can be easy to make a mistake, especially when it comes to checking your availability. That's why we made sure scheduling was available on the app.
When sending an email to a client from the app, tap the calendar icon with a little + button to select and add your session link to the email.
You can also head to the calendar to view scheduled sessions.
Chrome extension:
We know inquiries come in many different ways, and these days, you are likely managing important conversations with clients via email. In order to record these client interactions in HoneyBook, we've released the HoneyBook Chrome extension.
With the HoneyBook Chrome extension, you can connect to HoneyBook through Gmail so you can automatically add new projects to HoneyBook when you receive a new inquiry in your inbox.
Learn how to use the chrome extension here.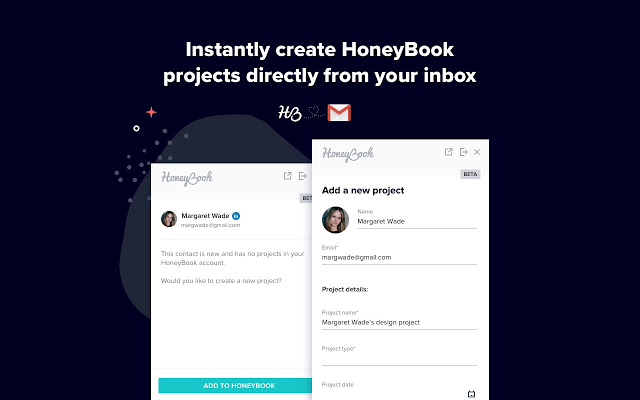 Pro tip of the month
Take steps to prevent event cancellations — it's all about being proactive!
Reschedule events: Proactively ask clients to postpone or modify events to comply with CDC recommendations.

Communicate quickly and consistently: Stay in close, frequent contact with clients about your plans to ensure they feel taken care of.

Use email templates: Use one of our professionally written templates to communicate with your clients about rescheduling/downsizing, from your first proactive outreach to what to say when sending updated contracts.
Check out the Coronavirus Content Hub for more financial, legal, and business resources, and get access to templates, discounts and advice that can help support you during these times.
Until next month…
We hope you're as excited as we are about our new features and updates. You can find out what's new in our monthly release notes on the blog and in our monthly member newsletter. And please keep giving us feedback at [email protected]. We build HoneyBook for you and we wouldn't be where we are without your help.
Any questions about the current releases? Head to our Help Center to learn more.
We hope you are staying safe and we look forward to brighter days ahead with you.