by @helloannaco
It's a universal truth that creative entrepreneurs love hitting publish on a new blog post; if there's any feeling half as heavenly as crafting a perfectly worded blog, image, or printable, we've yet to discover it. But us spending all day on honing our content skills is something we just don't have time for.
Well, say a hearty hello to the Yoast SEO — and we're not talking about your average WordPress plugin or spammy tactic. Using Yoast SEO doesn't have to equate to headaches of keyword research. Instead, introduce Google snippets, meta titles, and meta descriptions into your collection of blog edits and give your posts an upgrade, with a dose of optimal SEO infusion. So, when hibernating indoors to work on your blog isn't an option, we're giving our blog a boost with Yoast SEO. Ahead, you'll find 6 unique ways to use Yoast SEO for every blog post (and beyond).
First, if you haven't already, head over to your plugins in your WordPress website, and add Yoast SEO to your plugins. Don't forget to hit "Activate." After, scroll down to the bottom of any blog post and you'll see this shiny new toy.
Snippet Editor:
The easiest way to view what someone googling your post will view is to look the Snippet Editor section. Plus, it's real-time. Meaning, that as you switch up your content, the preview will change.

Focus Keyword:
Long-tail, short-tail, local, — regardless of your keyword of choice, it's easy to get focused on one keyword with the Focus Keyword section. Get specific with targeting your local favorite coffee shops, hit your niche audience by sharing Paleo diet breakfast ideas, or tackle seasonal trends like best tips for managing your money in 2016, whatever your keyword or keyword phrase, add it here.
Under 'Content Analysis' — this will tell you how many times this keyword is being used in your blog post. In a dream world, you would want to use the keyword three to four times.
Also, you also want this to pop "green like American money." If you have one or two red dots, don't worry too much. However, make it your mission to hit all green on your next blog post. #bloggoals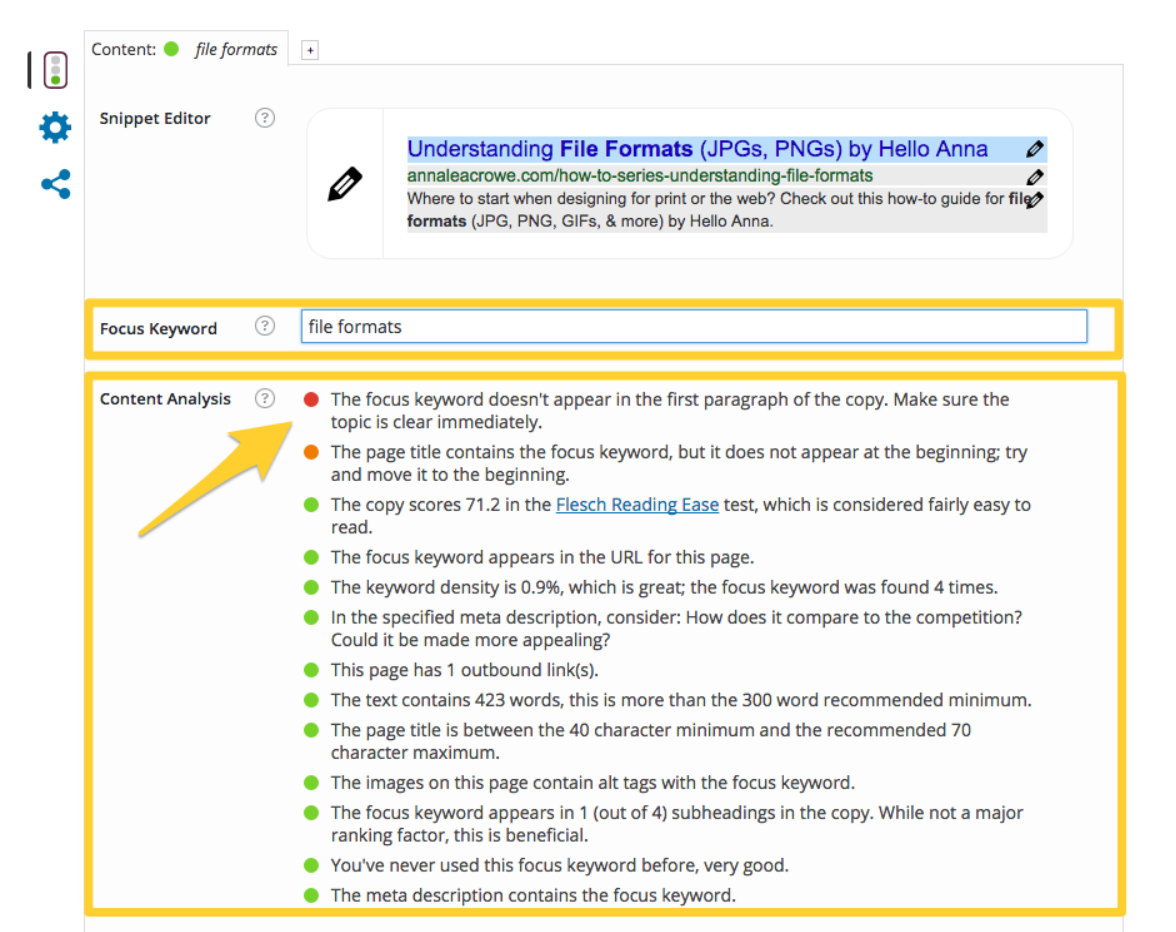 Now, let's breakdown this 'Content Analysis' section:
Page Title: This is the same thing as your post title. This is what users see whenever they are scrolling through your blog, so you have more creative freedom with this. But, always try to incorporate a relevant keyword term. For example, in this post, I could have used "file format extensions," "image file format comparisons," or "image file formats list."

URL: Your keyword term or phrase should be repeated in the permalink section. Try to stick to three to four words to keep the URL short and sweet.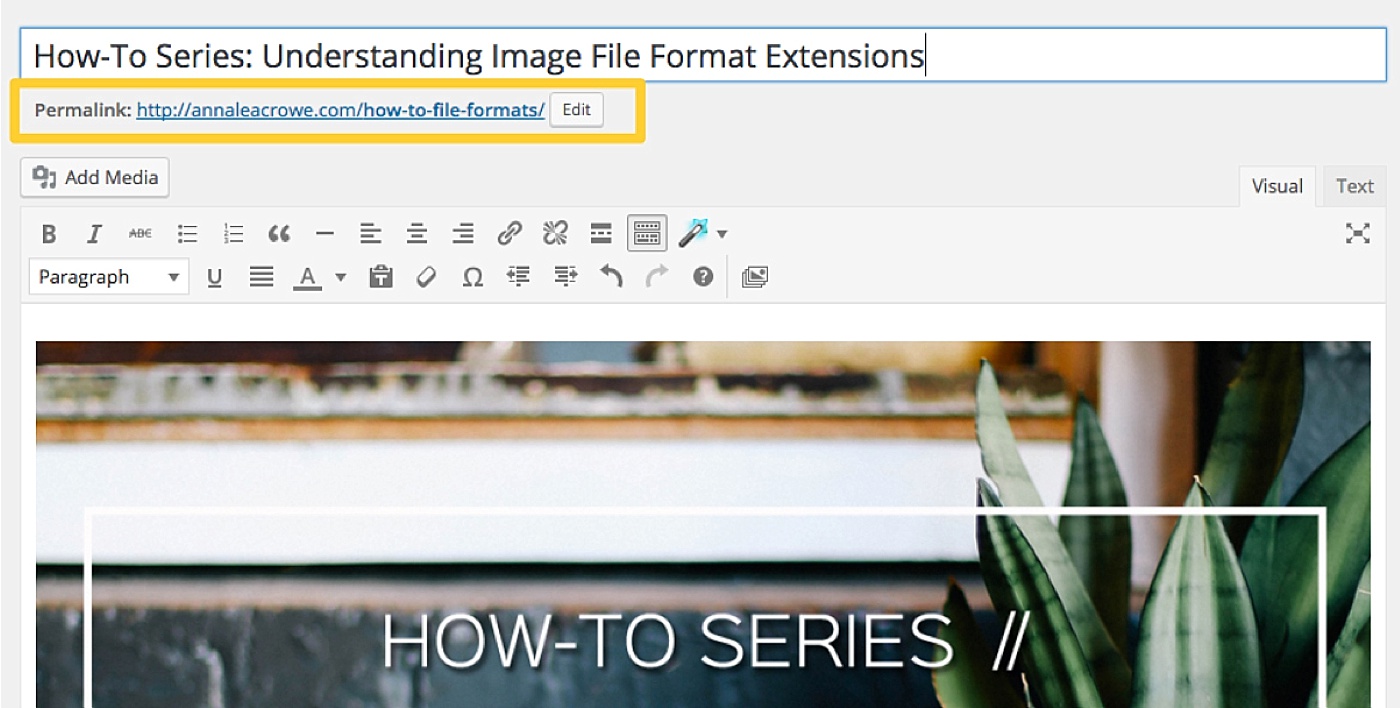 Meta Description: The meta description is different than your post excerpt. This is actually seen in Google search results. Always try to repeat a relevant keyword phrase here as well as your brand name.

Once you've done all those, hit 'Save' and watch magic happen. It's important to note that no matter how diligent you are about your SEO day to day, SEO is not a quick fix for immediate results. Years of surviving Google algorithm updates should make me an expert in the whole SEO thing by now. But each year, the game changes. If you devote a little TLC to your blog posts with these tips, you will not only see results, but you'll save yourself time in the long-run. Best of luck!
Now it's your turn …
Here's what to do next:
Let me know in the comments what you thought of the guide above. Also let me know about if you run into any trouble with the content analysis section. Remember, you don't need everything to be green.
As a special thanks (and if you want more Yoast SEO content), be sure to check out my guide on How to Set Up Your Yoast SEO Plugin on WordPress (it's free!). You should check it out because it's a really good read.
Thanks for reading, and I'll see you in the comments!