Learn how this photographer increased engagement in her sales and booking process by creating a unique client experience with HoneyBook Smart Files. With the right tools, she was able to provide personalization without adding to her workload.


One of the values that make Independent businesses so special is the ability to provide custom support for clients. As your business grows, however, it can be increasingly difficult to offer as much personalization. One of the secrets to growing successfully is learning how to operate your business with more clients while maintaining the unique touch that's core to your brand (and doing both without feeling overwhelmed!).

Jennifer Domenick knew she needed to focus on customization to increase sales and keep her clients engaged. As a wedding photographer, it's important for her to develop projects around specific needs like event type, event size, timeline, and more. Since her packages vary and she also offers add-on services, customization is essential for creating a unique client experience.

With HoneyBook Smart Files, Jennifer can easily create a proposal specific to the needs of each client and keep them engaged throughout a project with interactive worksheets. By developing a more personalized experience, she's able to win more leads and enhance her client relationships.
40%
More Client Engagement
$140,000 +
Booked Through Smart Files
Meet Jennifer Domenick
Owner of Love Life Images
Jennifer Domenick has been a wedding photographer for 19 years after starting her business, Love Life Images, in 2002. Before becoming an Independent business owner, Jennifer worked in the newspaper industry as a photojournalist for the Washington Post.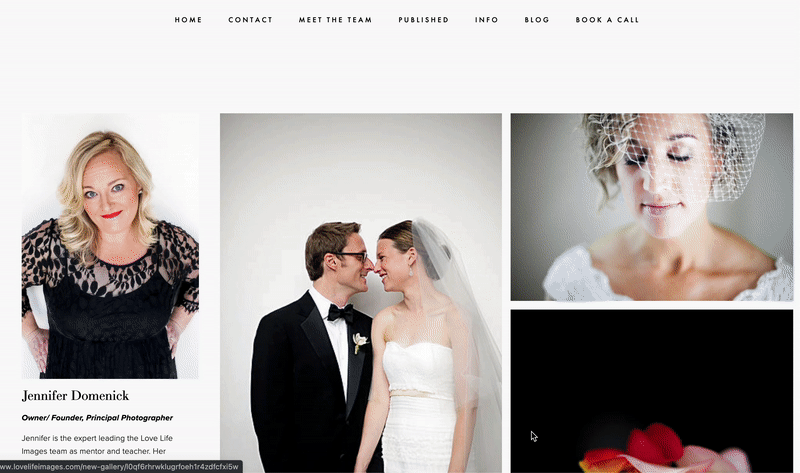 Working in the media, she had to face difficult topics in the news every day, and she realized she wasn't as fulfilled with her day-to-day work as she knew she could be. Looking to make a change, Jennifer decided to translate her photojournalism skills to wedding photography and enter a field that was overall more joyful and fulfilling for her. By becoming an Independent business owner, she was able to take full ownership of her talent and leverage it how she always wanted to.
With decades of experience, she now works with her team to shoot weddings in Maryland and Washington, D.C. An essential part of her client experience includes offering an expert opinion on how to get the most desired photos during and leading up to the big day. She uses her wedding industry knowledge to make sure her clients have a seamless event every step of the way.
The Challenge:
Keeping Leads and Clients Engaged
Though Jennifer provides personalized support for each client, she needed the tools to put everything together and make the process easier.
Before HoneyBook, her booking process took longer and involved multiple back-and-forth steps to answer client questions and collect the information she needed from them.
She initially tried to streamline her process using a dedicated page on her website that directed clients to browse her services and schedule a discovery call. This option required clients to browse the site and decide what fit their needs, which didn't allow Jennifer to provide the level of personalization and guidance she wanted.
When I found smart files, I was looking for a way to build custom proposals for every client because not every client or event is the same.
When clients were booked and ready to move forward, it was also difficult to keep them engaged. Like many business owners, Jennifer is able to do her best work when she has the most detailed information from her clients at the beginning of the project. But there wasn't always a good way to get their information quickly and during a step in the process that made sense.
Jennifer's solution needed to offer more customization than a web page but fewer back-and-forth steps than sending files via email. She also needed a way to collaborate with clients without requiring much work on their end.
Using HoneyBook Smart Files to Customize Each Project
HoneyBook Smart Files allow Jennifer to offer more individual attention to each client without extra effort. Her first upgrade was creating a template for custom sales proposals as well as a booking template that includes an invoice, online contract, payment processing, and intake questions.
Instead of sending each file one at a time, combining them made it easier to personalize the booking process while also increasing efficiency. By using the easy customization options, Jennifer was able to incorporate her brand elements like font and color. For each client, she can also adjust specifics like package options and pricing. Delivering a more personalized and branded experience makes her clients more likely to commit to their booking.
As her projects move forward, she also uses interactive worksheets to keep clients engaged. Every step in her smart file guides them through the process while capturing the important information from them that she needs to do her best work.
Switching From PDF to Personalized Experiences
Before using smart files, Jennifer would send PDFs detailing her services, pricing, and proposals. But with these static files, it wasn't easy to incorporate her brand design in the way she wanted, and customizing each file for a new client took too much time and effort. Once she sent the PDF, it was up to the client to reply back, and their responses could take weeks on top of additional emails back and forth to answer their questions.
To optimize her sales and booking process, she wanted to be able to personalize each experience while also capturing business-critical answers to help move the bookings forward as well as personal information like birthdays, pronouns, communication preferences, and more.
Using HoneyBook, she now sends a Proposal for Coverage document, which functions as her sales proposal. The smart file includes service packages and pricing unique to each client, which Jennifer adds after speaking to them in a discovery call.
Once clients agree to the services in her Proposal for Coverage, she sends another smart file that combines online invoices and contracts with a link to pay online. Both take less time to update and allow her to send information on a per-client basis. As a result, clients can view the specific packages and pricing that best fit their needs before moving forward.
Directly after payment, she asks intake questions at the end of the smart file, when clients are still engaged in the process. Rather than emailing back their answers, they can submit them directly inside the smart file.
By offering a personalized experience that speaks to her clients' unique needs, they easily understand the value of working with Jennifer. On her end, she's able to check off multiple boxes at once and kick off the project without delay.
When you're able to present information in a way that's specific, clients understand they're getting individual attention.
Getting More Out of Her Client Relationships
Once Jennifer's leads became clients, it was also difficult for her to keep them engaged throughout a project. Jennifer's dedication to providing expertise meant she would often send information via blog posts or PDFs, but she noticed it wasn't the best way to communicate.
With more engaging and interactive content inside smart files, clients pay more attention. The design and editing options also provide more flexibility with the ways you can speak to clients, whether it's through video, image mood boards, questions, and more.
For Jennifer, interactive worksheets became the best way to deepen her client relationships. Now, she sends several different types of client educational worksheets to guide them through each project.
For example, she uses a Posed Family Photos smart file to give her clients the best tips for photos while also capturing information about the family and friends who will participate. Before smart files, she used a blog post, but she noticed her clients weren't always reading it or paying attention to the information. Now that her clients can interact directly with a smart file, they come to her sessions more prepared.
I had ideas of what I wanted to be saying, but it wasn't as interactive as I needed it to be. Smart files mimicked how I wanted to share info, and it was the perfect way to put everything together.
The interactive worksheet includes images, text, and questions, which engage clients and ensure they're on the same page with photo expectations.
In little time, Jennifer can easily update the smart file for every client as well to make sure it speaks directly to their individual photography needs.
In less than a year of using smart files, Jennifer has seen higher engagement from both leads and clients. Because of the personalization she now offers, her leads are more interested in her services and are more likely to book her. Tailored proposals help them stay focused on the project at hand and be more accurate about the services they're interested in moving forward with.
After booking, clients are also engaging in more conversations because of smart files, helping Jennifer get helpful information that she can use to enhance the client experience. As a result, her clients feel that they're receiving individual attention without more work added to Jennifer's plate.
There haven't been tools as comprehensive as smart files. They opened up the possibilities for me.
To make her booking process even simpler, Jennifer plans to develop dynamic smart files for service-selection, which clients can use to choose the packages and add-ons they need. When they make a selection, the invoice section of the smart file will automatically update according to their choices. By streamlining this part of her process, she'll be able to give clients more clarity on the services she offers as well as the add-ons that aren't included in their initial packages.
Jennifer's use of smart files is a great example of how they can support your client experience as it evolves over time. Once she creates a template with services, she'll be able to offer clients even more flexibility and choice. This will not only delight her clients, but also make it easier on her end to book more clients and services–thus increasing revenue.
Things change all the time and you need something dynamic that you can change on the fly. Smart files really replace a need to have any physical documents and is way more interactive.
Ready to Improve Your Client Experience With HoneyBook Smart Files?
Hook your leads with a personalized client experience and create longer-lasting client relationships. HoneyBook Smart Files let you build interactive processes in less time than it would take to design custom web pages or PDFs.
Each smart file lets you create step-by-step guidelines for clients to make sure you're always on the same page. Better yet, you can incorporate your brand with nearly every element, making the experience even more immersive.
Built for Independent business owners, smart files are also mobile-friendly, allowing you to work on the go and collaborate with clients no matter where they are. Regardless of your experience with design or digital products, you can get started with smart files today.
Browse the smart files Template Gallery for ideas and inspiration, or select the "+ New" button and choose New Smart File to dive into a blank slate to bring your ideas to life!