If you want your business to be successful, you need to know how to write a solid sales proposal. Follow these tips to get started.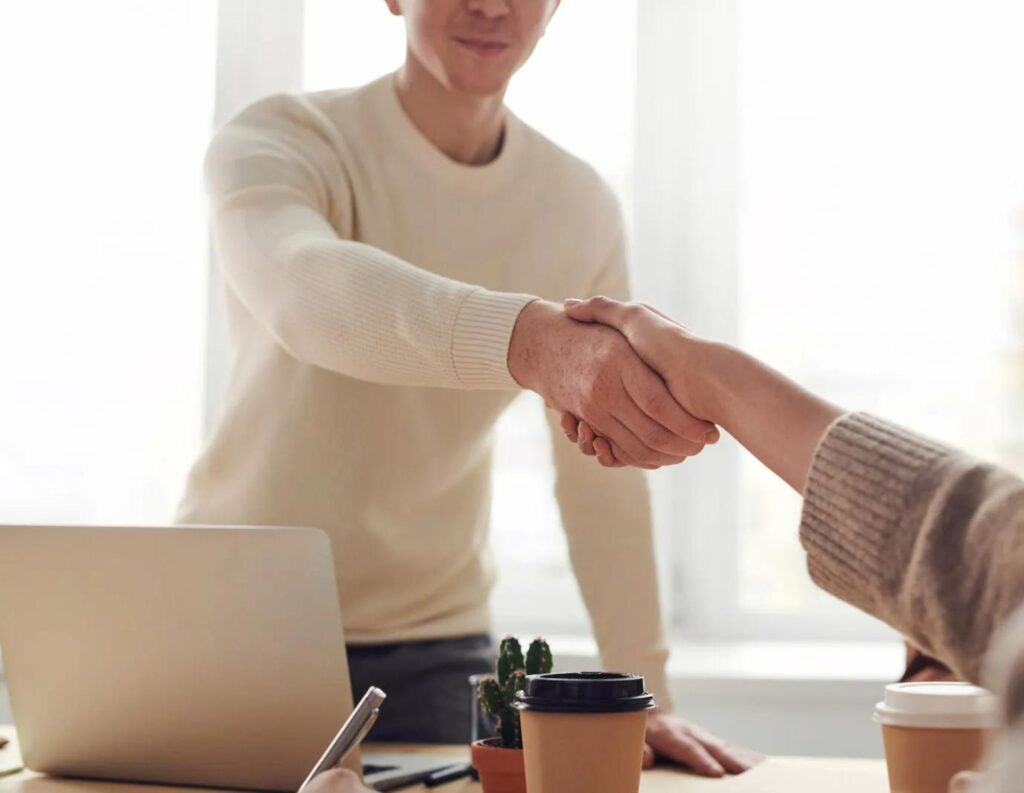 Writing a sales proposal is your opportunity to make clear to your potential clients why you're better than your competitors and why your service is the right solution for them.
It's your initial pitch that hooks your prospect and, hopefully, sets them on the way to becoming a client.
But it's easy to rabbit hole when writing sales proposals. You can get lost in the details, or spend too much time focusing on irrelevant points when you should be targeting your proposal to your potential client's specific needs. When that happens, you've lost a potential sale.
In short? Sales proposals matter.
In this piece, we break down exactly what a sales proposal is, what its purpose is, and how you can get started writing a proposal that turns leads into new clients. Whether this is your first time writing a sales proposal or you want to refine your existing approach, this is what you need to know.
Jump to:
What is a sales proposal?
A sales proposal is a document used by a business to pitch its product or service to a potential customer or client.
It highlights to prospective customers exactly what you do, how you do it, how much it costs, how it is delivered, and how it solves their specific problem or pain point.
Sales proposals are typically used by y agencies, consultants, or any client-facing individual within a business (like you!)
Sales proposals are essential for helping you achieve the following:
Highlighting to potential customers that you understand their unique needs and pain points
Convincing prospects that your service is the right solution for them
Compelling prospective clients to commit to working with you over other businesses
In short, a sales proposal is a value statement targeted at one specific potential customer. It emphasizes your value to them as a partner and solution.
Sales proposal examples
If you have never written a sales proposal before, it can be difficult to get an exact grasp of what they're used for in practical terms.
So let's look at some sales proposal examples to help give you a better understanding of the different instances where they are used in a real-world setting.
SEO sales proposals
Proposals from SEO agencies to potential clients require a careful, considered approach. Translating complex data into clear, tangible language and goals that matter to your prospective client means creating a solid sales proposal that is easy to understand but backed by data.
Web design proposals
For web designers looking to sell their services to a prospect, a proposal is all but essential. As with the SEO sales proposal example above, it involves translating complicated technical concepts (coding, sitemaps, site structure, etc.) into simple terms that the average individual can understand.
Public relations (PR) proposals
For PR firms, handling a brand's public image is no small task. A good PR sales proposal outlines current consumer attitudes, competitor results, and a SWOT analysis to inform your project.
These are just a few sales proposal examples, but they show how far-reaching the application of sales proposals can be. If you're a business looking to win clients in virtually any industry, you are likely to need a sales proposal at some point in your journey.
Check out these useful sales proposal templates for some more inspiration on your own business proposal.
How to write a sales proposal
We've looked at what a sales proposal is and what form sales proposals can take. Now let's consider how to write a sales proposal from scratch.
1. Outline a solid sales proposal structure
There are a few essential steps in writing a sales proposal, but the best way to start is with a solid sales proposal outline or plan. A plan keeps your proposal tight and targeted, and it delivers the value that you want your potential clients to see.
Your typical sales proposal format should include the following
Introduction: Highlight your business, mission statement, team, and service. Be sure to include valuable social proof here, such as testimonials from previous clients. This will go a long way toward clinching the deal.
Your potential client's problem: Outline their unique pain points, challenges, and how these are impacting their business. This will help bolster your argument when it comes to outlining the benefits of what your business offers.
Solid market research: The best sales proposals are those that reinforce your own knowledge of your potential client's target market. Outline your market research, including customers, their pain points, and your prospect's competitors too.
Your solution: How will your business go about solving your client's pain points? Outline your target objectives, sub-objectives, and estimated timeline for the completion of your project here.
Benefits: This is crucial. Outlining the benefits of working with your business in a way that is tailored to your potential client's needs is essential for convincing them that you are the right solution for them. You want to stand out from the competition.
Pricing: An essential part of any sales proposal is how much it all costs. Highlight how much you expect the project to cost, but be sure to include reasons for why it costs that much and what it will achieve.
While the above points are useful in a sales proposal, as time goes on and you become more comfortable with writing them, you might find that your own business proposal grows and develops to include other points.
2. Understand your potential client's target market
So you've got a good sales proposal outline. Great.
But before you start writing out your business' sales proposal in full, you need to get to know and understand your target qualified lead.
Knowing how to write a sales proposal means knowing what makes your prospective client tick. The best sales proposals are those that are specifically tailored to a single client's unique needs and situation.
The more targeted your sales proposal is, the more likely it is to succeed.
Some sales proposals are preceded by a request for proposal (RFP). This outlines project specifications for potential vendors from a prospective client and can help inform your sales proposal's market research.
If you haven't been provided with an RFP, it is worth conducting extra market research in order to bolster your final business proposal.
A few things to consider in your market research
Typical customers: Who is your prospect selling and marketing their product or service to? Touch on buyer personas, pain points, shopping habits, and so on.
Competitors: Who are your potential client's competitors, both direct and indirect? What are they doing better or worse than your client?
Online conversations: What are your potential client's customers saying about them online? Consider social media, forums, and industry publications as part of this.
Industry trends: Where does your client sit in the wider industry scene? Are they a heavy-hitter, or just starting out?
Previous marketing strategies: What kind of sales and marketing tactics did your prospect use previously? Were they effective? If not, why?
Website traffic sources: Conducting a check on your prospect's website to determine where their primary sources of traffic come from helps give shape to your prospect's current digital presence. This is obviously a must for SEO agencies, but it can be applied to sales proposals from a variety of other industries too.
For SEO agencies, keyword research is particularly important at this stage.
As this guide to SEO sales proposals from SEOmonitor outlines, keyword research is the first point of entry for understanding your prospect and their target market.
Identifying the right keywords (and backing that up with solid data and reasoning) is essential for creating a portfolio of keywords that will deliver the most value to your client.
These are just a few examples of market research for your sales proposal, but they illustrate what kind of elements you should touch on when it comes to identifying and researching your prospect's target market.
3. Identify potential opportunities for further growth
During the course of your market research above, you might uncover areas that your prospect is not addressing, either sufficiently or at all. They might not have a presence on particular social channels, for instance, or they have an untapped market of potential customers.
Highlighting these areas (in a diplomatic way, of course) can bolster your sales proposal, presenting potential opportunities for further growth for your prospect.
Circling back to SEO agencies again, your keyword research might well highlight areas your prospect is missing out on. A keyword gap analysis reveals these troves of opportunity.
The benefit of this is two-fold. Firstly, you give your prospect the opportunity to grow and develop their business further, but secondly, you convey the depth and comprehensiveness of your proposal (and your company's skill and ability too). This will make your sales proposal stand out against those of your pitch competitors.
4. Include an executive summary to sum up the purpose of your sales proposal
An executive summary is essentially a condensed version of your entire sales proposal.
This is your opportunity to emphasize the depth and breadth of your understanding of your potential client and their unique needs.
It's also your chance to create an emotional response in your prospective client by highlighting the fact that you understand who they are and where they are coming from. Your executive summary could also be included in a cover letter to accompany your sales proposal for an at-a-glance summary of your offering.
A good executive summary is clear and succinct. Identify your prospect's problem, then put yourself forward as a solution—it's as simple as that.
5. Get to know your potential client
In addition to your market research, you also need a certain degree of understanding about your potential client themselves.
Check out their online and offline presence, social media channels, website, email newsletters, and so on. Use this research to inform your sales proposal. Use language, points of reference, and goals that will resonate with them in your pitch.
Pro tip
If you know a non-competing business that has worked with your potential client before, drop them a line to find out what makes your client tick. Lean on your community for some boots-on-the-ground research.
6. Highlight your solution and its benefits
This is the crux of your sales proposal, where all your hard work crystalizes into a solid offering.
Portray yourself (and your solution) as the expert and professional.
Make it clear and concise—don't hide behind niche jargon or complex data.
Set out clear objectives, with separate milestones within each objective. Set this against an estimated timeline for the completion of the project. Remember to manage expectations. Don't promise the world and then fail to deliver when you win the pitch.
You don't need to give your hand away completely here either. Simply outline in broad strokes what you will do to help your prospect meet your business goals. You can go into more detail during your subsequent in-person interview.
7. Provide a realistic forecast for what you're offering
When you outline your project goals, solutions, and benefits to your potential client, it's important that you remain realistic. Under-promising will lose you the pitch and over-promising will result in churn when your client eventually realizes you cannot deliver on what was promised.
Let's take the example of an SEO sales proposal, translating the impact of SERP rankings into tangible forecasted goals such as traffic and sales requires a nuanced approach, especially if your client is unfamiliar with the intricacies of SEO.
SEO is also a shifting landscape and your forecasts can change depending on things like algorithm updates, changes in search features, and so on.
It's worth using tools to help you translate your data into clear, reliable forecasts.
8. Be clever with your pricing
When it comes to writing a proposal, your pricing can be a deal-breaker.
Even with the best product or service on the planet, if your potential client can't afford (or is unwilling to pay) your prices, then your sales proposal will fall flat.
A good tip here is to offer various tiered pricing plans, starting with your most expensive solution. This helps keep your client engaged. If you start with the lowest plan, the higher prices will seem exorbitant in comparison.
But if you start with your most expensive option, the others will appear more reasonably priced, regardless of the actual price difference.
Make it clear within the cost section of your sales proposal that your pricing is open to discussion. This gives you wriggle room if you have any dithering clients that are put off by your prices.
It's also smart to prequalify leads so you're sure they're within your price range—this is something that you can automate in your clientflow with features like HoneyBook priority leads. Nothing is more disappointing than finding the perfect solution (or the perfect client) only to realize they can't afford you.
Finally, be sure to include your costs after you've outlined your solution and its benefits, not before. This helps keep in mind the potential value that your business can deliver to the prospect.
9. End with a compelling call to action
A call-to-action (CTA) is an essential part of your sales proposal structure.
A strong CTA literally tells your prospect what to do next. Use positive, encouraging language that doesn't leave room for doubt. Assume they accept your sales proposal. If you sound uncertain, your potential client will be uncertain too.
As with everything else in your sales proposal, your CTA should be tailored to your prospect. If you know your potential new client prefers in-person meetings, invite them to set up a meeting via your calendar or online meeting scheduler. Or, if you know they need to have an internal check-in prior to agreeing, let them know you're available if they need you to jump on.
Finally, remember this: The best CTAs are clear, concise, and commanding. Bear this in mind when writing yours, and your sales proposal will have a greater impact as a result.
How to handle indecisive clients
In an ideal world, your potential client would be eager to start working with you after reading your stellar sales proposal. But the fact is, you will more than likely encounter more than a few indecisive prospects who need that extra bit of convincing to be won over.
This can be tricky—but it's not impossible.
Start by being confident in yourself and your solution. Use definite words like "will" and "does," rather than uncertain terms such as "could" or "might" (where appropriate, of course). Words matter, and strong language builds confidence. Don't leave room for doubt in your abilities.
Lean on data. Data is hard to argue with and, as in the aforementioned SEO agency example, translating hard data into tangible benefits for your prospect adds weight to your sales proposal.
Anticipate the kind of questions your prospective client might have about your proposal and take steps to answer them clearly and concisely.
Be realistic about what you're offering. Clients can see through overblown promises, and they'll lose confidence in you as a result. Set realistic but positive expectations about your project and they will appreciate your honesty for it.
What happens after you send the proposal?
So you've done your research, written a stellar sales proposal, and sent it on to the client. What's next?
There are three possible outcomes open to you now:
Your proposal is rejected and you lose the pitch
Don't beat yourself up over it. These things happen. If possible, try and get feedback from the client as to where you went wrong. This can help you improve future pitches, but don't be pushy about it — prospects get a lot of pitches, and they're under no obligation to provide feedback on specific proposals.
Your proposal is accepted, and you win the client
Great! Now it's time to sign the online contract and start onboarding your new client. Be sure to follow your sales proposal closely when you begin working together, as this is what your client was sold on.
You don't hear back from your potential client
A tricky situation, but not impossible to resolve. Gently but persistently follow up for a response — be frequent at first, but decrease your outreach over time. You may need to call it a day if they don't get back to you.
Don't sweat it.
Writing a good sales proposal takes time. Rome wasn't built in a day, and an effective business proposal isn't made overnight. But the tips above should give you a solid idea of how to write a sales proposal that will land.
Don't rush your sales proposal. The time investment now will save you time and stress when it comes to delivering your final proposal.
Don't shy away from highlighting the effects and benefits of your solution either—there's no need to oversell, but being realistic within a framework of your product or service's ability will help your proposal land.
The best sales proposals take time, effort, and lots of research and drafting. Finally, if you lose your pitch, don't beat yourself up over it. Learn from it and use it to ensure your next sales proposal lands.
Try the best sales proposal software for independent business owners
HoneyBook, the best clientflow management platform for independents, keeps everything you need to manage your business in one place. Manage projects, book clients, send an online invoice, and get paid through our online payment software. Now, peace of mind comes with just one login.