Take back your time with these seven ways to reduce back-and-forth emails. With a few simple changes, you can make your projects more efficient (for both you and your clients)!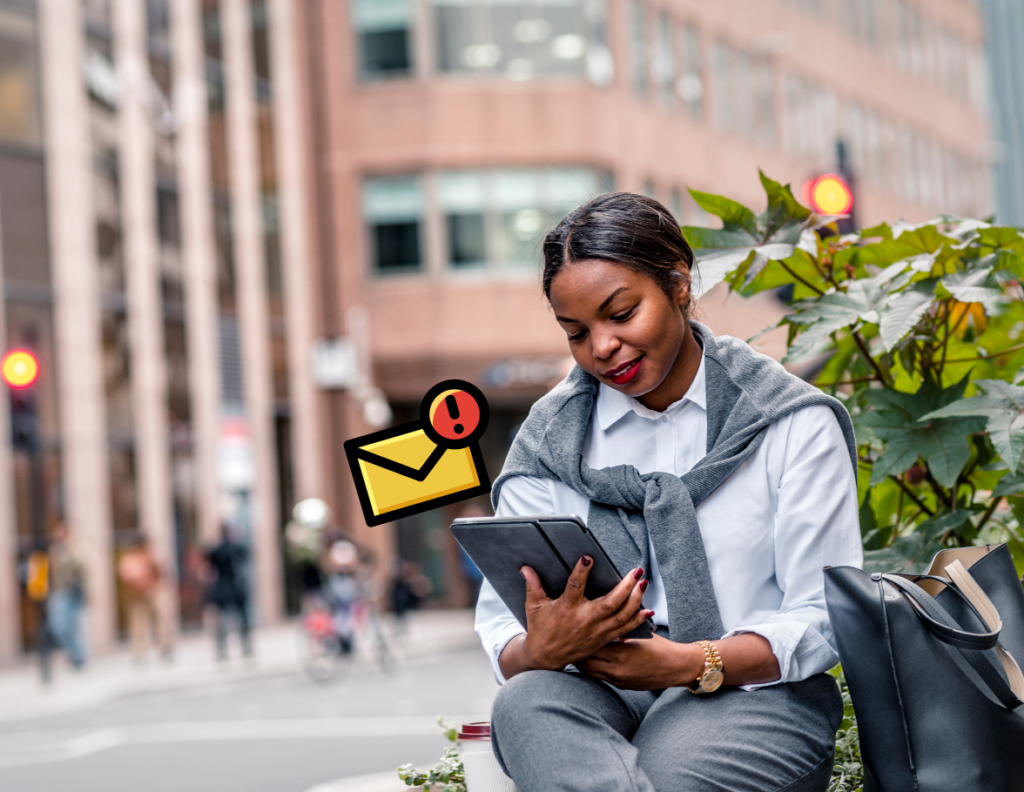 Sometimes it can feel like an entire project consists of checking your inbox and waiting for client responses. We've all been there before where we're scouring long email threads for the answer to a question we asked weeks ago.
Unfortunately, clients can often be the biggest roadblock to delivering successful projects on time. But, there's a better way to do business so you don't have to get stuck in an endless loop of emailing back-and-forth.
With these seven tips, you can communicate professionally, incorporate a personal touch, and guide your clients to respond on time. Implementing these best practices will result in more time for you (and your clients) that you can put into other areas of your business or give yourself some well-deserved "me" time!
Jump to:
Optimizing your clientflow to reduce client friction
Before we dive into the tips, let's talk about your clientflow. One of the reasons why you face so many back-and-forth emails is that your clientflow likely isn't as optimized as it can be.
Your clientflow is the entire process of selling and delivering specialized services, and it ensures you're receiving the information you need from clients and vice versa in one seamless flow.
From selling your services to booking, managing projects, and offboarding clients, you can make your communication at each of these stages much more efficient.
When you start thinking about your work as a clientflow instead of disjointed processes, you'll help yourself and your clients save time!
1. Identify email communication that's wasting time
The biggest issue with emailing back and forth is that it can waste a lot of time, especially if you're waiting for clients to respond before you can move forward with the project.
To eliminate time-consuming emails, first determine the moments when you're pausing or having to follow up with clients over and over again. Some examples could be when they're signing the initial contract and making payments, responding to questions about their project needs, or approving project milestones.

Pro Tip: Try mapping your clientflow so it's easier to identify these pauses. A visual representation of your workflows can show you dependencies you might not be aware of.
Whenever you notice these pauses in your clientflow, it's time to consider how to make the process easier for your client. Perhaps they're waiting to respond because they don't want to take the time to sit down and write out an email, so it could be better to just hop on a phone call or offer an interactive file they can fill out on their own time.
If you send multiple emails to the same client in one day, that can also be a sign you aren't communicating efficiently. You want to make it as easy as possible for clients to get back to you, and many of them might be dealing with overflowing inboxes (guilty here!).
2. Combine multiple asks in one email send
After you've determined where you're waiting for responses, consider if there's a way to combine multiple emails into one. For instance, you can send your online contract and invoice together as one multi-functional file.
Sending multiple actions at once doesn't have to be overwhelming–in fact, it can be easier for your clients to manage. With better organization and instructions, they can accomplish multiple steps at once in a shorter amount of time.
Other examples of steps that you can combine include:
Combining your pricing guide or sales brochure with an invoice to give your clients the chance to pay if they're ready to move forward with the next step in your process.
Combine specific client questions into an interactive questionnaire, which is especially helpful when you're onboarding clients. Using a questionnaire will make it easier for you to refer back to their answers in one place rather than sifting through multiple emails. Plus, you can even include your scheduling link to clarify open-ended questions rather than going back and forth over email.
Combine your onboarding materials, such as a questionnaire, welcome email, and project summary into a client welcome packet. Doing so can help eliminate a lot of questions at the start of the project so you can dive into your work rather than clarify information. On the client side, it also gives them one place to refer back throughout the project if they're wondering about the next steps in the process or your business policies. That means fewer questions throughout the project as well!
3. Offer interactive files instead of static files
Do you find yourself sending over important documents, only for your clients to stop responding?
Whenever you send a PDF, your clients might struggle to download the correct PDF editing software or even take the time to print and scan the document. Instead, HoneyBook lets you combine multiple steps into smart files that your clients can fill out in real time.
When you combine steps like your pricing guide and invoice, everything updates in real time as well. The services they select are carried over into the invoice, which they can immediately pay. There's no need to go back and forth about services and then draft an online invoice days later. 
Another great use case for smart files is the ability to pull client information into fields inside other documents. For example, your client background questionnaire that asks for their name and contact information can populate fields in your contract so you can get their signed approval all in one file.
You can also update smart files easily if something needs to be changed. Your client decided to change their service selection before signing the contract? No worries– by simply changing their selection, the contract and invoice can update automatically. That's hours of saved time each month without having to recreate or reprint static PDFs!
4. Make your subject line and email easy to scan
When it's time to send emails to your clients, be sure to make them easily scannable. As we mentioned before, your clients might be battling full inboxes and busy schedules. In fact, one study shows that 80% of people are only scanning emails rather than reading them fully. Your clients will want to know what you're emailing about as soon as they read the subject line.
You can add notes like "High Priority", "Info Needed", or "Action Needed" to the front of your subject lines to make it clear that they're important or require specific action from the client. For example, "Action Needed – Invoice Due" could be a much better payment reminder subject line than "Following up on invoice."
Within the body of your email, the same applies. You want to make sure the content is easily scannable so your clients can understand what you're messaging about immediately. To do so, you can use bullets and/or bolded text to help call out key takeaways and/or action items.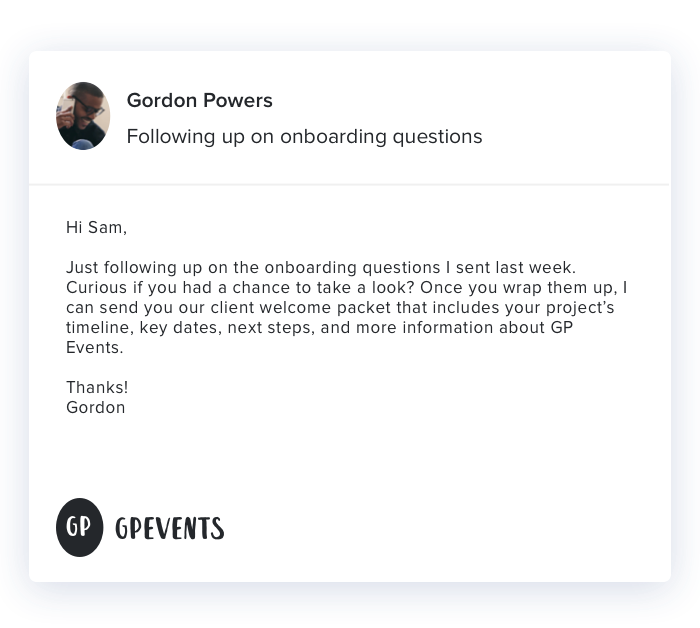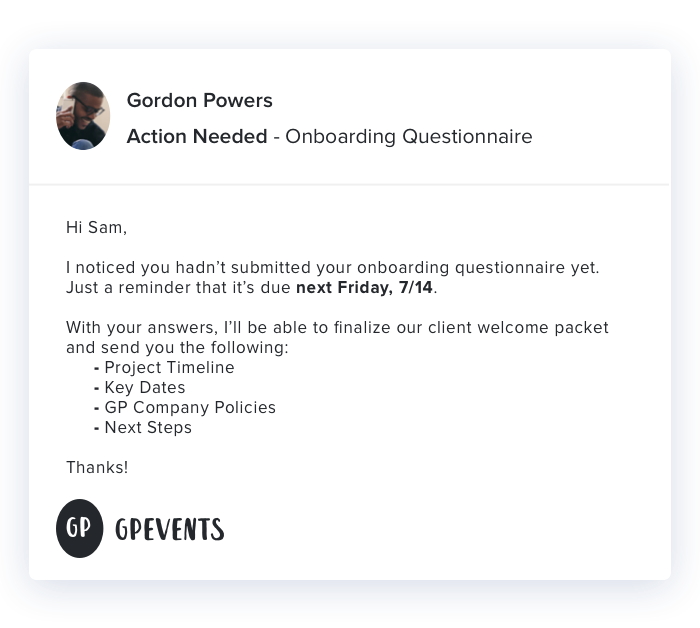 This same principle applies to your files as well. Since you're trying to save time, make sure the way you format all files and communication presents an organized, efficient experience.
Try to avoid long emails, but if you need to send a longer one occasionally to combine multiple things, break it up with headers.
5. Set up automated emails
Even after you implement these strategies to eliminate back-and-forth emails, you'll likely still need to send reminders here and there.
Luckily, you don't need to send them manually. Software like HoneyBook will let you set up automatic emails and reminders for important tasks like payments, contracts, questions, client homework, and more.
You can set the same sequence for your clients so you always know what's coming next too. One example of an automated sequence with reminders could look like this:
Client Intake Form
Reminder
Pricing Guide + Contract + Invoice
Reminder
Client Welcome Packet
Yep– that's multiple steps in your clientflow that you can not only combine but also send automatically. This lets you ensure you're sending the right emails and following up in a timely manner.
You can also set up HoneyBook automations to approve before sending so you're in complete control of what's sent and when, but all the content and files are queued up for you.
6. Build client education into your processes
We know that clients can often be the biggest roadblock to reaching your goal timelines, but they may not always be aware of that.
One of the best ways to ensure quick turnaround throughout a project is to build client education into every step of your process. This could be as simple as including a table of contents and a brief set of instructions at the beginning of files. Especially for files with multiple calls to action, you can point out where to find everything, what to do, and when you're expecting their response.
With just a few sentences or even a short video, you can set expectations for every file you send. When your clients know what to expect in terms of how you'll work together, they'll be more likely to hold themselves accountable and move forward without multiple email conversations.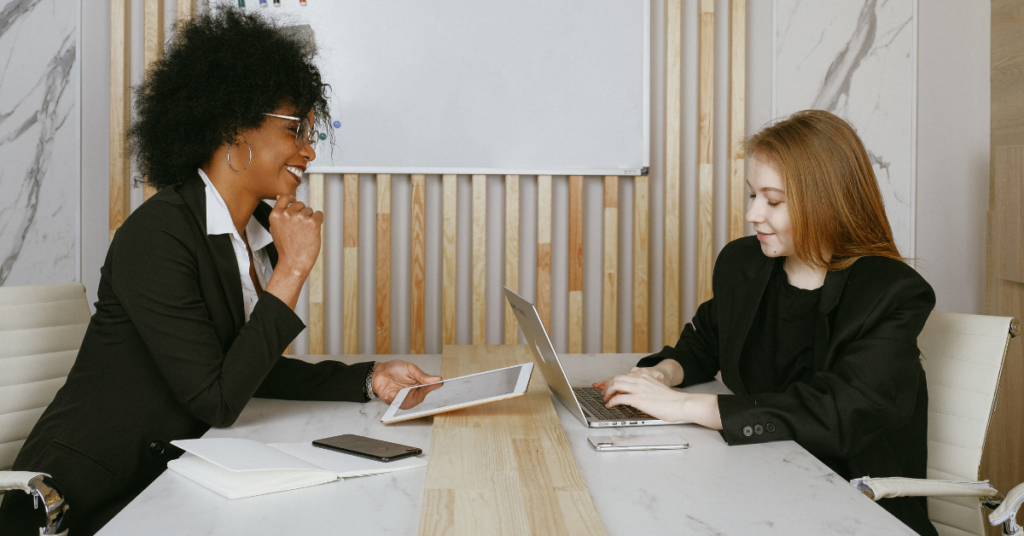 7. Simplify your scheduling process
One of the biggest culprits of unnecessary back and forth emails is scheduling. Everyone has a packed schedule, so you could go on for days just trying to find the right time that works for everyone.
Instead, you can simplify scheduling throughout your clientflow by using the right system. With HoneyBook, for example, you can create specific sessions to share with clients and leads, then sync your scheduler with your calendar so it always shows which time slots are available.
What's even better is that you can share your HoneyBook Scheduler as part of your files, so it's easy for clients to book time with you right after they select services from your pricing guide or pay an invoice.
Improve client communication with a better system
Reducing the number of emails you send is one piece of creating more effective and engaging client relationships. Delivering a seamless, professional clientflow also affects your customer satisfaction.
With the right system in place, you can build processes to better communicate with clients, deliver branded, dynamic files, and manage your projects from end to end. HoneyBook lets you do it all with benefits for you and your clients.