Following up with your existing and prospective customers is what every marketer would call a winning strategy for boosting loyalty and increasing sales. Being undeniably one of the most effective tactics in both B2B and B2C businesses, following up helps to build a trustworthy relationship between you and your customers, which spreads awareness of your brand, nurtures leads, and more.
One of the tools you can and should use is writing follow-up letters (in the form of email). They are a perfect example of an easy and inexpensive method of communication with existing or prospective customers. Emailing allows you to track the feedback and effectiveness of your promotions and selling tactics.
We've gathered the most essential information in order to help you become an expert in following up effectively.
Why Follow-Up Emails Are So Essential
Let's say your customer has already made a purchase. If you don't communicate with them after this step, then you lose a lot! Developing a rapport and staying in touch with your existing customers is just as essential as the acquisition of new ones. As a matter of fact, this step is often ignored by business owners.
Did you know that returning customers spend more than new ones? According to research, they spend 67% more than those making their first purchase from you! Impressive numbers, right?
Turning new customers into repeat customers, while keeping them satisfied with your service, is not an easy thing to do. However, post-purchase and accompanying communication are helpful and effective strategies.
Such practice shows customers how you have a vested interest in their cares, and reminds them about your brand. A personal approach to follow-up emails is key to keeping your customers' loyalty while increasing your sales. After their initial purchase, it can strike their interest, and make them want to purchase more.
However, sending follow-up emails to leads is also essential, as it provides a motivational force for making a purchase, that you might miss out on without such communication. You can reignite your customer's interest in your brand, and induce their desire to make other purchases by offering special deals, or discounts.
How To Write Effective Follow-Up Emails
There is no sample follow-up letter suited for every situation. Each one has to be designed to satisfy the requirements of specific customer service. You should send such emails to customers when they:
Make a purchase
Abandon a shopping cart
Receive cold e-mails about your products and services
Need a reminder to shop with you
Have feedback to give
Each of these situations requires a specific approach to a customer. Thanking a customer for their purchase closes a sale, bolsters their loyalty, and stimulates their need to continue shopping with you in the future. Never underestimate "Thank You" letters. According to a survey, 68% of customers leave a brand due to its indifference.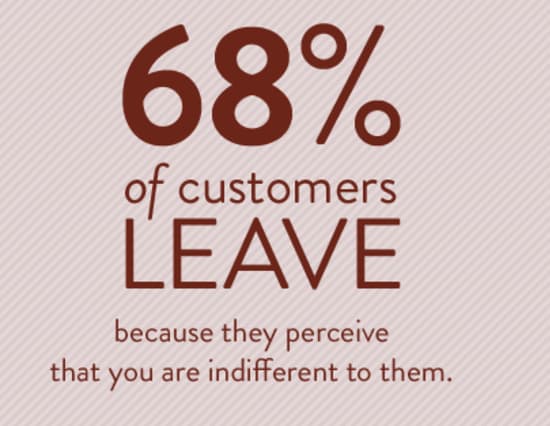 Emails reminding customers about their abandoned shopping carts, or informing them about discounts, open up communication with prospective customers, while acting as effective selling tools.
Reminding customers about your brand regularly is the main reason to stay in touch with them — whether or not they've made a purchase. You can also offer them special deals when they recommend your brand to family or friends.
Asking for feedback in a letter is also an effective data-gathering tool, that will improve your services. Moreover, it provides customers with an opportunity to satisfy their needs through your brand. Many customers won't provide feedback unless you ask them to — especially if they have had a positive experience with you.
A negative experience induces a need to leave angry comments, or reviews. However, a positive experience doesn't necessarily mean customers will leave positive comments, or reviews. That's why asking for them is much more effective than waiting for them. Use basic, easy-to-follow questions to know what requires improvement.
Follow 5 easy steps to write a perfect follow-up email:
Keep the letter concise and visually attractive.
Start with greetings:
"Dear customer," or "Dear friend." If you have the opportunity, it's better to type out the customer's name.
In 3-4 sentences, thank them for their purchase, describe what else you can offer them, and tell them about the ease and benefit of buying from you. Add a sentence about how you hope, that they had a wonderful experience, and how you look forward to serving them again soon. You can also talk about upcoming discounts, sales, and stock replenishment that you may have – all the while, asking for their feedback.
End it with personal brand information, such as a customized email signature.
Pro Tip: Don't have a personalized email sequence in your toolbelt? Generate your email sequence here.
Use free templates.
Are you afraid of writing something wrong, or of forgetting to include relevant information? Modern online resources are great, in that they provide an opportunity to utilize free templates almost for everything. You can use templates for every kind of follow-up letter, or simply get an idea of how to write yours. Check out some useful, free template platforms, like Hubspot, and WriteExpress.
Hire a writer.
If you have no experience in writing such letters or would like to get help with designing your custom letters for different situations, hire a freelance writer. They will provide you with a few different follow-up letters custom-made for your business. You can also get such letters designed according to your corporate style, or have them translated into a few languages, according to your customers' countries of origin. UpWork, Take My Class, and Freelancer are platforms, which facilitate your ability to find an expert to do this.
Include coupons, personal discount codes, and bonuses.
It's easier to engage a reader when you offer personalized selling conditions. It provides your prospective customer with the idea of how only they are receiving this kind of shopping experience. This tactic also increases your chances of making impulse sales, and discount offers.
Ask for feedback or reviews.
Getting information from your customers is essential. That's how ranking questions are able to help find the flaws in your brand, service, or products. Ask your customers to leave a review and offer a discount or bonus in exchange. Reviews are valuable and stimulate purchases without any effort on your part. As reviews are based on personal experiences with products, and or services, prospective customers will trust them more than advertisements.
Follow-Up and Sales will Follow
In any business establishing trust with your existing and prospective customers plays an important role. It affects sales, by boosting customer loyalty, which spreads awareness of your brand.
By following these easy follow-up letter writing steps, you can boost customer engagement, and help your leads move through the sales funnel quicker – thereby drastically increasing your sales. These steps are:
Don't be afraid to get some help — hire professional freelance writers or use templates.
Keep your letters sweet and engaging — include valuable and relevant content; add discounts, coupons, and special deals to spark the interest of prospective customers, and clients.
Follow-up at every stage of the sales funnel, and after the purchase is made.
Ask for feedback or review — you might get free content for your social media, your blog, or even a useful opinion on your service.
So, these simple tips will help you learn how to write follow-up letters for your business. Try them out, and you will see the difference they make.
Ready to automate the follow-up?
HoneyBook is a follow-up machine. Using a combination of canned emails, workflows, and automation, you can set it and forget it when it comes to your follow-up game. Start Free Trial.