Ah, yes, the day has come! The day when you finally have the time to sit down and work on your website. You have an inspiration board in front of you, with a piece of paper outlining your sitemap and design ideas. You're determined to use the lockdown as an opportunity to reinvent and strengthen your business for the "after Covid" period. And what better way to do it, than by improving and enhancing your virtual salesperson who promotes your work 24/7?
Win a FREE Flothemes website
Enter our giveaway for a chance to win a website design of your choice from Flothemes! Just fill out a quick form before May 31st. The winner will be picked and announced on June 1st.
Now, you may be wondering which tools to use and what platform to choose. There are so many options. How do you know which one is easiest to use? Which one will allow you to be most creative? Can you build a custom looking website without breaking the bank or having to hire a designer/developer? Yes you can, with the help of a Flextheme! And before you say "yeah Flothemes, but it's WordPress, I've heard WordPress is so difficult to manage" watch this video:
We realize that many of you think that website building on WordPress is a difficult process with too much technicality involved. Hence, we wanted to create a builder and interface that is simple to use, and empowers you to design anything you want on your site. There's no need to choose between functionality, ease of use and aesthetics. You can have all of them + SEO perks and advanced integrations (plugins) that come with WordPress.
We truly believe that 2020 is the time to be bold and expressive online. And though the quarantine time has presented multiple challenges and uncertainties, we've been blown away by the amount of beautiful websites, and business improvements so many of you have been pulling off so far!
Now, let's dive into the 5 things you need to consider when choosing a website template for your photography business:
Can you figure it out on your own? How easy will the process be?
How customizable are the templates? How much design freedom and flexibility do you have?
How well maintained is the template? Does it get regular updates and fixes?
How responsive is support with client questions?
Is it SEO friendly? Can you integrate your favorite tools or extend its functionality?
1. The freedom to create any website design, on your own
We are creatives. We are highly attentive to details and want everything to look perfect all the time. We thrive when we're allowed (and enabled) to create things our own way. Thus, when website building resembles more an art project, rather than a "try to fit your work into a template" – we get excited!
Flexthemes offer incredible freedom and flexibility through an intuitive, visual editor. You can drag and drop blocks around and tweak individual elements inside those blocks. You can customize the fonts, colors, images and videos, their size, their placement, whether they are linked to something, and more. You can add overlays, your own custom branding icons, Gifs or even videos that autoplay in the background. And the freedom doesn't end there. You have the same extensive control over how every detail of your website looks on mobile devices.
2. Fully customizable template to start with
Ideally, if you want to launch a new website fast, you can opt to use a template that looks great out of the box. All you'll need to do is add your own content and it's ready to go live!
Yet, it's always comforting to know that you're investing into a site template that is also fully flexible. If you decide to go crazy and fully rock'n'roll its look – you should be able to do that.
With Flexthemes, each website template comes with 100+ blocks designed for any purpose: About variations, Quick links, Portfolio listings, Testimonials, Press features, Gallery layouts, Video blocks, Travel dates, Upcoming workshops, FAQs, Pricing packages, and so much more. You also get several variations for full page layouts, such as your Home, your About, Pricing, Experience, Contact page, and more. You can use the blocks and layouts as they are, or add some individuality to your site, just like these Flothemes clients did. They all used the same template called Lyra, yet built completely unique and one-of-a-kind websites.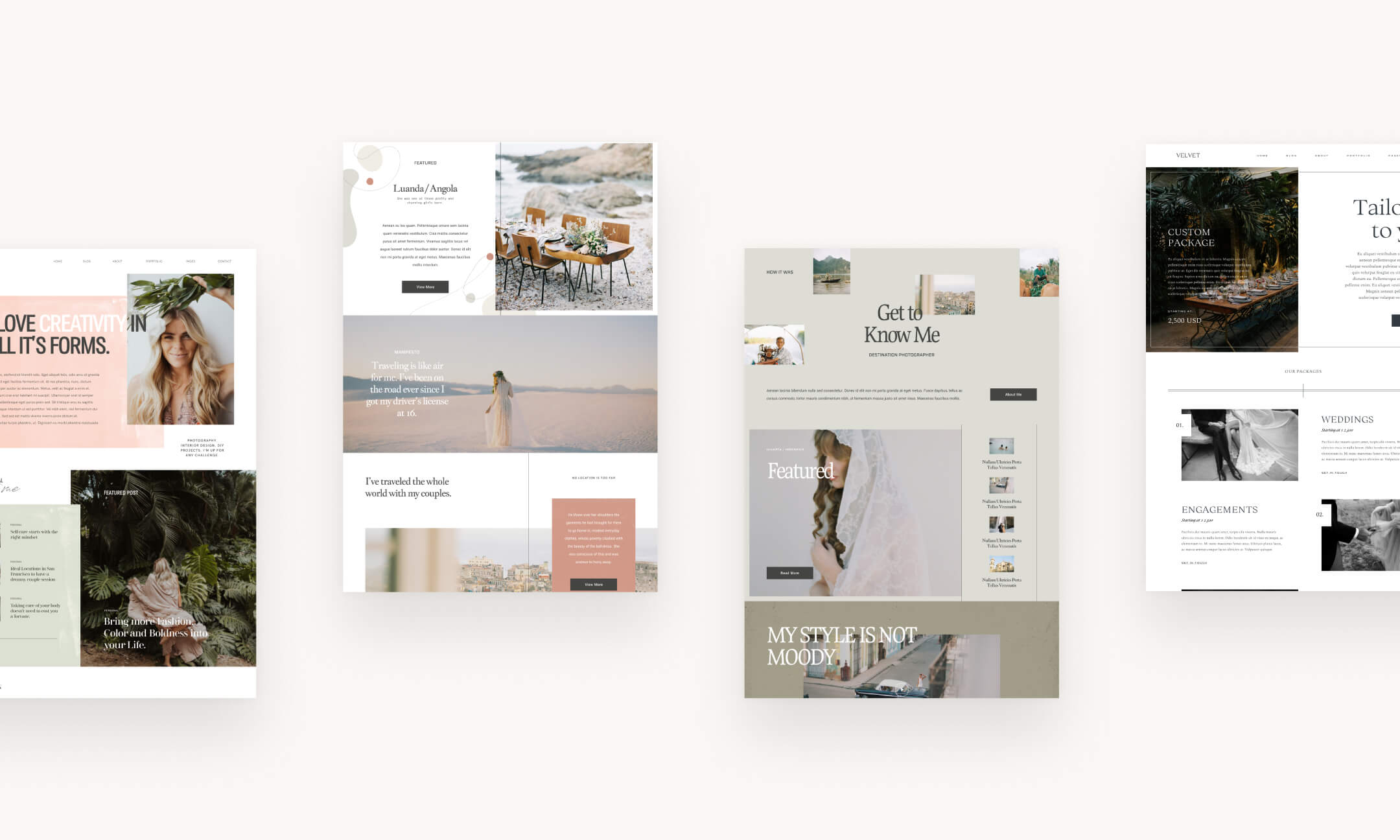 3. New features and updates that keep rolling in
This is an important one. With technology advancements happening so fast, and tools evolving on a monthly basis, you need to be sure that the team who created your website template is constantly there, working on enhancements, new features, upgrades and fixes. Otherwise you may encounter a series of issues when trying to maintain your website in the future.
Here at Flo, we try to keep things moving fast and exciting. A year ago, building a website with Flothemes looked completely different. We just rolled out Flex and encouraged people to test it, create new custom sections into their website templates. It had to be designed from scratch, and a limited amount of options were included. Fast forward a few months later, and Flex gets updated with videos options, image parallax, overlays, button hovers, layer grouping, smart guides and so much more. In November 2019, we released the first Flexthemes, which are site templates that have Flex integrated into them. And the roadmap doesn't stop there.
We release updates and enhancements to our themes on a monthly basis, including SEO optimizations and new design features. We listen to our users through an active Facebook Community and try to bring to life their most passionate ideas and website requests.
4. The customer support and genuine care of the team
Just like with any tool or platform, you want to be sure that their Customer Support Team will have your back, when you need help or have some questions. Do some research, read reviews, talk to real people who already use the website template you're about to commit to.
As per Flothemes' customer support, this is something you'll need to experience on your own. Yet, you can get a good idea on what to expect from the hundreds of messages and reviews Flo clients share on our Facebook page. There's nothing more rewarding than seeing the beautiful websites you create with our themes, and hearing how proud you are to share it with clients and peers!
5. SEO, extensions and other website perks
If you ever researched website building platforms, you've probably heard that WordPress is best for its SEO capabilities and customization options. Yet, many avoid it, due to its steep learning curve and complexity of the dashboard. Well, with Flexthemes, you can have your cake and eat it too 🙂
The dashboard is simpler as compared to other WordPress templates, the editor is drag and drop and shows you all changes live (check the video at the beginning of this article), yet it's still WordPress! This means that it's SEO friendly and available for third party integrations through plugins.
**
We hope this article got you excited and motivated to work on your own website during lockdown. Get that moodboard created, don't be afraid to be bold and different with the way you express your ideas and present your work online. We're in the creative business, we're supposed to be ambitious and fearless. That's why clients trust us and hire us to take their photos.
While social distancing forces us to figure out many things on our own, it's amazing to see the creative industry joining forces (brands and individuals), to help us all adapt and power up our game for the Post-Covid period. And if building a website has been on your mind these days, we've got a surprise for you!
Enter our giveaway for a chance to win a website design of your choice from Flothemes!
All you have to do is fill out this quick form before May 31st. The winner will be picked and announced on June 1st.