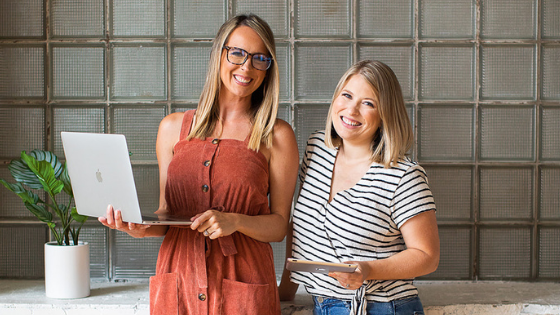 Are you ready to conquer SEO this year for your small business? Maybe it's a goal you've had for a while, but you don't know where to begin. We've compiled eight of our favorite SEO tools for small business owners and entrepreneurs like yourself.
We are going to teach you how to integrate each of these SEO tools into your business workflows to make sure every piece of content you create this year is built with SEO in mind. These tools not only make SEO strategies easier, they also make the process fun and interesting; leaving you craving bigger and better results.
Let's dive in… here are eight of our favorite SEO tools that you can begin incorporating into your small business today.
1. Google Keyword Planner
Let's start with a quick refresher on an important SEO tactic: keyword research.
What is an SEO keyword? It's a significant word from a title or document used as an index for online content. Put more simply, think about the last thing you 'Googled.' What did you type into the search bar? The combination of words you typed in, is considered a collection of SEO keywords.
Short-tail keywords are considered 1-2 highly searched words, whereas long-tail keywords are 3-5 words creating a phrase. Those articles that appeared as results on page one, most likely used those keywords in their article headline and throughout their post. Therefore, before you write any piece of online content you should be using an SEO tool to help you do this research.
Can you guess which SEO tool understands keywords best? Our little friend, Google! Google has an SEO keyword research tool called Google Keyword Planner. This tool is completely free, but the sign-up process turns a lot of people away because it appears that you need to run an ad campaign first. Don't worry, we will walk you through how to access this tool in a few quick and easy steps.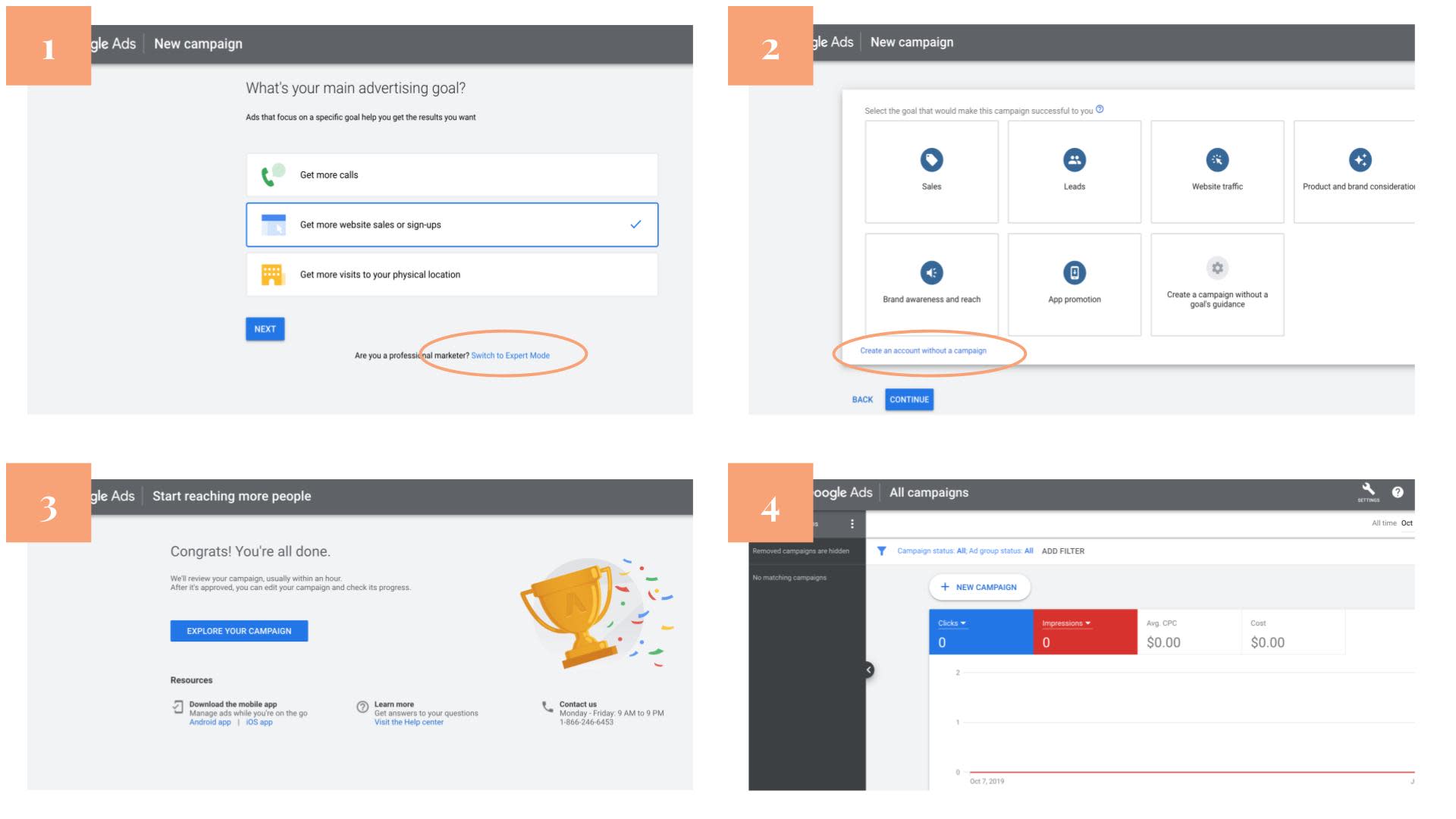 Here's How to Set Up Google Keyword Planner for Free:
You'll see a page asking you for your main advertising goal. At the bottom there is a section that asks if you are an "expert"… guess what, today you are! Click that button
On the next page, you will see a prompt that says "create an account without a campaign"
Congratulations! You've done it.
You are now inside the tool and can start researching your SEO keywords
To start researching, you'll go up to the settings and tools icon in the upper right-hand corner and click "keyword planner." From here you can discover new keywords or research search volumes and forecasts. You can use this tool to determine various keywords for your website, blog, sales pages, etc. Type in the keyword you want to write about and see how often it's searched. You'll also get other related keyword ideas.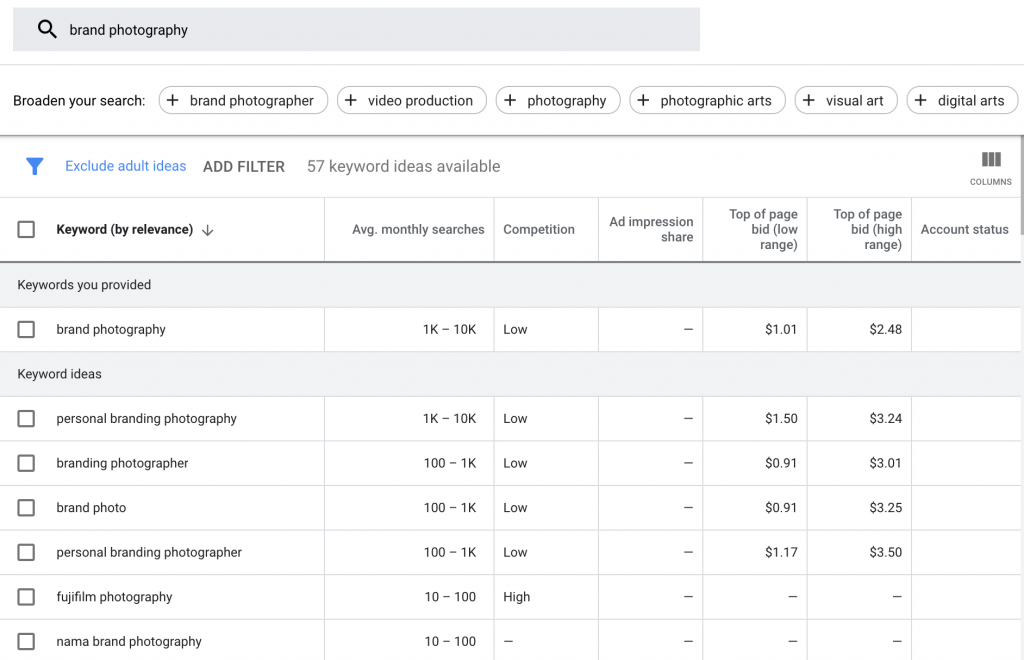 Google Keyword Planner tells us the keyword you selected is searched on average between 1k-10k times per month. Now, we understand this is a little vague. Unfortunately, this is all you get access to until you've run a campaign. After that, you are promised more insights. However, one of the reasons this is our favorite SEO keyword research tool is because it will automatically populate other keyword ideas like "personal branding photography." Oftentimes we start here, ideate a few long-tail keywords and then head over to another tool (see more below!) to explore further.
The keyword ideas you find here on Google are guaranteed to be an accurate representation of what's happening on the platform regardless of how deep the free insights go. When starting with Google, you won't need to worry about the validity of a keyword.
2. Pinterest
Did you know Pinterest is a search engine? That's right, just like Google! Soon-to-be brides come to Pinterest to start planning their weddings. Those looking to create a healthier lifestyle might be searching for new diets or recipes. New homeowners may be searching for inspiration for their next house project. The list goes on and on. The one thing all these searchers have in common is that they are craving education and ready to learn. Not to mention, it's the only search engine that is visually appealing. This is where we creative entrepreneurs can stand out!
So how do you use Pinterest as a tool to find SEO keywords? More specifically, long-tail keywords? It's pretty simple. Type in the topic you want to start creating content on and watch Pinterest populate the long-tail keyword based on what people are searching for most right now.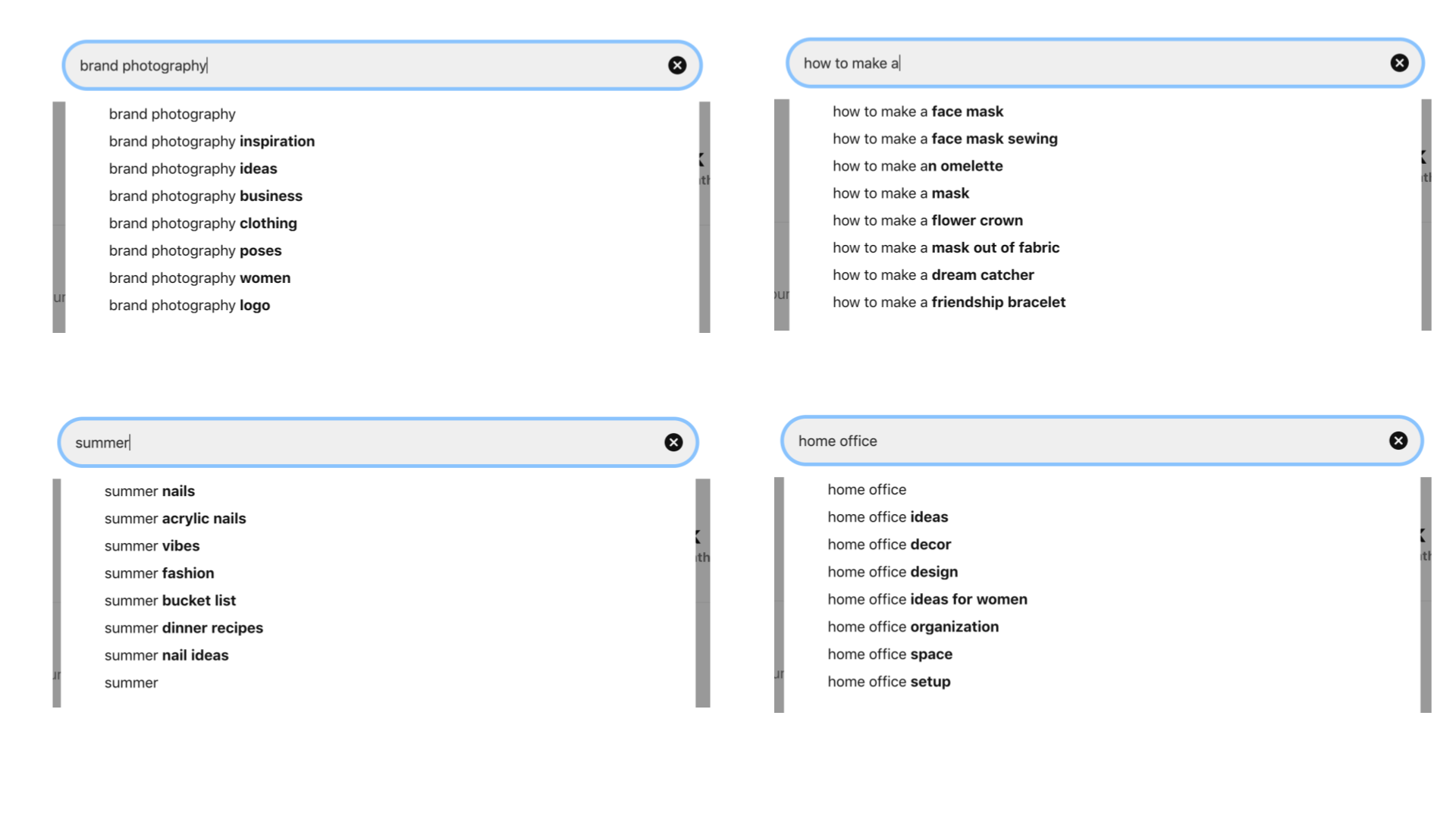 3. Ubersuggest
Next, we turn to one of the SEO experts, Niel Patel. His website, Ubersuggest, is one of our favorite free SEO keyword research tools. It provides similar results to Google's Keyword Planner, but is a little more user-friendly,  plus, you get exact search volumes. Oftentimes we use Google Keyword Planner to find a handful of keywords we like and then bounce over to Ubersuggest to verify the search volumes.
Some of our favorite tools on Ubersuggest are:
Google SERP (search engine result pages): you can easily see which websites are currently ranking for this keyword without having to hop on Google and research yourself.
Volume by Month: this is amazing if you have a seasonal business or product. It allows you to understand when your audience might be searching for certain topics.
Content Ideas: not only can you see what some popular headlines are for this specific keyword, but you can also see the number of links on Facebook & Pinterest.
SEO Pro Tip: Creating a workflow for writing online content will help you become more efficient and ensure you don't forget any important steps along the way, such as keyword research. One of the best ways to do this is with HoneyBook. Start by creating a workflow and adding in each important task along the way from keyword research to checking your analytics. You can even integrate this with your calendar. When life gets busy, these reminders help us stay on track, especially when it comes to reaching our SEO goals.
4. Google Analytics
This is an incredible SEO resource for anyone who owns a website. In short, it can help you understand who your audience is and how they find and interact with your page. In our opinion, this might be one of the most underutilized SEO tools. Most small business owners understand the importance of placing the Google Analytics pixel on their page, but they don't understand how to read the data.
Here are just a few things we look for when ideating online content for SEO:
Demographics of our audience for a specific time period (this week, month or year)
Our audience's interests
Top-performing blog posts when crafting new content
Acquisition: where our traffic is coming from (organic search, social media, etc.)
The correlation between your audience demographics and content creation is super important to ensure your content is engaging and converting. Whether you are creating content for your social media accounts, blog or email list, this Google tool for entrepreneurs is the ultimate guide.
5. Google Search Console
If you are ready to get serious about SEO, then Google Search Console is a must. This Google tool provides insights that cannot be found on Google Analytics. It helps you monitor your organic search rankings and is ultimately your guide to being Google's BFF.
It only takes a few seconds to add this to your website and just like almost every other Google tool, it is a proactive tracking tool. Meaning you can't go back in time to capture data – it's only forward-looking.
Having a good relationship with Google means maintaining your website to ensure your visitors have a happy experience. This resource will identify any errors such as missing links and 404 errors. But the main reason why we love this SEO tool is to understand exactly what keywords our audience is typing into Google to find us. Take a look at the screenshot below. These are all "queries" (keywords or search terms) that either generated clicks to our website from Google or appeared on the search engine page resulting in an impression. Pretty cool huh!?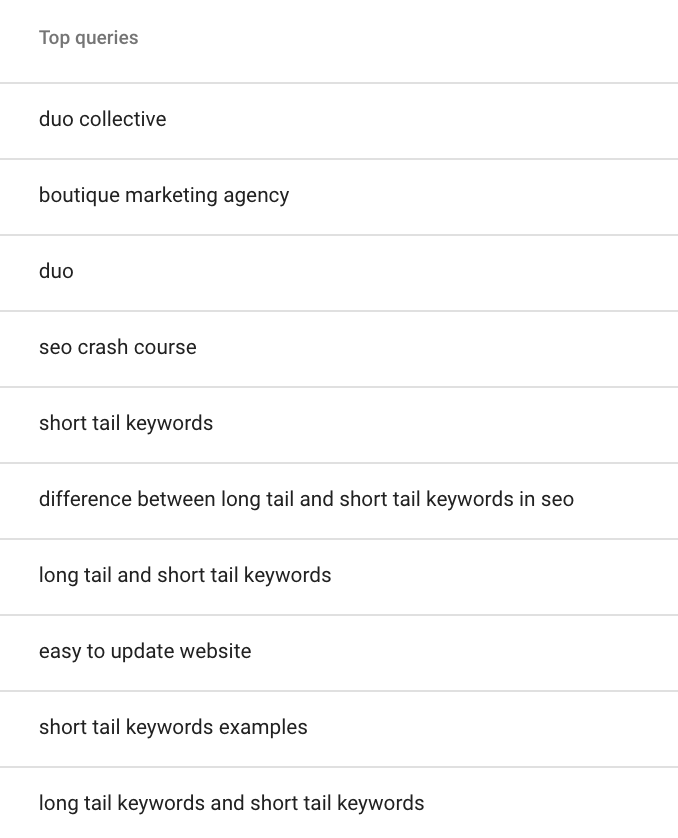 6. Google My Business
If local customers and traffic are important to you, Google My Business is a must-have SEO tool. As the name implies, this tool will help your audience find you when they turn to Google. These details show up on the right-hand side of a search page and help to bring your business to the top. It also brings in a personal aspect to your business by allowing you to add company photos of your business, portfolio highlights and behind-the-scenes content. Plus, it is a phenomenal tool when creating a testimonial or review process.
Did you know that a review process can be an important SEO tool for your small business? Relevant and recent reviews tell Google that you are an active business and an expert in your specialty. Meaning that Google will start to give you more authority and credibility; allowing you to rank higher on search engine pages. If you don't have a review process in place, we suggest you start now by using this SEO too: Google My Business!
7. Google Pagespeed Insights
Did you know that if your page takes longer than 3 seconds to load you've lost 53% of mobile users? That is exactly why page speed is a ranking indicator that Google uses to determine if your website is worthy of page one. Curious what your page speed is? Check out Google Pagespeed Insights and make sure to look at both desktop and mobile performance. Many times our website is not optimized for the mobile experience. Because of that, you could see a huge increase in page speed which can significantly affect your website performance and traffic.
The good news is that this SEO tool gives you step-by-step instructions on how to increase page speed and optimize your website. This is a great task to add into your HoneyBook workflow 2-3 times a year so that you continue to improve your website's page speed as you add new content.
8. Yoast WordPress Plugin
This final SEO tool for small businesses is our best friend when it comes to blogging. It's currently only available as a WordPress plugin. There are free and premium versions and the free version is still phenomenal for anyone looking to up their SEO game. Once you've chosen your SEO keyword using the tools above, you can plug that keyword into Yoast and start writing your blog content. Yoast will then tell you if you've used the keyword enough times and help you write your SEO title, meta descriptions, and URL slug. This SEO tool is our go-to blog-checker to make sure we are writing content that is optimized for search engines to give us the best chance of ranking on page one!
These 8 SEO tools are perfect for any small business owner, whether you are an SEO expert or a beginner. Plus, they are all completely free!
Bookmark these tools, jump into HoneyBook and start crafting your SEO workflows today. These SEO tools will help you rank higher, drive more traffic to your website and help you reach your SEO goals with ease. When you incorporate an organic search strategy into your business, be prepared to see long-term results. The magic of organic SEO is that even a well-written piece of content from years past can continue to drive traffic, sales, and new leads for years to come.
For more SEO tips and services, visit Duo Collective or follow on social media @duo.collective