Email marketing is one of the most powerful ways to retain clients and make sales. However, it is also one of the most competitive ones, as you need to win readers' attention amidst dozens of messages sent every day. Smart email design will help you stand out.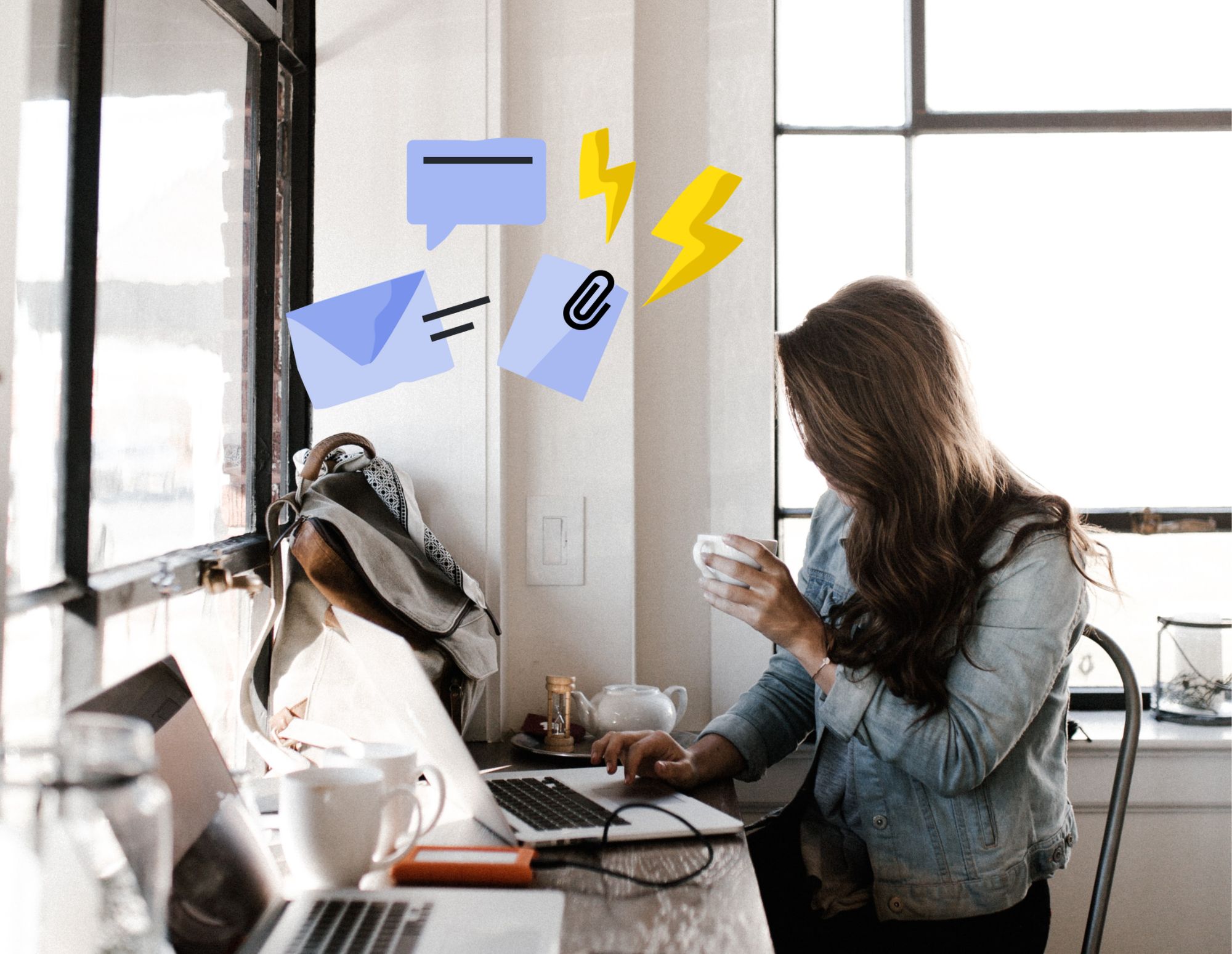 It is not enough to simply send emails with information. You need to make them interesting and appealing enough for people to open them. Many emails come into a recipient's inbox, and not only from competitors in your field. You need to stand out from all the businesses that communicate with your prospective clients and generate really strong emails. For example, you need to anticipate subscribers' expectations. Knowing what they expect from your emails can help you design emails that appeal to their needs. In this post, we will discuss the best practices for creating great email designs. We will examine how to design emails to boost sales.
Jump to:
Six tips for independents to consider when designing emails
Envelope content is the first thing that pops up in the inbox. It includes the sender's name, subject line, and preheader and tells about the email copy without opening it. It should be exciting and curious enough to click it and read the full text. Knowing what to put in each of these parts can help you create really good emails and get more opens, clicks, and conversions.
Sender name
The sender's name is the person or company sending out the email. It helps readers to establish the email's trustworthiness, so you should indicate your brand in this line. It is usually best to use your own name as it adds a personal touch which can increase engagement rates.
Subject line
The subject line is what appears in front of the recipients, informing them of what they will see when opening your email. There is a high risk that this line will be in truncated form. So limit its size to deliver the needed information to the reader. Most email providers support subject lines of up to 50 characters or less, but mobile inbox displays even fewer symbols.
Pre-header
Preheaders are typically 1 or 2 sentences after the subject line, giving more information about the subject. They are similar to snippets in Google search. They prevent the email from ending up in the Trash folder, so follow these tips to increase their effectiveness:
Personalize it by including a recipient's name or personal pronoun
Add a humorous emoji where appropriate
Reduce the usage of punctuation, capitalization, and spam-triggering words like "Free" or "Winner"
Avoid using clickbait so as not to divert customers from the company

Pro Tip: These hacks also apply to website design. Understanding customer needs will help you craft a flawless user experience. So when readers perform the desired action in the email, they will arrive at the website with the best checkout UX, well-thought-out navigation, and a convenient shopping cart.
2. Choose a wise hierarchy and structure
A poor structure spoils the user experience and makes it hard to skim your email copy. Start your email design process by determining the major email sections and how to organize content.
Suppose you send an email to promote photography services. You want to direct the viewer's attention to essential elements, so you should highlight the images, not place them below the text somewhere in the footer. The email may convert better if you open it with the picture and include the description and CTA button below.

Pro Tip: Find the best layout for your email by conducting an A/B test. Whether it is a zigzag pattern or an inverted pyramid layout, make sure to create a story and lead the readers to complete the desired action.
Consider an email design with an inverted pyramid structure. The following example demonstrates how this style effectively grabs readers' attention at the top of the email with a call to action at the end of the copy. You can place anything at this part of the email, including a product feature, a new book, or another crucial element.
There are many different expense-tracking apps available, and you can search for these online and refer to reviews to decide which ones to go for. Each independent will have their own preference as to which one they like the best. Don't be afraid to opt for a few different ones to see what works best for you.
3. Organize CTAs to be visible and understandable
Use calls-to-action (CTAs) in your emails to encourage recipients to take action. CTAs are the words or images that prompt people to do something, such as:
Open a certain page
Leave a review
Follow social media
Buy something online or take other actions depending on the goals, such as to view an online contract
You can place CTAs anywhere in the email layout, but the top position ensures users will spot the button without scrolling the page. The placement depends on the goals for each email campaign and how much space you have.
For example, leave CTAs at the top of your emails if you want to increase sales. Or, if you tell a story and provide several options with different CTAs, the main button may appear at the end of the copy.
The best email design practices to write captivating CTAs for email are as follows:
They can be a simple "Click here" or more elaborate with images and text
Regardless of the type of CTA used, it is vital to highlight the major one
Colorize buttons to contrast with the background
The text on the button should properly describe the desired action, such as "Receive a graphic design consultation" or "Book a call with our team"
Using a sense of urgency in moderation may speed up decision making
How can you determine where and how to put your CTAs? That is where A/B testing can also help. It is a great way to find out which CTAs work best for your audience. For example, if you have 2 different calls to action in one email, one will perform better than the other. Analyzing their performance lets you choose the needed placement, color, or wording.
4. Take care with the footer and the email signature
An email signature is an area at the bottom of your emails containing contact information. It typically includes your name, title, company name, logo, and sometimes links to social media profiles or websites. As this is where most people will see your name and company information, your email signature should be concise and consistent with the rest of the content. With an email signature generator, you can create one in just seconds.
An email footer should also include the Unsubscribe button. But do not minify it or blend it with the background. Why? Because people may not need your services this time and decide to stop receiving messages. They will search for the dedicated button but will not find it. The last thing you want for your email is to appear in the Spam folder when recipients report your emails as spam. Instead of hiding this button, provide it along with Support links to help find a solution to the problem.
5. Consider the email mobile-friendliness
According to statistics, 85% of people often check their smartphones to see messages in their inboxes. As consumers increase their mobile phone usage for shopping and texting, you will lose a significant portion of potential clients without a mobile-friendly design. The text size, position, and the number of columns also play a decisive role in marketing design. For example, a single-column email may be more responsive and simpler to read on different devices. Two-column text may seem fine when viewing the email from a desktop. But from smartphones, the content will be too small to read.

Pro Tip: One of the guaranteed ways to retain readers is to employ interactive content. Play with the audience by introducing gamified elements like animated buttons, carousels, rollover effects, accordion features, and surveys.
6. Improve efficiency with dedicated tools
Designing emails as an independent is a tough job. You need to provide a cohesive experience, track user preferences, and promote your services. As the number of clients grows, you may find yourself covering more than you can handle.
Luckily, you may employ tools like HoneyBook. This tool can assist with creating interactive and dynamic pricing guides. As a result, such guides can streamline the sales process. How? Clients will be able to analyze your offer and pay online in one easy step with HoneyBook's online payment software, rather than scrolling up and down over the email or opening a website.
Independent business owners can also benefit from HoneyBook by using it to create automated, tailored, and eye-catching client communications. Excellent email layout and a prompt response time uphold professionalism and lay the groundwork for effective client connection.
Start creating converting emails today
HoneyBook is a robust clientflow platform that helps you provide interactive online experiences that wow your clients while helping you manage your business without breaking a sweat. 
We have provided a few best email design practices for you to use as reference material when building your email campaigns. Amazing email and marketing design let you achieve the following benefits.
Connecting and resonating with your audience better
Gaining more clients – sending out an online invoice and ultimately making more money
Strengthening long-lasting relationships with consumers and converting them into brand evangelists
Growing your independent business
So, start creating your emails while keeping in mind the best principles and examples we looked at.