Every independent business wants to exceed client expectations but what do your clients really want from you? We did the research so you don't have to. Learn what B2C and B2B clients really want.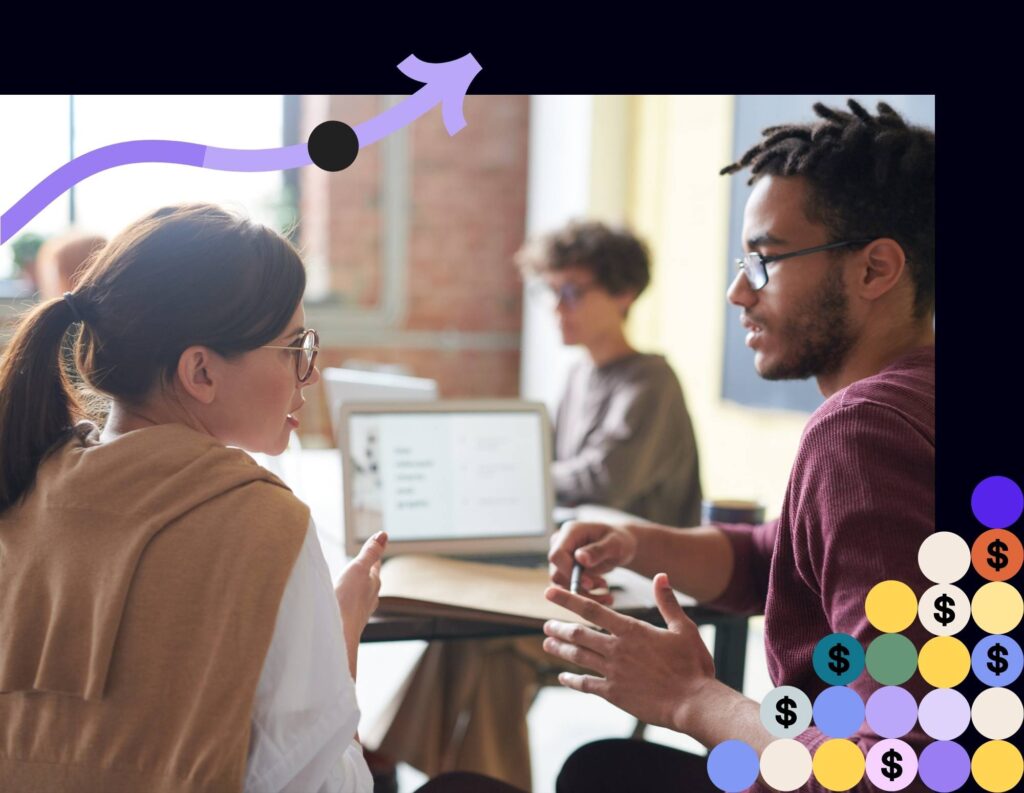 Do you ever find yourself wishing you were inside your client's head? It would make delivering top-notch services a lot easier. HoneyBook knows that understanding what your client is thinking can be challenging, even after the discovery and kickoff calls. That's why we conducted a study to find out what matters most to clients.
In partnership with Visa, HoneyBook surveyed 1,500 people who hired independent businesses to provide specific B2B (business-to-business) and B2C (business-to-customer) services. The results? B2B and B2C client expectations are different, but many overlap.
What we learned might surprise you. Here, we've detailed the highlights from our study about what clients really want when they book services with an independent business owner—and how you can optimize your clientflow to deliver on them every time.
Jump to:
What do your clients want?
When you're marketing your services, many thoughts may be running through your head, like "What colors represent my brand?" and "Where should I embed my contact form?" These concerns aren't unmerited! The first impression you make on your client is the most important. Here's a breakdown of what makes individual clients choose you.

First impressions last, which is why marketing is so powerful and the first phase of your clientflow so consequential to the success of your business.

Dahlia Orth, founder and CEO of Dahlia Orth Creative and HoneyBook Pro
1. An easy B2C discovery process
This stage might be confusing for some. Why does it matter for you, the business owner, what kind of experience the client has in finding you? On the contrary, it matters a lot! This is the moment when all the time you spent on your website, SEO, Instagram aesthetic, and marketing materials comes into play: showcasing your services is the beginning of your clientflow. You designed your website to be found, after all, and once prospective clients find it, the booking potential is there. This is the moment of truth–do your services and brand align with what they're looking for?
2. A fast, high-quality response after initial contact
Beyond how easy it is to find you, and how great your website looks, the information you provide on your site plays a key role in closing the deal. Your client must be able to qualify your services as being what they need as quickly as possible, then inquire about your availability using your contact form.
With a clientflow management platform like HoneyBook, you can ensure you're responding to new inquiries immediately. Set an automation to instantly send a proposal or scheduler to book time. That way you don't have to worry about letting a lead slip through the cracks. Clients expect clarity and communication, and automation helps with that.
Pro tip: A whopping 86% of prospective clients went with the independent business that got back to them the fastest.
3. A great end product
Also known as "the moment of truth," the end product or deliverable is the third most important part of the client experience. Essentially, if you nailed the discovery and initial contact steps, but your deliverable flops, you risk greatly damaging your client's experience. This is especially true because they believe that you'll do a great job based on the first two steps. Anything contrary to that might break their trust. According to our studies, meeting the client's expectations is good, but exceeding them will earn you great ratings and reviews, or even referrals or renewals. After you wrap your project up, consider sending a handwritten thank you note or small gift (like a coffee gift card) to end the relationship with a moment of surprise and delight.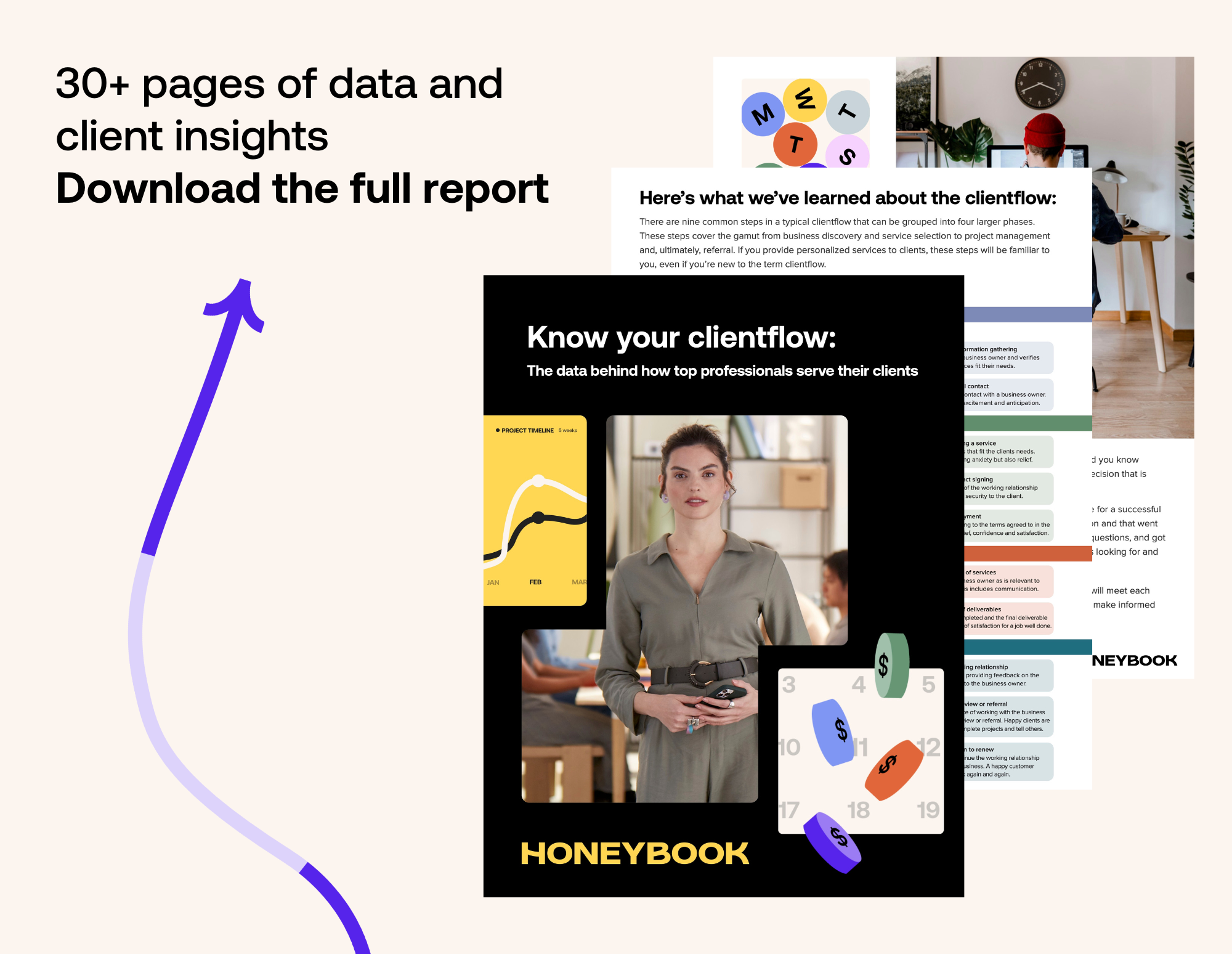 4. Simple and straightforward service selection, a.k.a booking
The fourth most important step for individual clients seeking services is the ease of the booking process and service selection. This step of the client's side of the clientflow can cause the most anxiety, and with completion, relief. According to PsychCentral, anxiety in decision-making is caused by fear of loss, status quo bias, choice overload, and other afflictions. At this point, the client has decided that your services are what they need. This is the pivotal moment where the client decides to choose you to represent their needs, and given all of the anxieties surrounding decision-making, it's best to make yourself an easy choice.
Things like response time and quality, first impression, and personality (see above!) all lead up to the booking process and are factored into whether or not the prospect selects your services. Once the client receives proposals and asks for a contract, they're in business, hence the relief from the anxiety of choice. Make your service selection and booking the easiest to signal to your client that working with you means smooth sailing.
What else is important?
Want to learn about other important parts of your clients' wants and needs, including what makes or breaks the client experience? Download the full report. In partnership with Visa, HoneyBook has explored the wants, needs, and desires of people who hire independents: your clients. And we want you to know what they want and need.
What do business clients want from businesses?
At HoneyBook, we know independent business owners aren't just marketing their services to individual customers or clients. Businesses hire independent businesses, too, which is why we polled them to see what landed at the top of their list of important items.
There is some overlap between what is important to independent businesses and what's important to one-off customers. Namely, information availability and ease of locating an independent's website, contact form, and services top the charts for business clients, too.
1. An easy B2B discovery process
Ready for a jaw dropper? The discovery and information-gathering process weighs heavily for business owners looking to hire a service-based small business. The ease of information gathering is the most important factor for businesses when seeking to hire for a service.
What does this mean? This means when a business is looking for someone to deliver a service, they want to find you and understand as quickly and easily as possible that you can do the work they need to be done.
Businesses know that easily found, clear information is the sign of a professional. As we've mentioned before, a lot goes into this: a good website, great copy, and strong SEO. Worried you don't quite have what it takes? Hire a professional to bring your materials up to speed. Curious how the other steps stack up? For specific numbers, check out the full report.
2. Lots of communication during the working relationship
The next most important part of the clientflow for B2B clients is communication throughout the working relationship. They need an independent business to manage projects from start to finish and communicate well so that the final product or service is delivered successfully.
As business owners themselves, business clients want regular assurance that things are moving forward as planned. A business hiring another business is likely doing so because the services will be used to help the hirer generate more revenue; so communication to yield a high-quality product, in the end, is key.
3. Ease and interest in renewal
If a business client is interested in renewing, that signifies a job well done. That's why, for businesses hiring independents, renewing services you loved should be a piece of cake.
With HoneyBook, renewal is as easy as sending a contract amendment with our secure email services and contract templates. As soon as a client expresses interest, send them a contract from the app. You're back in business with a great client—again—without the stress of rebuilding a relationship or vetting a new client! Resigning with the same client saves you time and money.
4. Easy contract signing
The fourth most important part of the clientflow for a business hiring an independent is how easy it is to sign the online contract. Have you ever been asked to sign something, only to find you have to download a PDF, find the program that will allow you to create a signature, and reupload the contract? Worse, have you ever printed off a PDF, signed it, and scanned it to upload? That is the definition of client friction.
With HoneyBook, you can say goodbye to sending a PDF contract through email ever again. HoneyBook's contract templates are fully customizable and lawyer-approved, though we recommend your lawyer looks over your contracts, too, before they hit your client's inbox. 🧐
That's not all, folks.
There are even more steps that are crucial to meeting client expectations with your independent business. Want to catch them all? Download the full report "Know your clientflow: How the top professionals serve their clients." In it, you'll find detailed insights on what can make or break your client relationships, how to improve your clientflow, and tips and tricks to create a great client journey—all based on our research talking directly with your clients!