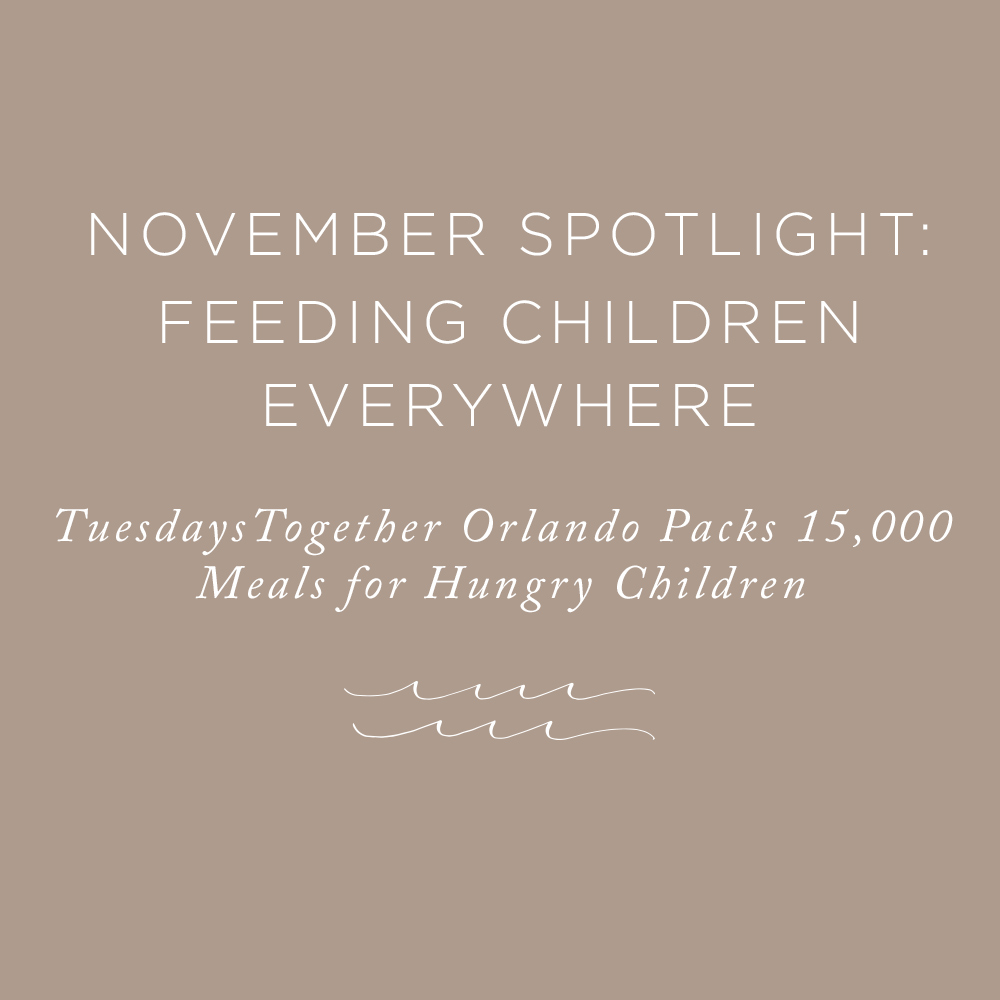 TuesdaysTogether groups meeting around the world will come together this November to give back to their communities. Amalie Orrange and the Orlando TuesdaysTogether chose to volunteer their time with Feeding Children Everywhere, an organization dedicated to empowering and mobilizing people to assemble meals for hungry children. After checking out this incredible effort by the Orlando TuesdaysTogether group, be sure to visit the Feeding Children Everywhere website to learn more about the organization and how you can get involved. -The Rising Tide Team
Feeding Children Everywhere is a very important organization to me and my family. I worked alongside Kristen Campbell at Starbucks for 8 years, and watched her and her husband Don create this amazing organization that gives back locally and around the world. Feeding Children Everywhere was founded with a mission to empower and mobilize people to assemble healthy meals for hungry children. With the help of their devoted family, dedicated friends and driven volunteers, the movement began. FCE sends meals to schools' crisis food pantries and supplements food budgets abroad. They have seen schools around the world increase both their enrollment and attendance. In turn, serving more children and brightening the futures of villages and communities globally.
I had the pleasure of organizing this event for our Tuesdays Together group. I must say that Amanda and Maria were so great to work with, and all of the volunteers were so helpful and organized. A HUGE thank you to all that came out, and to Feeding Children Everywhere for making this event such a success. Thank you to The Drakes for sponsoring our event and being so supportive in our local community. We packed 15,000 meals and met some new friends too, all in all a great day!
Find out more about hunger project packing events by checking the FCE calendar here.
XO~Amalie
(Note: This post originally appeared on Amalie Orrange's blog. All photos by Amalie Orrange.)
The best volunteers and group leaders!!
Huge thank you to the Drake family for sponsoring our event!!
Don Campbell the founder of FCE and me

The kids got to color the boxes that we are sending out to our local community
We made 15,000 meals to go to our local community, pretty amazing!!
Look at this group, they ROCKED IT OUT!!!