If you're starting your independent business or looking to get more organized, invoicing is a great place to start. Ensure you're getting paid as quickly as possible and document all your transactions. Learn more, and leverage our free templates.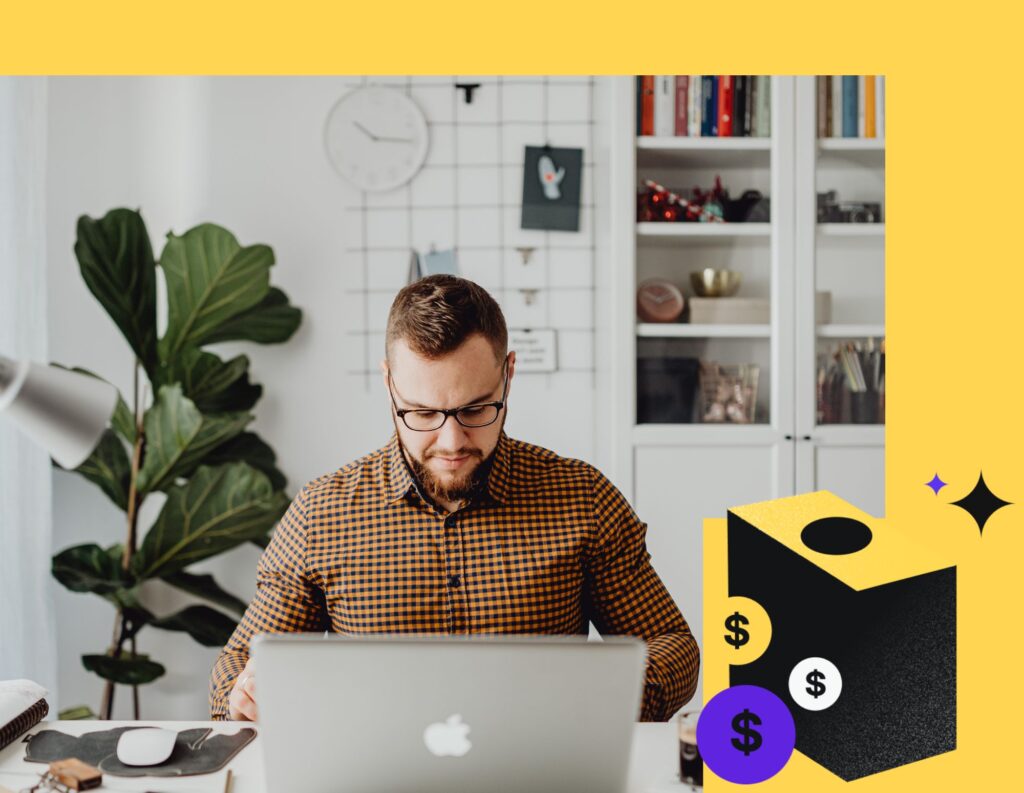 As an independent business owner, you need a reliable way to get paid for your services. You'll need to send your clients professional, detailed invoices so they know exactly how much to pay you, when, and where to send their payment.
This article is a comprehensive guide that will teach you the importance of invoices, how to create and send them, and how to use online invoicing software to streamline the process. You'll find out how to get paid quicker and offer your clients the optimal experience to improve your cash flow.
Jump to:
What is an invoice?
An invoice is a document that lists the payment due for services rendered. At a minimum, it should list a description of the services performed, the total amount due plus taxes, and instructions for payment. The instructions should include a "remittance" address (an address where clients can send a check) or a website where they can pay online.
Invoices are not just documents sent to clients to receive payment. They play a more important role in the transaction. They represent your organizational capabilities and your professionalism. For that reason, they should be accurate, professional, and cohesive with your brand. Invoices are just as much an opportunity to impress your clients as any piece of marketing. Show your clients that you are a serious (or seriously good) small business owner with presentable and professional files.
Elements of an invoice
There are a few elements all invoices should include. This information must be accurate and clear to move your clients to pay faster. If any of the details or confusing, it may delay their payments. Include the following:
Title (usually "Invoice" at the top of the document)
Invoice number (each one should have a unique number)
Date issued and billing period dates
Your business name and address
Your contact information, including your email address and phone number
Address or P.O. box to send a payment, if different from the business address
The "Bill to" field with the client's name
The dollar value of the services and any materials, if applicable
Subtotal before taxes
Discounts such as promotional codes
Total amount due including any taxes
Payment terms, including payment due dates
Payment methods, such as debit and credit cards, ACH bank transfers, or checks
Terms and conditions, including information about late payment fees
Why invoices are important for small businesses
A streamlined booking process can improve your cash flow by increasing your chances of getting paid on time, with as little hassle as possible. This can lead to better reviews, repeat business, and steady revenue from ongoing services with recurring payments.
Invoices are also important records for your accounting. They allow you to track accounts receivable, cash flow, and total revenue. You can also track unpaid invoices and send payment reminders for overdue balances. Invoices serve as records for transactions, which may be useful, along with an online contract, if disputes arise. For that reason, they must be accurate, clear, and both you and your client should have identical copies.
On the client's end, invoices help them keep financial records of the services they've paid for. Professional and accurate invoicing can instill confidence and trust in your services and ultimately foster loyalty and repeat business.
How to create an invoice
Creating an invoice is easy for all types of businesses with the right tools and software. One of the easiest ways to get started is to use templates. With HoneyBook's online invoice templates, you can filter by industry and select the options that best suit your business. From there, it's easier to customize your templates by including your logo, business information, and client/project information.
By making your invoice process repetitive, it becomes faster to send them and get paid. Follow these steps to create each invoice:
Start by compiling the costs of each service rendered.
Gather your client's information.
Decide if you want to write an invoice from scratch or choose from an array of templates.
If using an online template, see if there are any ready-made templates for your industry—for example, HoneyBook's template for business consultants.
After you've chosen a template, you can include your logo and banner image.
Fill in all the required fields, including your company name and email address, your client's name, each service provided, and the cost of each line item.
Invoice software will automatically show the total amount due after taxes, or you can calculate them on your own.
You can send the invoice via email in one of two ways: print the PDF and email it to the client with instructions on how to pay through your clientflow management platform, or email the client with a link to the invoice where they can pay online.
Set up automatic payment reminders and late payment notices.
Follow up with clients and thank them for their payment or remind them of the amount due if the payment is late.
Invoice examples
All invoices should include the basic information we listed above, but they may differ slightly depending on your industry. That's why it's always helpful to leverage examples and templates.
Explore HoneyBook's variety of invoice templates below, sorted by industry:
Let's take a look at three examples below so you can see the differences with each one.
Basic customizable invoice
Below you'll see an image of a basic invoice.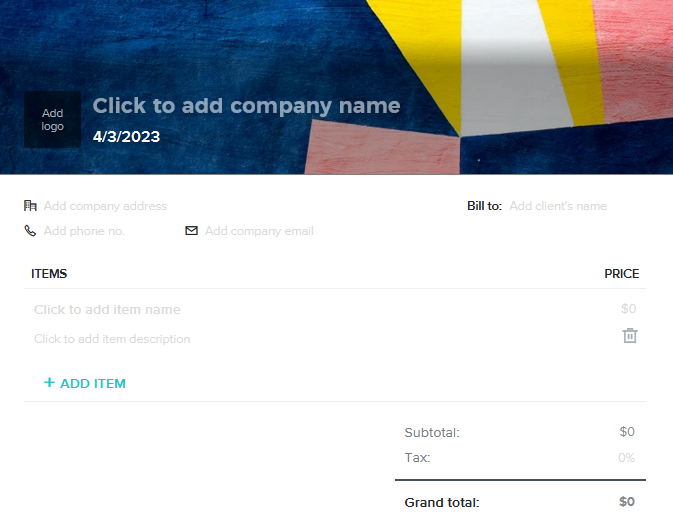 This example has fillable fields that include:
Company name
Logo
Company address
Phone number
Company email
Bill to
Item names, with the ability to add more items for each service
Item description
Price
Coaching invoice
This example is for business coaches who specialize in supporting business owners and entrepreneurs.
A coaching invoice may differ from other businesses in the way the services are presented. In this example, it makes more sense to provide a package with an itemized breakdown, rather than listing each individual service and their separate prices.
Social media consultant invoice
Below is an example of an invoice template for social media consultants.
You can see in this invoice template that several items are listed, some billed by the month and one item billed hourly. The sales tax of this particular example was added, which will be included in the Grand Total.
In this example, you can see different ways of billing your clients. Depending on your services, you may have some that make more sense to bill hourly, while others should be billed as a unit price. Either way, be sure to include these details in your invoice.
Best practices for billing your clients
Billing your clients is one of the most important parts of booking. You don't necessarily need to put a lot of time and effort into it. However, your clients will notice if any part of the process is confusing or insecure. Use the best practices to make sure you're billing clients correctly and with confidence, so you can create a better client experience and collect invoice payments faster.
Stay clear and concise– Include enough information to outline your services, balance due, and payment terms. Be sure to avoid extraneous or confusing information that can prevent you from getting paid on time.
Automate the process– Take work off your plate by automating as much as possible. Set up payment reminders and even automate when your invoice sends to clients if you let them book with you instantly.
Offer a variety of payment methods– Your clients will appreciate an easy way to pay, so it's best to offer options. These days, almost everyone prefers online methods, making it beneficial to accept credit card processing and ACH transfers. When you collect online payments, you'll get paid faster and make it easier on yourself to track your cash flow.
Invest in software– PDF and Word doc invoices are things of the past. With those methods, you're putting more work back on your clients. Instead, invest in invoice apps or software that let you send electronic invoices. With the right software, it can even integrate with payment processing, making the process easier for both you and your clients.
Accept online payments– No one wants to dig for their checkbook, and we bet you don't want to wait by the mail just to get paid. Stick with online payment options, which you can provide along with your invoice or integrated with the invoice itself.
Templatize so you can personalize– Templates let you move faster when it comes to most of your business processes. By using templates, it's easier to personalize. You don't have to focus on the entire invoice, but you can easily send a more unique message tailored to each client when you don't have to worry about spending more time on the invoice itself.
Using software for creating and sending invoices
We've mentioned it throughout this guide, but the last thing to consider when invoicing is what software and tools you can use to improve the process.
Are you still sending PDF invoices? Accepting checks in the mail? Manually following up when you haven't been paid? All of these are taking up time, and they can all be streamlined with technology.
Online invoicing software directly applies to all of the best practices for billing your clients. You can use templates to save time, allow your clients to pay online, easily track payments, and automate the process of following up. If you have repeat business, it also enables you to set up recurring invoices without manual work. It can also meet your needs for accounting software by allowing you to track your revenue.
When you're looking for a new software, consider the return on investment (ROI). How much time will you save? With time savings, could you take on new clients? If you're getting paid faster, you'll at least improve your cash flow, which can enable you to invest more in other areas of your business.
Manage your entire clientflow with one platform
Invoicing is just one step of your clientflow. As an independent business owner, you also have to consider your process for capturing leads, nurturing them, finalizing the booking process, onboarding, and project management.
Instead of investing in a simple invoicing system, consider a clientflow management platform that lets you manage all these other steps as well. HoneyBook is the leading clientflow platform for independent businesses, and it enables you to invoice your clients while also connecting different steps of your clientflow.
You can send HoneyBook invoices on their own or save even more time with interactive files that combine service selection with payment and contract signing. Imagine how much you'll get done with your have an entire flow of clients booking with you, and you don't even have to lift a finger!
Supercharge your invoicing by optimizing your whole clientflow.