Learn how to format a Gmail signature and make it visually appealing, actionable, and professional.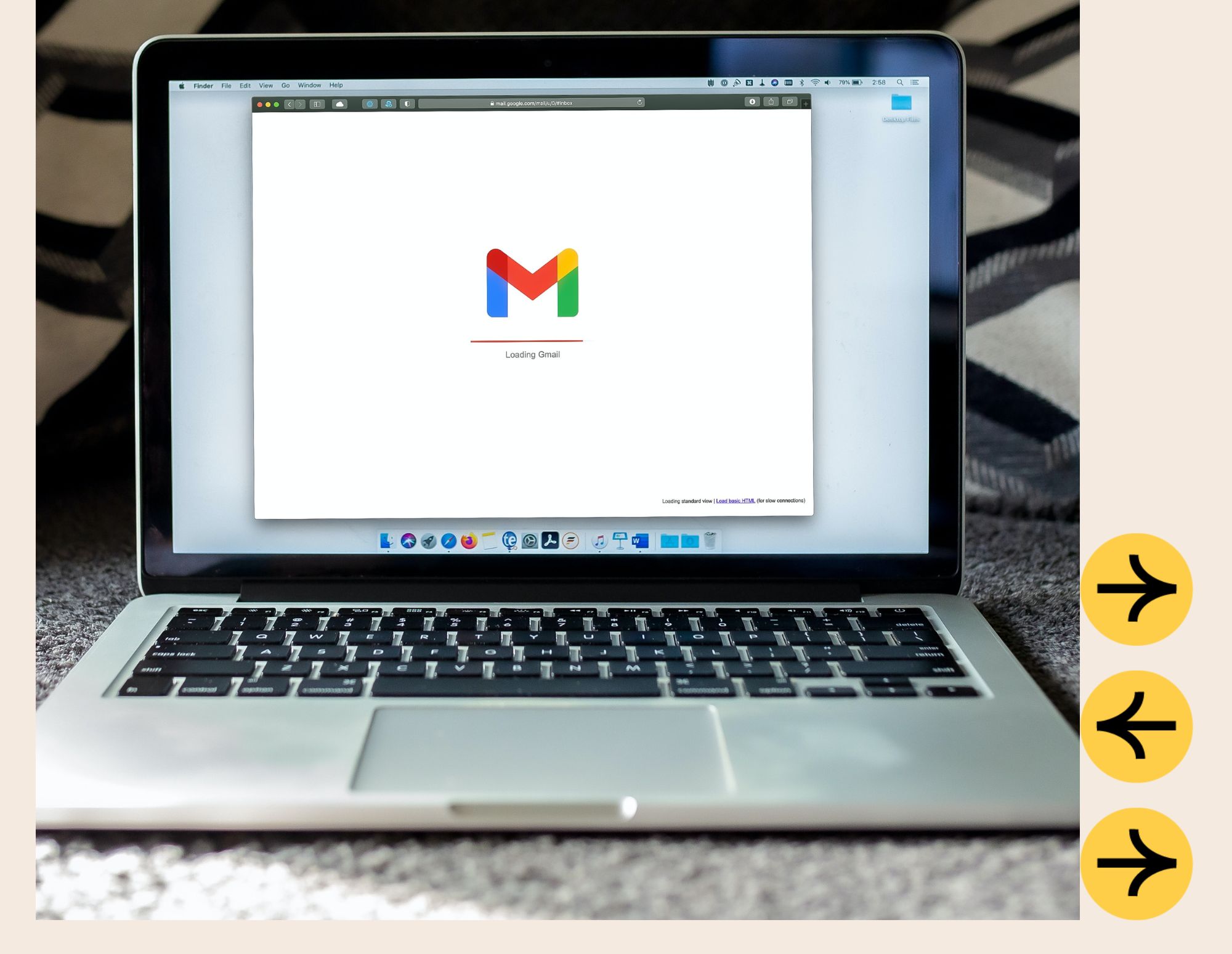 Have you ever wondered how your industry peers make their Gmail signature look so good? You know the ones that have a pretty headshot or a logo mark along with important information like their title, website, and contact information plus some social media buttons?
Many find using an email signature generator to be helpful. However, if you've tried and failed to figure out how to make your email signature go from drab to oozing with professional style, I have got your back! I am going to give you step-by-step instructions on how to achieve this for your own Gmail signature. I promise you it is easy to do!
Why Gmail, you ask? Well, Gmail remains one of the top email clients around, trailing only behind Apple iPhone in tracked opens based on a study done on 2023 email market share by Litmus. I also know that many small business owners tap into Google's G Suite to manage their inbox and other heavily used Google-based internet apps, so by popular demand, Gmail it is!
Pro tip: A clientflow management platform like HoneyBook can help you stay organized and look professional. at every step. That includes creating professional and on-brand email signatures for every client email.
Jump to:
Popular Gmail signature editing FAQs
I use Google Chrome as my Internet Browser of choice. If you follow the steps below and have issues with your signature not pasting correctly (fonts and colors not carrying over or your table border reappears) in Gmail, try using Chrome to complete this tutorial.
I have heard that in some instances, Gmail gives an error message when trying to add a signature to Gmail. Try Chrome! If that fails, try Microsoft Edge (or another browser of choice). It could be a browser problem. Once your signature is actually saved in Gmail, it will appear in all browsers (even Apple iPhone) correctly.
Step 1: Draft your Gmail signature in Google
Yep, you read that right. We aren't actually going to design your signature in Gmail's settings interface. Just trust me here!
Open up a new blank Google Doc in Google Drive.
Before we get to any of the pretty, go ahead and type out all the information you want in your Gmail signature. Things you may want to highlight include your name, your title, your tagline, your website, a prompt to join your newsletter, office hours, upcoming out-of-office dates, an inspiring quote, and/or your contact number. Example:

Megan Martin | Owner, Creative Director
Resources, templates, and education for creatives
www.meganmartin.net
Upcoming Events:
August 6-9: Speaking at Creative at Heart Conference

If you don't want to include actual "buttons" (or images) for your social media handles, include it in your signature as text. For example:
Megan Martin | Owner, Creative Director
Resources, templates, and education for creatives
www.meganmartin.net
Connect with me on Instagram | Facebook | Pinterest
Once you have your information laid out just right, go ahead and highlight your text and style it with your brand colors and font of your choice. For example:

Megan Martin | Owner, Creative Director
Resources, templates, and education for creatives
www.meganmartin.net
Upcoming Events:
August 6-9: Speaking at Creative at Heart Conference
If you just want a text-only signature, you could just copy and paste your work straight into your Gmail "settings" under "Signature" to create your Gmail signature. I'm going to assume that because you're here that you want to jazz it up even more with a picture or logo and maybe some social buttons! To do this, create a table in your Google Doc. A table is a structure that creates "columns" for you to input whatever information you want.
While still in your Google Doc, click on "Insert" in the top tools menu. In the drop-down menu. Click the drop-down arrow next to "Table." In the drop-down menu, click on two boxes next to one another to get a single-row table with two columns next to one another.
Use 2 columns (one for your logo or headshot and one for the text created just a few moments ago) and 1 row. A small blank table will now be in your document. To fill in the table, simply highlight your signature info text as created above, copy it, and paste it into the right side of your table. If you have a lot of information in your Gmail signature, you may not want to include all of your pre-typed text in this table. That way your image to the right won't have to be huge! In the example below, I would only put the first block of text in my table and the two additional blocks copied and pasted as plain text underneath my table once I get in Gmail. See the example below this section.
The left side is where your image of choice will go. To add an image, place your cursor in the empty leftmost column. Click. Then, select the "Insert" dropdown again. Select "Image" and find your logo.
Next, remove the border lines of the table. Highlight the table and select the lone thickness icon (it looks like a hamburger menu) from the top toolbar. Select "0 pt" so that your table disappears. Your table will now have no visible borders and be ready to plug into Gmail! To copy the entire table, simply click and drag from left to right.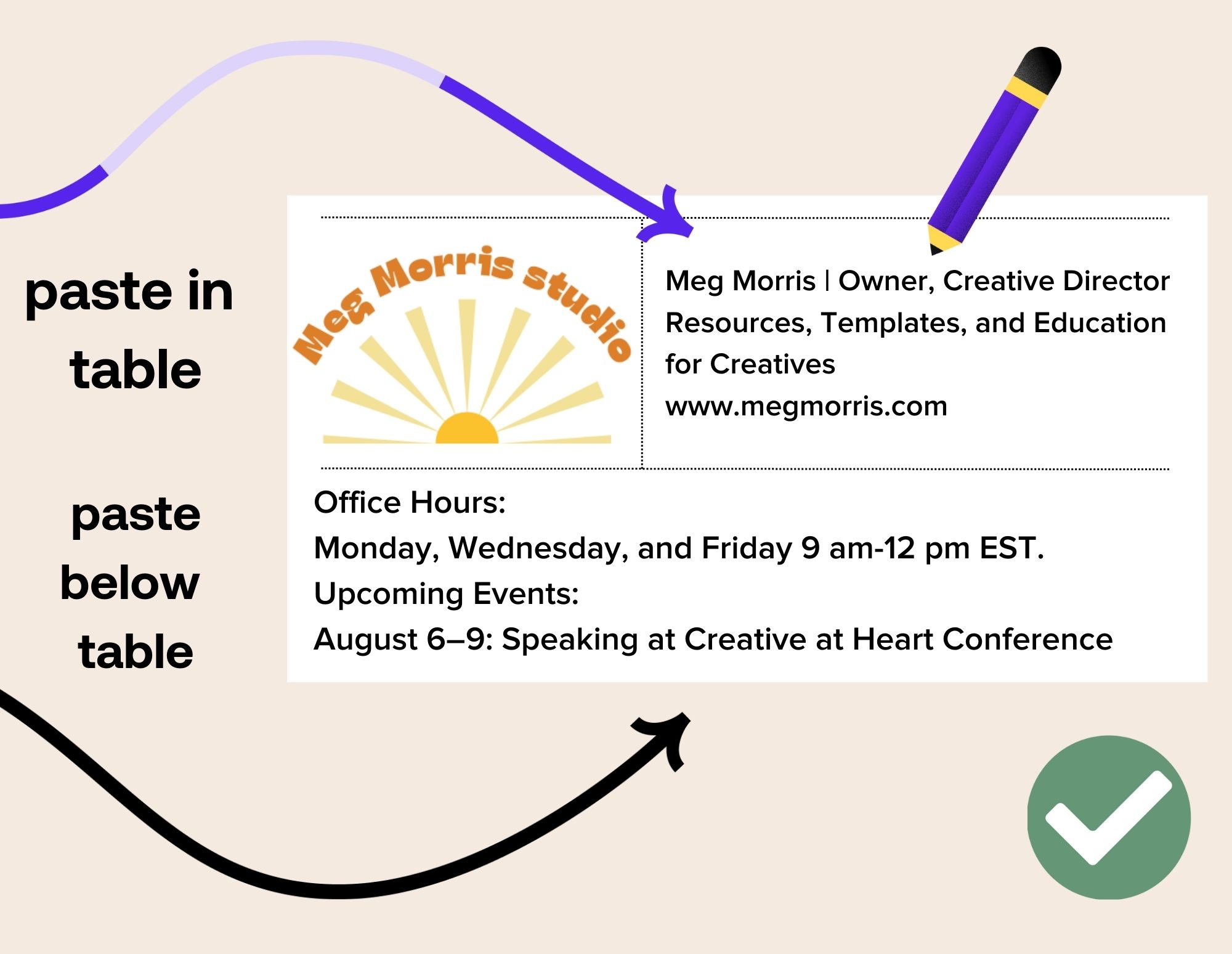 Step 2: Add your drafted signature table to Gmail and make it fancy
Open up Gmail. In the top right corner, you will see an icon that looks like a gear. Click that and in the drop-down that appears, click "See all settings."
Once in Settings, we will be working in the "General" tab that is automatically selected. Scroll down about mid-way through and you will see a text box in the "Signature" section.
Paste your copied table into the blank text box. Your colors and text should look how they did in the Google Doc. Sometimes the links may not paste correctly from Google Docs. If Gmail doesn't automatically create a link for your website(s), make sure to link them here.
Adjust the size of the logo in the column using the preset buttons. When you hover over the image, you'll see options for small – medium – large – original-size images. Select whatever looks best given the size of your text. If the image is too large or too small regardless of setting, try resizing the file using Preview or a free app like Canva online.
If you are happy with the Gmail signature as-is, go you! If you want to make it just a bit more visually interesting, you can edit your signature in Gmail by inserting the social media button images of your choice. I have ones that I made for my brand, but there are plenty of websites and shops where you can snag a fun set of pre-designed social buttons if you aren't a designer.
To add these small social icons, put your cursor back in the right-hand text column of your signature at the end of the last line of text. Hit "Enter" or "Return" to create a new line for your buttons.
To upload your social media button images, click on the Insert Image icon, you can choose to upload all of the buttons you will use at once. Once uploaded, select the icon you want to appear first and click "Select." Your first icon will appear in your signature.
You will want to pre-size your social buttons appropriately outside of Gmail to fit correctly.
Depending on how your social button is designed, you may need to manually add some space before you insert the next button. Hit the spacebar once and then repeat the process of inserting your individual button images in your signature until they are all inserted. If you need a little more space in between each button, you can do so by going back with your cursor and hitting the spacebar as needed. Play with the spacing until it looks nice.
To link your buttons, simply highlight each one individually and click the "Link" icon. Input your custom link pointing to your social platform. If you don't have any additional text to go below your table, you are done! Save your signature and pop the bubbly for today's win!
If you have extra text to plug in below your table, put your cursor all the way to the right of your table in Gmail and hit "Enter" or "Return" to create a new line, head back to Word, copy and paste your additional information, and paste it underneath your table in Gmail. Fix any spacing issues as desired and save that bad boy. You are done.
High five on your fancy new Gmail signature.
Use your Gmail signature to improve your client communication
Using a professional Gmail signature is a great way to improve your client communication. Clients and leads will build more trust with your brand when they see your branding present there, versus just "Sent from my iPhone."
But, client communication is more than emails. You also need to make sure you're keeping your clients in the loop with your projects, responding in a timely manner, and referring back to previous conversations.
That's where HoneyBook comes in. As a clientflow platform, it enables you to manage the entire client experience as well as your back-end work. You can use a client portal to let your clients in on progress and give them one place to see everything. Plus, email automation lets you take work off your plate while communicating at the right moments.