Learn how to format a signature in Gmail and make it visually appealing, actionable and professional!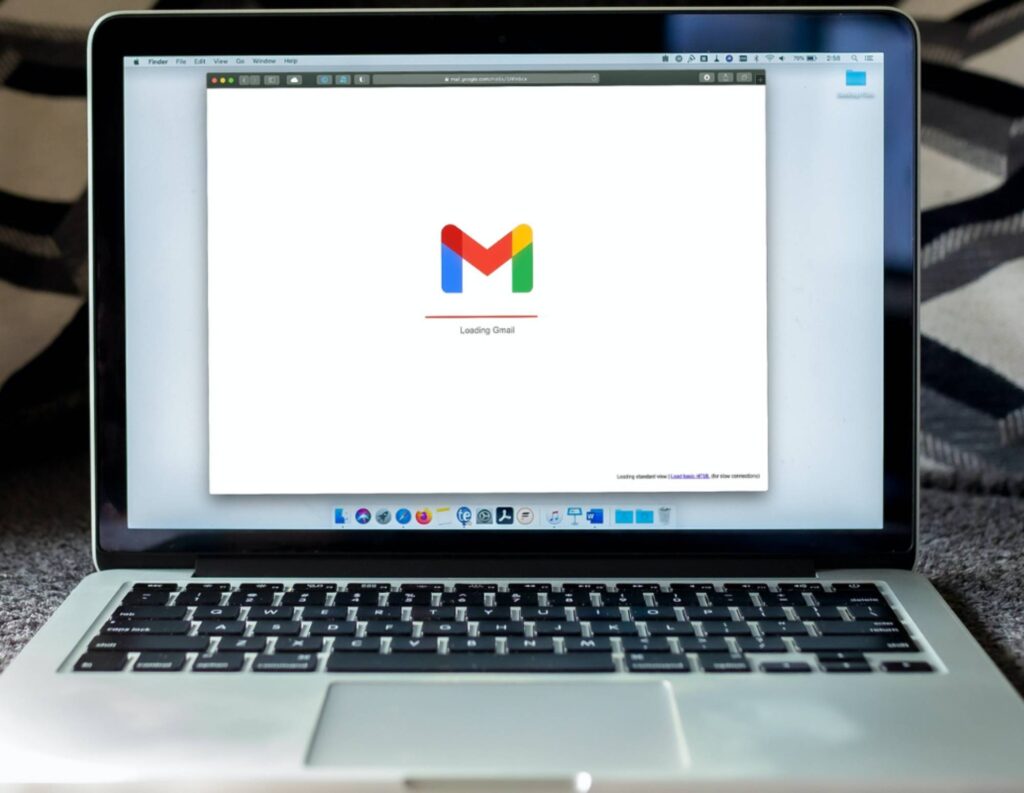 Have you ever wondered how your industry peers made their Gmail signature look so good? You know the ones that have a pretty headshot or a logo mark along with important information like their title, website and contact information plus some social media buttons? If you've tried and failed to figure out how to make your email signature go from drab to oozing with professional style, I have got your back! I am going to give you the step-by-step instructions for how to achieve this for your own Gmail signature. And I promise you it is easy to do!
Why Gmail, you ask? Well, Gmail remains one of the top used email clients around, trailing only behind Apple iPhone in tracked opens based on a study done on 2021 email market share by Litmus. I also know that many small business owners tap into Google's G Suite to manage their inbox and other heavily used Google based internet apps, so by popular demand, Gmail it is!
Popular Gmail Signature Editing FAQs
I use Google Chrome as my Internet Browser of choice. If you follow the steps below and have issues with your signature not pasting correctly (fonts and colors not carrying over or your table border reappears) in Gmail, try using Chrome to complete this tutorial.
I have heard that in some instances, Gmail gives an error message when trying to add a signature to Gmail. Try Chrome! If that fails, try Microsoft Edge (or another browser of choice). It could be a browser problem. Once your signature is actually saved in Gmail, it will appear in all browsers (even Apple iPhone) correctly.
You can follow along with the steps spelled out below, or watch me make it happen in the tutorial video! In the video, I teach you the entire process to add a signature to Gmail, plus give you a quick rundown on how I add headers to the body of my actual emails using Canned Responses.
Step 1: Draft Your Gmail Signature in Microsoft Word
Yep, you read that right. We aren't actually going to design your signature in Gmail's settings interface. Just trust me here!
Open up a new blank document in Word.

Before we get to any of the pretty, go ahead and type out all the information you want in your Gmail signature. Things you may want to highlight include your name, your title, your tagline, your website, a prompt to join your newsletter, office hours, upcoming out-of-office dates, an inspiring quote, and/or your contact number. Example:

Megan Martin | Owner, Creative Director
Resources, Templates, and Education for Creatives
www.meganmartin.net
Upcoming Events:
August 6-9: Speaking at Creative at Heart Conference

*If you don't want to include actual "buttons" (or images) for your social media handles, include it in your signature as text. Example:
Megan Martin | Owner, Creative Director
Resources, Templates, and Education for Creatives
www.meganmartin.net
Connect with me on Instagram | Facebook | Pinterest

Once you have your information laid out just right, go ahead and highlight your text and style it with your brand colors and a font of your choice. Example:

Megan Martin | Owner, Creative Director
Resources, Templates, and Education for Creatives
www.meganmartin.net
Upcoming Events:
August 6-9: Speaking at Creative at Heart Conference

Technically if you just want a text only signature, you could just copy and paste your work straight into your Gmail Settings under "Signature" to create your signature in Gmail, but I'm going to assume you want to jazz it up even more with a picture or logo and maybe some social buttons! To do this, you need to create a Table in Word. A table is basically a structure that creates "columns" for you to input whatever information you want. – While still in Word, click on "Insert" in the top tools menu. In the menu that drops down, right underneath "Insert," Click the drop-down arrow under "Table." In the drop-down menu, click on "Insert Table."

A pop-up will appear over your document for you to format your table as needed. In this blog post example, I am using 2 columns (one for my logo and one for the text created just a few moments ago) and 1 row. You can use as many columns or rows as you need, but for simplicity's sake, let's work with the 2 to 1 ratio. Under "Autofit Behavior" select "Autofit to Contents" to ensure a proper fit to your design elements. Once you have configured your Table, click "Insert."

A small outlined (blank) table will now be in your document. To fill in the table, simply highlight your signature info text as created above, copy it, and paste it into the right side of your table.

If you have a lot of information in your gmail signature, you may not want to include all of your pre-typed text into this table. That way your image to the right won't have to be huge! In the example below, I would only put the first block of text in my table and the two additional blocks copied and pasted as plain text underneath my table once I get in Gmail. Example:

Megan Martin | Owner, Creative Director
Resources, Templates, and Education for Creatives
www.meganmartin.net — this block would be put in my table!
Office Hours:
Monday, Wednesday, and Friday 9am-12pm EST.
Upcoming Events:
August 6-9: Speaking at Creative at Heart Conference

The left side is where your image of choice will go. But you won't plug that in here in Word. That will happen when you change your signature in Gmail. We are almost done in Word, but there is one more step: Removing the border lines of the Table. To do so, hover your cursor over the icon that looks like a + sign in the top left corner of your table and click it. A dialogue box will appear giving you table styling options. Click the square icon that has a + in the middle with a black line on the bottom (Borders). A drop-down menu will appear. Click on "No Border."

Your table will now have no borders and be ready to plug into Gmail! To copy the entire table, including the left column that is waiting patiently for an image, hover again on the icon in the top left corner of your table and click on it. This will highlight the entire table. Copy it and let's move on!
Step 2: Add Your Drafted Signature Table to Gmail & Make it Fancy!
Open up Gmail. In the top right corner, you will see an icon that looks like a gear. Click that and in the drop-down that appears, click "Settings.
Once in Settings, we will be working in the "General" tab that is automatically selected. Scroll down about mid-way through and you will see a text box in the "Signature" section.
Paste your copied Table into the blank text box. Your colors and text should look how they did in Word. *Note: If Gmail doesn't automatically create a link for your website(s), make sure to link it here!
Time to insert an image in the left column! To do so, you want to click to the left of your text column. *Note: Make sure you don't click too far to the left. Because you can't see your table borders, you could potentially put your cursor outside of your table to the left. You'll know if you made that hiccup after you insert your logo if your text bumps below the image. Try to position your cursor smack dab in the middle of the edge of the text box to the left and your signature text to the right and you should be good! In the text box tool menu right above your table, select the "Insert Image" icon (looks like a picture with a mountain). In the popup that appears select "Upload" at the top to upload your image into Google Drive.
Once you upload your image and click to "Select" it into your signature, you will see it appear to the left of your text! Woohoo! *Note: You'll want to pre-size your image to your liking before uploading to Google so it will fit just right!
If you are happy as is, go you! If you want to make it just a bit more visually interesting, you can edit your signature in Gmail by inserting your social media button images of choice. I have ones that I made for my brand, but there are plenty of websites and shops where you can snag a fun set of pre-designed social buttons if you aren't a designer. To make this step happen, put your cursor back in the right-hand text column of your signature at the end of the last line of text. Hit "Enter" or "Return" to create a new line for your buttons.
To upload your social media button images, you will do the same process of Inserting an Image as you did for your logo. Once you click on the Insert Image icon, you can choose to upload all of the buttons you will use at once. Once uploaded, select the icon you want to appear first and click "Select." Your first icon will appear in your signature.
*Note: As mentioned above, you will want to pre-size your social buttons appropriately outside of Gmail to fit correctly.
Depending on how your social button is designed, you may need to manually add some space before you insert the next button. Hit the spacebar once and then repeat the process of inserting your individual button images in your signature until they are all inserted. If you need a little more space in between each button, you can do so by going back with your cursor and hitting the spacebar as needed.
To link your buttons, simply highlight each one individually and click the "Link" icon and input your custom link pointing to your social platform. If you don't have any additional text to go below your table, you are done! Save your signature and pop the bubbly for today's win!

If you have extra text to plug in below your table, put your cursor all the way to the right of your table in Gmail and hit "Enter" or "Return" to create a new line, head back to Word, copy and paste your additional information, and paste it underneath your table in Gmail. Fix any spacing issues as desired and save that bad boy! You are done
High fives on your fancy new signature! I just know it is going to wow your crowd!
Pro Tip: Use a small business management platform that will help you organize your business (and yes, generate email signatures!).