"I'm worried that if I share my truth on social media, people will think I'm a joke," one female entrepreneur shared with me recently.
"I want to find a way to authentically connect with my audience, but also to leverage that into revenue," another solopreneur food truck vendor shared.
"I know my (small) audience could really make use of what I have to say, but it just feels wrong… I feel nobody would be interested in what I have to say," a VA wrote to me.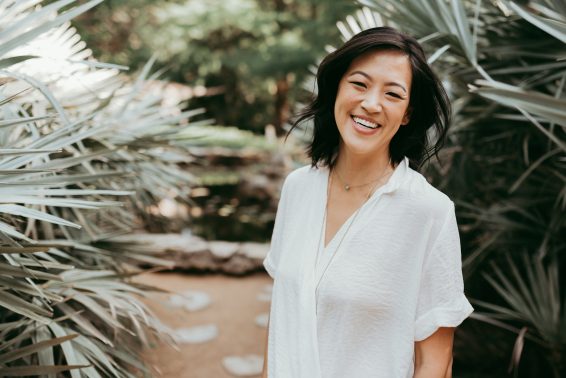 These #bossbabes have amazing stories, content burbling from within, yet because of their own mindsets, they've already created barriers to success before even getting out there.
It's a common trend I see happening with the female entrepreneurs I work with, powerful women doubting themselves and not knowing how to show up online to attract their ideal clients or dream revenue.
Here's the thing: From the beginning of time ever after, there will NEVER, EVER be another you.
That's why you're here, on this planet, in this way — you have a purpose the world needs to hear, and I truly believe there are infinite ways to blend purpose WITH profit, so that you can shine your light in the world.
Best of all, when you radiant from your personal contentment, you illuminate the path for so many other women to do the same and now, more than ever, that's precisely what our world needs.
As a mama of an almost three-year old precocious girl named Wilder Love, I advocate for every woman to find her path and her greatest calling, because I hope that by cultivating this tribe of awakened women pursuing their passions in an authentic way, my daughter can grow up in an environment where she will be nurtured and supported by the feminine energy around her.
As Natalie Franke so often puts it, it's all about #communityovercompetition.
And, because each of our stories are so individualized, it's counterintuitive to learn that the more specific you're willing to get with your own narrative, the more that your ideal clients will resonate with you, gravitate towards you, and become your raving fan.
I'm speaking from experience. If you Google my name, you'll find that I've penned countless articles for everything from MindBodyGreen to MasterCard to even drafting up brand content for Manduka Yoga. Along the way, every time I dove into my truths and shared it with hundreds of thousands of readers, I would get emails from strangers (both women and men) around the world, who thanked me for sharing.
I helped pull them out of their isolation, their shame, their guilt. I helped them know they were not alone.
Simply by speaking my truth.
If you really want to stand out in a crowded online space, the best way to do that is to hone your story and start sharing it in a way that's truly irresistible.
To start, think about your heroine's or hero's journey a la Joseph Campbell. At one point in your life, you were called to go against the grain, to pursue what your heart wanted you to do, even if your head thought it was a little crazy.
You began to take steps towards those dreams. Sometimes, they were leaps. Sometimes, they were micro-shuffles.
Then, the world around you started speaking up. Usually, it shows up in family members expressing concern or those you trust the most starting to show doubt.
All of this causes you to doubt, too.
You begin to wonder if this is truly what you're meant to do. If you have the moxie and the ovaries of steel or the cajones to stand up and stand out.
Along the way, a mentor shows up (and sometimes, this is just pure serendipity and synchronicity demonstrating that the Universe believes in you, even when no one else may). This "mentor" empowers you to find yourself in a whole new way.
But, you're still challenged. You grow and you evolve and the Universe often asks, "Are you sure?" so you can say, "Hell, yes!"
Then, you are changed. And, by your changing, you come back to your original starting point, ready to empower others along the journey, too.
This is the Heroine's Journey or the Hero's Journey. It's not easy, but it's the one we crave to hear and know more about.
If you can get clear on this, you've got the core story that you need to be sharing everywhere — from social media to interviews to conversations every day.
It's time for you to get out there and get seen, because playing small never served anyone, least of all you.
And, when you're doubting if you were meant to do this, just remember… you were born to thrive.
For more ways to thrive, including a free gift of five 60-second tips that'll save you 10 hours a week, visit www.wildheartedwords.com.