Use these mission statement examples and helpful tips to create one for your business. Use your statement to guide your team and help show clients what makes you unique!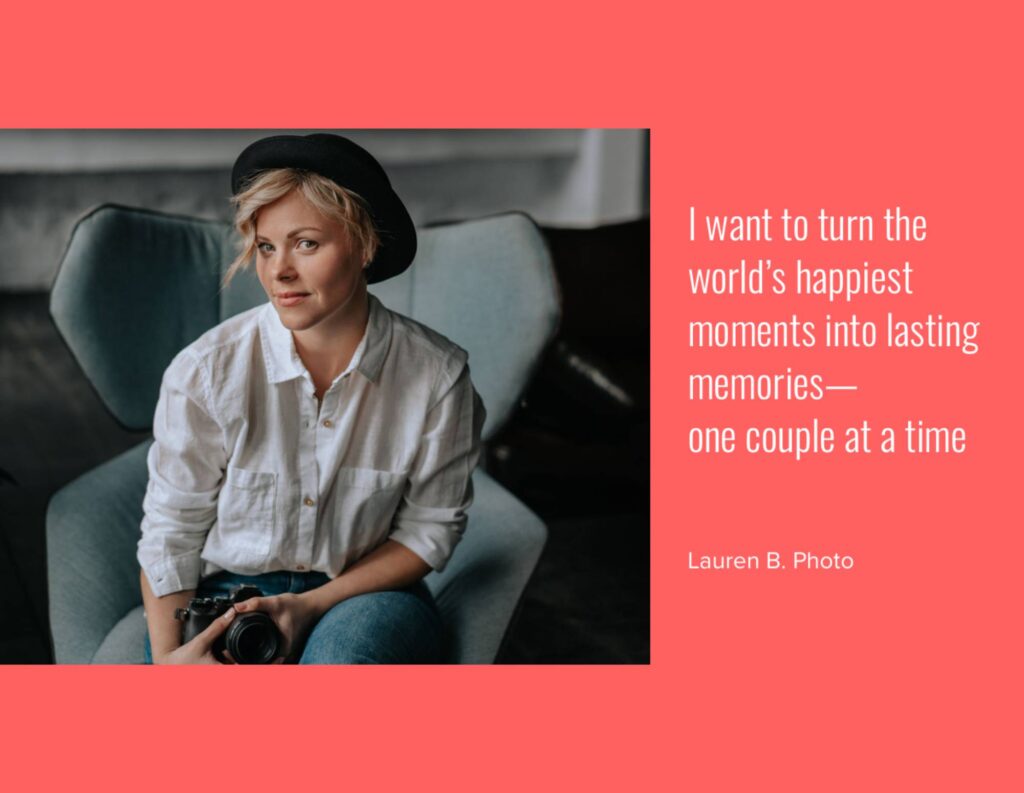 Creating a team mission statement is important for your income, strategic business direction, happiness and more. It's one piece most small business owners often forget about. But it's not just having a mission statement that matters. It's also the process of sitting down and figuring out (and consistently revisiting) what's important to you and your business that will propel you forward.
What exactly do you do? Who are your target customers? How do you help them? And what makes your business unique (that is, why should your customers choose you)?
To help you answer these questions, we've rounded up everything you need to know about the purpose of a mission statement as well as 25 of the best mission statement examples. From iconic brands to independent business owners like you, these mission statement ideas will get your creative juices flowing.
What is a Mission Statement?
A mission statement defines your company purpose in a short sentence or paragraph. Since it's so short, it seems like it would be easy to come up with, but it can be challenging creating one single statement for your business.
One helpful way to think about it is that your mission statement focuses on the main reason why you went into business. The statement should inspire people who read it, including your clients and employees. Furthermore, it helps paint a picture of what people can count on from your business in the long term.
Still struggling? Think of the "what" and the "why" behind your business. What do you offer, and why did you decide to create your company? What is your solution? You don't necessarily need to mention your products and services. Instead, focus on how those products and services impact your clients and community.
When writing your statement, you might be confused about the difference between mission and vision. A vision statement focuses more on where you want your company to be in the future, while the mission statement is how you get there. Your vision statement may change, but the core mission should generally stay the same.
25 Mission Statement Examples You'll Never Forget
The best way to write a mission statement is to see how others create theirs. Learning by example can help you better understand what makes up a mission statement and what you feel after reading one. Explore these 25 ideas below for more inspiration:
Laura Lee Creative, photographer and business consultant: To give people the tools and business systems they need so they can stop sacrificing their life for the sake of being a business owner.
Emilie Steinmann, Copywriter: To support serious CEOs in their quest to gain loyal customers and naturally increase their bottom line by writing captivating copy.
Tea Drops: We create magical tea moments that connect you to what's important. Whether that be connecting to your friends, community, or even yourself.
Nike mission statement: To bring inspiration and innovation to every athlete* in the world. *If you have a body, you are an athlete.
Apple mission statement: Apple's more than 100,000 employees are dedicated to making the best products on earth, and to leaving the world better than we found it.
NASA mission statement: Drive advances in science, technology, aeronautics, and space exploration to enhance knowledge, education, innovation, economic vitality and stewardship of Earth
Cultivate What Matters®: Our mission is to encourage community and provide accountability to help women take action on their meaningful goals. We are better together, friends. Our mission is to help each other cultivate what matters. Powerful goals change lives.
Google mission statement: Organize the world's information and make it universally accessible and useful.
Starbucks mission statement: To inspire and nurture the human spirit – one person, one cup and one neighborhood at a time.
Target mission statement: We make Target our guests' preferred shopping destination by delivering outstanding value, continuous innovation and an exceptional guest experience—consistently fulfilling our Expect More. Pay Less.® brand promise.
Coca Cola mission statement: To refresh the world in mind, body and spirit. To inspire moments of optimism and happiness through our brands and actions.
Christina Scalera, Attorney: Our mission is to preserve and improve the special relationships you work so hard to cultivate as an entrepreneur. We believe a solid definition of these relationships through contracts sets a trustworthy foundation, no matter how much or little experience you have.
Amazon mission statement: To be Earth's most customer-centric company, where customers can find and discover anything they might want to buy online, and endeavors to offer its customers the lowest possible prices.
Microsoft mission statement: Our mission is to empower every person and every organization on the planet to achieve more.
Adobe mission statement: Only Adobe gives everyone — from emerging artists to global brands — everything they need to design and deliver exceptional digital experiences.
Southwest mission statement: The mission of Southwest Airlines is dedication to the highest quality of customer service delivered with a sense of warmth, friendliness, individual pride, and company spirit.
Candice Coppola, small business coach: Encouraging creative entrepreneurs to live and work on purpose.
Squarespace: Squarespace makes beautiful products to help people with creative ideas succeed.
InVision: Good design is good for business.
Disney mission statement: To be one of the world's leading producers and providers of entertainment and information. Using our portfolio of brands to differentiate our content, services and consumer products, we seek to develop the most creative, innovative and profitable entertainment experiences and related products in the world.
HoneyBook: Empower the independent business economy to rise together, doing what they love.
Johnson & Johnson: Our mission is to make diversity & inclusion our way of doing business. We will advance our culture of belonging where open hearts and minds combine to unleash the potential of the brilliant mix of people in every corner of Johnson & Johnson.
Etsy mission statement: Our mission is to Keep Commerce Human. People make Etsy possible. We provide a meaningful space for sellers to turn their creative passions into opportunity. We enable buyers to discover unique items made with care. And we treat our employees and our community with respect. We're here because the world needs less of the same and more of the special.
The Mrs. Book: The Mrs. Book is a timeless wedding journal heirloom, dedicated to helping brides document and delight in the once in a lifetime moments—big and small, inspiring and unknown—that make up the journey of their wedding day dreams.
Southwest Airlines: The mission of Southwest Airlines is dedication to the highest quality of Customer Service delivered with a sense of warmth, friendliness, individual pride, and Company Spirit.
What Makes a Good Mission Statement?
These mission statement examples stand out from the crowd by including the hallmarks of an impactful mission statement. Check out our handy checklist of mission statement dos and don'ts to make sure your mission statement passes the test.
In general, your mission statement should be relatable, natural, emotional and specific. It doesn't need to be highly technical, and you don't need to include every little detail about your business. Above all, a good mission statement makes the greatest impact in the most concise way.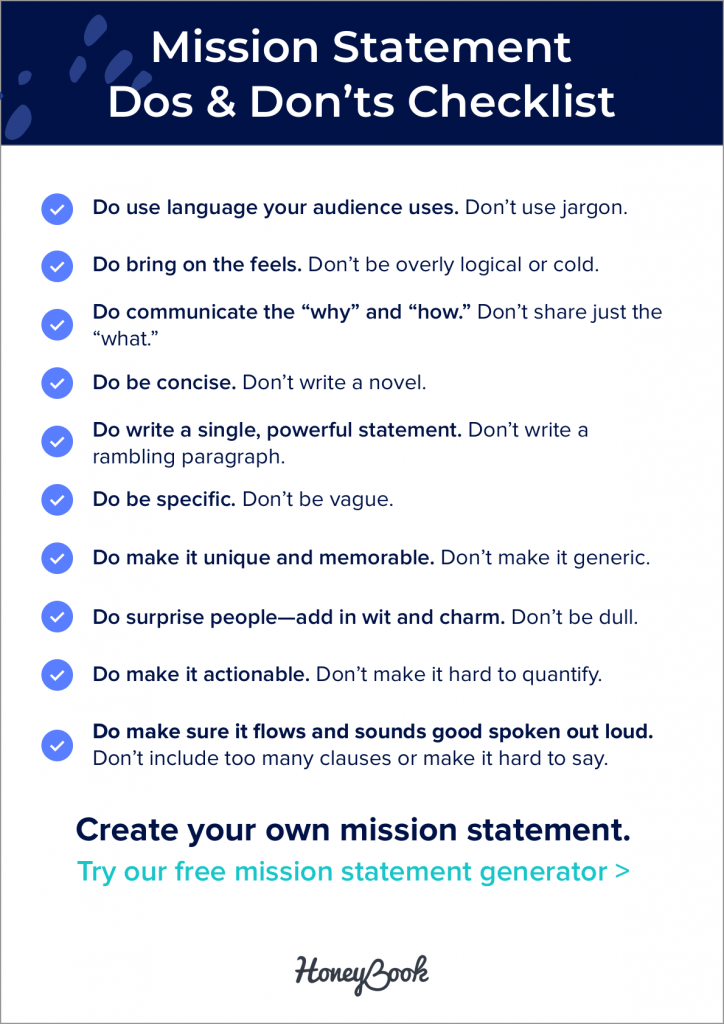 How to Use Your Mission Statement
Once you have your mission statement, it'll come in handy for a variety of purposes. Internally, you can use it when onboarding new employees and keeping everyone on the same page about your overall purpose.
You can also use it in everyday life as you go about your projects. Include it in your social media profiles and your email signature. At the very least, add it to your business website and your client-facing materials like branded brochures. The more people see it, the more it helps build your brand and help clients and partners understand your business. It can also help you build community when it comes to networking and teaching others about what you do.
Need a Mission Statement?
Looking for a little more help to write a mission statement? Create your own with our free mission statement generator. It's fast, free and easy. Just follow the prompts (fill-in-the-blank style) and our handy tool will create a unique mission statement just for you.
We also provide helpful tips for writing your mission statement and even more examples so you can make sure it captures what makes your business unique. Our client management software for small businesses will propel you forward in your business.