This week, we discovered an amazing new platform that has the potential to be a game-changing addition to the creative industry. It's called Anchor. Described as radio reinvented—it gives anyone the ability to record audio, host interviews, and even launch a podcast using their phone.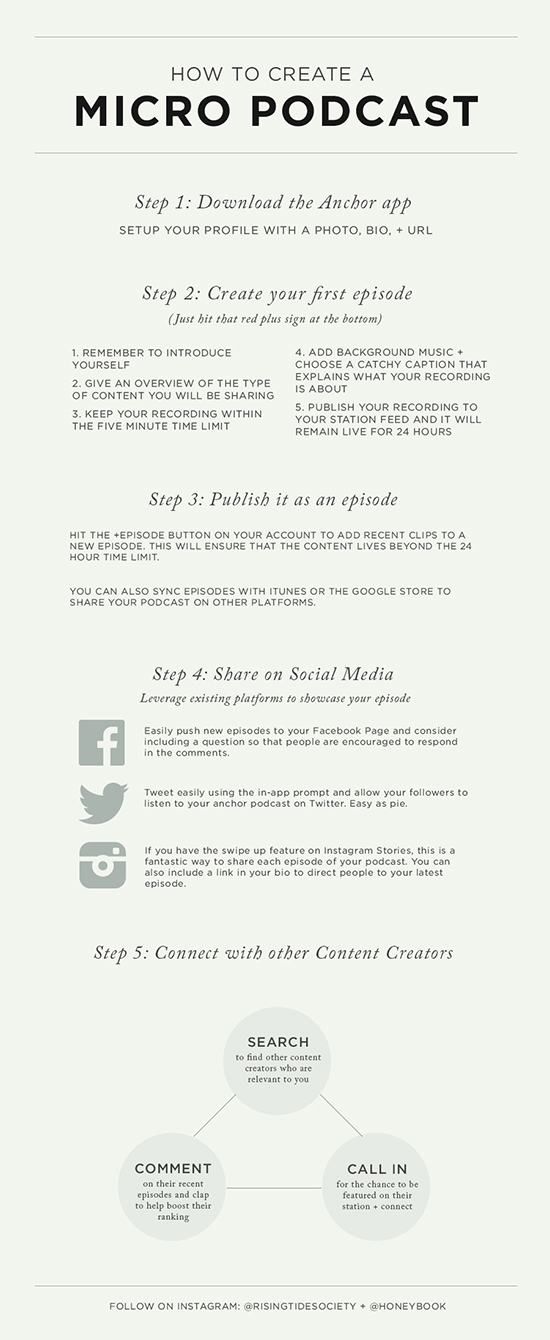 How it works:
You download the app and easily create your profile. You can record your audio in second, swipe to add background music, and publish it to your Anchor station.
Audio stays live on your station (think of this like an InstaStory or Snapchat) for 24 hours and has a time limit of 5 minutes. If you'd like to turn a clip into an episode, it can live in perpetuity under the episodes section of your account.
You can even stitch together different clips to create an episode and easily push that content to iTunes or the Google Store. Yes, that means you can use this app to create and publish your own podcast… in minutes. Anchor hosts your content and easily distributes it for you. Isn't that awesome?!
Why we love it:
The platform is in its infancy which means that the playing field is more level and it is easier to get your content noticed (Fewer content creators than on YouTube, iTunes, Instagram, etc.)
Audio content doesn't require you to be "camera ready" and is perfect for anyone who dreads the idea of going on FacebookLive or InstaStories
MicroPodcasting as a format is short, sweet, and to the point. Each clip is limited to 5 minutes (although episodes can be longer compilations of shorter 5 minute clips)
Calling into a station enables your episodes to feel more conversational and gives episodes a more dynamic feel
But, what if you already have a podcast? No worries! You can even move your podcast over to Anchor for free, unlimited hosting.
One of the features we love most is the ability to create an episode from an audience member's message, known as a call in. In the mini-episode above, we responded to a message from a fellow content creator and tackled the topic of community over competition. The potential for creatives to use this app to collaborate is also a massive perk.
Follow Our Team on Anchor:
There are so many creatives who have brilliant ideas to share and have been thinking of starting their own podcast. Anchor is gives anyone the ability to own their own radio show or produce their own podcast. No need for an expensive microphone or audio editing software. You simply lift the phone, start speaking, and the rest is history.
RTS Creators We Are Loving:
We cannot wait to see the content that this community continues to produce in the coming days and weeks. We'll be sharing our favorite episodes from the community as well on our social channels too!
*Note: We are not affiliated with Anchor in any way. We are not being paid to write this review. We fell in love with this App, started playing around with it, and truly believe that it could give so many in our community a space to share their voice.