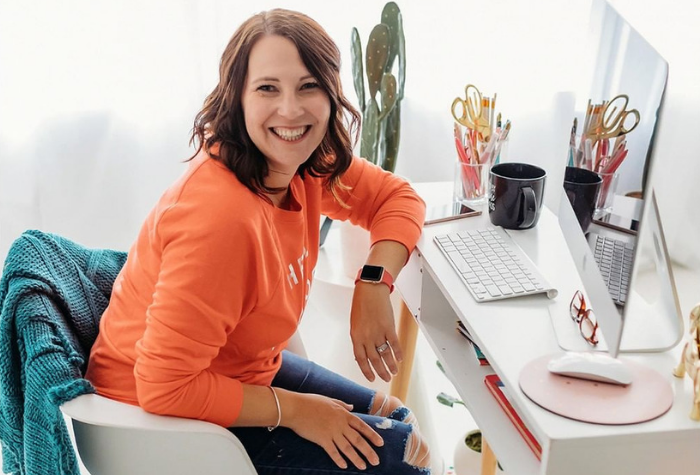 If you haven't heard it yet – client experience IS the new brand!
So when it comes to unpacking your client experience and creating one that treats your clients like royalty (so that they keep coming back) there are a lot of steps and touchpoints that you need to take into consideration.
The good news is that at the end of this post I'm going to offer you an opportunity to do just that with me in a FREE 7-day challenge! but let's not get ahead of ourselves.
First, we need to cover the most important questions about the client experience. These are questions that you've likely asked yourself before but may have never seen covered in a blog post like this.
Let's imagine that we're sitting together in a live, in-person masterclass. The microphone is being passed around the room and I'm answering all of the questions that you have about offering a top-notch client experience.
In this post, we're going to dig into the challenges that are keeping you from serving your clients the way you want.
A Hard-Hitting "Roundtable" of the Most Important Client Experience Questions to Address in Your Photography Business
Okay, I can hear you saying "Is this thing on?!" – The floor is yours and I am smiling at you from the stage. Let's dive into the Q&A action.
How can I set realistic expectations on communication?
When it comes to communication, we all have the same mistakes that challenge us. Each one of us has been guilty of replying to a client outside of business hours and then continuing the conversation long after the initial response. Or can I be so bold to say that we don't even have business hours established!
While it is important to respond to a client in a timely manner so that they feel heard, understood and prioritized, we also have to set boundaries (and communicate those boundaries).
From the very first time that we respond to a client outside of our business hour, we give them permission to expect to get a hold of us at any time of the day or night. This leads us to spend more time on our phones than enjoying our own lives. Treating your clients like royalty does not mean responding to their every whim.
So how do we fix this? I have two simple fixes for you:
1. Include your office hours in your email signature
This means that every time your client receives an email, they are reminded of your hours. This way your clients won't be surprised when you don't respond right away or feel like you have abandoned them.
2. Include communication guidelines in your welcome packet attached to your inquiry response email
We all know that our clients will always have questions. But, it's best to outline how you work, the details they need to know and when they can expect to hear back from you at the beginning of your client relationship so that they know what to expect.
Now, this won't prevent your clients from reaching out to you outside of your office hours, but it does set expectations of why they can expect to hear back from you. This communicates that you will be accessible to them (within reason) and that you are a professional who runs an organized and well-structured business.
So many of us business owners think that going "above and beyond" to serve our clients means that we have to respond instantly or always be "on" for them. That's simply not true. When your business hours and response times are part of your initial and ongoing communication, you can serve your clients effectively without having to be available 24/7 for them.
For example, if you're a photographer and your client texts you at 8 pm to ask about an outfit for her family session, you can rest easy knowing that you are not expected to reply until your business hours begin the next day.
When it comes to my own business communication, HoneyBook plays a huge role. All of my client correspondence takes place on the platform, my signature includes my office hours and communication turnaround time, and all communication is kept in one place, which helps me stay organized and manage my process efficiently.
Okay, on to the next question…
Why is it that some clients love me and keep coming back, while others seem less sure?
Well, here is a hard-hitting question—did you give them both the same experience?
Be completely honest with yourself. Did you drop the ball anywhere? Did you love on them both equally? Did you go above and beyond for each client?
The best way to combat a feeling of having let your client down is to have a strategic client experience procedure where you know that everyone you work with is receiving the exact same experience every single time. From the initial inquiry to the final thank you, each client deserves to feel like the one and only.
By planning out each step in your client experience you can make sure that clients know they invested in and doesn't feel like they're being treated differently. For example, you want each client to receive:
The same welcome materials
The same gifting experience
The same expectations for delivery of work
When your experience is planned out, you can build a strong relationship with your clients, accurately plan your work days and have the confidence that you're providing a consistent experience that will earn you repeat business and clients for life.
Bonus, creating a detailed workflow in HoneyBook is exactly how I know where I am with each client. This tool helps me feel confident that I am providing the same experience for everyone!
There are so many different templates for photographers (welcome packets, what to wear guides, price sheets, etc.), how do I know what I should be creating now and what I can save for later?
I know exactly what you are saying. It is hard as a brand experience designer to even know what to include in my own packages because I want everything to be valuable for my clients.
In my experience both as a client and as a designer, the most important thing is to put in the time to map out your client experience.
Doing this will help you to know what information you need to provide your clients, which will inform what kind of brand collateral you need to create to elevate your client experience.
Once you have your plan, create a checklist of collateral that you need to create and then work on them one by one!
It's a waste of time (and money) to purchase big packages of "pretty" templates without knowing exactly what you need first. You end up spending too much time trying to customize them, which can lead to even more time wasted when you send them to your clients "just because."
BUT when you have well-planned and well-thought-out brand collateral, you will save your money, your time and your clients time.
There is one thing that I firmly believe all businesses should have and that's a Welcome Packet. This goes a long way to making you look like the professional that you are, plus it answers all of your client's initial questions up-front and lets them know that you are going to provide this kind of elevated experience throughout your time together.
While your Welcome Packet should be thorough, creating one that includes everything and the kitchen sink is not the right approach. You know how busy you are, so image your clients are too and there's no way someone is going to sit down and read through a 50-page guide to working with you.
So you have to be strategic at what you include, send collateral out in steps or pieces so it is digestible, and provide only what they need to know at the time they need to know it and then build on that. Otherwise, you are again wasting your time and theirs because you will have to educate them again on all the things you included in the Welcome Packet but they didn't read because it was too long. Big mistake – huge! (as says Pretty Woman)
Now, before we wrap up this mini Q&A session, I do want to share one extra bit of wisdom that is imperative while creating your client experience..
Be sure to create a personalized connection.
This means that instead of just automating the heck out of your process, be sure to include real moments where clients can connect directly with you.
Using your brand and website to create a connection with your potential clients is only the beginning. By continuing the connection with clients before they work with you, you ease some of those "nervous nellies" at your session because clients feel like they already know you.
But make sure you're creating an authentic connection. Showing up as who we really are on the day of the session is SO important. If you pretend to be someone you're not online, on your social media and via email, clients will sense a big disconnect when you meet in person and leave feeling confused.
So, when you create personalized touchpoints and show up as yourself, you truly show your clients that you have integrity and are invested in them. And, integrity and investment are two great pillars for a royal client experience.
Are you ready to create a better client experience so you are treating each and every client like royalty?
If you just shouted, YES! And, you are ready to create a better client experience that truly serves your clients, communicates your heart of gratitude and commitment, and attracts more clients to book you, I invite you to sign up for my free "7 Days to an Elevated Client Experience" challenge.
In this 7-day challenge, I'm personally delivering a daily tip to your inbox with a small actionable steps you can take that day to improve your client experience.