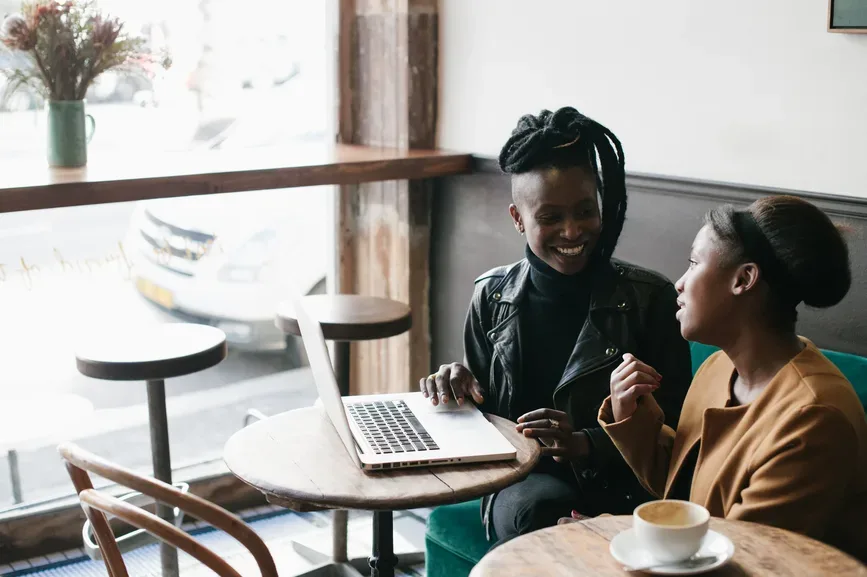 Instagram is still one of the most powerful platforms to reach and engage with your ideal client. Your bio is a critical component of creating a successful business account. Crafting an Instagram bio that grabs your target audience's attention and leaves them wanting to learn more should be a key priority for every independent business. So ask yourself, is your bio telling your ideal client exactly who you are and why they should hire you? If not, it's time to update your profile. Not sure what to include in your bio? We've all been there! But with over a billion monthly active users, Instagram is a social media platform that independent businesses can't afford to ignore anymore. If you struggle with writing a compelling Instagram bio and feel like you need a refresh, today's tips will help.
What is an Instagram bio and why does it matter?
The Instagram bio is the first thing followers see when they go to your profile; it's the attention grabber. If you're using Instagram for your business, you'll want to develop a bio that catches your audience's attention as soon as they land on your profile. Your bio includes your brand name, description, and a single link. In this article, you're going to learn how to utilize all of these features best to ensure that you craft the best Instagram bio for your business. The name field has the power to connect your business with followers who are ready to engage with your content. The more straightforward the name field is, the better. The description is the section right under the name field and has a limit of 150 characters. So it takes creativity and personalization to stand out and show what's unique about your business. Lastly, the unique link is your one opportunity to drive traffic to your website right from your Instagram bio. This is your opportunity to capitalize on the attention your ideal client is giving your business and convert that interest into action. This link could be to your store, a timely promotion, or a freebie that you want to use to capture leads to nurture later on. Instagram only offers this one opportunity to put an important link front and center, so make it count.
How to write an Instagram bio in 3 easy steps
Since there is a 150 character limit, writing a compelling Instagram bio to say everything you want to say about your business requires some creative thinking and strategy. Here are three things you need in your Instagram bio to attract new followers and convert them into customers:
1. What makes you unique and what's in it for them?
Here's a proven formula so that you don't have to start from scratch. → I create [what service you offer] for [ideal client] who want [what's in it for them/benefits].
I create timeless images for couples who want a fun photography experience.
→ I help [ideal client] [something they desire] without [drawback].
I help brides feel and look their best in photos without the stress and overwhelm.
2. Where is your business located?
Your location needs to be clearly stated so that your followers know where you are based and which areas you serve. Be sure to mention your willingness to travel if that's relevant for your business.
3. Share a clear call to action
Always tell your followers what you want them to do next. Should they visit your website, join your email list, sign up for your mini sessions, or book their wedding date? Whatever it may be, this is your chance to get them off of Instagram and over to your website to learn more about you and your services.
6 tips for creating an attractive Instagram bio
The best Instagram bio will showcase your personality, make your business relatable, and give people a reason to follow you. Below are some key elements that you'll want to consider to create the best Instagram bio for your brand.
Use the name field to your advantage

. This field is searchable, so this will make it easier for potential clients to find you in search queries.

Use a keyword that is related to you or your business

that someone might search for. For example, "[Your Name] – Photographer", "[Your State] Florist" or "[Your Area] Marketing Strategist" might be good options for the name field in your Instagram bio.
Pro Tip: This is very helpful when potential clients scroll on Instagram and your business might just be the one to pop up. Give this a try! It will make a huge difference, I promise! 1. Use a link tool that allows you to create a personalized page that houses all the important links you want your followers to have easy access to. Currently, you can only include one link in your Instagram bio, so in order to make the most out of it, you can use a service like Linktree or even create a dedicated page for your most popular links directly on your website. 2. Include your contact information like email and phone number. This feature is available with an Instagram business profile and appears underneath your description. Not only does this allow potential customers to inquire with you directly from the platform, but it also doesn't take up any character space from your Instagram bio. 3. Use emojis or a branded hashtag if you have one for your business. Emojis will instantly make your Instagram bio attract more attention. Make sure to use different types of emojis to make your bio stand out. You can use them to point to your call-to-action link (this is proven to increase the probability of someone clicking on your link) or sprinkle throughout your bio as you see fit. Pro TIp: A branded hashtag is simply a hashtag used on social media associated with a specific brand. Here are some ideas to help you brainstorm your own branded hashtags: #YourNameCouples, #YourNameFlorals, #YourNameConsulting, #YourNameYourIndustry, #YourNameVenue etc. 1. Add a personal touch by mentioning a fun fact will make you more relatable to your followers. So, if you have any characters left to work with, it's always a good idea to use them to create a deeper connection with your audience. Some ideas could include: "🌸 Lover of all things pink", "Pup obsessed 🐶", "☕ Addicted to Coffee", "✈️ Travel enthusiast 🏕️".
TLDR; optimize your Instagram bio to convert followers into clients
Your Instagram bio is the first thing people see when they go to your profile. It is essentially your shop front, so make it count! Focus on creating meaningful connections with your followers creatively to engage your ideal client and leave them wanting to connect with you to learn more. That's what makes a great Instagram bio! If someone finds your business profile interesting enough to hit the follow button, then that means that you've done a terrific job connecting with your audience.
Ready to grow your business on social media? Get our Growing Your Business on Social Media Ultimate Guide.