Learn how to improve your marketing on Pinterest to reach more users and turn them into leads. Grow your email list and find new clients!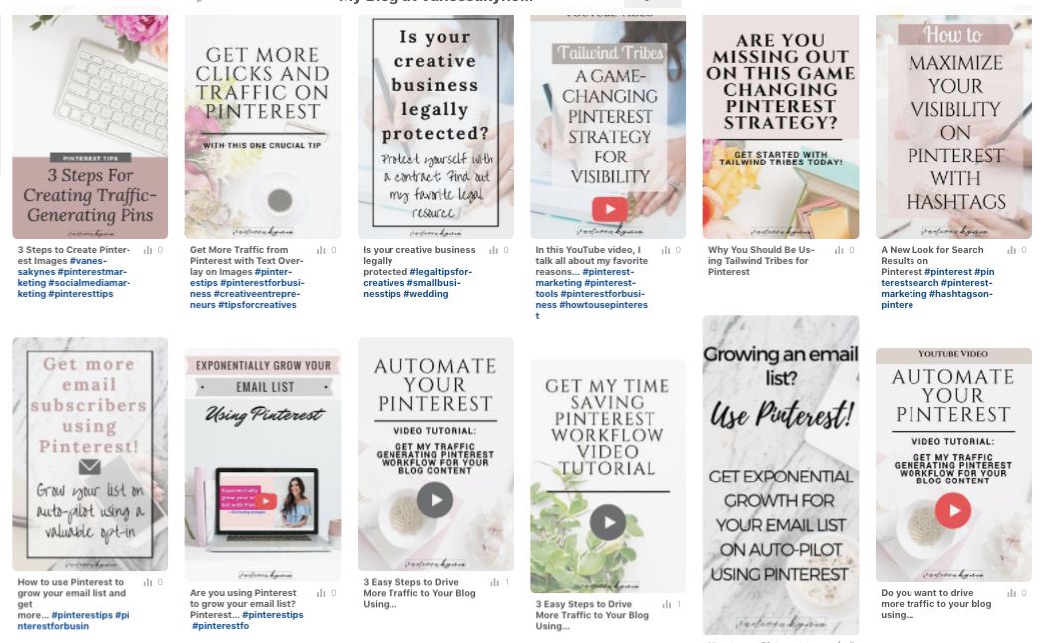 As a Pinterest marketing strategist, I've seen the exponential power of marketing on Pinterest to grow your email lists. If you're looking to improve your business's email funnel, Pinterest can be a powerful tool for generating new leads.
Pinterest currently has more than 400 billion active users each month. Though it is a social media platform, it isn't about connecting. Instead, it focuses on letting its users plan and gain inspiration.
That means that your future clients are using Pinterest to be inspired; they come looking to discover new ideas or solutions for their needs. Because it functions primarily as a visual search engine, Pinterest is the perfect place to grow your business on autopilot. By converting Pinterest traffic into email subscribers, you have the opportunity to "woo" and nurture these readers to turn them into new clients.
How to create a Pinterest business profile
To get started, your first task is to make sure that your business Pinterest profile is in good shape. Here's how you do that:
Switch to a business account—if you are using Pinterest in any business capacity, the terms of service state that you need a business account.
Optimize your profile – Add keywords and a link in your profile bio that drives to your website
Clean up irrelevant boards — If you're switching from a personal to business Pinterest profile, make any of your irrelevant boards secret. Do not delete them or you will lose followers.
Set up your Pinterest boards – Make sure you have at least 10 keyword-based boards related to your niche with 15+ pins each, as well as one personal board dedicated to your own content.

If you're a website designer, for example, some of your boards might be "Website Design Inspiration," "Website Best Practices," and "Digital Branding." From there, you can keep your pins organized and make it easier for users to find your content.
Optimizing your pins and boards
As you start to create more pins as part of your marketing on Pinterest, there are a couple of things to keep in mind. Using this checklist for each of your pins can help make them more visible and searchable, raising your chances of finding new leads.
Size images correctly – The ideal image size for pins is 1000×1500 pixels, but you can also size anywhere within a 2:3 aspect ratio.
Include a CTA – Include a clear call to action within your pin. You'll be able to drop in a title and description, but your image should also have text showing what the user can expect if they click on the pin (i.e. a blog title, call to schedule an appointment, or booking link).
Include keywords – Like I mentioned, Pinterest operates as a visual search engine. Be sure you're including target keywords in your pin titles and descriptions. This means you'll need to be strategic about each pin you create, making sure it relates to your potential leads' pain points or questions.
Leverage rich pins – Pinterest offers four types of rich pins (app, article, product, and recipe). For small businesses, you'll likely want to use the article rich pin to link to your blog. Using rich pins, Pinterest will automatically show metadata from your website (think the article title and description) to make them even more optimized.
Use Pinterest analytics reporting – The best way to optimize is to understand what you're doing right and wrong. Always check your Pinterest analytics to see which pins are the most visible, pinned most often, and generating the most clicks.
Developing a lead generation Pinterest strategy
Once you understand the best practices for your Pinterest profile, boards, and pins, it's time to develop a strategy to build your email list. Through marketing on Pinterest, your main goal should be to move users onto your website and provide their contact information. From there, you'll be able to nurture them and turn them into clients!
But unfortunately, people don't give up their email addresses so easily these days. You'll need to make sure your Pinterest strategy considers what your audience is looking for, how you can directly provide a solution, and how to make it easy to access that solution.
Lead magnets for Pinterest
Lead magnets are the solutions that users will want to give up their information in order to receive from you. Keeping with our earlier example of website designers, some lead magnet ideas might include: "5 Must-Have Website Features For Businesses," "Checklist for Launching a Website," or "Website Branding Worksheet."
These are just a few examples of resources you can offer and promote on Pinterest to generate more leads. Whenever you have a lead magnet ready to offer, just make sure you create a simple landing page where your audience can get more information about what you're offering and drop their information into a lead-generating contact form. Once they give their information, you can automatically offer your lead magnet in the form of a PDF, doc, or website link.
Just be sure that wherever users land after clicking on your pin is consistent with what they're seeing on Pinterest. If your pin clearly states "Checklist," you'll want to use that same language on your download page versus "list" or "doc." Always be sure to keep your branding consistent as well, using the same fonts, colors, and imagery between your website and Pinterest pins.
Automating your Pinterest posting
To make posting easier, schedule your pins using a Pinterest scheduler like Tailwind. Tailwind features include a "pinning" queue so you can automate your Pinterest marketing strategy. You'll want to pin your lead magnet pins to both your personal content board as well as your other related boards.
Using promoted pins
Pinterest ads are another great way to boost your lead generation. With promoted pins, you can simply put some money behind the organic lead magnet pins that you notice doing well in your Pinterest analytics. Boosting them with some ad spend can help them reach new people to increase views and clicks.
Continue communicating with Pinterest users
Once people have provided their emails and downloaded your content, be sure to consistently write to them. Nurture your subscribers like your special tribe by offering tips and sending valuable content in your emails.
Make it easy on yourself by using business automation that sends custom messages that align with your lead magnets. Using HoneyBook, you can sync your messages directly to individual contact forms so you're offering specific offers based on what they've already downloaded from you.