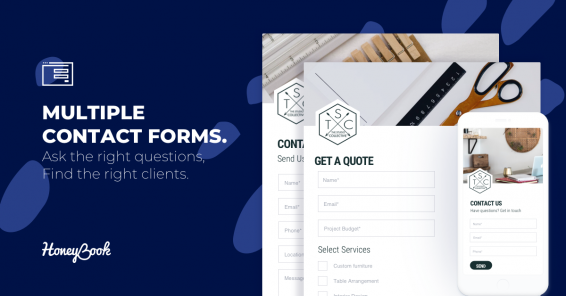 You're going to want to sit down for this…your biggest wish has been granted. Poof—multiple contact forms are here!
We get that your business isn't a one size-fits-all experience. Now you can easily add however many contact forms you want to your site and customize them to suit your clients' specific needs. So if you're a photographer that does both event and portrait work, or a designer that works with both web and print—now you can easily match your clients with services and custom experiences most relevant to them.
See how multiple contact forms can help you win new business:
Pave the way for growth
Multiple contact forms give you more outlets to grow your business. Increase opportunities by adding different forms that hit a range of client categories and gather more nuanced info.
Ask all the right questions
Serve up the most relevant questions to clients. The result? A totally customized client experience and an efficient way to collect the info that matters.
Customize your client experience
Trigger custom workflows tied to each contact form for a streamlined, made-to-order client experience.
Your new best friend
Do you participate in trade shows? Collecting and managing those leads can be quite the task. You can now create a customized form to not only capture and organize these leads, but set yourself up for success to get them booked faster.
[maxbutton id="4″ url="https://www.honeybook.com/?code=r4fba&utm_medium=rising_tide&utm_source=blog&utm_campaign=multiple_contact_forms" text="Try it now" ]