Before I moved into my current role of educator for creatives, I was a wedding planner for 5 years. So it goes without saying that I designed and organized quite a few styled shoots! In the design industry, these mock shoots to portray a new concept are called test shoots. I prefer the term "editorial," but since the majority of the creative industry likes the term, "styled shoot" let's stick with it!
Styled shoots can be a whole lot of fun, but they can also be tricky in terms of organization, logistics, and finances. So before you get started with the details, let's make sure you have your bases covered!
What is a styled shoot?
To begin, let's cover what a styled shoot actually is. A styled shoot is simply a collaborative effort of multiple creatives who put their talents and resources together to create a stunning visual concept to be photographed. Wedding pros do this often to create new wedding trend inspiration, but styled shoots can reach far beyond the scope of weddings. Interior designers can showcase a new decor concept, or an event planner can organize a styled shoot to bring to life their love of elaborate baby showers, or a creative of any kind can utilize a styled shoot to tell a moving story that conveys a moment in history or to even evoke the public to an emotional response reflecting our current culture. The options of what you can create and why are endless!
Styled shoots are a fantastic way to stretch your creative wings beyond the limitations of what a client can actually afford and their demands, but there tends to be a big elephant in the room: Who pays for all of this stuff? Let's be honest here. Styled shoots can add up quickly! Back when I was designing shoots, it wasn't uncommon for me to spend close to $500 creating and sourcing custom details. And that often didn't include the cost of flowers for the florist. If I footed the floral bill, I could usually expect at least an additional $300 – $350 invoice.
If you know me, you know I don't sugar coat things. And I'm going to give it to you straight here, too. These shoots can be extremely stressful if you don't have a clearly defined and organized system in place to ensure everyone involved understands their unique role and what they can expect to see happen on shoot day and the weeks after.
So let's make sure you get it right the first time and skip all the stress. Here are 8 handy tips for a flawless and organized styled shoot!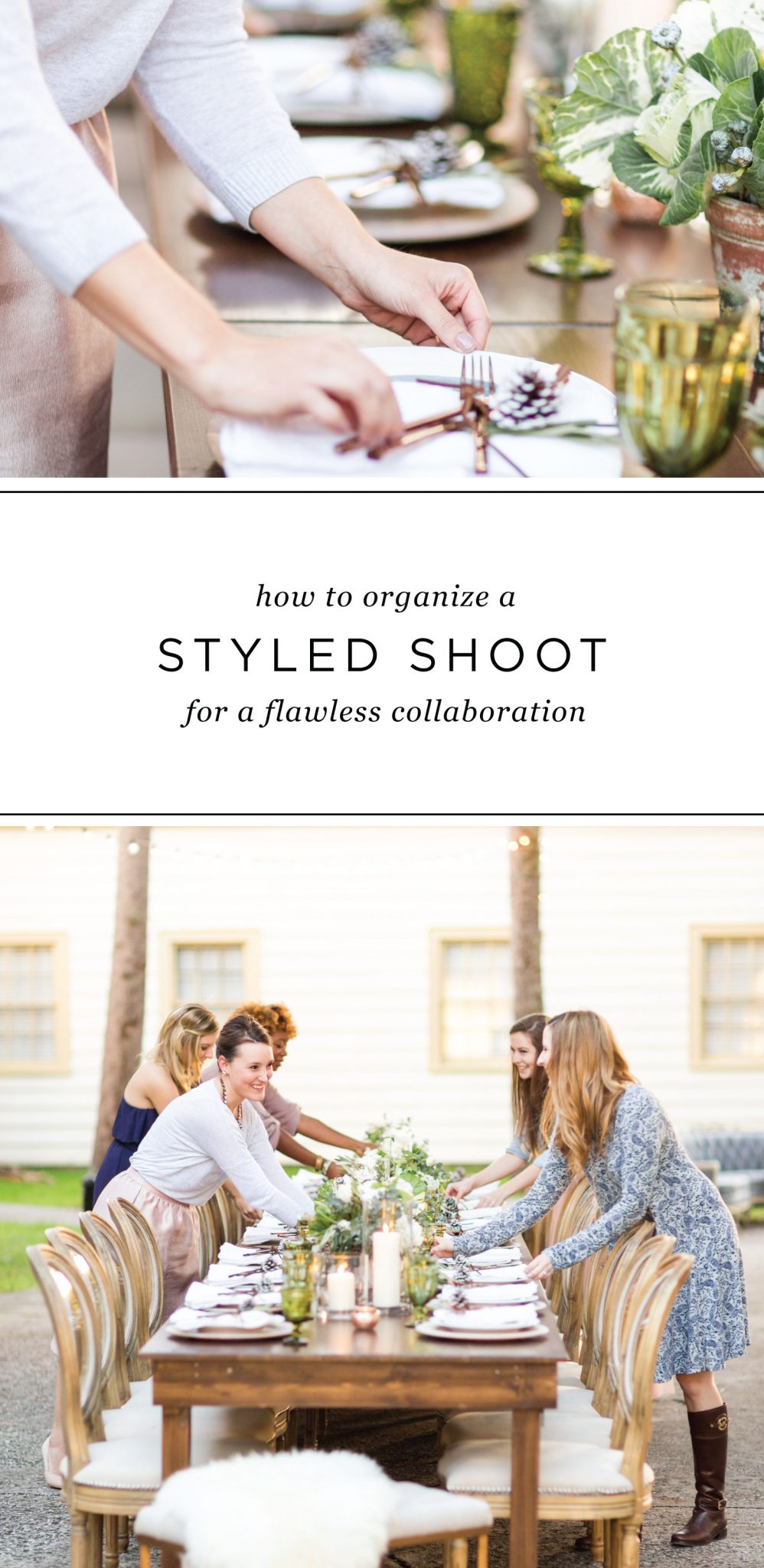 How to Organize a Styled Shoot
Select a Styled Shoot Director:

My first tip for a seamless experience is to appoint a main organizer for the shoot. Chances are, if the shoot is your idea, you will lead the pack, but if you aren't comfortable being the leader, pick one. An event planner or designer is a great person to bring into your shoot (even if you already have an overall vision) since they are used to working with both the big picture in mind and zoomed into the logistical details of making it happen.

Conceptualize the Styled Shoot Vision:

Before you start emailing every vendor you know, take the time to define the visual direction of your styled shoot. Include your Shoot Director (if that person isn't you) in this process so they have a clear understanding of your overall visual scope. Create a Mood Board filled with images that reflect the style you want to see, but be careful to not just pick images that you want to copy! The goal of a styled shoot is to create something new. If you have seen it done before, don't do it again.





When I was a wedding planner, I often pulled inspiration images from the fashion and interior design industries to help convey my visual ideas. Virtually anything can spark a stroke of creative genius from landscapes, to people, to nature, and beyond. If you're going to use an image produced by another creative in your industry niche, make sure it isn't for the sake of repeating their design, but rather explain how a concept of that design has sparked your creative juices!

Create a Personal Budget for the Styled Shoot:

Often the person who conceptualizes the shoot will foot a large part of the bill. There are different reasons for this, but most of the time you dream up a styled shoot to benefit your business directly, so you should prepare to spend money to bring it to life. Don't make the mistake of thinking everyone fends for themselves financially. You may find a few vendors who are willing to go into the shoot for trade, but contrary to popular belief that is not an industry standard. Determine the total amount you can spend to make your styled shoot a reality, so you can approach other collaborators with confidence.

Make the Pitch: When you have your visual concept and budget defined, it is time to reach out and invite other creatives into your project. As a fellow vendor, I was much more inclined to collaborate when another person sent a  personalized email invitation explaining why they thought I was the right person for the job and their expectations of me clearly laid out so I could make an informed decision. You can also utilize a directory of creatives like Honeybook's free Creative Community to connect with other creatives you may not know or post In Search Of's to put out a call for others to join. This free Opportunities tool is especially handy if you are new to an area or can't find the right person to fit your needs for a specific part of the styled shoot.

Write A Styled Shoot Agreement:

This may sound like overkill, but I think it is one of the most important parts of organizing a styled shoot. With multiple people involved, it is crucial that everyone understands their roles and what they can expect to get out of their time and investment. The last thing you want to do is let your industry peers down, and that can easily happen, even unintentionally, if you aren't careful to spell out the details. I use Christina Scalera's

Styled Shoot Contract for Creatives

as a template to protect both myself and all parties involved. It defines each individual involved, what they are to bring to the table, your expectations of pre-publication image privacy, your publication goals like what media companies you will be submitting to (and in what order in case of denials), post publication social sharing (include exact social handles for each creative involved and your vendors will LOVE you!), and long term usage rights. This is not the time to be vague. Make sure everyone involved knows what they are getting into!



*Don't forget to plan for Plan B! Whether for rain, and Act of God, or some other unforeseen reason the styled shoot can't happen on your desired date, be sure to spell out what will happen.  

Organize your Project in an Easy to Access CRM: Put your mood board, copies of your signed contracts, any detail contracts, shoot lists, and pertinent styled shoot information in an easy to access spot for everyone to see. Honeybook is a great organizational tool that any vendor can access by simply inviting them into the project. You can even input your contract straight into Honeybook as an online contract template for easy online signatures (and future shoots!). Though I definitely recommend it and use it for my business, if you aren't ready to invest in a client management software for small businesses, you can utilize free tools like Google Drive for organizing your styled shoot details and HelloSign for electronic signatures.

Write (and send!) a Styled Shoot Day Timeline:

As you wrap up sourcing and creating all the details for your styled shoot and the day of draws near, write a thorough timeline for the actual shoot day including when each vendor should arrive, your set-up time frame, your shoot time frame, and your breakdown timeframe. Be sure to clarify who should be breaking down the shoot! Not everyone will expect to stay till the bitter end, so don't overlook this! Other important inclusions for your timeline document are the actual shoot location address, directions to the shoot location just in case, and parking information for your participants so they can plan accordingly. Also make note of any layered set-up or breakdown times throughout the shoot. For example: If you have multiple vignettes (scenes) in your shoot, you can have a team setting up one while another is being captured by the photographer. You can also assign teams for breakdown while shooting is happening so there isn't a massive breakdown at the end of the day.



*Pro Tip: Don't cram your timeline! Give ample breathing room for unforeseen hiccups, set-up time overage, and potential delays. You can even schedule in rest breaks during the shoot. Your collaborators will thank you for an enjoyable experience instead of a stressful and rushed event! Try an online meeting scheduler to make sure everyone is on the same page.

Make the Pretty Happen:

When your day arrives enjoy all that hard planning work and that calm timeline you wrote with a successful shoot! Just like any day-of event in your job, don't expect perfection. Stuff happens. Be willing to be flexible and let the creativity flow! I can't wait to see what you make happen!
If you follow these guidelines, you will be well on your way to an effortless and fun creative collaboration that will benefit everyone involved! 
Do you have any additional tips to keep your styled shoots organized? I would love to hear them! Pop in a comment below and let's discuss! 
Images from Jacksonville, Florida's Tuesdays Together Holiday Party. Vendor Credits: 
Photography by Bri Cibene Photography http://www.bricibene.com/ | Planning & Design by Megan Martin Creative http://www.meganmartin.net/ | Florals & Design by Shea Hopely Flowers sheahopelyflowers.com | Venue – The Ribault Club http://www.theribaultclub.com/ | Stationery and Wreath Banner by Ink Plus Paper https://www.etsy.com/shop/inkpluspaper  | Rentals by Set Event Rentals http://www.seteventrentals.com/ | Rentals by Southern Charm Events http://southerncharmevents.org/ | Rentals by Handmade Rentals http://handmaderentals.com/ | Rentals by Emily Grace Design  http://www.emilygracedesign.com/ | Rentals by BBJ Linen http://www.bbjlinen.com/ | Rentals by Beachview Event Rentals http://www.beachview.net/ | Signage and Abstract Painting by Emily Grace Design : http://www.emilygracedesign.com/ | Tuesday Together Letters/Banner by Loba Design Co http://www.lobadesignco.com/