Start with Why
If there has been one single game changer in our business, it has been this: We Start With Why.  As photographers, whether we are thinking about how we light, pose, market, brand, price, or create a client experience for our couples, every single one of those decisions first gets filtered through the lens of Why we do what we do. So today, I think that's where we should start too.
For us, our Why comes down to a picture of my Grandparents.
They got married when they were just nineteen years old. They were just nineteen years old when -without a penny to their name or a clue what they were doing, just a dream in their hearts of a life worth chasing- they got married. Nineteen when they decided to leap and pray the net would appear. Going out on that faith, they started a life together because they believed that life was always worth the risk.
So it only makes sense that not long after our own wedding, I took my brand new husband Justin home to where I grew up in West Virginia, to see my grandparents (who couldn't make it up to CT for the wedding) and to show them some wedding photos. While we were there, Justin did what Justin does: he took pictures. A lot of pictures. Pictures of just the two of them…just as they are. Together. And after we had spent a few hours with them, on our way out the door he asked to take just one more picture: a standing portrait of the two of them in front of their fireplace, holding their own wedding picture in a silver frame- black & white and 8×10– that had sat on their mantle for the past sixty two and a half years of laughing, living, crying, and loving together in their marriage. The photo was an after-thought, an almost didn't happen. We were already out the front door & on to the porch when he thought to go back for it. The whole thing took about thirty seconds and then we were gone.
And that would have been the end of the story. Would have been, of course, except that we got the call a few short weeks later that my Grandpa Glen had passed away suddenly in the night. So this picture that started out as an afterthought soon became the very last picture we have of the two of them together in this world. And this picture, in so many ways, represents an entire life together for it contains in its four corners both a picture of Day1….and a picture of nearly Day Last. And to this day, it serves as a reminder to us of just how fast this beautiful life goes.
As you can imagine when all this happened, I thought a lot about the wedding photographer who was there with them on their day. I wondered if when he pushed the button to create this beautiful image in a silver frame, he could have known that it would be his work that she would be holding on to as she said goodbye to the love of her life. I wondered if he could know the generations in our family that would want copies of it as proof that this life and love are always worth the risk. I wondered if he could have known the sixty two and a half years that this image was both the start of, and would bear witness to as the decades passed by. I wondered if he knew that in so many ways he was providing the very proof that their love existed in the first place. Because as anyone who has ever lost someone can tell you, when he's gone and she's gone, the pictures are what remain. And then I wondered if any of us realize that when we push the button now.
For us, we think that's really what photography does. Time marches on and this moment is gone and that moment is gone. But photography steps in and says "Not this one. This moment stays." And it's all because a photographer thought to go back and say, just one more. And that right there became the very foundation of Why we do what we do. This is our Why:
"We recognize that what we do is about preserving life, preserving love, and preserving history. To provide the very proof that this love existed in the first place. Therefore, in reverence for the gravity of that which we do, we choose to exercise the restraint to only tell those stories through the veil of authenticity and to capture the meaningful images that will record that history for the generations yet to come."
When the Why Informs the How, You Create An Experience with Purpose.
Filtering the experience that we wanted to create for our clients through that Why, we quickly knew that we wanted to do far more than just give them gifts for gift's sake. Like everything in our business, we wanted that experience to STAND for something. So we started with Why and we put a ton of heart into it, and we came up with a series of gifts in our client experience that are in every way informed by creating that Legacy of Love generations strong. Here are just two of our favorite examples.
The Silver Frame Stories.
When we go to our clients' weddings, we feel like we're going to the weddings of friends (that's the huge advantage of holding out for your most Ideal Clients…they feel like friends!) We knew that if we were going to a friend's wedding, we would want to bring a gift. So that got us thinking: What if we brought a gift to our couples too? Starting from that place of Why, the obvious choice for a wedding day gift quickly became clear. If we want to be the photographers who create images that will sit in someone's silver frame for the next sixty two and a half years, what if we were also the people who gave them the frame itself? It was perfect for us! And so at every wedding, we now gift our couples a silver 8×10 Restoration Hardware frame. But we didn't stop there. We wanted to create an experience, rooted in Why, that was truly remarkable (i.e. actually WORTH remarking on!) So we said, "What if when they opened it, there was already a wedding photo there?" Now THAT would be an experience people could talk about. So we researched and found a portable printer, and now at every wedding during dinner we print off a black & white 8×10 print from the day, package it up with our signature ribbon, and give it to the couple about an hour before we leave. And people go crazy over it! I can't tell you how many weddings we've booked from people who see that kind of gesture and want a Legacy from their photographer like that too. When the Why Informs the How, you create an experience with Purpose!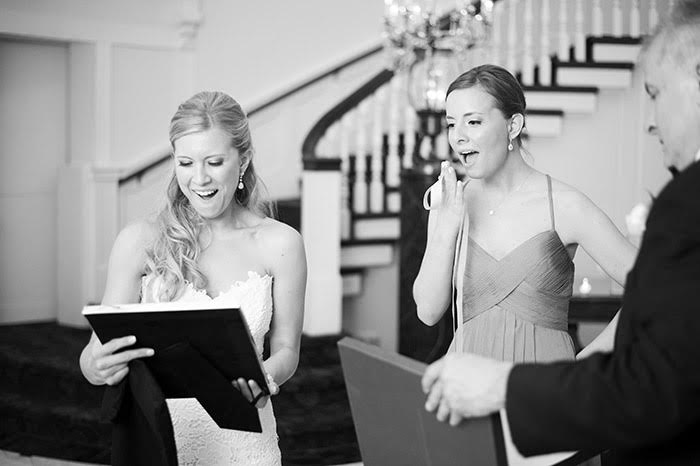 Cheers to the Next Sixty Years.
The other thing that we do as part of our experience that is driven by our Why, is how we deliver the images. We actually deliver our high res files digitally (in addition to gifts of prints) in an online gallery. So what that allows us to do, is that a few days before the gallery is ready we can order a bottle of champagne online (wine.com is a great resource for this), drop ship it to our couple, and request delivery tracking. Once we see that the package has been delivered, we can then make the online gallery go live. And now when they open up their package of champagne, there is a card that reads, "The photos are HERE! Pop the champagne and raise a glass, while you relive this amazing day together. Cheers to the next sixty years!" Pretty good, right? 🙂 But the thing is, we would have never thought to make the delivery of their images a celebration of what they are truly the start of (the next sixty years) if we had not first started from that place of Why.
So here are the major takeaways for you to remember as you begin the work of Starting with Why in your own remarkable client experience:
Write out your own "Why" mission statement for your business in full paragraph form. Put it somewhere you can see it often to be reminded of why you do what you do! Now run every step of your experience through the filter of that Why & see how it stands up.

Remember that the gift doesn't have to be expensive. A gift with heart and reason behind it will always make more of an impact than a gift just for gift's sake.
Give them something that will remind them of you and go with them through their marriage. Make it something that every time they see it, it will remind them of who you were and what you stood for!
Discussion question: what is your Why and what is one gift you could give that is rooted in that Why?